Visitors to Ben Tre in the first 5 months estimated 400 thousand arrivals, reaching 52,1% over the target and 12,2% increase over the same period of 2012.
Of which, foreigner visitors account for approximately 175 thousand arrivals, up 13,8% over the same period last year. Tourist's total revenue reached over VND 220 billion, achieving 50,9% in comparison with the plan and down 4,7% over the same period of 2012.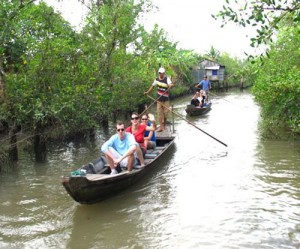 To draw more and more visitors, travel companies in Ben Tre offered attractive promotions in association with abundant tour itinerary. At present, almost travel companies focus on developing eco-toursim combining with fruit garden tour by boat, historic vestiges sightseeing… However, exploitation of tourism services and products are not really attractive to stimulate tourists' spending. That's why the amount of tourist is increasing while tourism revenue is lower than the same period last year.
In 2013, in order to achieve the goal of drawing 765 thousand of domestic and international tourists with revenue of over VND 448 billion, Ben Tre is trying to create interesting programs to attract and stimulate tourists' expenditure in difficult market economy.