Scheme on management and exploitation of tourism beaches in Quang Nam in 2 years 2013-2014 has been adopted by Quang Nam People's Committee with 3 beaches: Cua Dai, Tam Thanh and Ha My.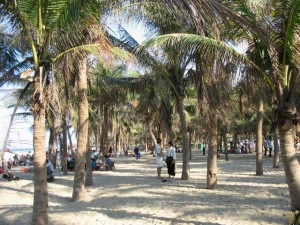 The project was invested over VND 10,3 billion in order to implement successfully rescue operation, social order and safety, environmental sanitation, landscape preservation; handle thoroughly relation between protection and exploitation to build safe, civilized beaches; establish step by step public facility system accompanied by developing selectively, testing services to draw tourists and make Quang Nam's beaches become popular destinations.
Quang Nam will strengthen rescue team, security  and environmental sanitation; set up outlook and equip rescue devices, build public facilities such as meeting area, sports zone, freshwater bathing zone ….. at these beaches.
Cua Dai continues to strengthen management of business households. People's committee of Cua Dai ward are required to commit to fulfill exactly current regulations on management, exploitation of the beach and regulations on types of business. Any cook or food process 20m from edge of water are prohibited.
Guard forces have plan to establish peddling teams and handover security group to manage, protect tourists from being bothered by vendors which causes social disorder and creates bad image in the eyes of tourists.
To ensure management activities at Tam Thanh and Tra My beach, management committee  will gather all business households and vendors to divide into service groups. Each group consists of about 3-4 households. These households have to quote prices and goods must be sold as price quotation.
Quang Nam province is an example for development of tourism in Vietnam. The large amount of visitors traveling to Quang Nam every year is the great success from the big attempt of provincial leaders and authorities.