Ninh Thuan province is located at South Central Coast of Vietnam, 350km away from Ho Chi Minh City, 100km from Nha Trang, 110km from Da Lat, 60km from Cam Ranh airport. Ninh Thuan used to be parts of different provinces: the north was part of Khanh Hoa, the south is part of Binh Thuan. After 1991, Ninh Thuan officially became a province of Vietnam.
Due to the central highland mountains on the west, seasonal winds are prevented causing the dry and hot environment of the land. Three sides of Ninh Thuan are mountains, only the west side faces the eastern sea. 63% of the area is low hills and mountains from 200m to 1000m. The rest of the area is semi-mountain hills and coastal deltas. Ninh Thuan has 2 seasons – wet and dry. The wet season is from September to November, and the dry season from December to August.
You can visit Ninh Thuan almost all year round. From April to June is time to enjoy your summer escape with glorious beaches in the east. From August to October is the time for grape harvest and festivals of local Cham people.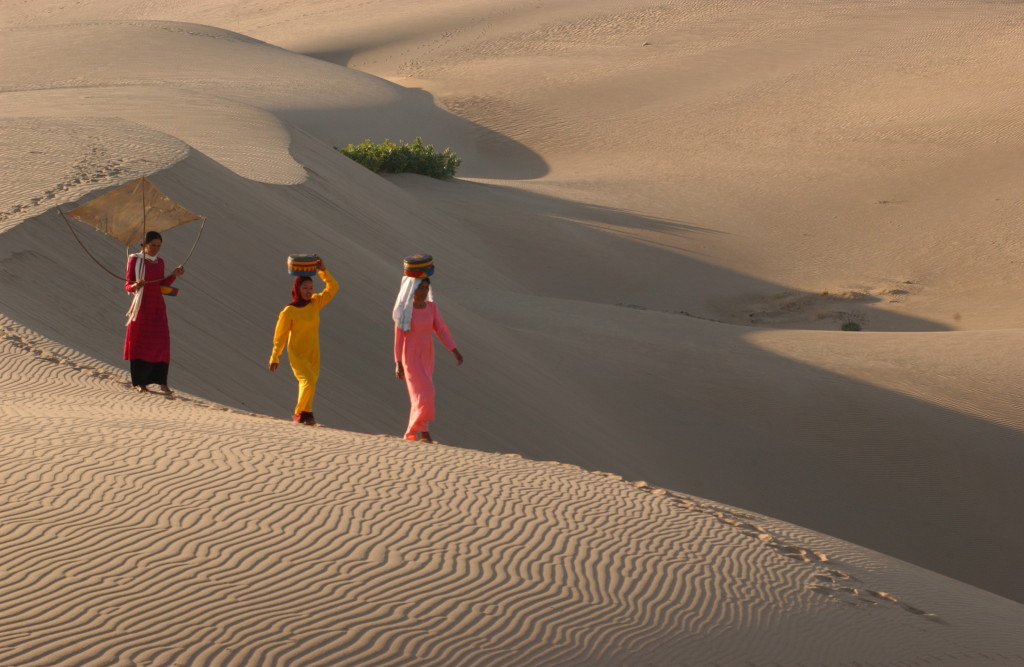 How to get there
Visitors can go by train, plane, coach or your own car/motorbike from Hanoi, Ho Chi Minh, Da Nang….
By plane: the capital city of Ninh Thuan, Phan Rang has no airport so if you want to go by plane, you have to take flights to Cam Ranh airport and move to Phan Rang which is 60km distant. There are 3 airlines having straight flights to Cam Ranh with the price for a round-trip ticket is from 1,5mil to 2mil VND.
By train: from Ho Chi Minh to Phan Rang, if you take the express train it still takes 6 hours to reach the city. You should go at night to arrive in the next morning. The train stops at Thap Cham station, the lowest price is around 160,000VND, no meal cost included. To save time and energy, you shouldn't go by train from Hanoi.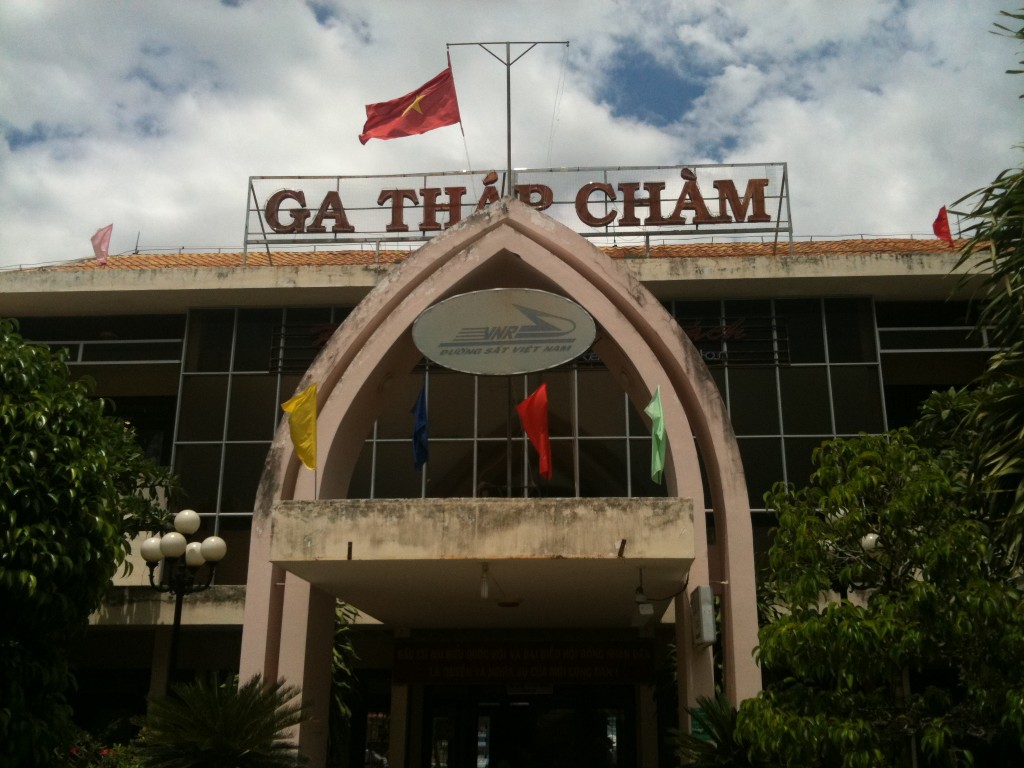 By coach: start at Mien Dong bus station or Que Huong bus station. Coaches to Phan Rang often run at night from 21:00 and arrive at 4:00. The price is 150,000VND. Reliable brands are Ha Anh, Lien Hung, Tuan Tu,…. From Giap Bat bus station in Hanoi, you can take Hien Phuoc coach which starts at 10:00. It will take you nearly 30 hours to reach Phan Rang. The price is 800,000VND.
By motorbike/car: you should choose this method if you start within a radius of 300km. The roads around Phan Rang are not harsh yet you still need to prepare your itinerary carefully.
Accommodation
Amanoi Ninh Thuan Resort offers best services and facilities and has been honourably listed in Top 33 Hotels 2014 according to Condé Nast Traveler. With a fascinating view facing Vinh Hy Bay, and a harmonious architecture that fits perfectly with the surrounding landscape, anyone who stays at Amanoi Resort will enjoy one of the best experiences in Vietnam. But if your budget isn't large, you can stay at hostels with price only from 200,000VND to 250,000VND. These hostels also have motorbike rental services ranging from 150,000-200,000VND per day.
Attractions
Ninh Chu Beach: is one of the most beautiful beaches in Vietnam. Ninh Chu is a crescent-shaped white sand beach which has a wide-stretching continental shelf making it safe for swimming and water games. The beach is still remote and remains its pristine beauties.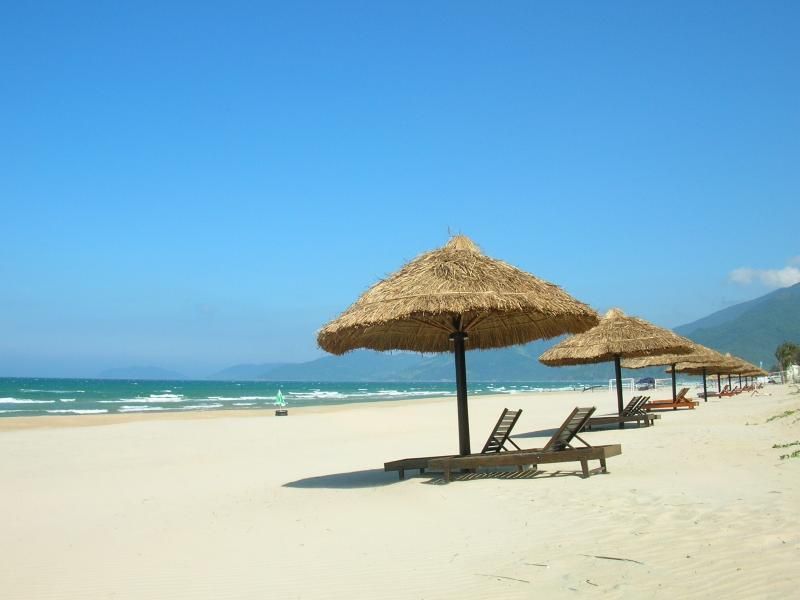 Binh Son Sea Park: is built on a vast area just right next to Binh Son beach. The whole complex is one kilometre away from Ninh Chu beach. Thanks to the near location of the park, the city centre air is always fresh and cool. The local people come to the park and to walk and swim very often.
Vinh Hy Bay: people give Vinh Hy the name as "Ha Long Bay of Central Vietnam". And indeed the bay deserves the name in an absolutely different aspect. Being surrounded by limestone mountains hand hills, the sea in the bay is calmer so the watercolour is always emerald blue. The bay is about 40km away from the city centre on the northeast, via highway 702. You will pass Ninh Chu beach, aside is blue sea and the other is vast grass fields, a sheep grazing area, a salt marsh…. And Vinh Hy, the finest site of your route appears at the end of the way. The beaches in Vinh Hy is white, the sea is blue lying under Chua Mountain national park on the utmost point in the west. From the low hills and mountains, you will enjoy the spectacular panoramic view of the bay. The national park is known for its various kinds of terrain such as mountain, hill, sediment, desert, and coast. There are 6 kinds of forest from arid kind to subtropical; 100 species of wild orchids; and an intact coral reef of which there are 46 newfound species of coral. Come to Vinh Hy, diving to explore the coral reef here is something you can't miss. Seafood is various, healthy and very delicious.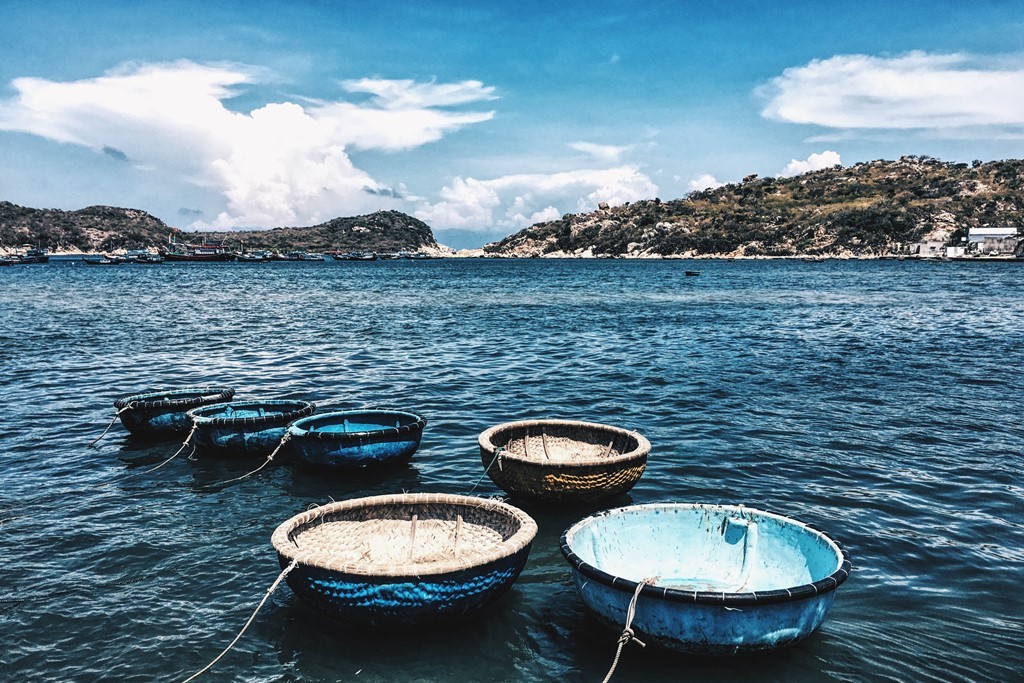 Rai (Otto) Cave: this site has a very unique and exotic landscape and people, when looking at the pictures of the place, often deny that it is somewhere in Vietnam. The cave is about 35km away from the city in the northeast. Anyone who is a photography lover can't miss this place. Rai Cave actually is a complex of reef, rocks, beach and cave. The rock and reef setting is so special combined with the blue sea water of Hang Rai beach. The scenery of sunset or dawn on Hang Rai beach is always magical when the vast space literally is covered in a purplish or pinkish colour. The cave is also very interesting to discover. Or if you want some adventure, climbing or trekking is also possible.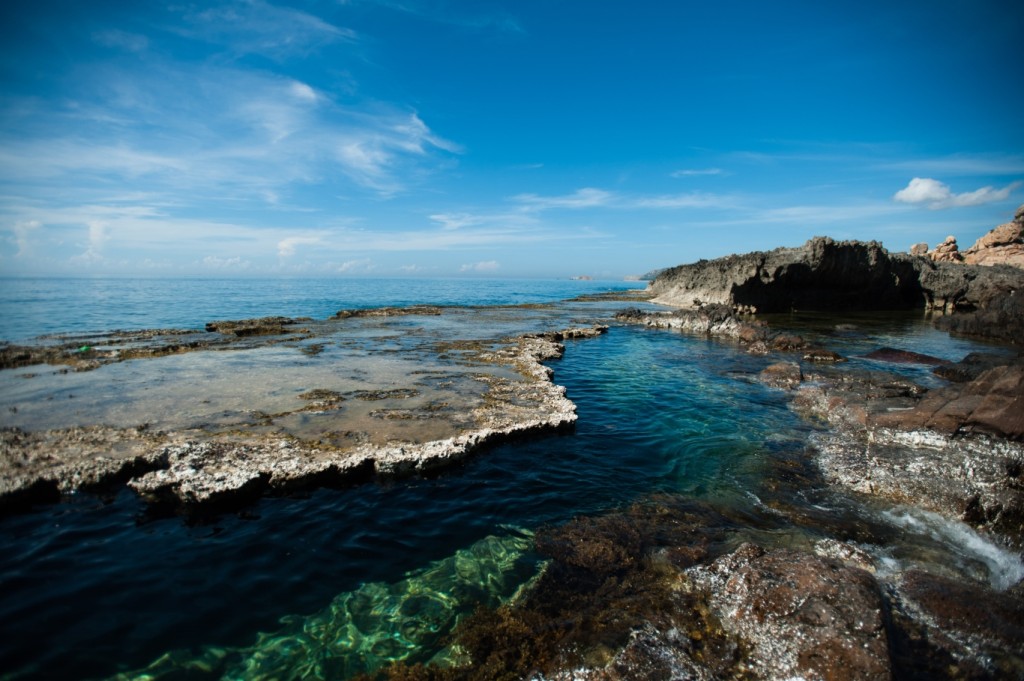 Binh Tien Beach: is known as the most beautiful beach in Vietnam, always compared to sleeping beauty. The beach belongs to Cam Ranh Bay, located about 15km from Vinh Hy bay. Being surrounded by mountains, the sea on the beach is calm and peaceful, very suitable for overnight camping, swimming, fishing and water games. The sandbank is long, white and clean and the breezes are fresh and tender. All of these things would make your summertime even more perfect.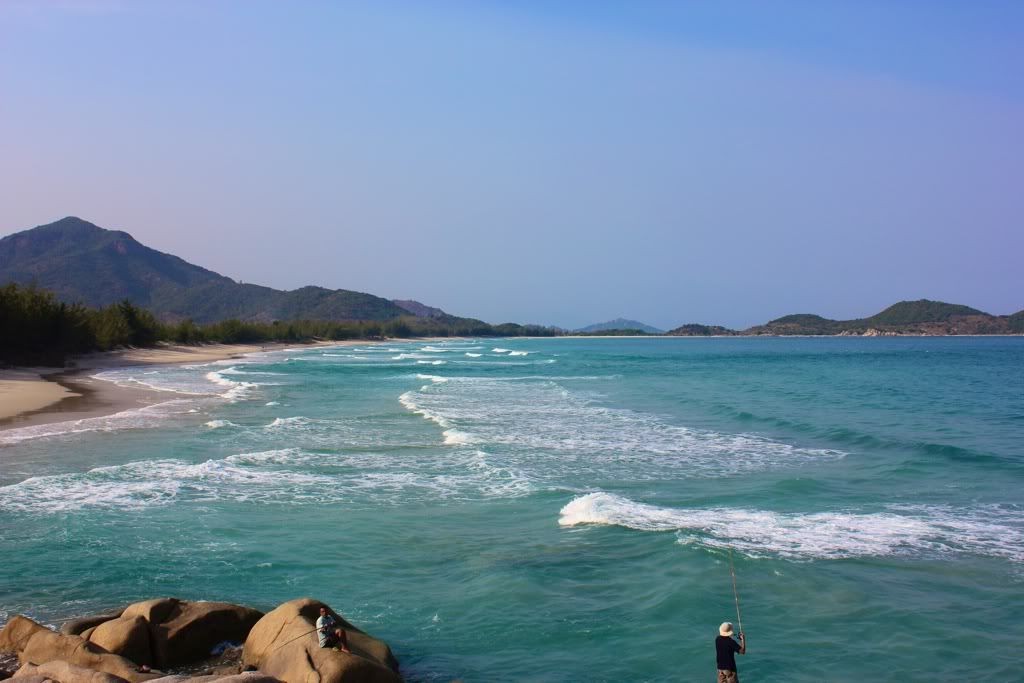 Nam Cuong sandhills: one of the typical characteristics of Ninh Thuan is hot and dry, lesser rainfall compared to surrounding provinces. That kind of condition is just favourable for deserts to be formed. Down to the south of Ninh Thuan, Nam Cuong sandhills area is a speciality of the province that you can't find anywhere else. The sandhill is so vast and white running out to the horizon. Only in a desert, the sky fully radiate in all its intimidating and majestic beauty. Visit Nam Cuong sandhill in the summertime, you will witness with your own eyes the high and immense blue sky and the endless ocean of sands.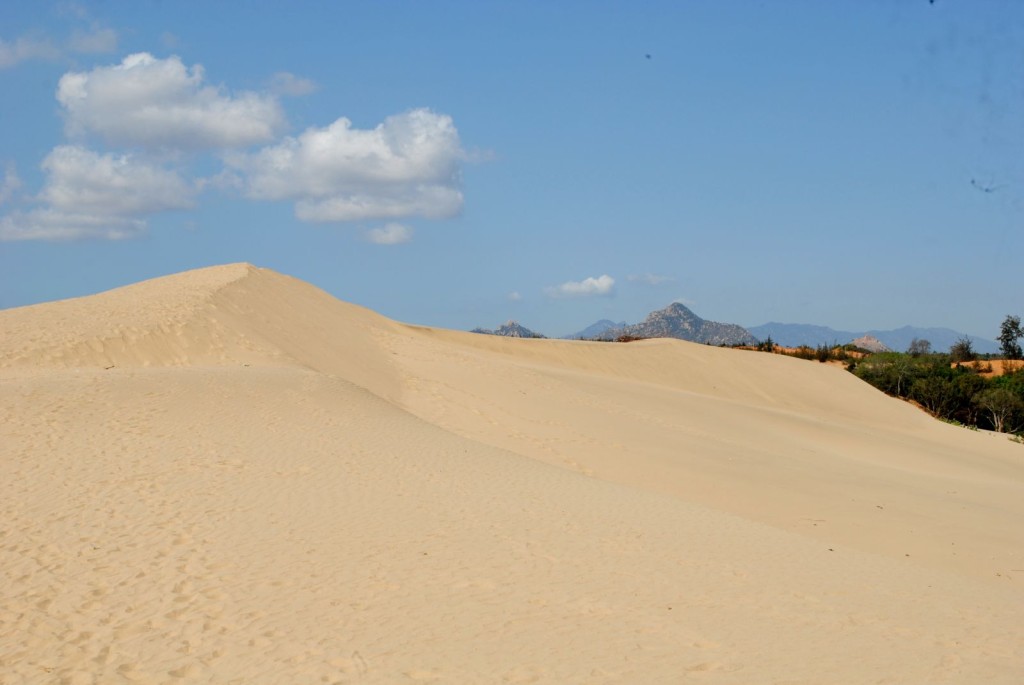 Chua Mountain National Park: is situated on a wide, mountainous promontory, which projects into the South China Sea between Cam Ranh and Phan Rang bays. The highest peak is Chua Mountain which reaches up to 1,039m above the sea. The total area of the park comprising 4 zones: strict forest protection area, forest rehabilitation and administration, services area and buffer zone. The park also has a protected marine area of 7,352 ha. Nui Chua National Park is appreciated for its wide range of biodiversity and scenic landscape. Ecotourism activities available in this area include hiking, swimming in streams and waterholes, camping, and learning about the culture and lifestyles of the local Raglay people.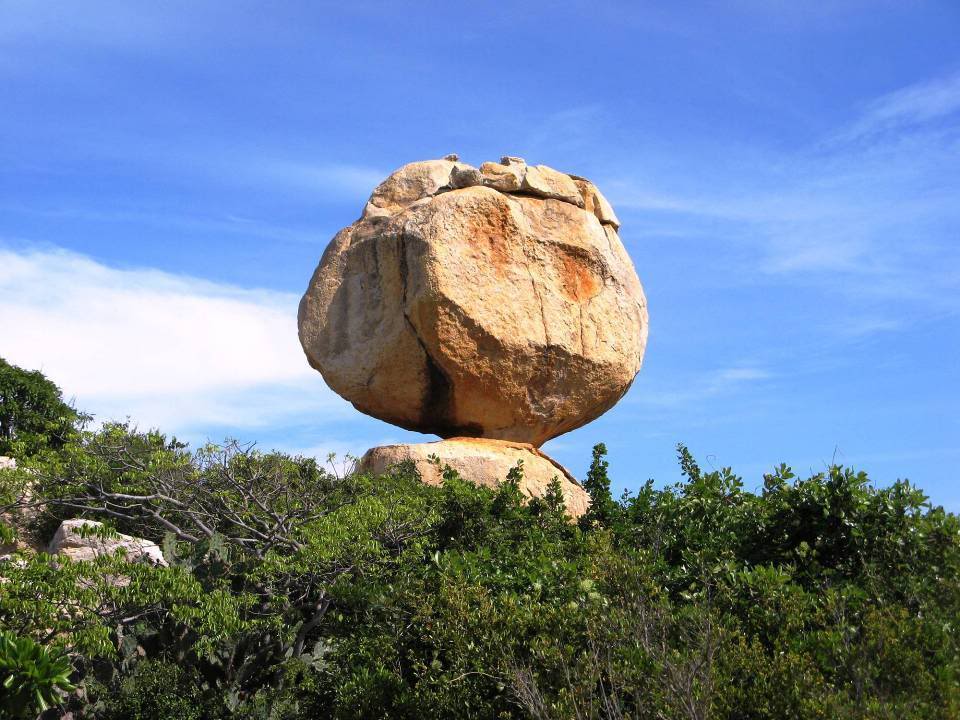 Po Klong Garai Temples: is a religious area that was built by Cham people. This complex is the last relics that remain intact of Cham architecture in Vietnam. These towers are located on Trau Mountain, 9km away from centre city in the west. The whole complex was built by Cham bricks that means there was no need to use cement. The bricks were wetted with water and pressed together and left for some time, they would be glued together very tightly. This is considered as one of the most secretive techniques of Cham people. Besides, the sculptural textures were well made, unique and carrying many symbolic meanings of Cham religions. Come to Po Klong Garai, you will be told the old legend of Cham people about the tower to remember the ancient culture that once was powerful and beautiful.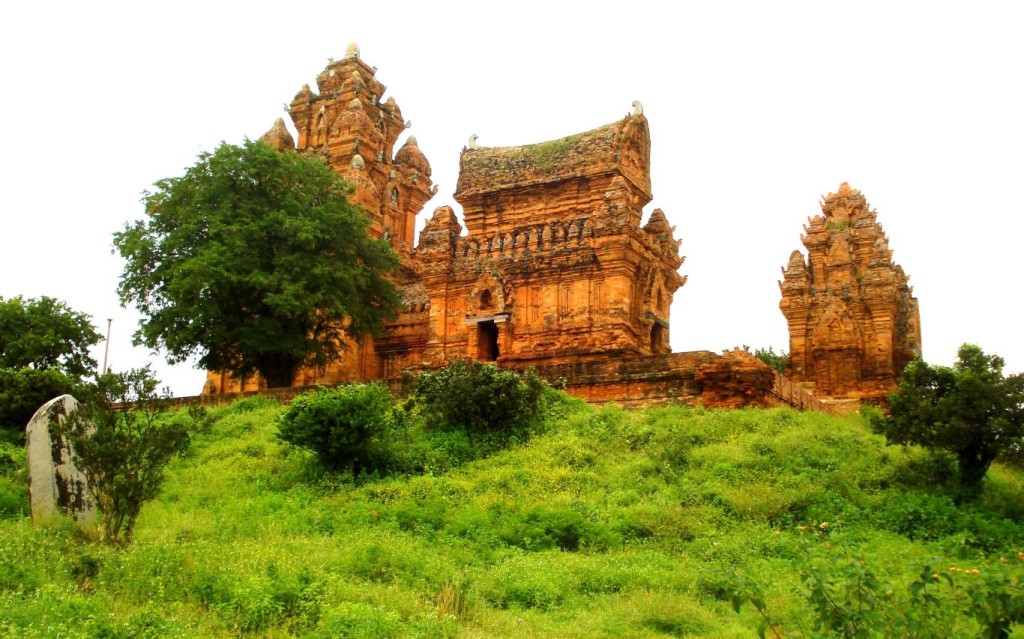 Father Moi's Grape Garden: grape is one of the many specialities of the land. Father Moi opened his grape garden for free visiting. There are 7 kinds of grape 4 of which are for sale, other 3 are to make wine. All visitors come to his garden can taste, drink wine without paying any fee.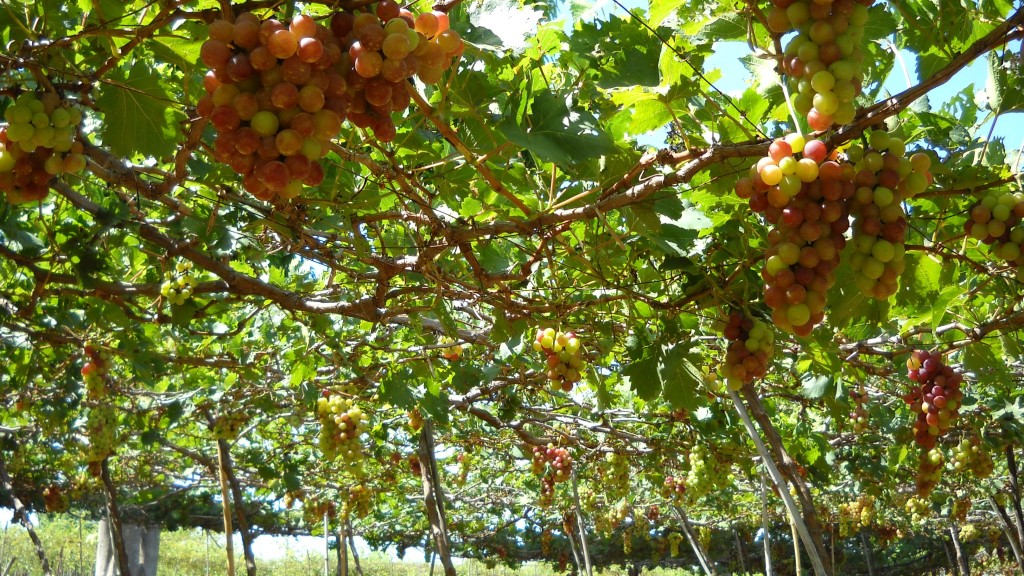 Bau Truc Ceramic Village is the most ancient ceramic village in Southeast Asia with unique baking pottery technique and sophisticated made products. The products present the distinctive Cham culture in texture, shapes and symbols. The most valuable are the statues or products of Aspara female dancers or simulated the Po Klong Garai Temples. You can visit the village to buy pottery products and learn the making process.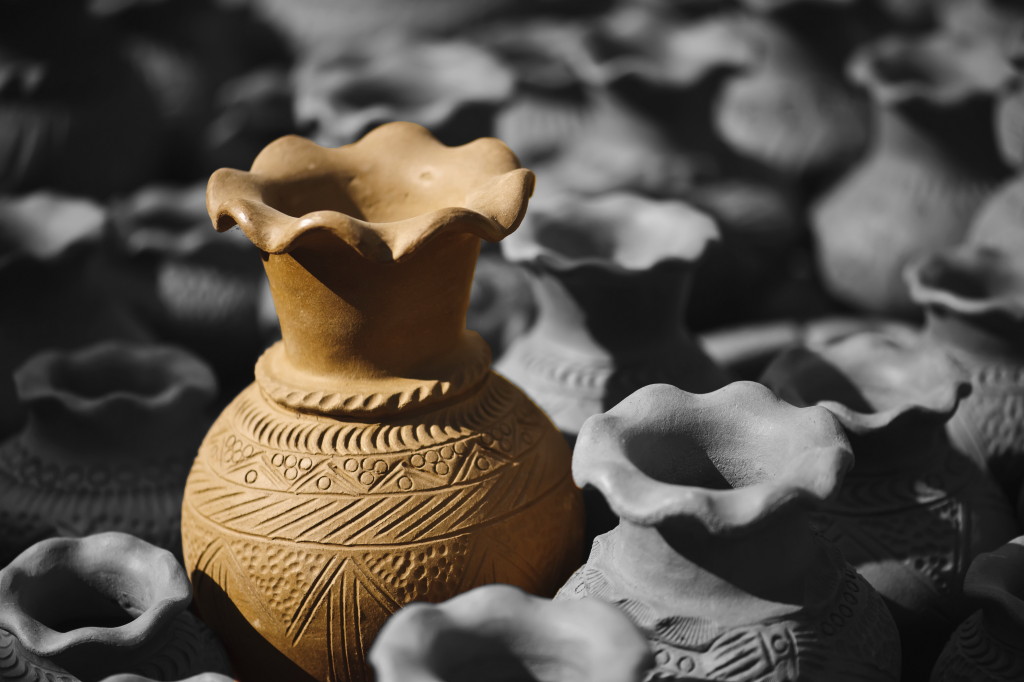 Foods:
Grape: the climate in Ninh Thuan is surprisingly suitable for a grape to grow. The fruit is hung on a trellis, unlike the way people plant grape in other regions. August and September are the time for grapes to ripe. Come to father Moi's garden, you can enjoy them right in the garden.
Xay Nhung fruit: this wild tree only grows on mountains of central Vietnam. The fruit is used to make jams. Xay Nhung has a very unique and delicious taste. People said that once they tasted the fruit they can't forget it.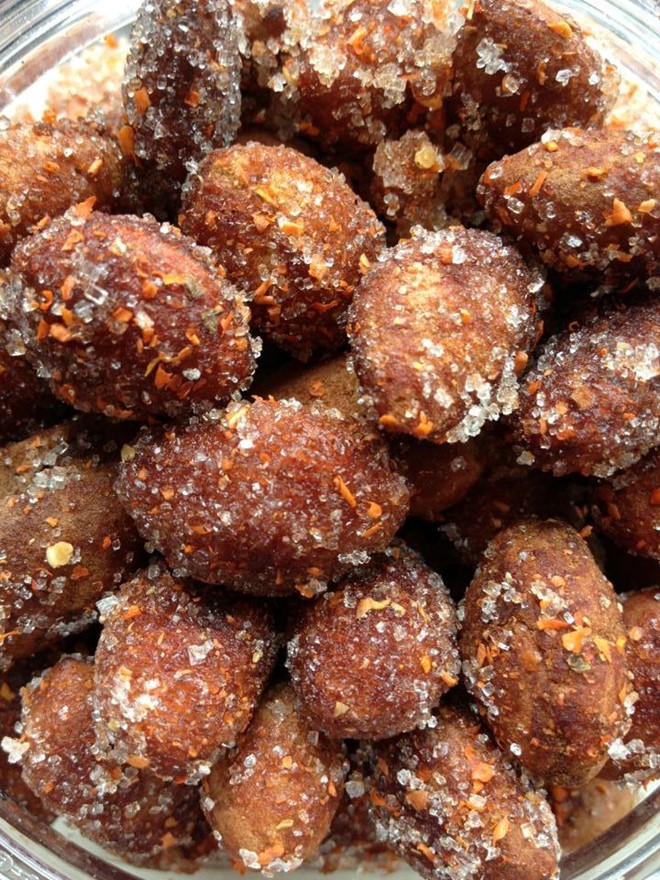 Da Da (Stone Skin) fruit: this fruit only can be found in Ninh Thuan. When the fruits are ripe, their skin turns pinkish and the taste is lightly sweet and fresh and they have a strong, pleasant fragrance. Local people used them as dessert after a meal. The price for one kilo is only 10,000VND.
"Lonely" garlic: the coastal soil is especially clean and the climate is just right to plant garlic in Ninh Thuan. You can find the finest garlic here namely "Lonely Garlic" due to the fact that the garlic has only one clove and very nicely shaped. The garlic is fragrant, tasteful and healthy.
And still, there are many other specialities in the land of sunlight and winds. Visit Ninh Thuan right now to enjoy the spectacular landscapes, unique Cham culture, fresh seafood and tasteful fruits of the land.