Vietnam has an abundant mineral springs resources. In recent years, the mud bath has become popular service at beach resorts in the country such as  Nha Trang, Khanh Hoa, Binh Chau, Vung Tau and lately Phuoc Nhon in  Danang city.
Mineral mud bath in Nha Trang: Out of attractive tourism products in Nha Trang, mineral mud bath is a "specialty" that nature granted this beautiful city. There are three spots offering mineral bud math service in Nha Trang , of which Thap Ba in Ngo Hiep district situated 4 km from Nha Trang to the north is the most well-known. The most interesting thing in this place is that tourists can bathe in natural mud pumped directly from the tank.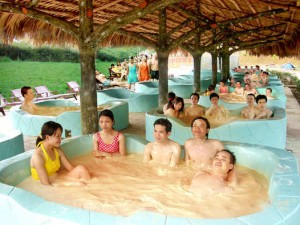 Mud bath is considered as detox therapy to remove toxins from skin, stimulate blood circulation and prevent from several arthropathy diseases. Besides, mud bath is also a great way to relax. The moment of soaking in mineral mud in open, clean space and chat with friends is such a memorable experience to anyone.
Mud bath in Phuoc Nhon, Danang: This is a fresh service of Danang's tourism. Located away 25 km from city centre to the Southwest, mud bath service in Danang is placed in the same territory with popular Ba Na-Nui Chua tourism area. Because this place is nearby Ba Na, only 20 km to the Southeast, many tourists often come here to relax and refresh after a trip to mountain.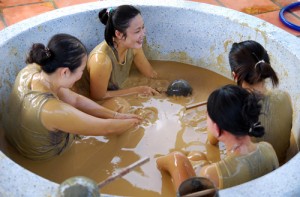 Mud bath in Binh Chau, Vung Tau: is a type of dried mud soaked with cajeput oil. After a 15 minute soak in hot mineral spring water, the tourists will apply cajeput-mud on the body, allow the mud to completely dry and then soak in hot mineral water for another 15 minutes.
Mineral Mud in Mui Ne: is a Bentonite product with high alkali, pH 9.8 (almost absolute), is a 100 % pure natural mineral mud, exploited and processed at mineral mines in Lam Vien plateau. These are the best mines in Vietnam today and meet international standards. After refinement, Bentonite quality of Mui Ne mud is extremely good.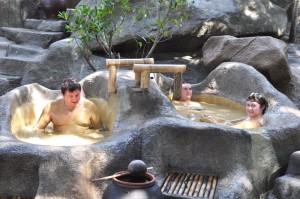 In addition, visitors can use Mui Ne mud as mask for face and body (mixed with mineral water), relax or sun-bathe on loungers around 15-20 minutes and then rinse with hot mineral water to have bright smooth skin and cure skin diseases.