On May 13, Minister of Culture, Sports and Tourism Hoang Tuan Anh demanded provinces and cities to enhance operating capability and effectiveness of State management agencies on local tourism, strengthen the steering and co-ordination among ministries, branches and localities to check, find out and handle thoroughly bad behaviors to tourists such as snatch and grab robberies, fraud, scams, overcharge, and tourists follows.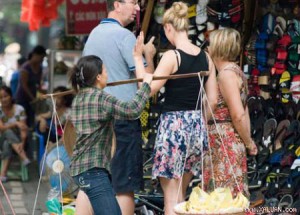 Especially, the provinces are requested to establish a hotline to receive, resolve and give a timely feedback to tourists, also strengthen the propagation on civilized and polite behavior, security and environmental insurance.
In 2012, our country welcomed 6,8 million international arrivals and 32,5 million domestic arrivals with total revenue of VND 160,000 billion. The development of tourism had a good effect on other economic sectors and contributed to shift economic structure, eradicate hunger and reduce poverty, ensure social security.
However, Ministry of Culture said that tourism still has drawbacks which are being overcome slowly. Incidents such as petty thefts, frauds, scams, overcharges still remain. Many cyclo and taxi drivers are working illegally and tourist destinations are lack of standard toilets for tourists.