Located about 5 km to the northeast of Dalat city, Than Tho Lake (Lake of Whisper) is a poetic attraction drawing a lot of visitors, especially the love couples. The visitors come to Than Tho Lake not only for sightseeing but also for being told the love stories creating fame of the lake.
In French colonialism, the lake was called Las des Soupirs with the meaning of "Rustle" but the Vietnamese translated into another meaning: "Whisper". After 1976, the lake was also known as Suong Mai Lake but the visitors like to call it Than Tho Lake.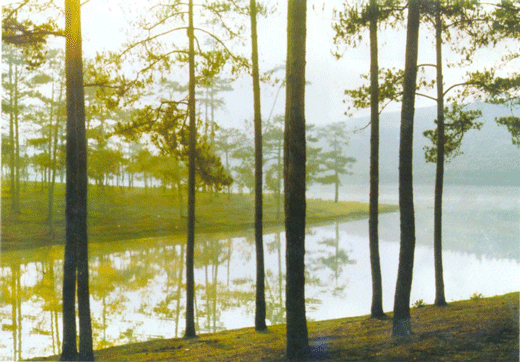 In the past, the lake was surrounded by pine forest. Visitors could walk or ride the horse on the green grass, stopover at rustic thatched cottages and admire beautiful orchard baskets.
The Than Tho Lake is attached with many love story but the most famous and prominent is the love story between the young man Hoang Tung and the nice girl Mai Huong.
The story starts in the 18th century when the national hero Nguyen Hue called on the youths in the country to uprise and fight against Qing invaders, Hoang Tung volunteered to join the army. The couple decided to choose the lake, their familiar meeting place, to say goodbye. By the lake, Hoang Tung promised Mai Huong that when spring came, he would come back in victory. One day, Mai Huong heard that Hoang Tung had died in the battle.  Unable to suffer from such big distress, Mai Huong threw herself to the lake for suicide. Actually, the news sent to Mai Huong was wrong. Actually, Hoang Tung was alive. In Spring, he came back after defeating the Qing army. When hearing about the death of his lover, Hoang Tung was very desperate. A few years later, the Tay Son dynasty collapsed, Hoang Tung decided to kill himself by the lake to stay happy forever with his lover. Since then, people called it Than Tho Lake.