1.   Be careful when choosing a travel tour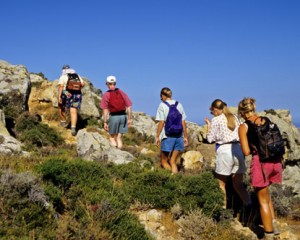 The first and foremost advice is not to pick randomly a tour if you do not want to regret this later. Think hard before picking a tour company or package tour. The things you should consider when choosing a tour is what things will be free, how much time you may get for yourself and what your favorite services included.
If you are a fan of luxurious holidays, choose luxury travel tour which includes highest quality hotels. The number of travelers and their average ages are also important things for consideration. Do not hesitate to ask any information that you wonder before making a contract.
2.  Choose the right time to leave group
Always, travelers like to separate from the group to explore the destinations by themselves. However, stay where you are in travel group in first 48 hours to get acquainted with companions, save their phone numbers and ask them to tell the group leader or tour guide whenever you are absent.
If you leave the group too soon, you are easy to get lost and hard to contact and catch up with them.
3.  Make friends with tour guide
Tour guide has the best knowledge and experience about destinations, local culture and considered as " speaking google". Thus, do not  afraid to ask them further information and advice about destinations such as what bar is good, what places to come and not to come… instead of doing everything by yourself.
4.  Reference information
Do not rely too much on tour guide because they have a lot of things to do with travelers in the group. Before departure, you should search travel information on the internet or prepare a guide book so that you could explore the place you are about to visit.
5.  Forget the lunch
Free lunch are often included in travel tour. However, they are not local specialties. Thus, you should miss out these common lunches to go out and enjoy delicious dishes at restaurants that locals often eat.
6.   Avoid getting lost
Before leaving hotels, you are strongly advised to ask the phone number of a tour guide or companion and bring along a hotel card. Many people can not remember the name of hotel or street where they stay during travel.
If you have a smartphone, remember soft ware GPS which is very good  for direction location. Otherwise, you may bring a map and cash for taxi payment to drive you to your desired stay.
7.  Don't be late
In case you come back late and can not get on tourism buses, ships, planes as scheduled, you will take fully responsibility. The group will have to wait for you or in worse circumstances they will not and you are supposed to buy flight/bus ticket to go home.