According to statistics, Phu Quoc has 109 hotels and guest houses with 2180 rooms, 15.96% increase over the same period last year, of which hotels increase 13.16%, hostels increase 17.86 %.
On national holidays of Reunification Day (30/4) and International Labor Day (1/5), Phu Quoc welcomes about 8,000 visitors, 4,000 of which are foreigners. Because the holiday of this year lasts 5 days, demand for tourism and relaxation is thereby higher than other times.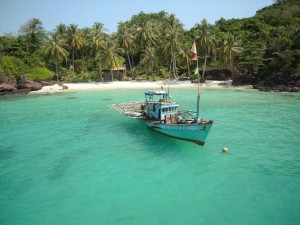 Phu Quoc has about 500 vehicles which basically meet transportation need of tourists on the island. High-speed vehicles that carry tourist from Phu Quoc-Rach Gia, Phu Quoc-Ha Tien and vice versa have about 10 trips everyday by Superdong and Savana boats. Besides, Thanh Thoi wharf with Phu Quoc-Ha Tien line increases 3 more trips. Vietnam Airline and Vietjet Air also raise the number of flights from 10 to 18 flights/per day.
The accommodation facilities have used up 100% room occupancy. The functional departments of Phu Quoc District have prepared carefully to ensure security for tourists coming to Phu Quoc on this occasion.