During more than 8 years working in the Vietnam visa industry, we have received many complaints about the visa renewal process from a lot of foreigners coming to Vietnam either to work as freelancers or to retire, which requires them to get a new visa quarterly. The whole process is quite lengthy and costly as they have to leave Vietnam and get a new visa for an extended stay in the country. It's time for you to do a visa run to other countries near to Vietnam such as Thailand, Malaysia, Cambodia, etc. Visa extension in Vietnam has never been such easy and no longer complicated with this method.
Why you should choose Cambodia for your visa run?
Cambodia has a long border with Vietnam in the east and southeast, therefore, it is really close to cross the border to Phnom Penh (Cambodia) from Ho Chi Minh City by bus, only about 250 km. This will make your visa run process become more convenient, time-saving and more economical. Besides, this will provide you with a great chance to explore Cambodia with its rich culture and history as well as breathtaking islands and wild nature, promising to provide you with an interesting experience.
How to arrive in Cambodia?
Option 1: Take a Flight!
Many people choose to fly to Cambodia in spite of the pricey plane tickets, as they believe this way is more safe and less scrutiny from the border officers. Comparing to the past, there has been an increasing number of flights provided by different airlines such as Vietnam Airlines, VietJet Air and Qatar Airways from Vietnam to Phnom Penh and Siem Reap Airport in Cambodia. This makes it more convenient and suitable for your schedule as well as having more options to choose from.
 
Hanoi
Haiphong
Da Nang

Ho Chi Minh

Duration

· To Phnom Penh

· To Siem Reap

3h 50m

1h 50m

5h 30m

5h 20m

2h 30m

1h 40m

45m

1h 5m

Average Ticket Price:

· To Phnom Penh

· To Siem Reap

$280

$170

N/A

$360

$210

$200

$200

$240
Best Airlines:
Hanoi – Phnom Penh (29 flights/day): Vietnam Airlines, Pacific Airlines, Malaysia Airlines, Thai Airways,… 
Hanoi – Siem Reap (49 flights/day): Vietnam Airlines, Pacific Airlines, Singapore Airlines,…
Ho Chi Minh – Phnom Penh (48 flights/day): Jetstar Asia, Cambodia Angkor Air, Vietnam Airlines…
Ho Chi Minh – Siem Reap (49 flights/day): Vietnam Airlines, Cambodia Angkor Air, China Southern Airlines,…
Da Nang – Phnom Penh (41 flights/day): Vietnam Airlines, Pacific Airlines, Korean Air, Silkair,…
Da Nang – Siem Reap (49 flights/day): Vietnam Airlines, Cambodia Angkor Air, Pacific Airlines,… 
Airport Pickup/Transfers: 
Phnom Penh Airport

(10 km from the city centre)

Siem Reap

(9 km from the city centre)

Public Bus

Shuttle Bus

Around $0.4

$5

N/A

Shuttle Train

$2.5

For more information

N/A

Tuk Tuk

$6

$5 – $10

Taxi

$9 – $12

$7 – $12

Motobike Taxi

N/A

Around $9

Hertz

(Car Rental Service)

For more information

N/A
*The price of moving by taxi, moto-taxi, or tuk-tuk may change due to the location you want to go.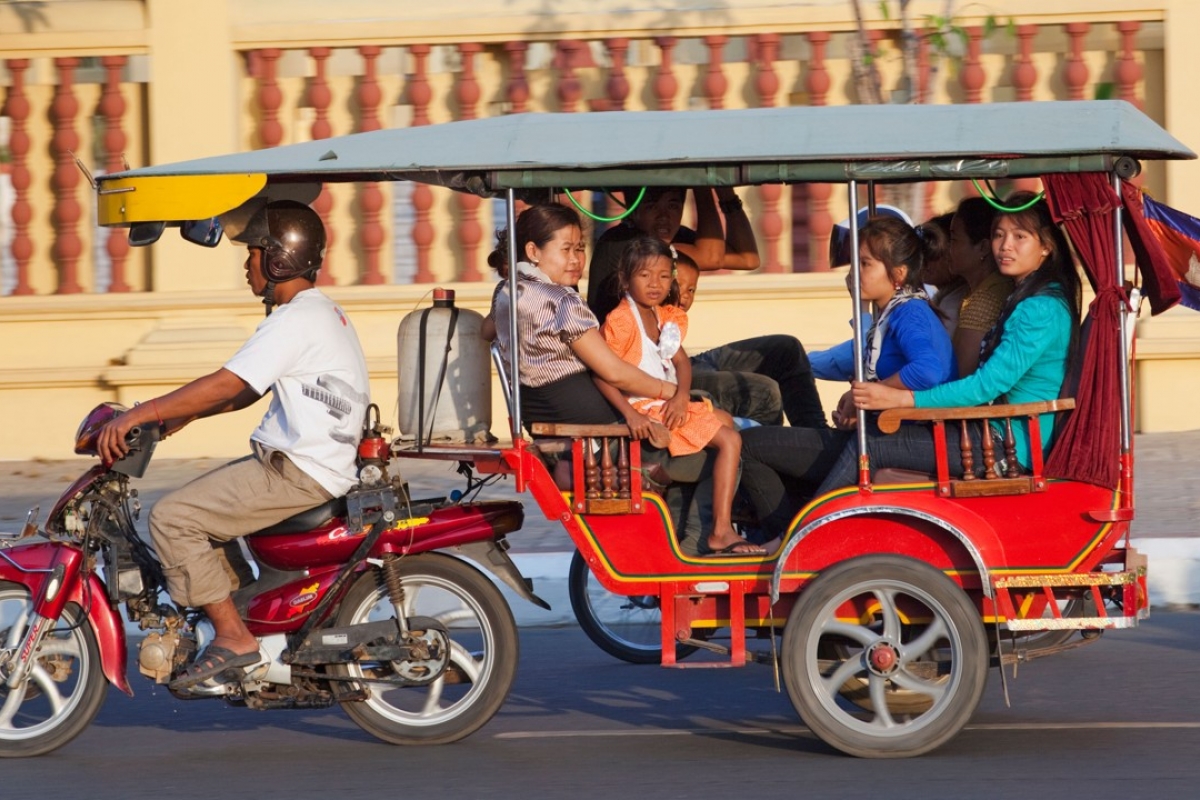 Option 2: Bus To Phnom Penh – The Cheapest!
For ex-pats living in the South, by far the cheapest option is to get buses from Ho Chi Minh city to Phnom Penh in Cambodia. Numerous buses leave throughout the day from the Pham Ngu Lao area. The trip takes 6-7 hours, depending on traffic and the queue at the border. Some buses have wifi and the road between the two cities is a mostly flat straight road. There are 3 options for you:
1. Catch a public bus No.703 leaving from Bus Station at Park 23/9 every 30 minutes. The Bus Station situates at the corner of Pham Ngu Lao Street and Nguyen Trai Street, District 1.
Price: $1.5/person/one way.
2. Book a bus to Phnom Penh from any of the agent offices in Pham Ngu Lao Street.
Price: $9-$12/person/one way (depend on which the bus company you choose).
Time: 07:00am  – 09:30am  – 13:00pm – 15:30pm.
3. Rent a car 4-7 seats to pick you up from your hotel to the border.
Reaching the border, you will be required to show your passport and pay $35 for the Cambodia visa on arrival in the small booth, and then be given the simple form to fill in.
For more useful information and detailed direction at the Moc Bai Border Checkpoint, check out our new post!
If you are returning by bus then you will need to get a visa in Phnom Penh as the online visa service is for air travels only and not accepted at land border crossings. Go to a travel agency in Phnom Penh and they will arrange a new Vietnam Visa for you. This usually takes 2-3 working days. If you don't want to wait around in Phnom Penh then you could also apply in Sihanoukville which is about 4 hours away. Thus you can get to some beach while waiting for your visa.
Related Posts
Vietnam Visa Run to Kuala Lumpur