The first International Conference on spiritual tourism for sustainable development organized by the World Tourism Organization (UNWTO), the Ministry of Culture, Sports and Tourism will take place from 21 to 22 November in Ninh Binh with the participation of 150 international delegates.
According to the UNWTO, spiritual tourism has potentials for growth, particularly in Asia – Pacific, including Vietnam. Therefore, communication through spiritual tourism will speed up dialogue and build understanding of the relationship among countries, protecting and preserving traditional values in the region.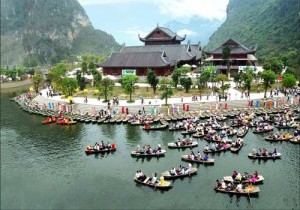 General Director of National Administration of Tourism Nguyen Van Tuan Tourism said that this was a very significant event representing the contribution of Vietnam to world spiritual tourism. Thereby, mobilizing and persuading UNESCO and relevant partners to support and recognize Trang An scenic landscape complex in Ninh Binh province as World Heritage Site. This is also an opportunity to strengthen tourism cooperation between Vietnam and the World Tourism Organization (UNWTO), confirming the important role as an active member of Vietnam in process of integration and comprehensive cooperation with UNWTO.
The conference also releases the Ninh Binh statement of UNWTO on spiritual tourism. This will be orientation and sentiments to promote, exploit and preserve spiritual culture for world tourism, as well as enhance connectivity, solidarity among nations of different cultural values but have a common opinion in culture promotion and conservation through cultural tourism.