Right at the start of 2017, the newest form of visa, E-Visa (Electronic Visa) is expected to launch officially in Vietnam. E-visa promises even more effectiveness and convenience for travellers when applying for a Vietnam visa.
Traditionally, visa applicants have to come in person or send mail to a Vietnam embassy to fill a form, pay a fee and wait for at least 3 days to receive the visa. With VOA (visa on arrival) a lot of work has been reduced for applicants. You don't have to come to embassies or pay the money you can't get back if the application fails. The VOA agent which is based in Vietnam will send you an "approval letter" to enter the country and get real visa stamp at the airport. However, the only inconvenience left with VOA is the long wait and queue at the Visa on Arrival counter. After a long flight, some tourists find it extremely exhausting process.
Now with E-visa, you don't have to apply through an agent to get the approval. With this evolution, travellers are able to apply, pay a fee and receive visa directly from Vietnamese authority through an online portal site (https://visa.mofa.gov.vn). E-visa is expected to make the entry into Vietnam even easier and less costly.
The whole process now entirely is implemented online. Applicants must have a passport with at least six-month validity. Processing time is 3 days, after paying a fee, if your application is approved, the visa will be sent to your email in PDF file. At the airport, show these documents to enter the country:
The printed visa.
Your travel/business schedule in Vietnam.
A copy of invitation letter for the purpose of visit*
Health insurance during your trip in Vietnam.
Vietnamese authorities which are eligible to grant visas:
Administration of Immigration
Consular Department
Foreign Service
Vietnam Ministry of Foreign Affairs
Service fee for processing e-visa will be paid through bank transfer and non-refundable in case of failure. The stay duration validity for e-visa applicants is 30 days.
*We aren't sure yet about the nature of the "invitation letter for the purpose of visit" and how to achieve this paper. Information on this document will be updated in a more detailed article about E-visa to Vietnam.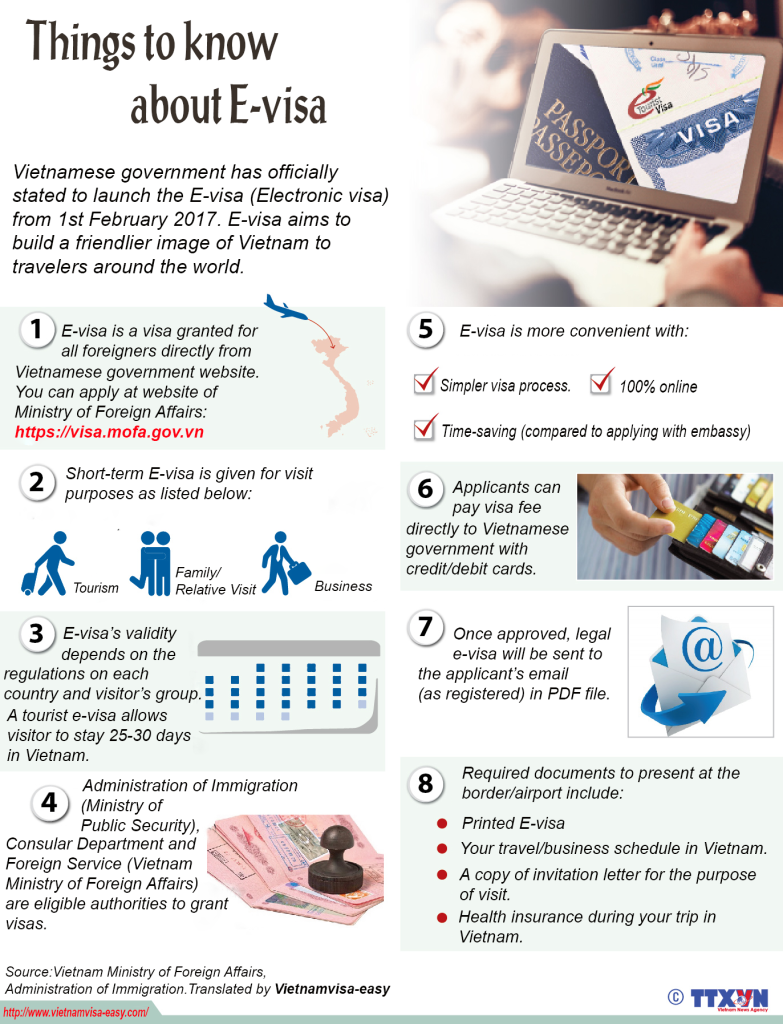 VOA vs. E-visa
VOA (Visa on Arrival)

 

E-visa

 

Commercial business
Government  authorities
Applicable to all types of visa
Applicable for 30-day and single entry visa only

Processed in 2 working days or less (1 day, 4 hours, 1 hour) not included weekends, holidays
Processed in 3 working days, not including holidays or weekends
Vietnamvisa-easy: $16 – $23 (Not included stamping fee)
$25.88 (Included stamping fee)
Refundable (in case application rejected)
Non-refundable in any case
Changeable arrival airports
Unchangeable border crossings, sea harbours and airports in any case. The visitor must apply for a new one if change arrival place.
Extensible
Inextensible
Customer support 24/7
Limited to no support
No photo needed when applying online for approval letter but present real passport-sized photos at the airport
Have to upload a portrait photo to the online form. Many reported they have had problems uploading.
Pay through credit/debit card
Credit/debit card or bank transfer. However, there are also paying problems when many said they couldn't pay.
Informed when service is down or stopped
No given information for cases like maintenance. A link can be down for a long time due to overload