Banh Mi has made it to the world just like Pho did and is even trendier because it's probably cheaper and easier to carry around. Banh Mi is the Vietnamese name for all kinds of bread but more specifically on baguette which was introduced into Vietnam in the French colonial period. Banh Mi has been used and modified to suit Vietnamese's taste ever since, being a product of true culture and culinary blend. I'm confident to say: in Vietnam, everyone eats and loves Banh Mi.
Banh Mi started to be famous worldwide about two or three years ago, firstly at the USA where the largest Vietnamese overseas community reside. And when foreign travellers starting to find Banh Mi in Vietnam, many locals were surprised by the fact that such a cheap daily dish that has nothing special can be known worldwide and loved by many people. The thing is Banh Mi is quite unique and different from other kinds of baguette around the world. It's probably because Banh Mi uses fillings and condiments that are not familiar to western eaters.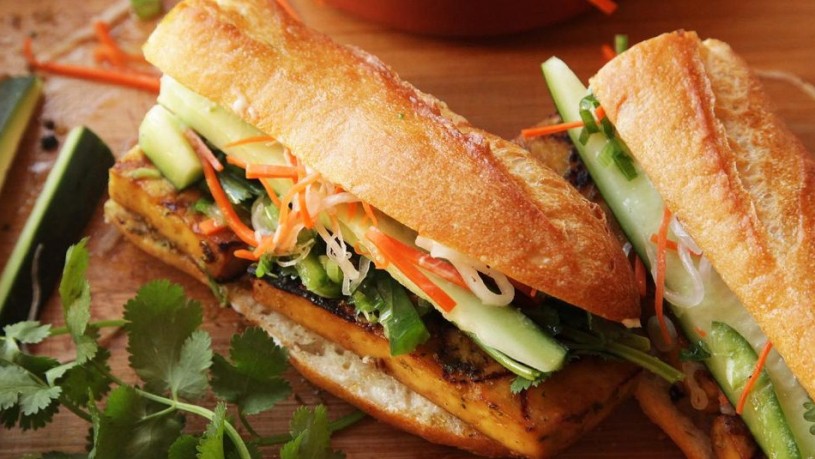 The bread
It can be called "baguette" but is not exactly like French traditional baguette. The Vietnamese baguette is a combination of French baking and Asian baking. About the technique, the French baking makes the baguette's crust crispy and the inside soft, tender yet dense and thick. Asians show their creativity by using a small amount of rice flour. Vietnamese Banh Mi has a thinner and crispier crust, lighter weight and shorter length. The size of Banh Mi is just right for the hand: you can hold it and eat right away on-the-go. Moreover, with the eating style of Vietnamese where they stuff dozens of things inside one sandwich, the bread with a strong, thick crust and thick interior do not work well for Banh Mi. In short, the bread used for Banh Mi sandwiches is relatively light, faintly sweet and smaller than a French baguette.
The fillings
Most of the fillings are made from pork.
Thit Nuong (Grilled Meat, Pork): often sliced and marinated pork to be grilled on charcoal. Alternatively, pork can be sautéed or pan-fried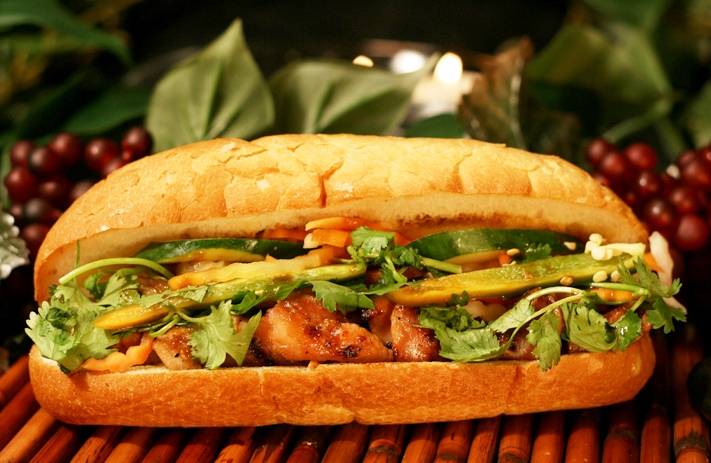 Pate: can be made from chicken, duck and pig liver, Banh Mi with pate or fried pate is the second most popular after Banh Mi with grilled meat.
Trung Chien (Fried Eggs): in my memory, Banh Mi with egg is always cheaper than other kinds and I usually eat it for on my way to school in the early morning.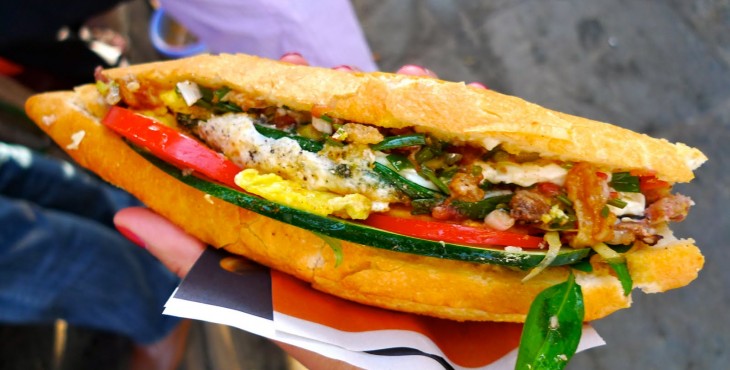 Cha or Cha Lua (Pork Roll): is the most common cold cut from Banh Mi. The ground pork is made into a roll and wrapped with banana leaves then steamed or boiled.
Thit nguoi (Cured pork cold cuts): translated as "Cooled Meat", Thit Nguoi is also a commonly used filling. Usually made of cured pork and layered with strips of fat.
Bi (Shredded Pork Skin): Bi is made of dry, thinly sliced pork skin. This filling is often used with other fillings.
Xiu Mai (Pork Meatballs): the pork meatballs are marinated, grilled and then cooked with tomato sauce.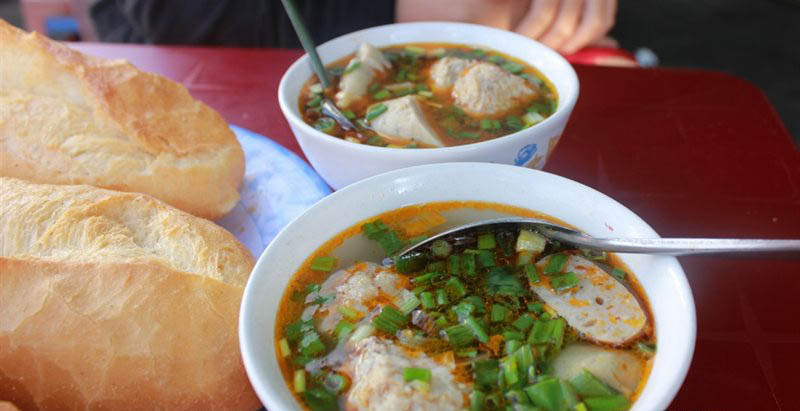 Ca Moi (Sardines): sardine cooked with tomato sauce used as a Banh Mi's filling is becoming more popular. You can recognize the fish cans placed in a Banh Mi stand.
Special/Combos: a special Banh Mi often includes two or three fillings. Most popular combos must be pate with ham, fried egg with pate, fried egg with grilled meat/cooled meat, etc. The specials are no doubt more expensive than other kinds.
Chay (for Vegetarians): for vegetarians, there are Banh Mi with meatless fillings but still not really popular in Vietnam.
Fried tofu: the tofu chunks are deep-fried, then sautéed with a vegetable marinade (Soy Sauce, Veggie Oyster or Veggie Mushroom Sauces).
Shredded Tofu: a vegetable version of pork skin which is made of dry tofu, mixed with stir-fried sliced jicama, carrots and/or glass vermicelli noodles
Veggie Ham: the vegetable version of ham is made with processed bean curd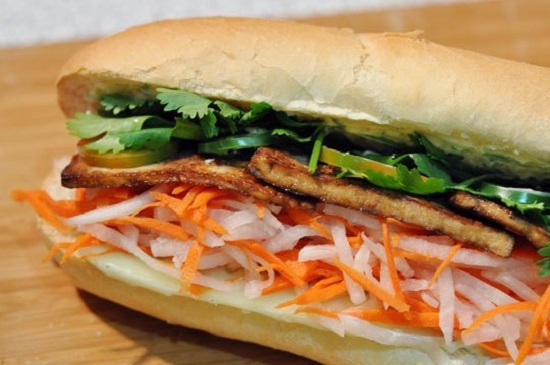 Condiment fillings
According to Vietnamese culinary philosophy, each dish has to be a complete harmonization of flavours and balance of yin and yang. To achieve this, Vietnamese people for a long time ago, have been using various kinds of vegetables to accompany the main ingredients.
Fresh veggies: coriander, basil, tomato, cucumber… all fresh.
Pickled carrots and daikon: these are what make Banh Mi so special. Usually finely shredded or julienned, these sour, vinegared accompaniments provide the salty, sour layer of flavour.
Chillies/chilli sauce: responsible for the spicy flavour. Jalapeño slices or other chillies.
Mayonnaise
Homemade sauce: some renowned Banh Mi stands have created their own sauces. The sauce is usually made from pork stew which is oily, fragrant and tasty. The reason made Banh Mi Phuong in Hoi a so famous is their special sauces.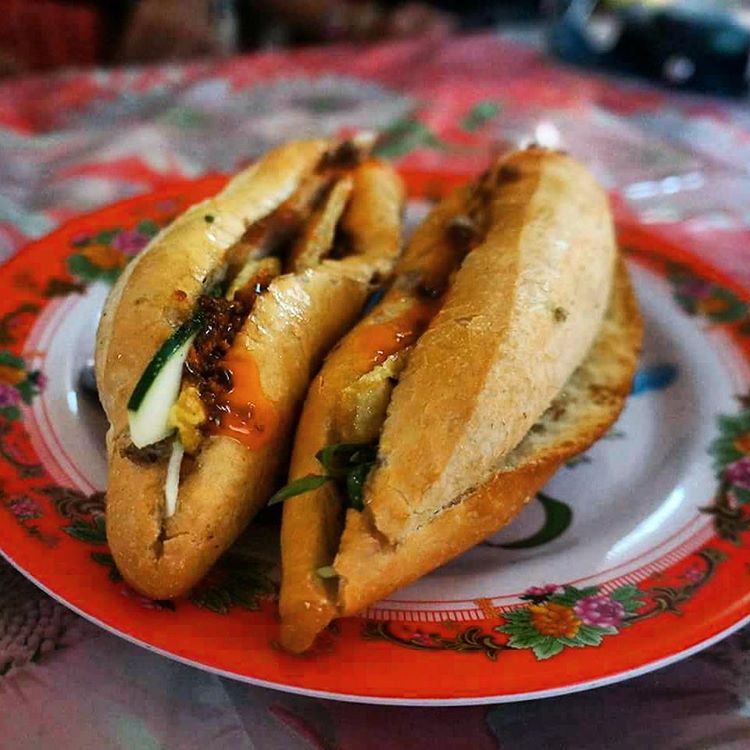 The newest trend of Banh Mi in Vietnam
That is "Bánh Mì Nướng Muối Ớt" (Grilled Banh Mi with Satay Sauce and Chili powder) in Ho Chi Minh city. This dish is originally from the Khmer people in Chau Doc, An Giang and has just become famous recently in Saigon. You can find dozens of Banh Mi stalls newly opened at Le Quang Sung St. , Dist. 6 selling this new Banh Mi with crowds of customers outside all the time waiting for their turn. So what makes this dish so famous? It's probably the unique way of eating Banh Mi and a very cheap price, only 10,000VND for one serving.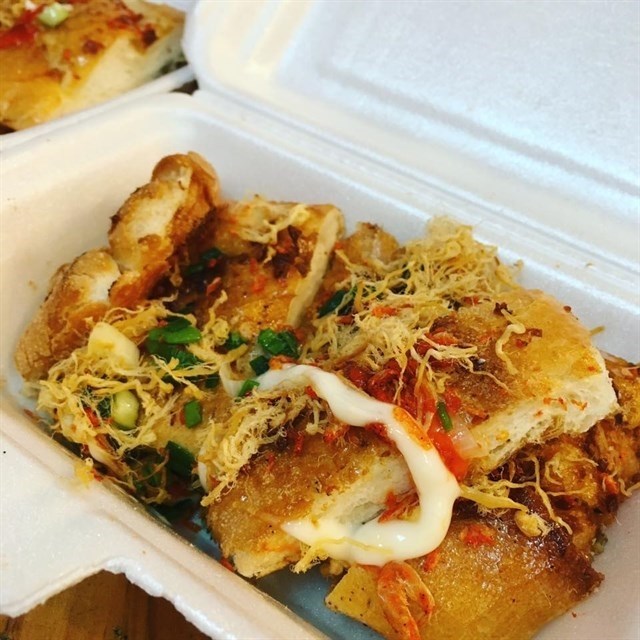 The bread is pressed flat and grilled briefly with butter and satay sauce. When there is customer, the bread is grilled one more time until it's crispy then cut into smaller species. Now the fillings such as shredded meat, quail eggs, green onions and oil, peanuts, butter… are added on the top with Mayonnaise sauce.