On tours or by yourself, eventually, you will catch yourself off-guard admiring these wonderful, full of Hoi An culturist beauty locations!
Local villages in Hoi An countryside

Hoi An is not only well-known for the Old Town but also the traditional handicraft villages which have been serving the needs of the people on carpentry, pottery, physic, gardening and lantern making for a long time.
Kim Bong Carpentry Village
Located at Cam Kim district, on the side of Hoi An river, Kim Bong carpentry village has a long and well-earned reputation with high-skilled carpentry craftsmen. Originated from North Vietnam, the carpentry style and technique are a unique combination which is extracted from Champa, Chinese and Japanese cultures. The products produced in Kim Bong village are known for their very artistic and philosophical beauty. Most of the houses in the Old Town were carved and designed by Kim Bong carpenters.
Thanh Ha Pottery Village
The village has a nearly a 500-year-old history which pretty much guaranteed on the handicraft quality. Started from the 16th century, the village throve together with Hoi An in 17th-18th centuries when the town was the most famous harbour in Southeast Asia. Pottery products of Thanh Ha village are made of the clay from Thu Bon river, light yet strong. Besides pottery products, Thanh Ha craftsmen also provided terracotta tiles for Hoi An old houses. Come to Thanh Ha village today, you will see and learn more on the process of making pottery, even try to make some by yourself. From 2015, a Terracotta Park was opened in Thanh Ha with an area of 6,000 meters square, all made of bricks and terracotta.
Admission: 15,000VND/person/day. Free guide for a group of 8 people or more.
Phuoc Kieu Bronze-casting Village
Aged more than 400 years old, and just located 20 kilometres away from Da Nang city, Phuoc Kieu Bronze-casting village is another site in Hoi An you can't miss. There are still more than 100 workers of 30 families who still practising bronze-casting handicraft. The place is known for making sophisticated bronze products such as musical instruments (gong, Chieng), Dong Son copper drum, bells, statues and many other kinds as a weapon, household items…. Young travellers will love the statue collections of Greek zodiac gods.
Tra Que Vegetables Village
Nestled peacefully in Cam Ha commune, Hoi An, Tra Que vegetables village is a lovely place to enjoy countryside beauty. This little oasis is about 3 kilometres away from the centre of Hoi on the Northwest. The village has 220 farming households and 130 of that number doing crop rotation and intercropping every year. More than 20 species of vegetables and herbs are planted in Tra Que village, all fresh and flavorful. From soil preparation to fertilizer, environment protecting rules are applied strictly. So you don't have to worry about the vegetables' healthiness. Come to Tra Que village, you will have the chance to wear the farmer's clothes, work on the fields and taste some of the vegetables cooked.
Assembly Halls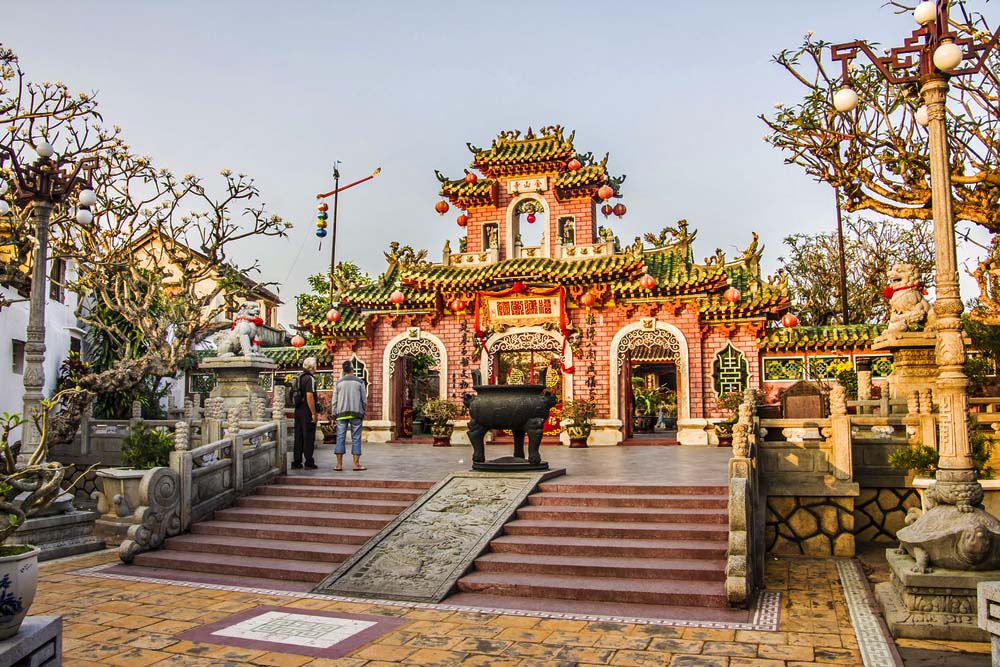 1. Phuc Kien (Fujian) Hall – 46 Tran Phu Str.
Built-in 1690 by Chinese merchant from Fujian, the hall remains intact to this day and is one of the most impressive buildings in Hoi An. In its first days, the hall was the place for Chinese ethnic group from Fujian to socialize; later it was transformed into a fane worshipping their deity Thien Hau – the goddess of the sea who protects sailors from danger. The hall's architecture is deeply influenced by Chinese style.
2. Trieu Chau (Chaozhou) Hall / Ong Bon Pagoda – 257 Nguyen Duy Hieu Str.
Trieu Chau Hall is another architectural work by merchants from Chaozhou, China. The hall impresses you by its red wooden gate which was sophisticatedly carved and solemnly designed.
3. Quang Dong (Guangdong) Hall / Quang Trieu Pagoda – 176 Tran Phu Str.
Quang Dong Hall was built by merchants from Guangdong, China in 1885, dedicated for Thien Hau Thanh Mau and Confucius at the beginning.
Hoi An Old Quarter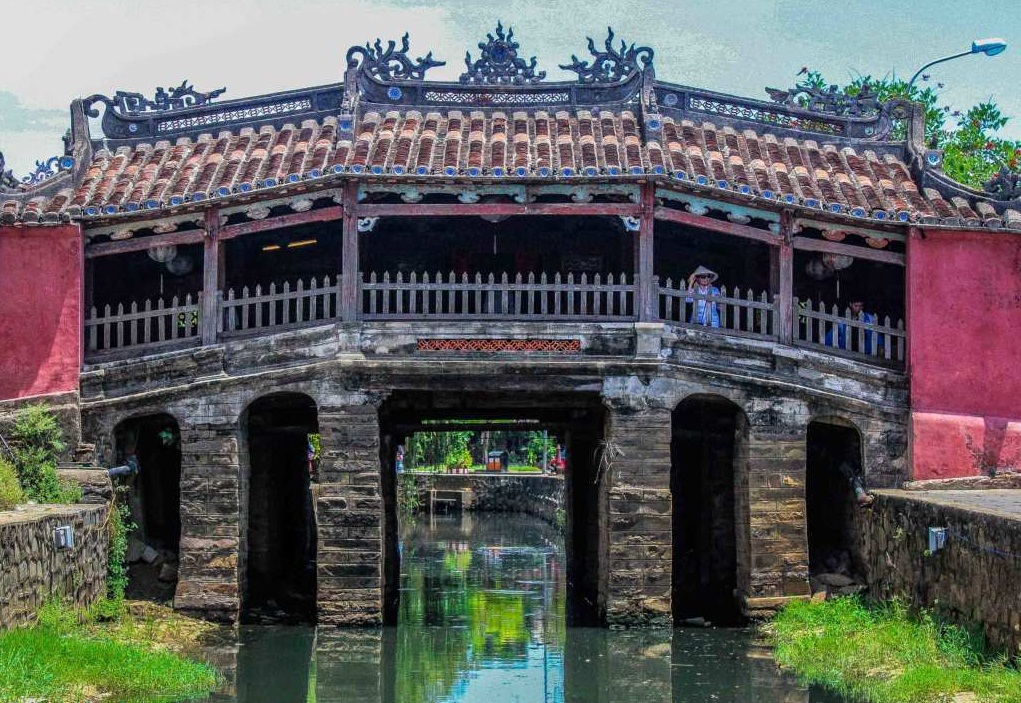 1. Chua Cau (Bridge Pagoda)
This bridge-pagoda was built by the Japanese community in the 17th century. According to the legend, the bridge was made as a sword to plunge onto the back of mamas monster in to stop its tail from moving so that no earthquake can happen. In the year 1791, Lord Nguyen Phuc Chu gave the bridge a name "Lai Vien Kieu", meaning "the welcoming bridge". Chua Cau is about 18 meters long perfectly curved over Hoai river. There are two small stone statues of a dog and a monkey at both ends of the bridge. The two statues may be the mark of the building year (monkey's year) and finishing year (dog's year). It's a pagoda however there's no Buddha statue. The middle of the bridge is dedicated to Bac De Vo Tran, a guardian god who brings happiness and health to people.
2. Tan Ky Old House
Come to Hoi An Old Quarter, it's such a pity if you can't visit one of the old houses. Located in 101 Nguyen Thai Hoc Street, Tan Ky Old House was built 200 years ago, until this day is still considered the most beautiful and oldest house in Hoi An. It is also the first old house that certified as part of Hoi An's national heritage. The uniqueness of the house can be found in the Chinese, Japanese and Vietnamese architectural styles. Its shape is a typical tube shape of houses in ancient cities. A special thing about old houses in Hoi An is that none of them has windows, instead, lightwells play the role of producing light and air circulation. Tan Ky house remains almost intact from the damage of time and flood. The roof is made of terracotta tiles, a living room is decorated with triple-beam structure, five-round blocks, distichs in accord with oriental philosophy. But that's not all to it, a precious treasure is also kept here – the Confucius cup which hides a life lesson in itself. When the cup is filled up, the water inside will leak out, meaning one should keep a balance and harmonized in his life, away from all the extremist tendency and greed.
3. Hoi An Food Market
Right in the heart of Hoi An, Hoi An market is where you can find all the delicacies of Vietnam in a clean and organized environment. First, we can name some the most famous Hoi An specialities such as chicken rice, Cao Lau, My Quang and Banh My sold at much cheaper prices. Soup, pastry, crepe and desserts all are made with a wide range of variety, carrying the tastes of all cuisine regions in Vietnam. The food ladies are friendly and helpful. Hoi An food market is a must-visit site.
Cua Dai Beach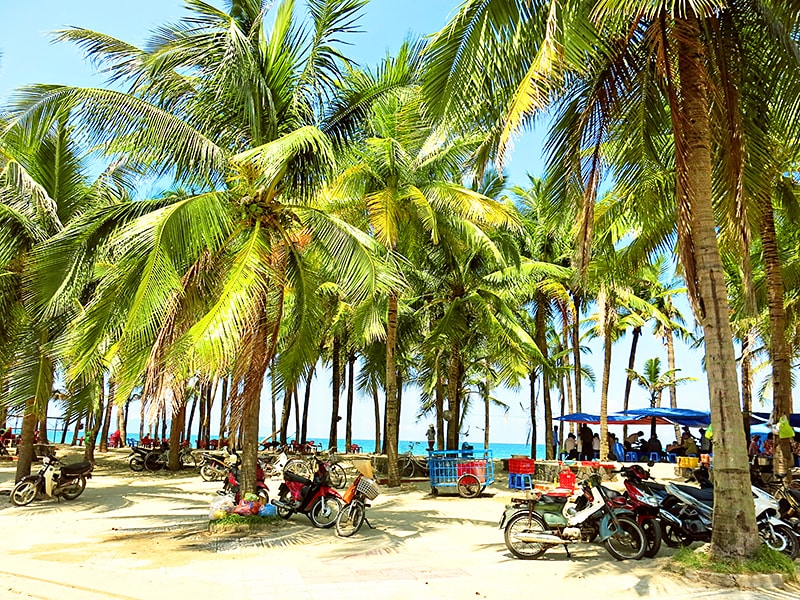 Located about 5 km from Hoi An's city centre, Cua Dai beach is an unmissable attraction for all visitors to Hoi An. The beach stretches gently and unfolds ít beauty along the inviting sea. Fine, white sand promises a relaxing stay. The sea with its soft waves glistens in the sunshine during the day and the bright yellow light of the moon reflects on its surface when the night falls. Every moment spent at Cua Dai Beach has its beauty, if you feel like getting active you can go fishing from the shore or hire a small local fishing boat that looks likes a round basket.