Ha Long Bay, recognized as one of the world heritage by UNESCO, is one of the most renowned destinations in the northeast of Vietnam. Its names mean "where the dragon descends into the sea". Rising from emerald green water, 1600 islands and islets form a spectacular seascape of limestone pillars. Visitors to Ha Long are offered exciting water sports activities, the most worthy of which is kayaking, and tours including sleeping overnight on board. Following are some travel information that will be helpful for your planned trip to the site.
Best time to visit
Ha Long attracts tourists all year round. However, the best time to visit is in the springtime, from March to May and summertime in September and October. April is the time for many festivals and also the high peak season of tourism in Ha Long. Even though, it is still worth your visit due to the good weather and a variety of activities which you might not have a chance to experience in the fall and winter. Bear in mind that your trip from August to November might be interrupted by typhoons. The weather in January to March is often cool and dizzy, accompanied by a foggy curtain which makes visibility quite low. However, if your trip is cancelled for certain reasons, some tour companies are willing to offer a full or partial refund.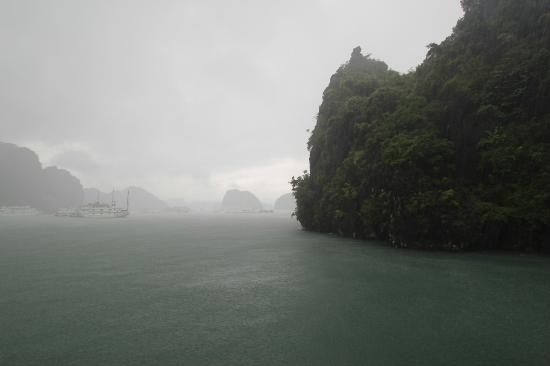 Transportation
From Ho Chi Minh
Because you cannot go straight from Ho Chi Minh to Ha Long Bay, but to Hai Phong or Ha Noi only, you need to take a flight from Tan Son Nhat airport to Cat Bi airport (Hai Phong) or Noi Bai airport (Ha Noi).  And then, catch a bus transfer to Ha Long. Alternatively, if you have more time, take union trains to Hanoi or overnight coaches to Hai Phong and then, proceed to Ha Long.
From Ha Noi
By bus: It is a good recommendation when you want to save cost. It takes about 3 to 4 hours to reach the destination. From Kim Ma bus station on Nguyen Thai Hoc Street, you can take Hoang Long express bus which departs every 15 minutes from 6:00 AM to 5 PM. The cost is 100,000 VND or 200,000 VND for a berth.
By train: Ha Long Express departs from Gia Lam train station at 7:05 AM every morning. It takes 5 hours to get to Ha Long and costs 5 USD per one for domestic visitors for each way and 15 USD for foreigners.
By tour: It is often preferred by most visitors to Ha Long. It is recommended for a family or group of friends. You don't have to take care of your transportation, cruise and accommodation. The tour operators will prepare everything. Depending on different tour operators, there are shuttle buses from the Old Quarters. An average cost for a 2-day tour is about 3 million VND. You can choose suitable ones matching your budget and types of add-ons.
By motorbike: Motorbike is the most popular vehicle in Vietnam which can be used to reach almost everywhere. The 170km road from Hanoi is quite straight forward. Don't forget that you need a driving license for motorbike. Moreover, it takes more time than travelling by car or train. Unless you plan to stay longer, it is not worthy. In case you need the route for riding a motorbike, you can make reference here: follow highway national no. 5- Sai Dong crossroad- Bac Ninh- Pha Lai- Chi Linh- Dong Trieu- Uong Bi- Ha Long.
Get around in Ha Long
By taxi: There are some notable brands that you can keep in mind as it might come in hand:
Taxi 886 –MongCai: 033 886 886
Taxi Ha Long: 033 62 62 62
Taxi Hon Gai: 033 84 84 84
Taxi Mai Linh: 033 628 628
By cruise: If you make contact by yourself, you can contact to Bai Chay travel agency (846 592), Ha Long travel agency (033.847 481), Duong Hai company (033.845 042), or Hai Au company (033.824 779). Accordingly, you will have to buy 2 different types of tickets: one for sightseeing and one for being on board. In addition to spending overnight on board, you can book a reservation for a day cruise. The prices vary depending on when you confirm and what types of junk boat you choose. The price for a shared trip is 100.000 VND to 150.000 VND per one. If you wish to book a private board for your family or a group of friends, the price starts from 1.5 million VND for 4 to 6 hours. The ticket price for sightseeing rises from 40.000 VND. The boat cruise departs every hour and the last one leaves at about 1:00 PM. The boat makes their way back to the city about 5:00 – 6:00 PM. Click here to know more on the cruise information.
Accommodation
To meet the requirements of an increasing number of tourists to Ha Long every year, it offers the dashing collection of high-rise hotels and hostels.  The price starts from VND 474.000 per day or 150.000 VND for a budget hostel. You are highly recommended to visit on weekdays rather than weekends so that you can receive the best deal. The price is likely to soar at the weekend due to the enormous number of tourists.
Following are some choices for your consideration:
Ha Long Plaza (08 Hạ Long streets): Its pride includes central location with outdoor swimming pool, a sauna and fitness centre. Tourists can rest in a spacious room with flat-screen TVs. For those wishing to stay with modern furnishing, you can choose the air-conditioned rooms which also provide plenty of natural light. Some rooms offer sea views.
Ha Long Dream(10 Ha Long Street): Equipped with reasonable amenities, rooms in Ha Long Dream Hotel is able to meet a variety of demands: executive suite, junior suite, deluxe and superior. Rooms are also well-designed with wooden interior. Besides, the hotel provides a lot of recreational activities such as swimming in an outdoor pool, Jacuzzi, massage, sauna, etc…
Mithrin (Hung Thang street): Located along Hung Thang street in the district of Bai Chay, the hotel provides a suitable spot to reach Ha Long's business centre and other landmarks of Ha Long city. The Mithrin Hotels also owns scenic views of the city and the panoramic views of Ha Long Bay Island.
Ha Long Pearl (Bai Chay): The hotel is composed of 181 rooms, most of which overlook the bay. It offers restaurants, a bar, gyms, swimming pool, tennis court, foot reflexology and massage and a mini-mart. Tourists can be helped with cruise arrangement. Besides, after a 10-minute walk, tourists can reach a night market on the left side and a casino on the right side. The beach is reachable after an only 3-minute walk. Lots of eateries rise up opposite the hotel.
Ha Long Bay (on Ha Long Street): It is only 50 meters from Bai Chay Wharf and a 5-minute walk from Ha Long Bay. Providing 51 rooms with 2 restaurants and 1 hall, it has all the basic amenities that you expect from a hotel. A double room is quite spacious with a balcony overlooking the bay. The staff is very friendly and helpful. In case you want to use wifi, notice that it works best in the lobby though you can access from any place in the hotel.
Bach Dang (02 Ha Long): It is a 3-star hotels set by the bank of Ha Long bay. It provides 7 floors and 118 rooms overlooking the bay. Tourists might expect 3 elevators, meeting rooms, bar, restaurant, massage centre and souvenir shop in the hotels. From the hotel, it is easy to access famous landscapes such as Dau Go Island, Bach Dang estuary, and some caves in the Ha Long Bay.
Bai Chay Union (Ha Long): Although the hotel is old, it is located conveniently in the heart of Bai Chay, near the bay and a night market. It is composed of 144 international standard rooms and 2 restaurants with 300 seats and 2 conference halls. It takes only 5-minute drive to Ha Long Jetty.
Moon Light (Hung Thang street): Situated in the newly developed zone, Moon Light hotel offers a great view of the bay. Tourists are served and welcomed by well-trained, experienced staffs and stay in well-equipped rooms.
Spending overnight on a cruise: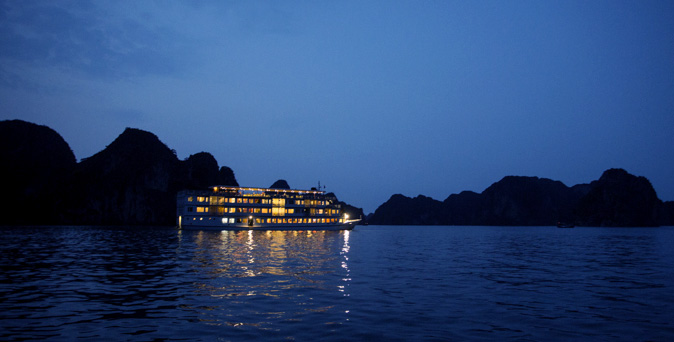 This activity has become more and more popular with visitors to Ha Long. The service is offered by a variety of tour companies.  The normal tour lasts for 2 days and 1 night or 3 days and 2 nights depending on the itinerary of a junk boat. There are some 3-star cruise namely V' spirit, Majestic, Calypso, Ha Long Sails, Oriental Sails, Glory, etc… More superior than that are 4 or 5-star cruises such as Au Co, Bhaya, Emeraude, Paradise and Starlight. However, bear in mind that the price for that service is not cheap at all. The price often shoots up from 2,2 million VND that included other extra fees such as pick-up, 3 meals, sight-seeing tickets). It is spent for 2 days and a 1-night trip. Check the information when you book.
Food and restaurants in Ha Long
Ha Long's food is the best- known for seafood such as: be, crab, lobsters, shrimps, sa sang, squid, cuttlefish, jellyfish, etc…The high-rise restaurants can meet a variety of demands from budget to the superior menu.
Western food: Besides local specialities, Ha Long has a wide range of Western cuisine to serve international tourists. There are some cuisines in luxury restaurants in Ha Long which includes Italian ham salad, salmon and squid salad, fried rice ball, vegetable salad and fried potato. Tourists also find it not difficult to find restaurants serving pizza and pasta though its quality is not comparable to your homeland or in other bigger cities. In the end, the meal is not completed without desserts which are often ice- creams, tiramisu, fiottore and gateaux.
Ngan: Although it is popular in the northern Vietnam coastal area, its quality in Ha Long is the best. During its season, fishermen living in the bay have to wade deep into the mud to hook up this rare sea animal. Ngan is best when grilled or steamed. When the heat makes its mouth opens, you can taste the juice and the blood inside which are the most nutritious parts. Its taste is quite salty and turns into a sweet taste of seafood and stays in your mouth for long. Besides, its blood can be taken while it is fresh and mixed with wine to make Ngan wine. It is preferable by men thanks to its effects on improving male sexual ability.
Sea snail: It is the main parts in menus of almost restaurants in Ha Long which contribute to the irresistible taste of Ha Long's food. There are a wide range of different exotic snails there, some of which are oc huong, oc dia, oc gai to, oc van, oc mut, oc len. Just be an adventurous traveller trying a random dish that catches your eyes.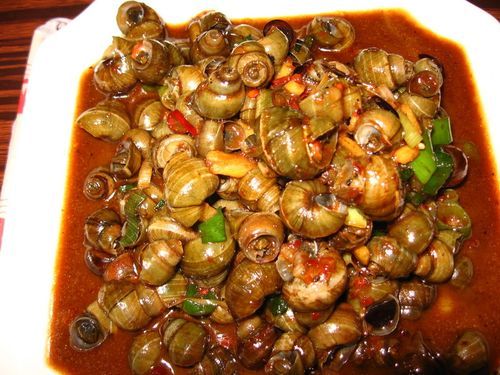 Following are some restaurants that you might want to make reference:
Mithrin Restaurant: (Hung Thang, Bai Chay)
Panorama Restaurant: (168 Ha Long, Bai Chay)
Son Ca Restaurant: (98 Ben Tau)
Bien Xanh (Blue sea) Restaurant (8 Le Thanh Tong)
Hai Ninh Restaurant (3 wards, Vuon Dao (peach garden)
Thien Ly Restaurant: ( Ly Thuong Kiet, CuaOng)
Sea Food Restaurant: ( Ha Long Street )
Thu Huong Restaurant: ( Ha Long Street)
Noi Nho Restaurant: ( Tran Hung Dao Street)
For those who wish to buy some gifts from Ha Long, seafood, especially grilled sausage is most popular. You can make an order from the restaurant or drop in some local markets.
Vip grilled squid sausage (only made from its body): VND450.000/kilo
Grilled squid (made by locals): VND380.000/kilo
Ground squid sausage: VND 340.000/kilo
Fish Sausage (cathu): VND320.000/kilo
Fish Sausage (canhac): VND250.000/kilo
Attractions
Ha Long is an incredible feat of nature will definitely never fail to impress. It is not the immense number of islands and islets that make Ha Long unique but rather wind and wave grottoes accompanied with. Following are some highlights that are worthwhile.
Bai Chay Wharf: It is on your gateway to Ha Long bay. It is a large and beautiful beach closed to the coast of Ha Long. The white sandy beach spans over 500m. Tourists can enjoy the lively atmosphere which is created by thousands of locals and tourists preparing for sailing amidst the islands.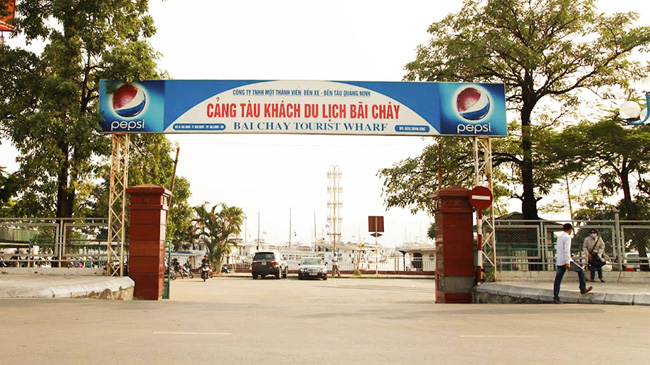 Luon Cave: It is located in the northeast of Bo Hon Island, near Sung Sot Cave with 60 meters long, 4 meter wide and 2.5- 4 meter high. It only can be accessed by small boat or kayak. Passing through Luon Cave, tourists will reach a lake which looks like a stadium surrounded by a high podium.
Sung Sot Cave (Surprise Cave): It is one of the most spectacular and widest grottoes of Ha Long bay. Ascending to the grottoes, the way is covered by trees and foliage and is composed of great paved stone blocks. There are 2 different chambers in the grotto, the outer of which is the square and referred to as the waiting room. The cave's ceiling reaches the height of 30m.  The path to the inner chamber is 3m wide and known as the serene castle. In the middle of the chamber stands a formation of a hero surveying his troops. The light reflected from moving water outside makes the formation seem alive.
Dau Go Cave: The cave is heightened at 27 meters above the sea level with 12 meters wide and 17 meter high. Inside the cave is a huge space of 5000 square meters. The height of the dome is 25 meters. As a result of karst changes during a long period, it creates a magnificent world of stalactites and stalagmites in different sizes and shapes.
Bo Nau Cave: If Dau Go Cave lies completely inside the island, Bo Nau opens its 5-7 meter mouth at the side of the island. It covers 200 square meters. The floor is wide and flat but not deep. At the entrance to the cave are three stones, looking like three fairies with their head close to one another while playing chess. Coming inside the cave, tourists can see a lot of stalactites on the ceiling of the grotto forming in different clusters. Bo Nau cave enjoys cool wind, makes it possible for tourist to hear the murmur of the sea all year round.
Trinh Nu Cave (Virgin Cave): It is as one part of the system composed of Sung Sot Cave, Dong Tien Lake, and Luon Cave. Inside the cave is a stone statue of a lying girl with her long hair laying down who is looking to the sea.
Hanh Cave: It is 20 km away from Bai Chay Wharf. Hanh cave is ranked as the longest and the most beautiful cave in the cave and grotto system in Ha Long Bay. Inside the cave is a temple called Tam Co temple (Three Girls temple). Its name origins from the legend that three girls got lost inside the cave due to its beauty and then died. In the end, they turned into the goddesses of the sea and locally built a temple to comfort their souls. When visiting the cave, tourists have to wait until low tide and bring along with a torch or flashlight. Besides, don't forget to come out before the tide rising.
Thien Cung Grotto: The way to Thien Cung is covered on both sides by thick forest. The entrance gate leading to the grotto is quite narrow. At the end of the entrance is the grotto with 130 meters long. On the east wall of the grotto is a grandiose and imposing picture of characters in heroic tales. At the last part of the grotto is a natural gushing stream of water babbles throughout the year. They are said to have been used by May (the legendary creator of Vietnamese) to bath her 100 children and bring them up wisely and happily into adolescence.
Tam Cung Grotto (Three Palace Grotto): As inferred from its name, the cave is divided into three parts. After stone racks, tourists can reach the first part which gathers numerous nice forms in different shapes and echoes fully like the traditional instruments sound. The second chamber can be accessible after a bumpy way through a freshwater stream. The last chamber offers extraordinary stone depictions such as flowers, bamboos, stone curtains and even sleeping elephants. On the wall are three statues which are symbols of prosperity, happiness and longevity. Besides, tourists can experience a natural museum of mammal species.
Me Cung Grotto: It is formed on Lom Bo Island which is home to many species of birds and animals. The entrance to the grotto is like the roof of a house denting the island's side. Going inside the grotto, tourists may find many chambers, some of which are small and narrow but very refined. There are some fossilized animal's skeletons discovered in the interior. The grotto, in fact, has been recognized by archaeologists as one of the vestiges of the new Stone Age culture which existed 7000 and 10.000 years ago.
Tuan Chau Island: the island is a perfect destination for summer with stunning natural sights, great services and delicious seafood. You can combine Tuan Chau to Ha Long for your trip of 3 days or longer. More information on what to see and do in Tuan Chau can be found here.
Ba Ham Cave- Ba Ham Lake: It is situated on the south-west side of Ha Long Bay, on Dau Be Island. Ba Ham Lake is in the middle of a rectangular area with all four sides enclosed by vertical cliffs. Comprised of three wide and round pits, linked together by a narrow tunnel, the lake is considered an ideal tourism zone. At the entrance of Ba Ham cave is an open semi-circular hole in the flat stone wall at 4 to 5 meters above the sea. Starting from the entrance, tourists enter the first tunnel which stores a lot of stalactites and stalagmites in various colours.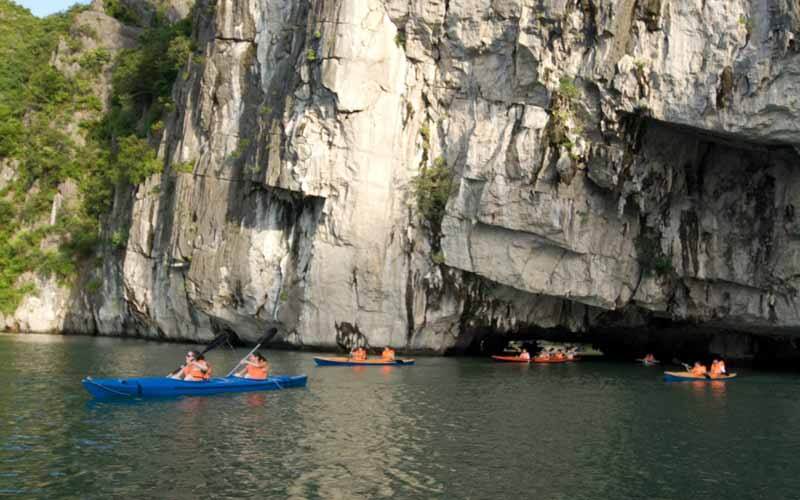 Located not far from Ha Long, there are still some destinations which also attract a lot of tourists every year. If you have explored the numerous caves and grottoes in Ha Long Bay, you can spend some beach time in islands nearby such as Co To, Quan Lan, Tuan Chau which are not too much touristy. For those who are pilgrims, Yen Tu, one of the origins of Buddhist to Vietnam, is also worthwhile.
Other notices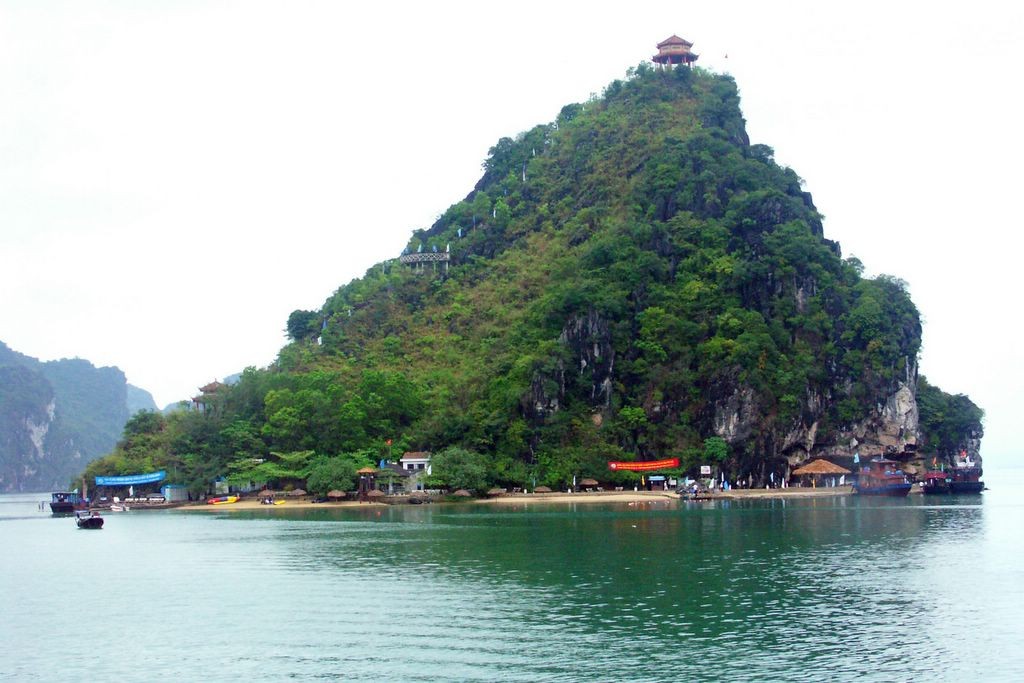 In the end, let's look at some notices below to make sure that you will experience a safe journey with a good impression in Ha Long Bay.
Put on sunscreen, sunglasses, hat or umbrella. Besides, wear sandals or shoes because rocks and shells on the cave may hurt your feet. Watch your steps when going inside the caves and grottoes as it is a little slippery when wet.
Pack your swimsuit. However, be noticed that not all areas on the bay are allowed to swim around due to the tides, currents and strong flows. Moreover, be aware of jellyfish attack.
Bring along your camera and telephone so that you can keep some impressive images of the site. Don't bring flammable and dangerous goods such as firearms or weapons which are not permitted onboard.
Drinks on a cruise are served with tea, coffee, water, etc… You should not bring your own drinks on board if you don't want to suffer a service charge which is quite high.
When onboard, you can keep your valuables in the safety box provided in each cabin. In case your belongings are missed, report the specific information to the reception as soon as possible.
Remember to check the price before making any deal.
If you go with kids, never leave them alone in the room, on a boat or on the beach.
Be sure that you are in good condition and you will follow your guide's instructions when you do kayaking.