Located on the southwest of Ha Long City, Tuan Chau Island is one of the most touristic destinations in Quang Ninh province and the golden tourism place in the North of Vietnam. It is not difficult to find beaches with white, fine sand and clear blue water on the island. With fully-equipped facility, accommodation and entertainment, Tuan Chau is worth a visit and can be an ideal destination for summer vacation.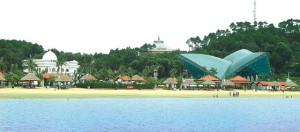 Travelling to Tuan Chau is not a challenge as the island is just 10 km away from Bai Chay centre including the 2-km concrete road connecting Tuan Chau with the mainland. Best months to travel to Tuan Chau is from April to October, but try to avoid June and July as small storms and heavy rains often come in these two months.
How to get to Tuan Chau?
From Hanoi, the most convenient way is to catch a coach from My Dinh bus station. Some suggestions are:
Kumho Viet Thanh: My Dinh coach station – Hoang Quoc Viet – Co Nhue junction – Thang Long fare station – Bac Ninh bridge – Yan Phong waiting bridge – Pho Moi bus station – Sao Do T-junction – 99 Thanh Quan – Dong Trieu – Mao Khe – T-junction to Hai Phong – Uong Bi – Bai Chay coach station – Loong Toong petro station – Hon Gai coach station – Cam Pha
Hours: 05:30 – 17:30, every 30 minutes
Tel: +84 437 689 874 / +84 985 888 099
Phuc Xuyen: Ha Tu – Cot 8 – Nguyen Van Cu – Cao Thang – Loong Toong – Bai Chay coach station – Uong Bi – Mao Khe – Dong Trieu – Restaurant 559 in Chi Linh – Bac Ninh – Thang Long bridge – My Dinh coach station
Hours: 05:45 – 17:45, every 30 minutes
Tel: (033) 366 3366
Hopping off at Bai Chay coach station and taking a taxi or motor-taxi into Tuan Chau Island, the way can never be easier.
Where to stay in Tuan Chau?
Normally, visitors stay in Bai Chay or Hon Gai areas and travel to Tuan Chau for entertainment only. However, it does not presume that you should not stay on the island or there is no accommodation on the island. Review the following hotels on Tuan Chau and find out which is best suitable:
Hoa Binh Ha Long Hotel
Price range: from 450,000 VND
Tel: (033) 3842388 – 3842399
Morning Star Hotel
Price range:
Tel: (033) 3842350 – 3842359
Tuan Chau Holiday Villa
Price range:
Tel: (033) 3842999
Atlantic Hotel
Price range: from 550,000 VND
Tel: (033) 3842048
Hidden Charm
Price range: from 450,000VND
Tel: (033) 3842360
What to do?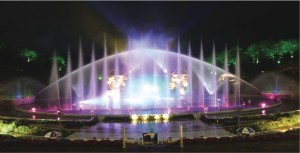 Coming to Tuan Chau, visitors should not be worried about what will entertain them there. Tuan Chau Entertainment Park will not disappoint visitors with its exciting and interesting activities.
Entry ticket:
Group: 180,000VND/per
Individual: 200,000VND/per
Children under 1m high: free entrance /above 1m: same as adult
Opening hours: 7:30 – 22:30
Special performances are listed as below:
Water music: 40 minutes/show with 3 shows (08:30 – 09:10, 09:15 – 09:55, 20:15 – 20:55, 21:15 – 22:15 on Fridays and Saturdays only)
Lion Sea, Dolphin and Seal show: 30 minutes/show (10:30 – 11:00, 15:30 – 16:00, 20:15 – 20:45, 21:15 – 21:45 on Fridays and Saturdays)
Crocodile and Monkey circus show: 20 minutes/show (09:00 – 09:20, 11:00 – 11:20, 14:30 – 14:50, 16:30 – 16:50, 19:30 – 19:50, 20:15 – 20:35 on Fridays and Saturdays)
Where to eat?
Tuan Chau Cuisine area will bring various and rich dishes from all regions in Vietnam to visitors. Price ranges from 150,000VND/person or higher. The area is located on the way into Dolphin and Water Music show.
Another option is to travel into Ha Long city centre and try local dishes with a better price deal. Don't forget to stop at the local market and look for Cha Muc (grilled chopped squid) – a famous dish of Ha Long with just around 250,000VND/kg.