Ha Long Bay is no doubt the number 1 destination in Vietnam. All travellers to our country are recommended visiting this world heritage. However, with an overloaded number of cruise brands that are operating on the bay, many would-be confused of which and how to take a cruise without any worries of quality and safety. Cruises vary on a wide range of sizes, amenities, itineraries, and activities.
General Information
After the sinking incident in 2011, the Vietnamese government has tightened regulations on boating activities on the bay. Cruises have to anchor in certain areas and close to each other, be painted in white and only can only stay on the bay overnight when permitted. That means your itinerary is likely to be changed or cancelled when the weather worsens.
There are different ports around Ha Long bay where cruises and ship may depart from. Most of the dock at Bai Chay, some from Hai Phong, Cat Ba or Cai Lan, few at Tuan Chau. Gia Luan (Cat Ba island) and Tuan Chau ports are mostly used in tours to Ha Long that combine with Cat Ba island, Lan Ha bay or Tuan Chau island.
Cruise Company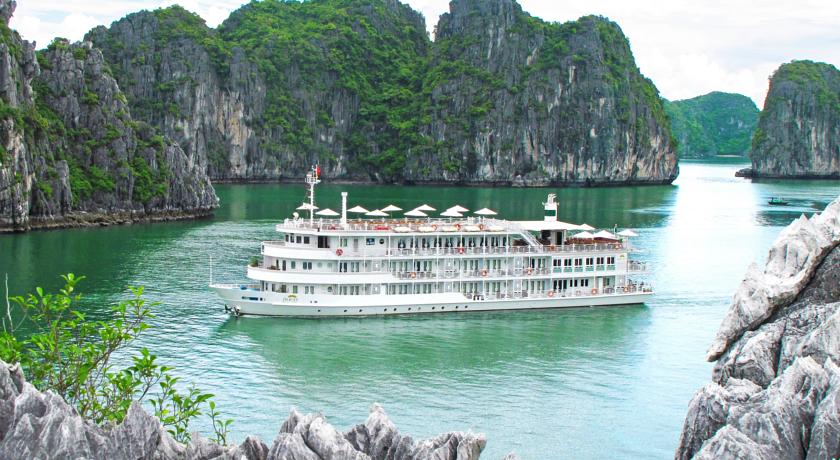 Au Co Cruise is the most luxury
Cruises are often categorized based on the costs: from mid-range, luxury or in between, can be either private or not and of course, private tours are more expensive. Regardless of the level, most cruises offer packages that include transfers from and to Hanoi. There is a huge gap between the cheapest and the highest costs for a Ha Long tour. It can either be a $30-$45 for a half-day or full-day tour or a $400 for a luxury overnight tour on the bay. The former is clearly no private tour which sometimes means you would have to wait at the port until the ship gathers enough guests to leave. In peak season, this can be done quickly but you might feel little overcrowded. Budget tours to Ha Long bay are rather way below average with mediocre services and food. Meanwhile, luxury cruises are indeed "movable hotels" which have everything stuffed inside one ship. Some even have the quality of a five-star hotel. You can expect a lot in the cruise amenities with modern LDC TV, DVD player, mini-bar, air- conditioner, in house phone, bathtub, Jacuzzi…. Views over the bay from cabins and from the top deck are magnificent, especially sunrise and sunset views. With extremely luxury cruise operators, extra services like massage, spa or cooking class and Tai Chi class are also available.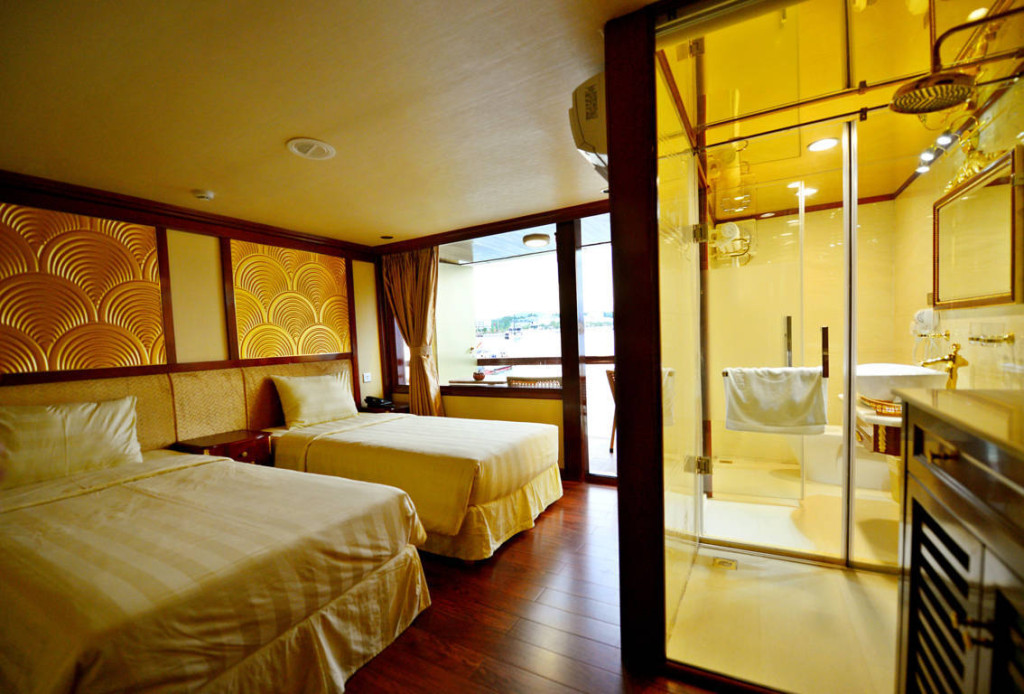 Golden Cruise Cabin
Luxury cruise sounds so tempting but the mid-range or upper mid-range is also very good with cost only half or two-thirds of a luxury one. Mid-range cruises offer full-day tour with cost $70 and an overnight tour $120-$150 and up. Activities on the bay are the same with luxury cruises but food and services are a bit inferior.
Top Luxury Cruises:
The Au Co ($425)
Emeraude ($175)
Pelican ($135)
Starlight ($218)
Bhaya ($169)
Top Mid-range Cruises:
LaFairy Sails ($152)
Dragon's Pearl Junks ($140)
Glory ($115)
Gray Line ($130)
Calypso ($152)
The lists above are what we recommend based on the ranking on cruise booking websites and travellers' experiences. The number ten of the list seems to be too small when comparing to countless companies out there. Please share your opinions and experiences with cruises in Ha Long in the comment section.
Tours and Activities
Tours from Hanoi to Ha Long often take 2 days one night (night spent on the bay) or 3 days and two nights. If you want to take a half-day tour on Ha Long from Hanoi, it will be very tiring because it usually takes 4 hours driving from Hanoi to Ha Long. A quickest bay cruise tour on the bay must take at least 4 hours. A tour like that is not enjoyable. We recommend you to spend 2 days for Ha Long with one night to spend on the bay. By taking a two-day tour, you will truly enjoy your time here plus have a chance to admire the sights of sunset and sunrise on the bay.
On tour activities, most of the companies offer the same itinerary for a 2-day tour with caving, kayaking, swimming in day one and visiting Tuan Chau island on day two's morning. Caves visited are Thien Cung cave, Dau Go grotto, Sung Sot grotto. Islets are Trong Mai, Thien Nga, Su Tu Bien where you can swim and other beach activities. The night is spent on the bay if the weather allows. On second day's morning, visit Titov islet and Tuan Chau island. Some companies will include their extra services such as Tai Chi class in the early morning or cooking class in the afternoon, dependently. Few companies even have a tour to Bai Tu Long bay, Lan Ha Bay or to fishing villages.
In summer, the weather in North Vietnam is mostly sunny but rain or small storm often comes unexpected therefore the tour's itinerary might be changed or some activities like swimming and kayaking or staying overnight on the bay will be cancelled without warning.