Electric car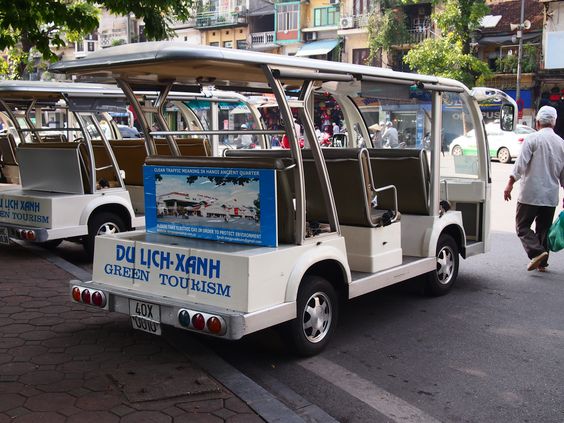 The electric car is a cheap and perfect option for a short ride around the Old Quarter – the heart of Hanoi – and West Lake with leisure.
There are two lines/tours of an electrical car, operated by two separated companies:
Line 1: West Lake Tour (by TLC Hotay Joint Stock Co.). The terminal of this line is located in front of Tran Quoc Pagoda, Thanh Nien Rd.
Total 20 cultural and historical monuments on the tour:
West Lake Water Park
Lotus Pond
Quang Ba Communal House
Hoang An Lagoon
Kim Nguu Temple
Tay Ho Temple
Nghi Tam Communal House
Kim Lien Pagoda
Yen Phu Communal House
Tran Quoc Temple
Cau Nhi Temple
Quan Thanh Temple
Ly Tu Trong Garden
Voi Phuc Temple
Sai Pagoda
Vong Thi Pagoda
Trich Sai Communal House
Thien Nien Pagoda
Tan Hien Pagoda
Tao Sach Pagoda
Price:
80,000VND/pax for adults and 55,000VND/pax for children from 0.8 -1.35m for a 35-minute non-stop tour.
560,000VND/7-seat car or 800,000VND/10-seat car for 1.5-hour tour. You can choose 2 spots to visit for 15 minutes each. Not included food, drink, guide and admission.
Line 2: Old Quarter Tour (by Dong Xuan Joint Stock Co.). The terminal is located opposite the Thang Long Water Puppet Theatre, Dinh Tien Hoang Street. This is also the starting and the finishing point of the tour.
You'll be picked up at the meeting place and travel through following streets:
Hang Dao
Hang Ngang
Hang Duong
Dong Xuan
Hang Chieu
Nguyen Sieu
Lo Ren
Hang Dong
Hang Vai
Hang Buom
Ma May
Hang Bac
Hang Bo
Bat Dan
Hang Quat
Luong Van Can
Le Thai To
Hang Khay
You'll be introduced when passing through 28 streets of the Old Quarter and visit three of the spots for 30 minutes each.
You can select three of the places below:
48 Hang Ngang relic site
Huyen Thien Pagoda
Quan Chuong Gate
St. Joseph's Cathedral
Monument dedicated to King Le Thai To
Monument dedicated to King Ly Thai To
Ngoc Son Temple
Dong Xuan Market
Bach Ma Temple
87 Ma May ancient house
Price:
20,000VND/pax for a 35-minute tour
150,000VND/7-seat car for a 350minute tour
250,000VND/7-seat car for 1 hour tour
Included picking up at time and destination as request and insurance, excluded VAT, personal expense, meals, tour guide, admission…
Notes:
If you want to stop at another destination apart from the three selected places, you will pay additional 50,000VND.
Service hours:
Line 1: 8:20 – 21:00 daily
Line 2: 8:300 – 18:00 daily
Payment:
For individual ticket, full payment is required at the time of departure.
For online booking of group tickets, major credit cards or PayPal are accepted.
Electrical car's capacity:
Cyclo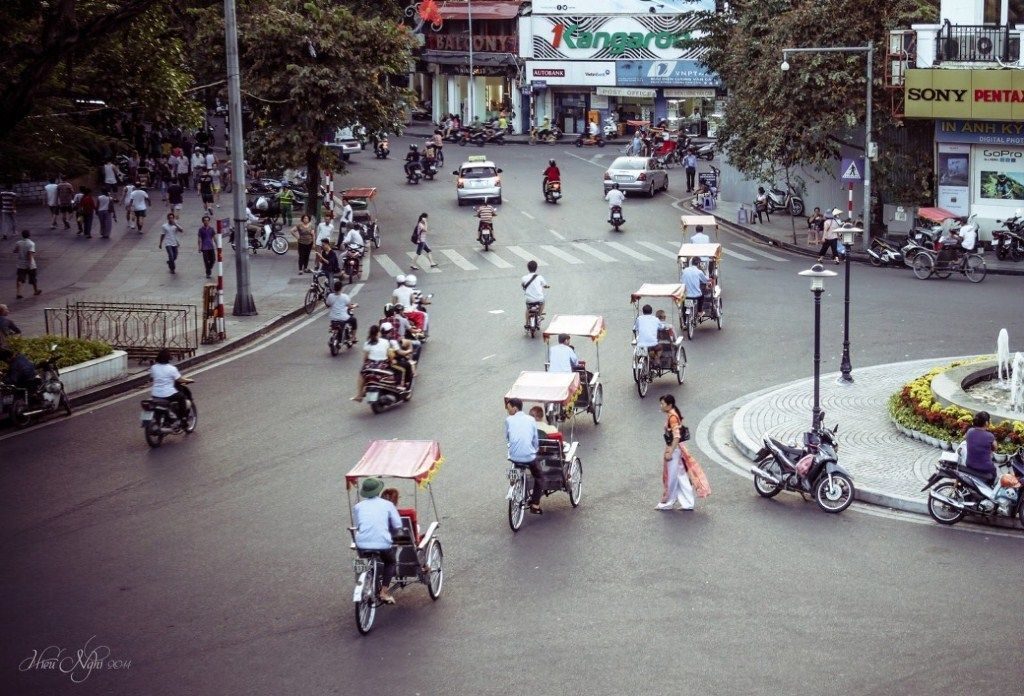 Cyclo had been a very common means of transportation in Vietnam for an in the past and recently became a famous tourist service across the country. Cyclo is one of the best ways to enjoy a city tour.
The downtown of Hanoi is a congested place with countless alleys and small roads tangling in a more confusing way than a spider net. Taxi or bus will not do you justice if you want to enjoy the sight of the streets, breath in the atmosphere of the most bustling area in the capital. The open design of a cyclo offers no hindrance for photograph taking or sightseeing. The cyclo driver behind who will also be your tour guide knows their way through the maze of the Old Quarter.
It's impossible to walk around Hoan Kiem Lake and Old Quarter without seeing a cyclo or being accosted by a cyclo driver, insisting to take you on a ride.
With a one-hour cyclo tour around Old Quarter you can expect to visit Hang Bac, Ma May, Hang Ma streets, around Hoan Kiem Lake, Opera House or Sofitel Metropole hotel. Cyclo tours can be customized as requested but the spots should be close to each other.
The normal price for one person for a one-hour tour is 100,000VND. If you want to share a cyclo with another or going further than the Old Quarter area, you'll to pay more.