The bus is considered as the cheapest and most convenient transportation means for long distances. Travelling by bus is much easier than before since the roads and the bus system both are improved and well-managed.
Interprovincial buses
Each province and city in Vietnam has one or more major terminal, like in Hanoi – My Dinh bus station or Giap Bat bus station; Ho Chi Minh city has Mien Dong and Mien Tay stations. Thing is you need to get buses schedule and ticket costs.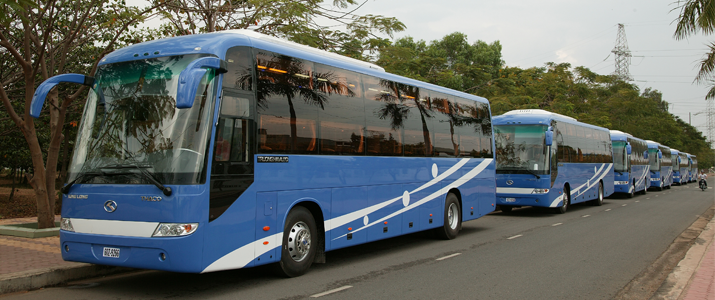 Hanoi (http://benxehanoi.vn/):
My Dinh bus station
Address: No.20, Pham Hung street, My Dinh district
Hotline: 04 37685549
Giap Bat bus station
Address: GiaiPhong street
Hotline: 04 38641467
Gia Lam bus station
Address: Ngo Gia Kham, Long Bien
Hotline: 04 38271529
Luong Yen bus station (CLOSED from 2016)
Address: no.3 Nguyen Khoai, Bach Dang, Hai Ba Trung
Hotline: 0 4 3927 0477
Ho Chi Minh City: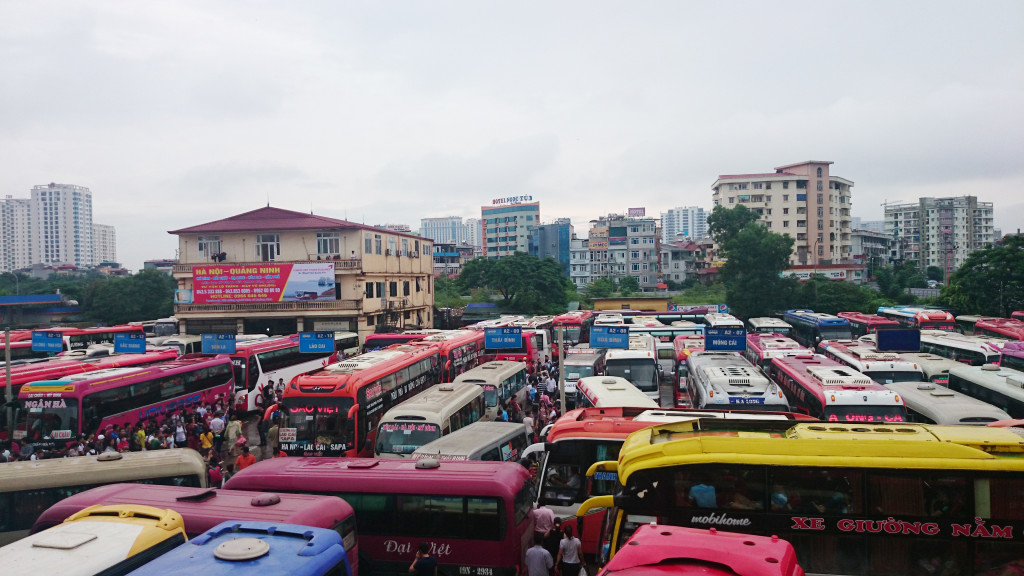 Mien Dong bus station
Mien Tay bus station
Website: http://www.bxmt.com.vn/
Address: no.935 Kinh Duong Vuong, An Lac Ward, Binh Tan district
–        Hotline: 08 3877 6594 – 08 3752 1517
Ben Thanh bus station
Address: Ham Nghi street, District 1
Hotline: 08 3821 7182
Cho Lon bus station
Address: no.86 TrangTu street, District 5
Hotline: 08 3855 7719
Other cities:
Ha Long city: Ha Long, Bai Chay, (84 – 33) 3847 410
Hue city: no.33B An Duong Vuong St., (84 – 54) 3825 070
Da Nang city: 33/35 Dien Bien St., (84 – 511) 382 2020
Hoi An city: no.84 Huynh Thuc Khang St., (84 – 510) 3861 284
NhaTrang city: 58/23 Thang Muoi St., (84 – 58) 3822 192
Can Tho city: no.114D Cach Mang Thang Tam St., (84 – 710) 3825 886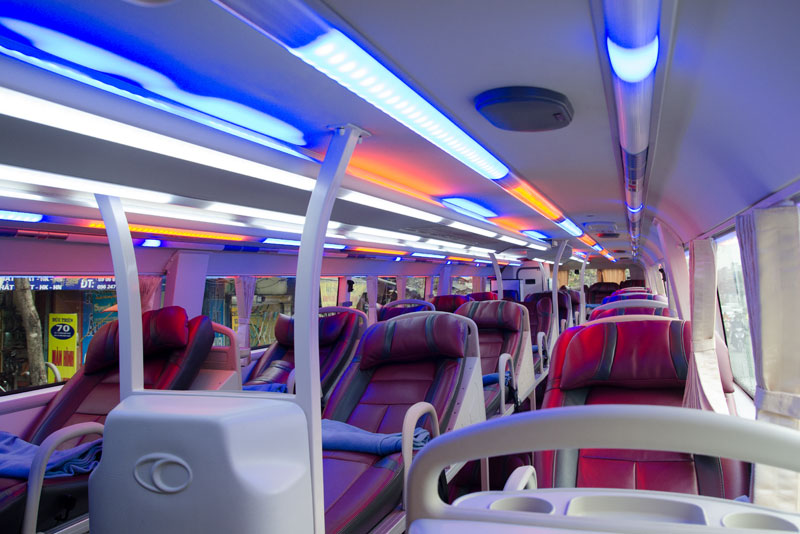 The price depends on the distance of the route and type of seats chosen. Foreign travellers can ask tour agencies to arrange for them, or book via the internet and phone call or go directly to the bus station to buy. However, booking in advance is only available from large companies like Hoang Long. Tip for you when you can't find any direct route to your destination is you should take a bus to the nearest big cities then find other buses to where you want to go.
Some routes only depart at night, and some take a day(s) and night(s). Overnight buses are a nightmare to foreigners. If travelling by bus isn't really necessary, you should take flights. To those who want to experience, there are some tips:
Don't buy cheap tickets and always look for the ticket booth.
Take seats in the middle.
Prepare enough clothes and plastic bags.
Watch your things and beware of pickpocket and stealing.
Try to sleep if possible.
Be patient.
Local buses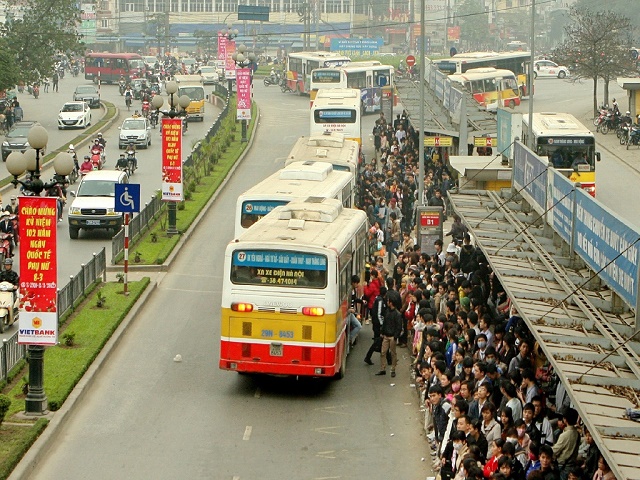 The local bus is the cheapest transportation means in Vietnam for short-distance destinations. You should get a bus map on the internet to know which bus to take and which bus-stop to get on and get off. Pay attention closely to the number of the bus. Do realize that a bus route is two-way and you can easily be confused which bus stop is for which way. For example, on a two-way street, there are bus stops for the same bus on both sides. If you get on the wrong bus, get off immediately. Most of the drivers and driver assistants don't speak English, preparing beforehand is a must. Timbus is a decent application to find bus route in Hanoi and Tramoc offers information about Hanoi bus network in English.
And also Bus map for Ho Chi Minh city is also available.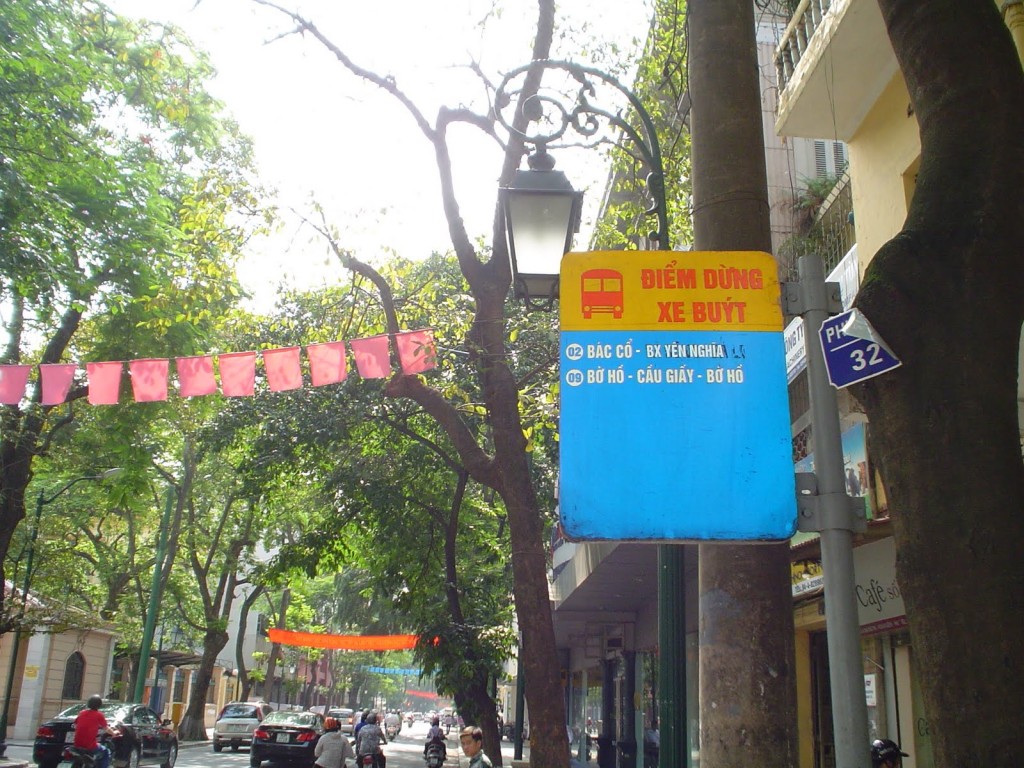 In Hanoi, local buses are operated by Hanoibus, go to their website http://transerco.vn/Default.aspx?pageid=253 to have the schedule (only in Vietnamese but understandable). Price for the city bus is 7,000VND per person, from city to suburb areas, depends.
In Ho Chi Minh city, buses are managed by Department of Transportation http://www.buyttphcm.com.vn/Default.aspx (Vietnamese only). On this website, you can find a map of bus-stops for each route (trạm dừng nhà chờ) and ticket prices (vé xe buýt). The price is from 5000VND – less than 18km, 6000VND – more than 18km, 7000VND – 10,000VND for fast buses (13, 94) and night bus (96). Ticket books (30 tickets /book) are priced from 112,000VND – 135,000VND according to the distance.
In provinces and smaller cities, local buses are lesser than in big cities, most buses run by private companies to tourist destinations with higher prices. One thing you won't like about local buses is that the quality of service probably doesn't meet your expectations. Besides being crowed most of the time, not fully equipped, the security isn't ensured and you might be stolen without knowing.
Update: In 2017, Hanoi will upgrade city buses with new colours and free wifi.
Buses running in the city centre are changed by blue: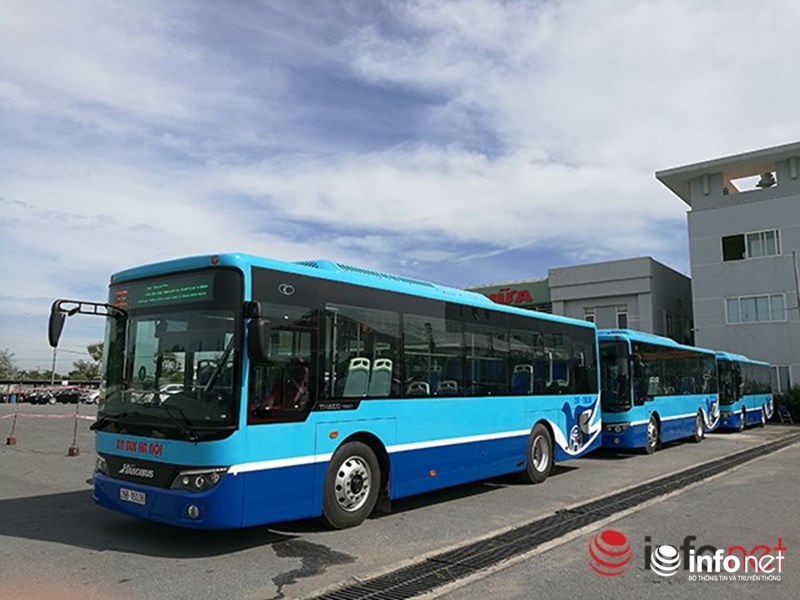 New buses no.84 and no.85 have green: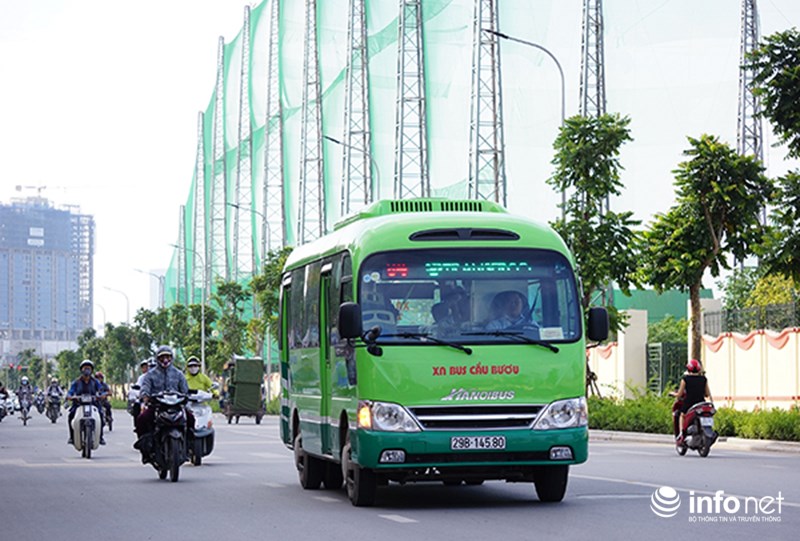 Buses from the city centre to Noi Bai airport are coloured with orange: