One of the things that make motorbiking in Vietnam so worth trying is the scenic roads throughout the country. Just like the legendary Route 66 in America, Vietnam also has its symbolic roads with stories which are remembered in history, culture and arts. Some roads are famous about how hard they were to make; some roads are attached with danger or war history. But above all, when you ride on these roads, you will see a beautiful and peaceful Vietnam.
Road of Happiness, Ha Giang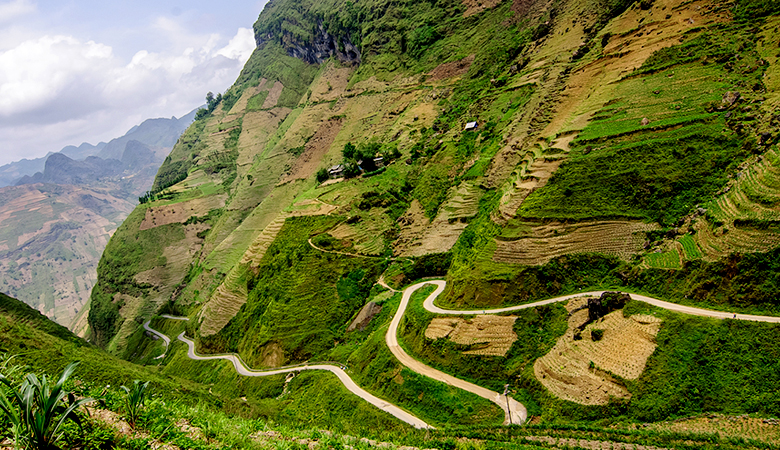 The story of the Happiness Road in Ha Giang (or Highway 4C) – the last frontier of north Vietnam – was rather a heroic story to tell. The road connects Ha Giang City to 4 highland districts – Quan Ba, Yen Minh, Dong Van, Meo Vac; ends at the junction to Cao Bang province.
The first attempt to open a road that runs through Ha Giang city to Meo Vac district in order to make transportation easier started back to the year 1959. Before that time, Ha Giang didn't really have a major road, H'mong people had to travel on horsebacks and their journeys lasted months due to the harsh terrain of the rock plateau. The road was only put to use in 1965 which means 6 years to make a road of 200 kilometres. The Highway 4C is not only the road of happiness but also the road of youth. Many young people at that time volunteered to work in this very dangerous job. The hardest part had to be Ma Pi Leng pass which is only 20km long yet took 2 years to finish. Seventeen bravest road workers had to hang their bodies on a 1600m cliff to make the road by their hands and mines only. At that time, ten coffins were prepared and two were used.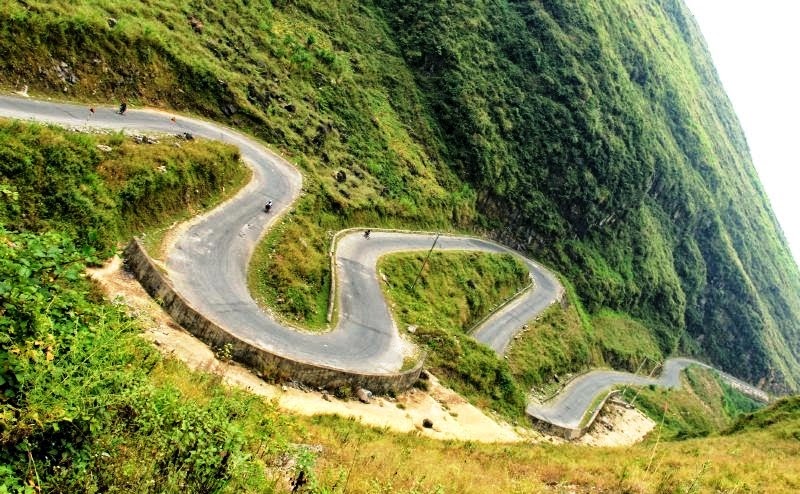 Nowadays, Ma Pi Leng is known not only for its nickname "King of all passes" implying it's the most dangerous pass of them all but also for its immense beauties. Riding on this road, you will see the scenery changing from lowlands to highlands. In Quan Ba, do not miss the Fairy Mountain and Heaven Gate. In Yen Minh, you'll be riding through romantic pine forests. In Dong Van, it's the rocky mountains after rocky mountains running to the horizon. In Meo Vac, the majestic Ma Pi Leng pass leads to the scenes of green and poetic Nho Que river quietly flowing between Tu San Canyon.
The Happiness Road is the sole road that runs from Ha Giang city to the farthest north . You will need at least 4-5 days to have a complete trip in Ha Giang from Hanoi. Best time to visit Ha Giang is the summer (June – July) and autumn (September to November). Ha Giang is 300km away from Hanoi and the Happiness Road is around 200km so you will complete a journey of 500km one-way. The shortest way is through national highway 2 to Tuyen Quang City:
Ha Noi – Tuyen Quang: 138km, ~ 3 hours
Ha Noi – Phuc Yen – Huong Canh – Vinh Yen – Tam Duong – Son Duong – Tuyen Quang
Tuyen Quang – Ha Giang city: 180km, ~ 4 hours
Tuyen Quang – Tan Quang – Viet Quang town – Vi Xuyen – Ha Giang
The road's quality, in general, is smooth yet the height and steepness of Ma Pi Leng pass sometimes would make you slow down. Watch out for sharp turns, hairpin turns and big cars from the opposite direction.
Hanoi – Nghia Lo – Mu Cang Chai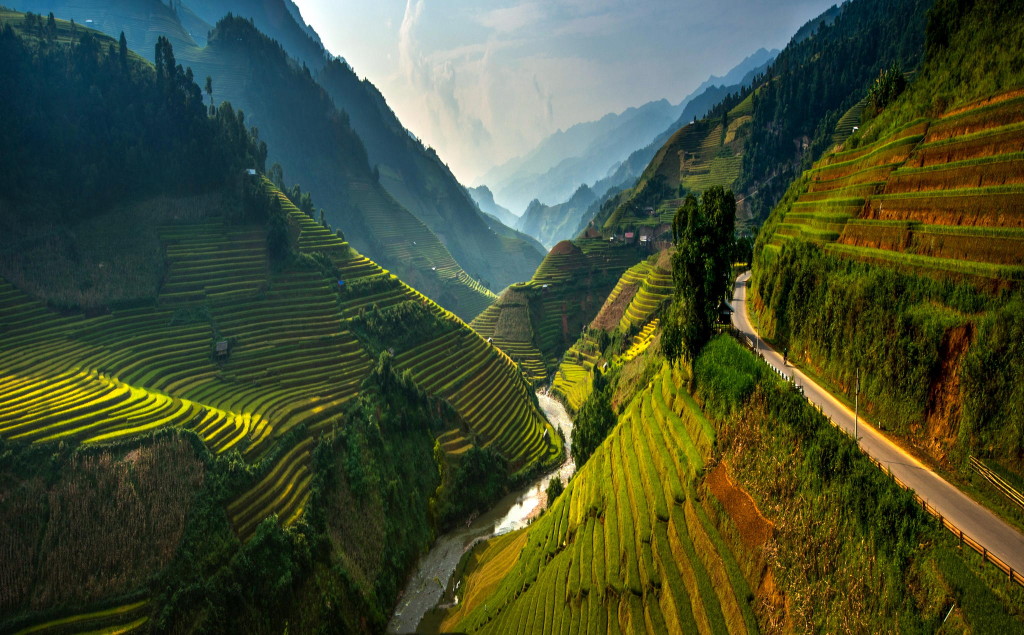 If you want to see the most beautiful terraced rice fields in Vietnam, nowhere is better than Mu Cang Chai, Yen Bai. Each year, between September and November, Mu Cang Chai welcomes countless travellers from all over the world come to admire the greatness of an agricultural beauty.
Mu Cang Chai is a highland commune of Yen Bai province, located about 280km away from Hanoi. You will need at least 8 hours riding to conquer the said number. Set aside the majestic scenery of the destination, Mu Cang Chai is also famous for the diverse and unique cultural charms of ethnic minorities such as H'Mong and Thai people.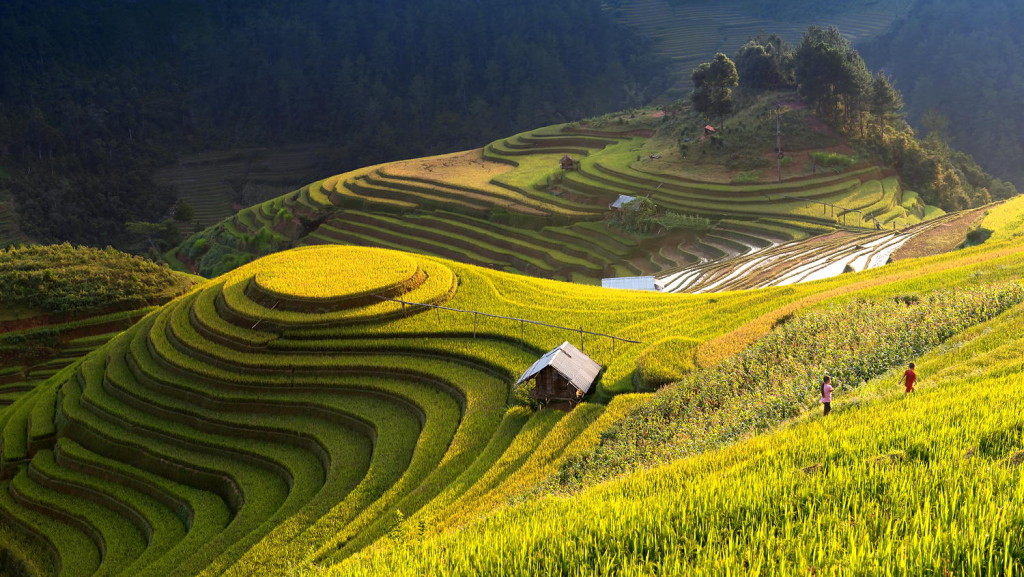 From Nghia Lo, Yen Bai there is a 100km-mountain-road through Tu Le town where glutinous sticky rice is a must-try speciality and Khau Pha pass which is of one the four great passes of North Vietnam. The whole way is simply beautiful and romantic. The place to take the best photos of the terraces must be La Pan Tan Commune. From Nga Ba Kim to the terrace viewpoint, it's a very steep and winding road, a great challenge for you. Other sites with a wonderful view are Ba Nha Bridge, Che Cu Nha and Lim Mong village. In Mu Cang Chai, Kim Noi village will be a nice wrapping-up point of your trip with its rich cultural attractions of Thai people and very delicious dishes.
By motorbike, the road you should take is national highway 32 all the way to Mu Cang Chai Commune. There are two passes that are Khe Pass and Khau Pha pass and you should watch out on the latter because it's obviously more dangerous and has thicker traffic in peak season. In general, the road quality is good.
Ba Vi National Park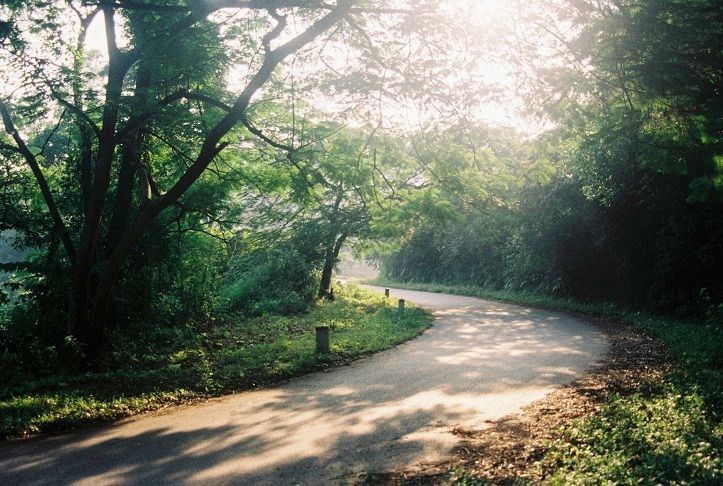 Ba Vi National Park has the highest point of Hanoi with three mountains of which King mountain is the top with a height of 1296m while other two Ngoc Hoa and Tan Vien are 1131m high and 1227m high. The park is located at Ba Vi district, about 50km away from the city center of Hanoi. Ba Vi National Park is not only famous for its cool air, greenish scenery, beautiful wild sunflowers in October but also for spiritual values – Ho Chi Minh president temple, two famous temples are built here.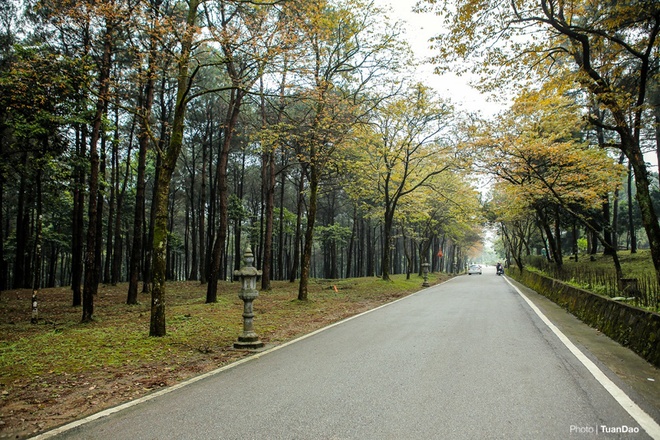 Trees along the way to the mountains are mostly evergreen kinds. The thick layers of trees here along with high altitude make the air so cool even in hot summer. The scenery is serene, especially on a summer morning. Along the way, you will see mountains, valleys and lakes before entering deep into the forest. The major road in good condition; however, it's quite narrow and winding and steep with a lot of turns. Small cars and motorbikes are allowed in the park so you should be careful at some sharp turns.
Da Nang – Lang Co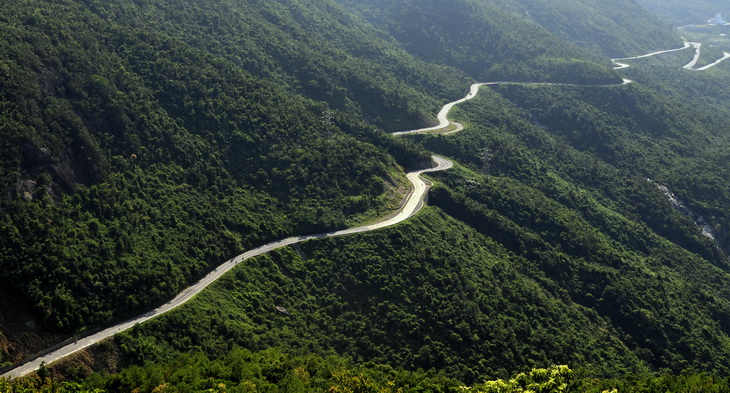 This route is rather shorter than the others but its beauty is no less alluring. Lang Co is proudly presented in the collection of best beaches in Vietnam and located just 30km away from Da Nang. The beach is often included in tours to the surroundings of Da Nang. To reach Lang Co, you have to conquer a part of Hai Van pass, one of the most dangerous passes in Vietnam. However, the reward will please your eyes to no end. Just when the Lang Co bay comes into views, from a distance you already see its blue water and silver waves quietly touch the white-sandy shores. And as the closer you reach it, the harder it is for you to distinguish the sky and the blue ocean.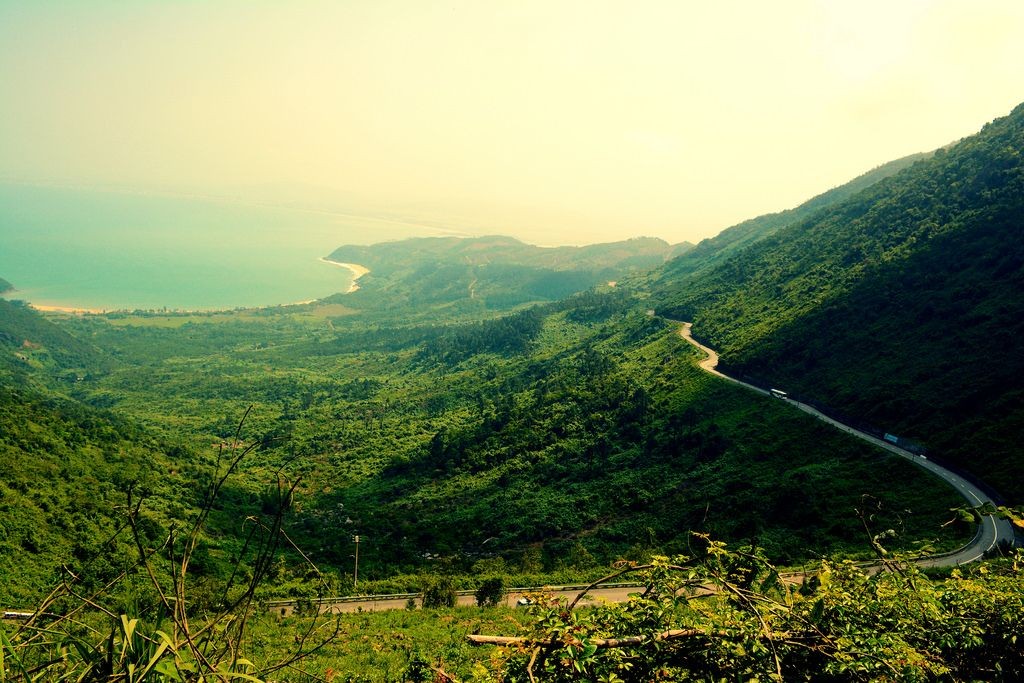 The best time to visit Lang Co is between April and July when the water is bluest and warm enough to swim. On the way, do not drive too fast if you don't want to miss some beautiful sites such as Chan May beach or Vong Hai Dai (Sea Watch Tower). Bach Ma (White Horse) National Park is also located very near. In Lang Co, it will be a pity if you don't have the chance to enjoy the peaceful sight of Lap An Lagoon. The seafood in Lang Co is not only delicious but also very cheap and healthy.
O Quy Ho Pass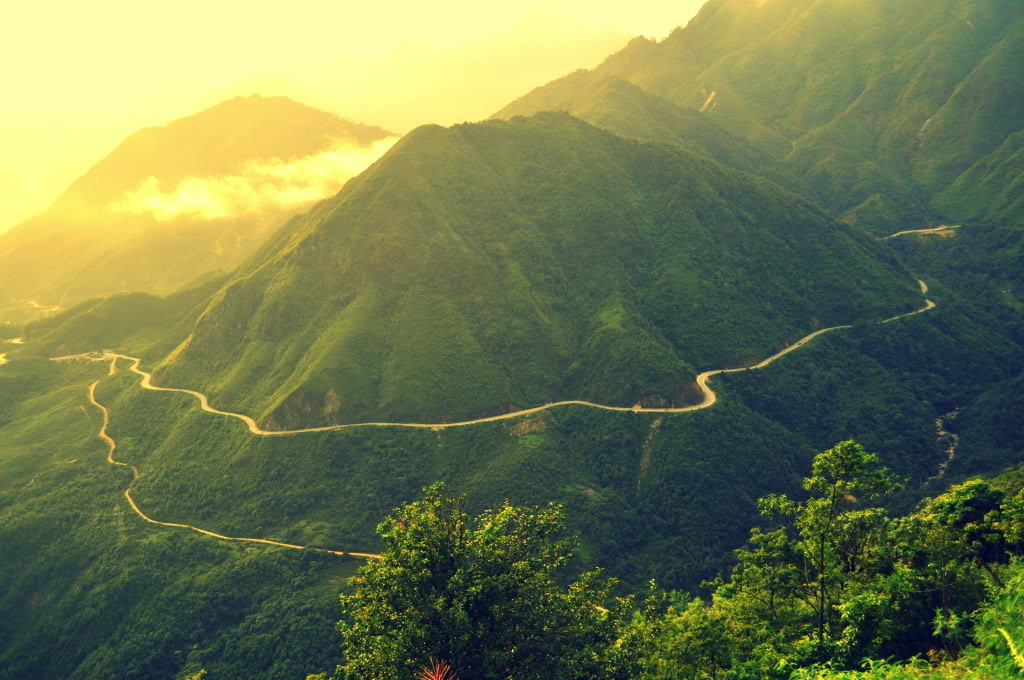 O Quy Ho Pass is the longest pass in Vietnam, spreading about 50km on the 4D national highway from Lao Cai to Lai Chau. Its name "O Quy Ho" is from the sound of a specific bird. The pass is known for its dangers as much as its majestic beauties. The pass's peak is on an altitude of 2000m and called "Heaven Gate", located just a few kilometres away from Tram Ton – Love Fall. One magnificent thing about this pass is the weather. In summer, when you ride a motorbike through the pass the weather will change slowly from cool and cloudy in Lao Cai to sunny, dry and quite hot in Lai Chau. Along the road, you will see many wildflowers, small waterfall streaming down from the mountains and panoramic views of nature. The sunset on O Quy Ho is also one of the most beautiful moments in the north; however, it's dangerous if you are still on the pass when the sun goes down.
Sai Gon – Da Lat
The total length of this route is about 320km which means you will need around 7-8 hours to arrive in Da Lat from Ho Chi Minh city. The shortest way to reach Da Lat is to take on the national highway 20: HCMC – Dong Nai – Bao Loc – Da Lat. However, this road is not so easy when it has two passes – Bao Loc pass and Prenn pass. Bao Loc would be a real challenge for those who are not experienced while the 10km Prenn pass will lead you to Prenn waterfall. Good news for travellers is the highway is upgraded and it would make your travelling time easier and safer.
Ho Chi Minh Highway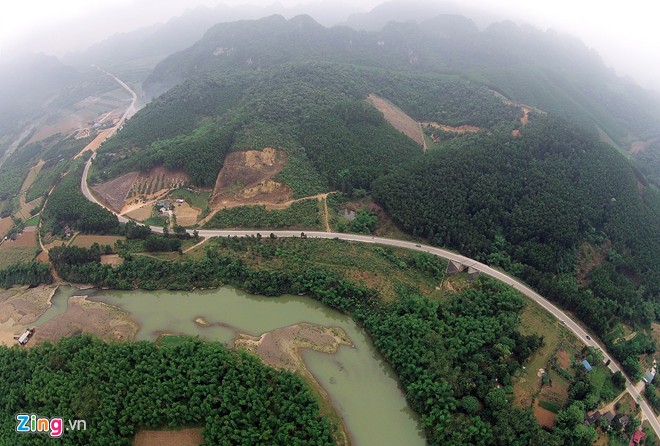 Ho Chi Minh Trail or originally Truong Son Road has always been a legendary road in Vietnam, historically and culturally. In the past, Ho Chi Minh trail wasn't a homogenous path but rather a network with a lot of roads and tunnels running through the west side of Truong Son range and even Laos and Cambodia. And it's right to say the trail played a significant part in the country's final victory along with the Ho Chi Minh sea trail. A lot of tears and blood had fallen on both trails in the tremendous attempts to keep the supplies to the south transported.
The trail, after the war, was abandoned due to the large amount unexplored landmines and bad quality of roads. Vietnam government had planned to make a Ho Chi Minh highway back in 2004 in remembrance of the old Ho Chi Minh Trail. However, the new highway roughly coincides with the trail since in the past a major part of the trail went through the jungles of South Laos. While Ho Chi Minh Highway is a single path goes straight from Cao Bang to Ca Mau Cape with a high quality of road condition. A special thing of HCM highway to distinguish this highway to others is that its road-markings are painted in yellow.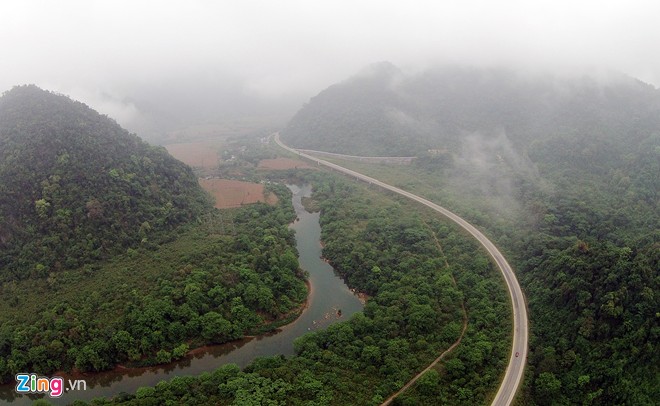 As of 2016, most of the highway is finished and you can easily go from Hanoi to Ho Chi Minh city riding on this road. Some parts are still under construction such as the road to Ca Mau Cape. The last time I visited the cape, the road wasn't quite done there and had to visit by boat. The road is two-lane and around 2020, it'll be upgraded to 8-lane.
The scenery on Ho Chi Minh Highway is sometimes primitive, wild and raw with sheer mountains and rivers; sometimes it's serene, peaceful with houses and rice fields as if no wars happened and no bombs were dropped at all.
When entering Quang Binh, the highway splits up into HCM West and HCM East and two roads join to become one running on the west side again before entering Quang Tri. There are a lot of roads connecting Ho Chi Minh highway to its parallel National Highway 1 running on the east side, so you can change roads back and forth whenever you like.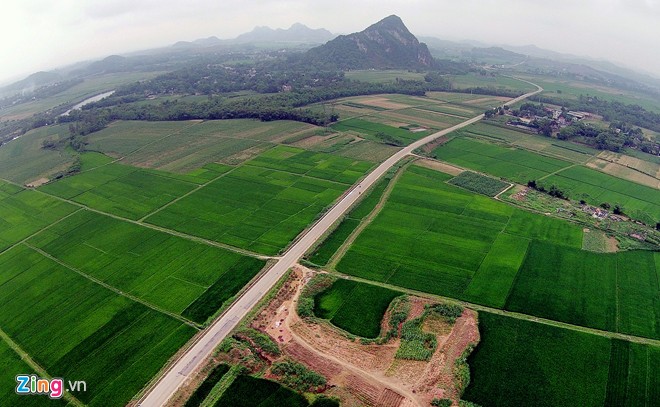 There are some useful tips for those who want to conquer this lengthy road:
The road is not very wide but very smooth with thin traffic which means you can drive a little bit faster but slow down on mountainous roads and resident areas.
Because the road is empty most of the time so the people and animals living along the road often cross without warning, so look carefully when you riding through a village/town.
Your motorbike must be maintained well. It shouldn't be too old. Bringing repair kit and extra fuel is mandatory because there will be some days you will meet no town or village on the way and any trouble happens in that kind of situation would be a disaster.
Take a raincoat with you because of the long road and unexpected weather.
Bring food and water
You might feel lonely even when the scenery is so beautiful, so it's best to ride with someone
Coastal Road Phan Rang – Vinh Hy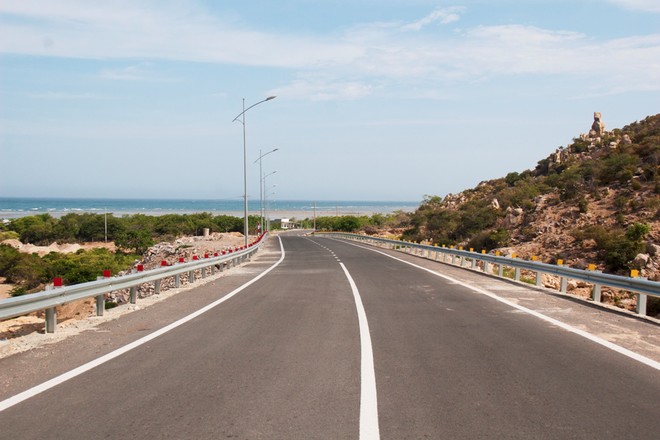 40 km from Phan Rang to Vinh Hy Bay must be the most beautiful seacoast road in Vietnam. And not only running close to the sea, but Road 702 also goes through some parts of Nui Chua National Park. Right out of Phan Rang, you will see the wonderful sights of Ninh Chu beach with light blue water and clean sandbanks. Leave you no break, Ninh Hai beach will come right after with its graceful and idyllic scenery. And the salt fields will remind you how hard the labour of salt farmers is.  On the way, you will be riding between the blue sea of the bays and green hills of Nui Chua national park. Sometimes, some flocks of sheep will catch your eyes. You can ask farm owners to take pictures of them, they don't often take money for that. After you pass Thai An village, do not forget to turn right to visit Hang Rai (Otter Cave) and Park of Rocks. The scenery here is magnificent. Vinh Hy Bay is inside the Nui Chua National Park, famous for its vivid blue colour of water, especially under the blazing sun of Ninh Thuan. Nui Chua National Park is also a great place to explore.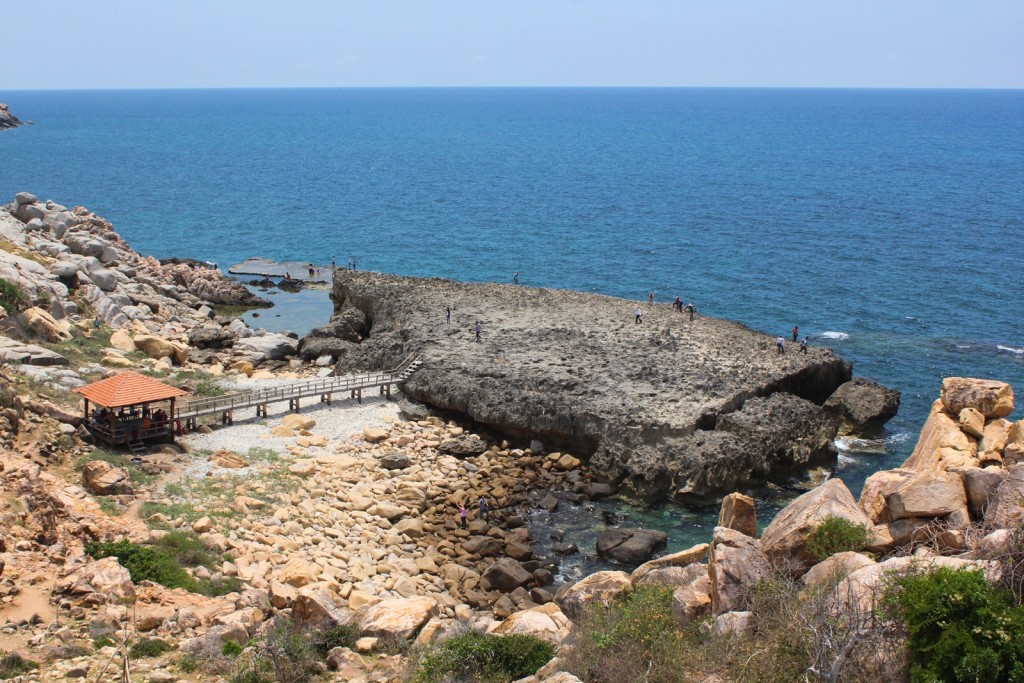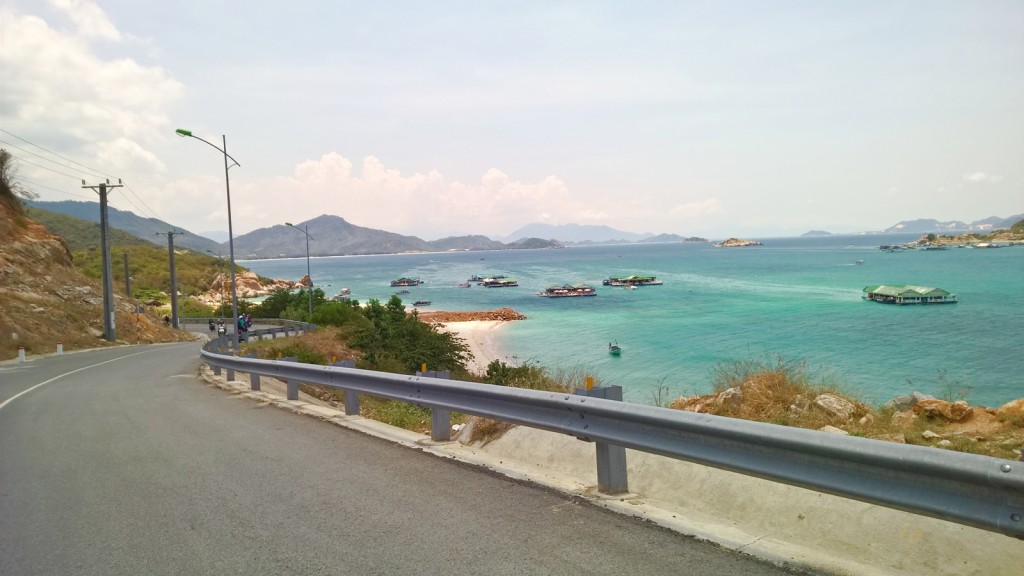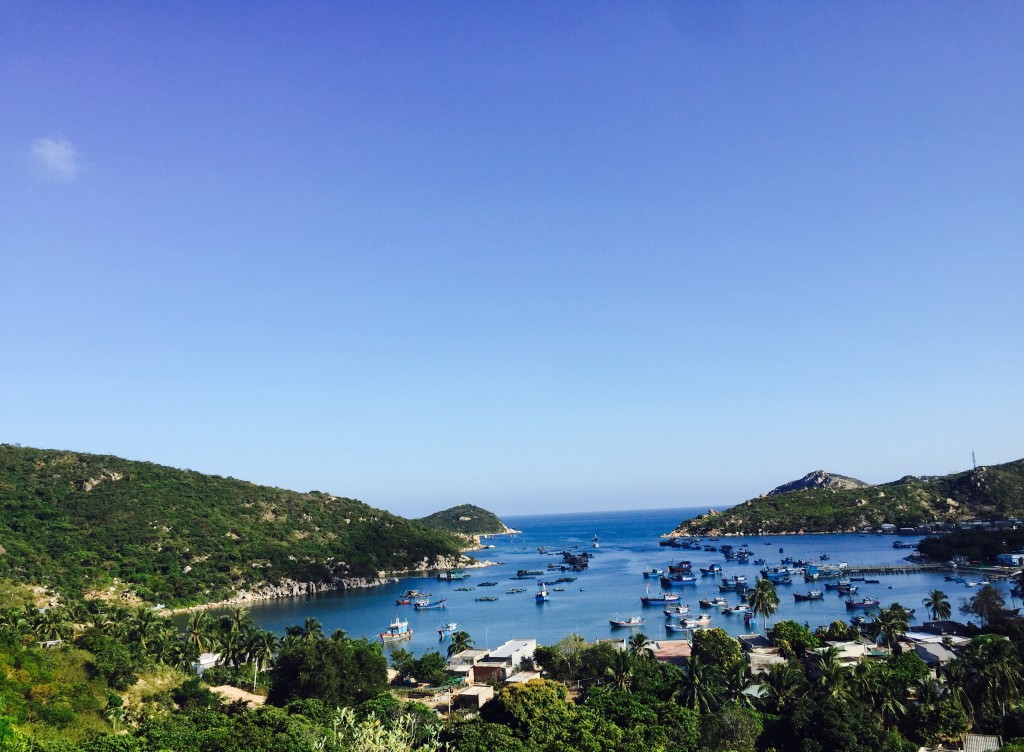 Road Rules and Quality
Vietnamese drive on the right side of the road. That means if you want to overtake, you do it on the left. Before the action, you must make sure that it's safe to do so and there will be no vehicles coming in the opposite direction. Use the left turn signal light and let the driver see you through his mirror. While overtaking, press the honk to inform then use the right turn signal light to take the right side again. Simple, isn't it?
Another thing to remember is when you driving at mountainous roads do not stop and park your motorbike right at a road's turn.
The road network in Vietnam is divided into two systems: national highways and provincial roads. One exception is the Ho Chi Minh Highway which includes different kinds of road quality. You can see easily on the map the national highways are expressed in bold coloured lines with numbers on it, connecting province to province. Longest and most crowded is the national highway 1A with total length up to 2260km from north to south. Each highway connects certain provinces and cities and doesn't go through the city centre.