Han River and Bach Dang street are where you can enjoy to the fullest the fun, dynamic and vibrant atmosphere of Da Nang at night. We've created a detailed list of all things to see and do when the night falls in Da Nang.
Sightseeing
Love Bridge and "Carp Turns into A Dragon" Statue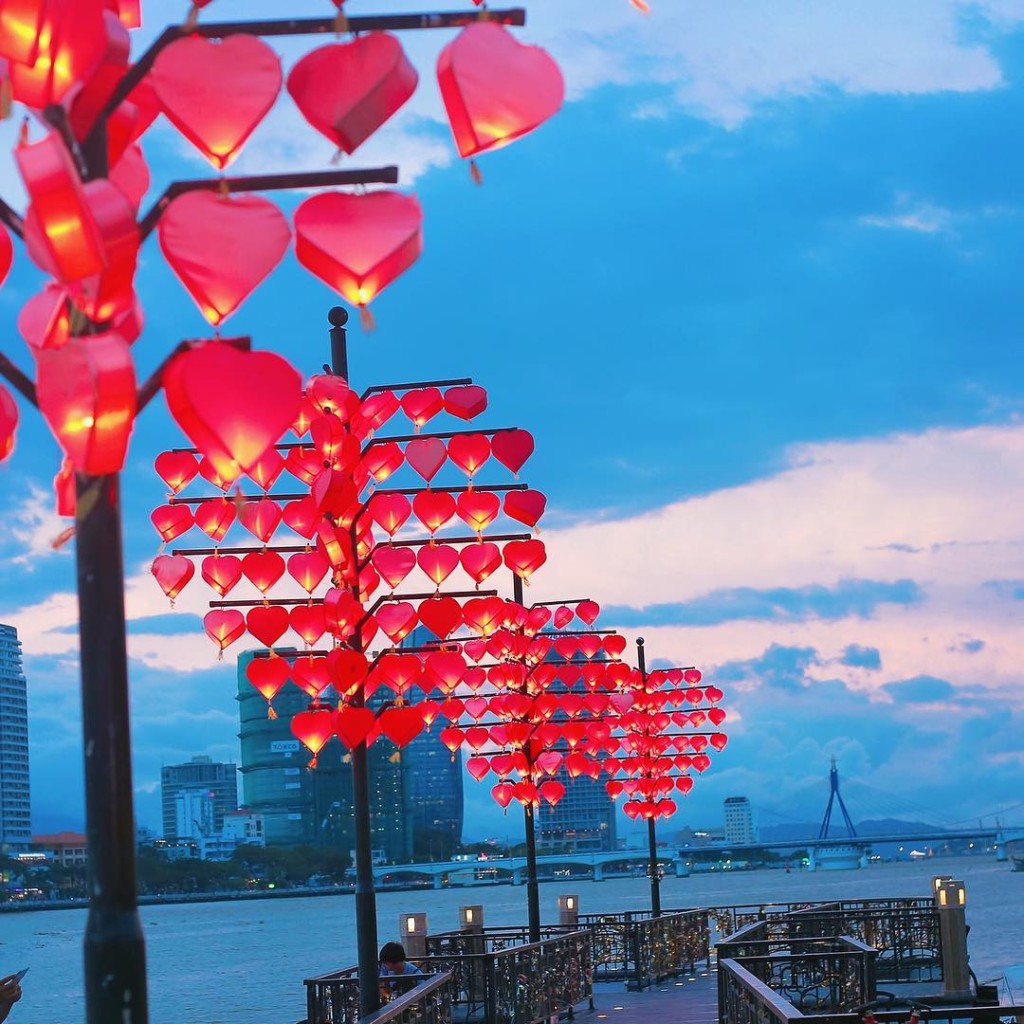 The two places are really becoming the new "check-in" sites in Da Nang, attracting thousands of visits, presenting a modern and romantic side of the city.  Built-in 2015 right at Tran Hung Dao Street, the bridge's location is just perfect to watch the dragon bridge, sunset and fireworks. The bridge is 70m long, inspired by many other love bridges across the world – a place lovers come to declare their love, seek for a symbol of remembrance or just enjoy their time together.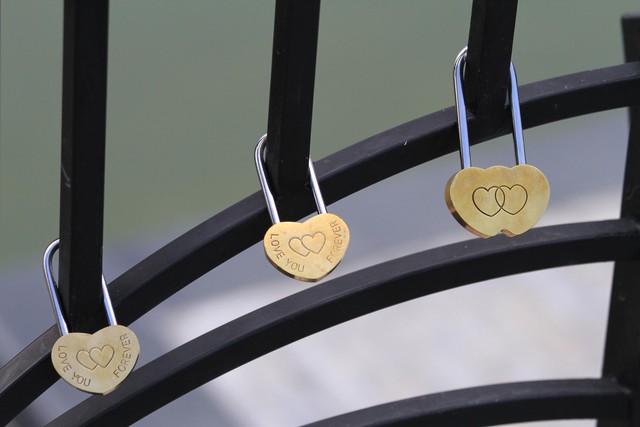 The most impressive thing is the hundreds of red-heart-shaped lanterns hung across the bridge, shining bright when the night comes. And you really can't miss the trademark feature of any love bridge – the love locks. You can buy one lock for about VND 80,000.

The statue "carp turns into a dragon" is made based on a legend with the same name, telling a story of patience, dedication and determination would turn even the smallest things into greatness. If Singapore has the famous Merlion (a lion-fish) as a symbol then this dragon-fish is absolutely Da Nangs.
Sun Wheel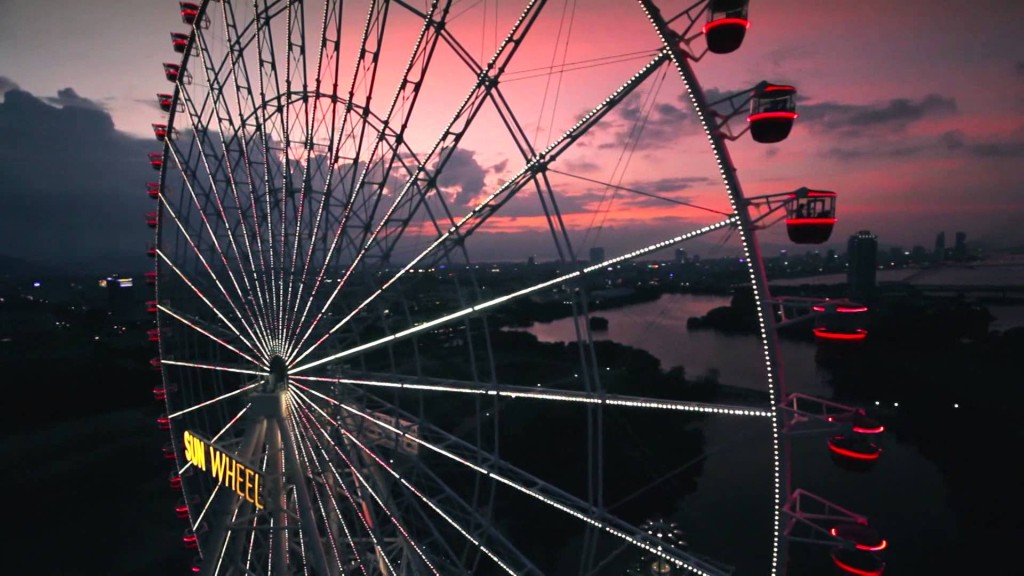 Address: 1 Phan Dang Luu Street, Hai Chau District, Da Nang city.
Sun Wheel, Asia Park, Da Nang is one of the ten highest Ferris wheels on earth with a height of 115 meters. You can easily take in the majestic night view of the city from a wheel's carbine. There are 64 carbines in total, each can carry 6 people at a time making the number of people the whole wheel can take for a 15-minute ride is 384.
There are also hundreds of games and activities more at Asian Park. Recreation Park has dozens of impressive names such as Golden Sky Tower, Singapore Sling, Journey to the West, Sky Treasure or Fairy Tea House…. For those who prefer indoor games, Asian park also has few like Soft Play for kids, Redemption Game, Sun Blaster and Carnival Game.
You can buy a ticket to play in the park at the gate for 200,000VND. Wheel's open hours are from 17:00-22:00.
Dragon Bridge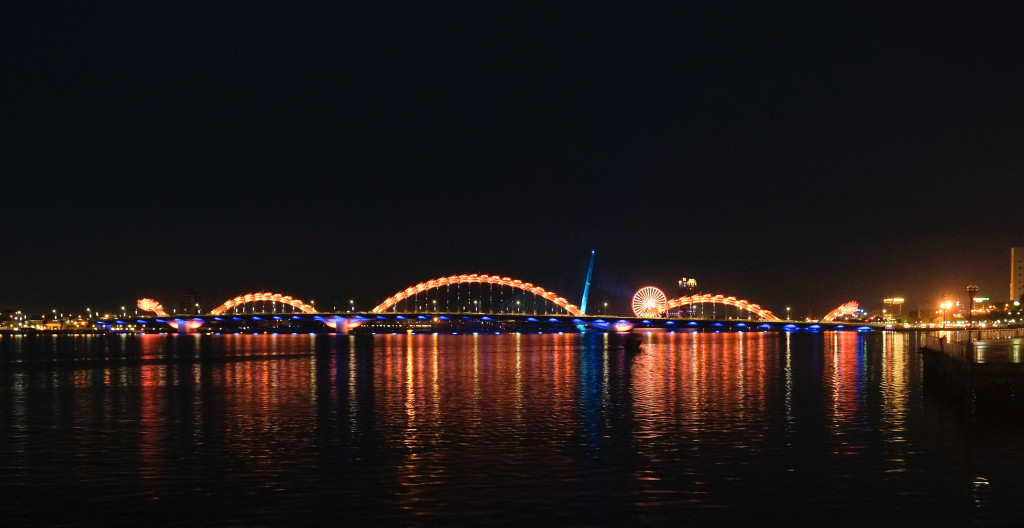 This new bridge has become the symbol of Da Nang in such a short time. Dragon Bridge is praised for its unique, bold style of architecture and special features. Its total length is 666 meters with 6 lanes.
Dragon has been the familiar image of prosperity and power. Both the head and the tail of the bridge are stylized with the traditional patterns of dragon and lotus under Ly dynasty, glorifying the Vietnamese pride and identity.
Any weekend, from 21:00 you will have a chance to watch the dragon breath fire and spout water.
Han River Dragon Night Boat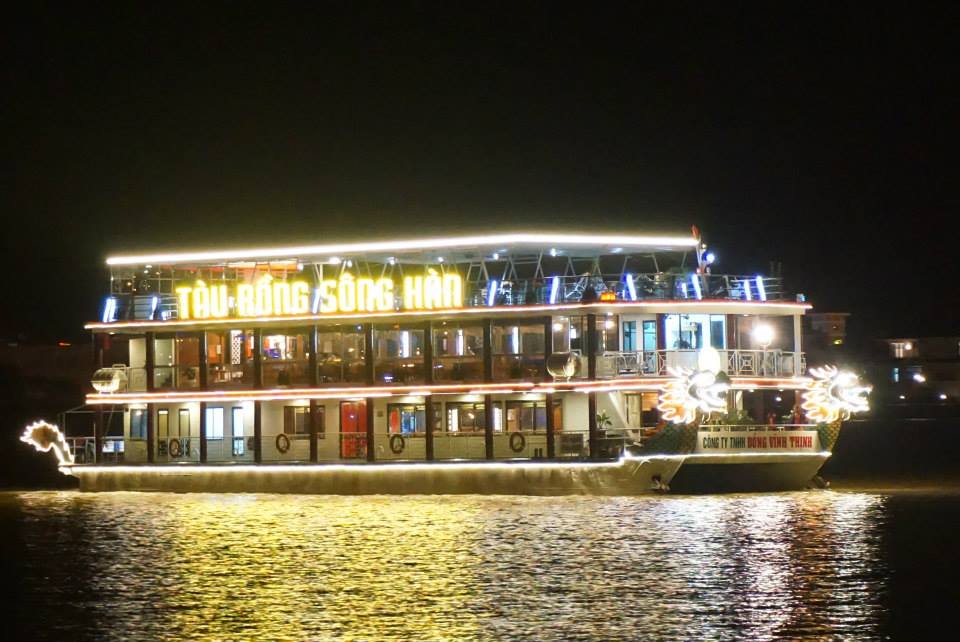 Dragon boats on Han river run every night from 18:00 to 19:30 and 20:00 to 21:30. The boats will take you to watch the Han River Bridge, Dragon Bridge and along Bach Dang street.
Each boat is 28 meters long, 10 meters wide equipped with two restaurants, 1 bar and 1 café on top. It can take 250 guests at a time.  Cost for one trip is $4, including touring and music show, free for children under 1-meter height, children from 1-1.5 meter, 50% of adults.
Bars/Pubs/Restaurants/Café
Sky36 Bar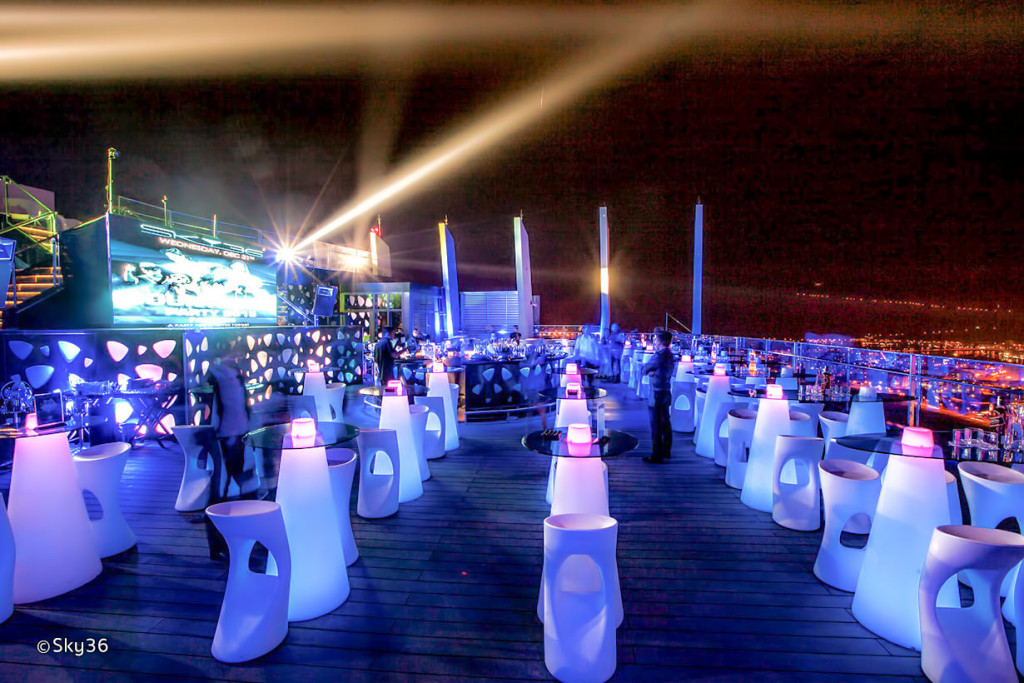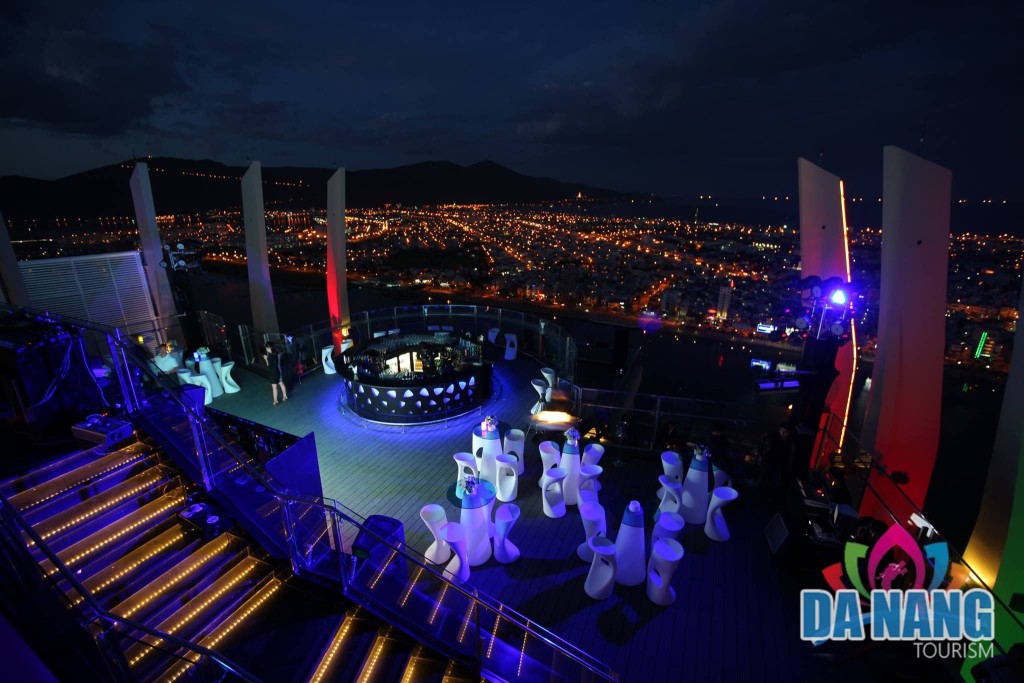 Lying on the 35th and 36th floors, Sky36 bar is on the top of Novotel Danang Premier Han River Hotel, Bach Dang street, claimed to be the must-visit place for young people. There are three sections for you to choose: outdoor bar, bed sofas and indoor VIP bar. The bar offers great views of Da Nang city at night, the notorious Han river, and mountains on a height of 166 meters which will absolutely not disappoint you. The bar is designed in a modern, luxury style with blue and purple lighting. Music varies from EDM to deep house and hip-hop. The drinks are expensive than most night bars across Vietnam. A cocktail is charged at VND 150,000 while a cup of imported beer is about VND 120,000.
Opening hours: 18:00 – 02:00
Address: Novotel Danang Premier Han River Hotel, Bach Dang street.
Tel: +84 511 3227 777
Seventeen Saloon Da Nang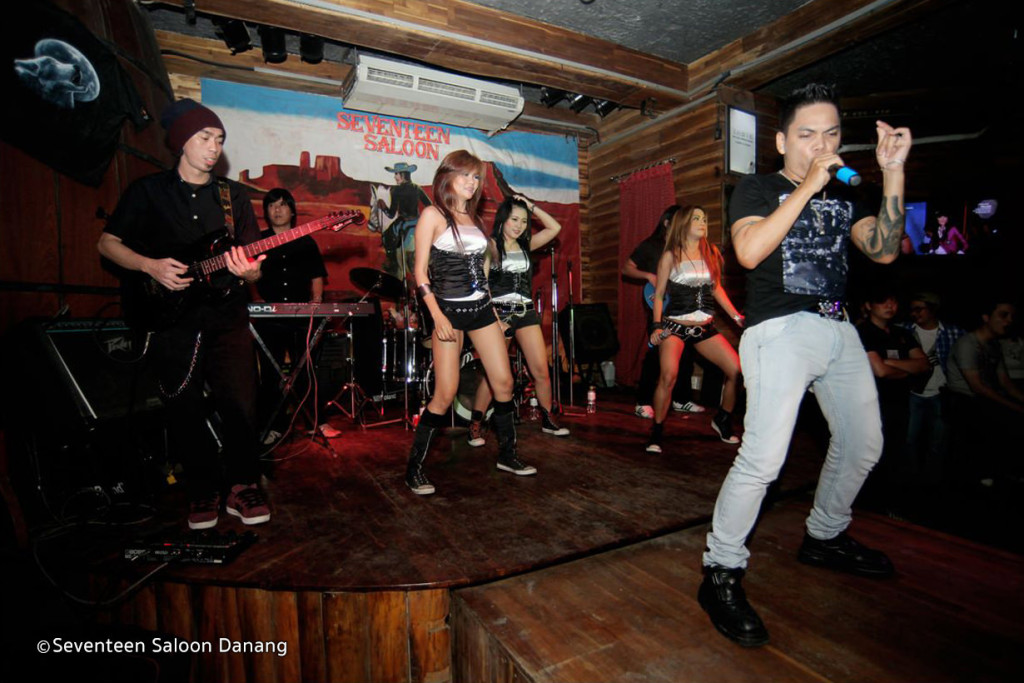 If you crave for some young, fun night live music bar at Danang, Seventeen Saloon Danang is definitely your thing. The bar is originated in Saigon, the branch in Danang is located at 76 Tran Hung Dao which is quite nice too because you can look over the Han River. There is a Filipino brand doing covers of classic rock tunes by U2, Aerosmith, Bon Jovi and general old music from the 80s onward. The drinks are not really cheaper than most bars/pubs in town, though. A cup of domestic beer costs around VND 75,000 but you can expect bottle liquor to be less pricey. There are special events for holidays like Christmas, Halloween and New Year.
Address: 76 Tran Hung Dao
Opening hours: 19:00 – 1:00
Tel: +84 97 501 7017
New Phuong Dong Nightclub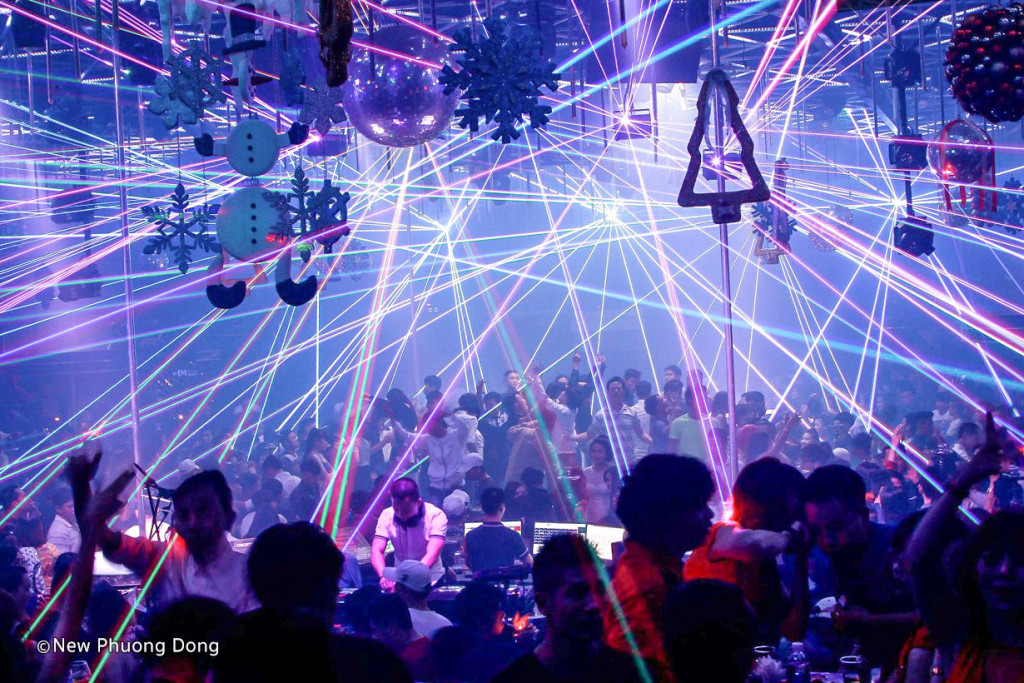 Opening since 1994, New Phuong Dong is the most popular nightclub in Danang. Located at the centre of the city, you can find here impressive audio and lighting system, huge dance floor, DJs, bands and dancers performing every night. The music range is wide, from EDM, disco, rock to jazz and funk. Not just the music is great but also the drinks, be prepared for some cognacs, tequila, wines, champagnes and beers.
Address: 20 Dong Da Street, Da Nang
Opening hours: 20:00 – Late
Tel: +84 90 529 4777
Oasis Tapas Bar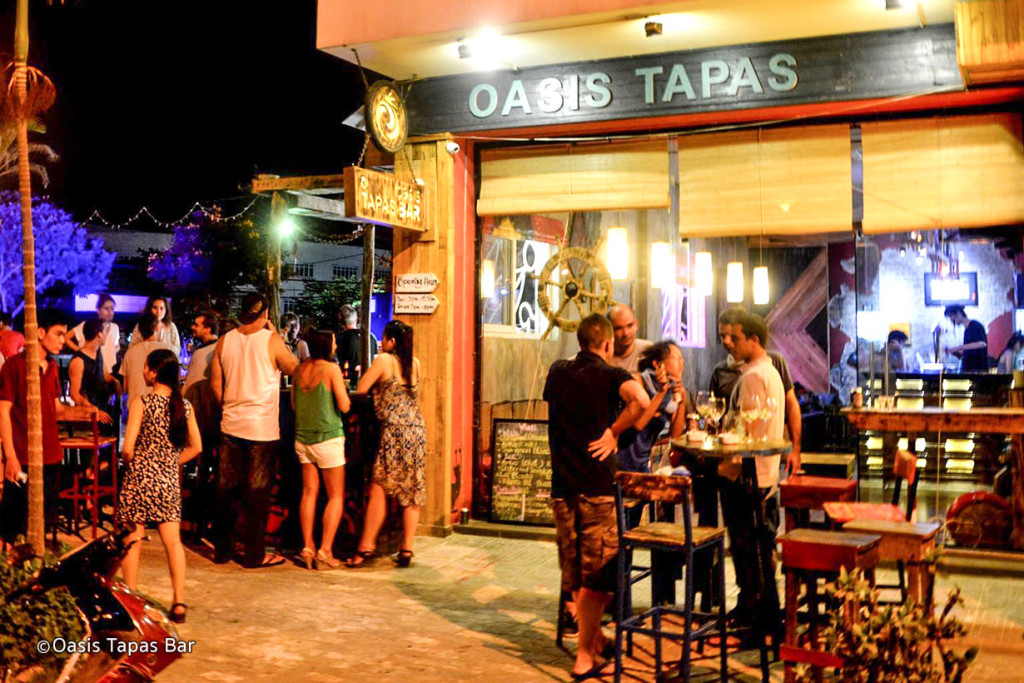 The bar is created and designed by local artist Thanh and his team. The place is chill, friendly and cute. It serves great drinks and Spanish delicacies such as stuffed eggplants, buffalo mozzarella, omelette and duck crepe. The location is easy to find, just 4 minutes from Bac My An beach. The prices for both foods and drinks are inexpensive. The staff is professional and friendly.
Address: 4 An Thuong 1 Street, Ngu Hanh Son District, Da Nang
Opening hours: 17:00 – 00:30
Tel:  +84 122 864 9220
Café Cộng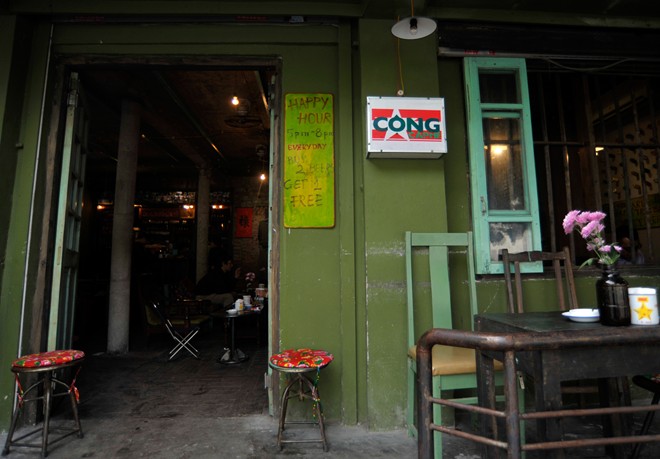 The famous Vietnamese styled cafés which are no longer strange to coffee lovers in Vietnam. Started in 2007 by singer Linh Dung, Café Cong has become the trademark café style of Vietnam. Café Cong in Da Nang is also a wonderful place to time travel back to Vietnam before 1990. From Café Cong Da Nang, you can easily see both the Han River and the Dragon bridge. The drink range is wide from yoghurt, coffee, coconut coffee, brown coffee or fruits smoothies. Price runs from VND 15,000 to VND 55,000.
Address: 96 – 98 Bach Dang street
Opening hours: 6:30 – 23:00
Street Foods
Bánh bèo – 291 Nguyễn Chí Thanh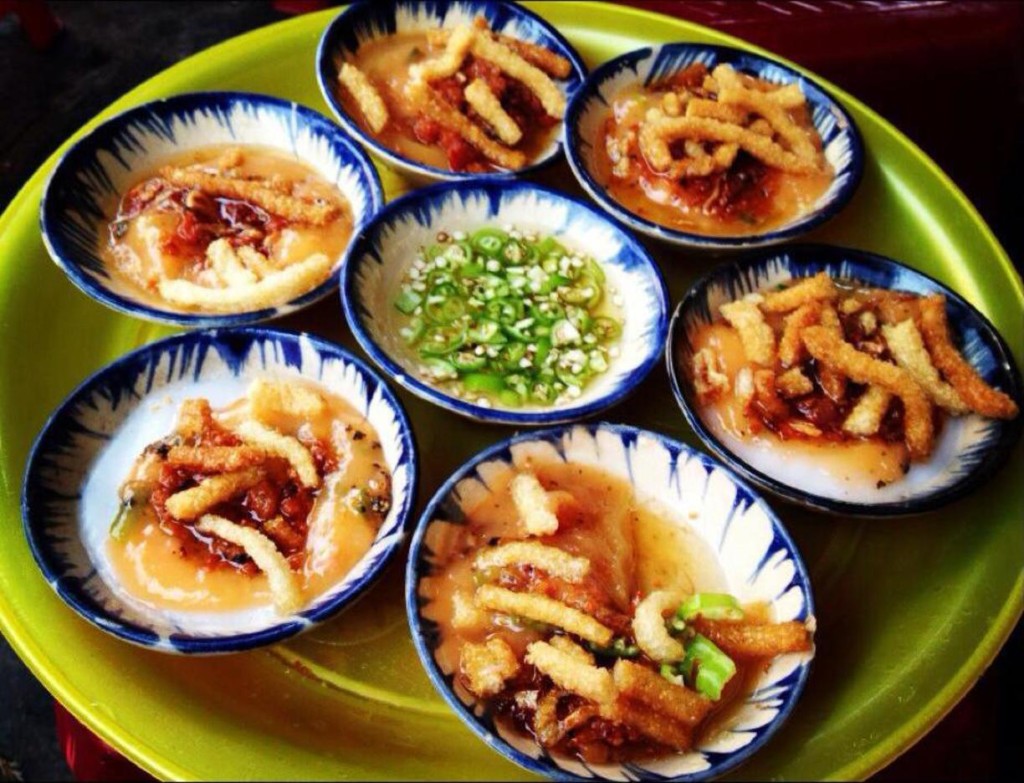 Three main dishes served here are banh beo, banh nam and banh bot loc. The restaurant is small but always crowded because of its very delicious banh beo. The price is only VND 15,000 per serving and you can easily eat two or three of it in one go. The tea is served for free.
Coco Tea Milk Tea – 69 Hoàng Diệu
The milk tea at 69 Hoang Dieu is worth your try. One serving costs only VND 12,000. Other than tea milk, they also have American apple juice, raspberry juice, taiyaki cake for only VND 5,000.
Chè Xuân Trang – 31 Lê Duẩn
This humble restaurant is the most famous desserts in Da Nang. You can have mixed che with red beans, black beans, coconut juice… But the tastiest must be yogurt with crushed ice. There are also many more dishes to eat with. Price from VND 10,000 upwards.
Kem Ký – 10 Trần Quốc Toản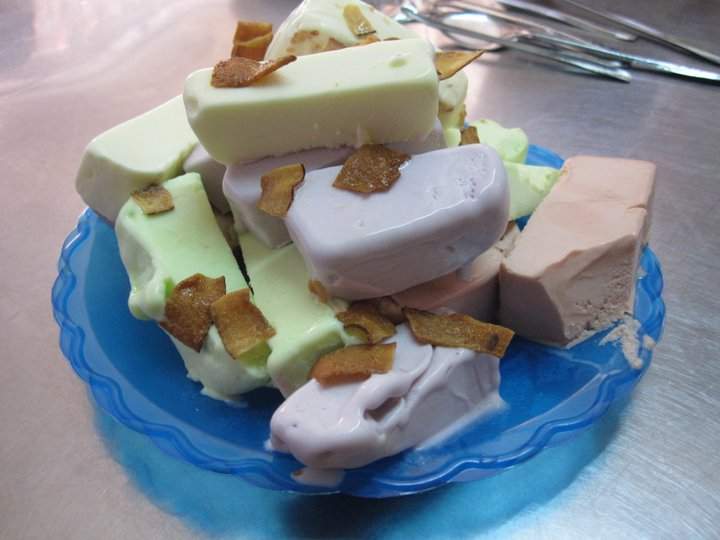 If you have kids, they must love this place very much. The store is located between Tran Quoc Toan and Tran Phu streets. There are dozens of kinds of tastes and colours you can find here. Ice cream is sold in kilogram for VND 60,000 per one, you can by half a kilo just fine.
Sữa chua muối –  Trần Thị Lý bridge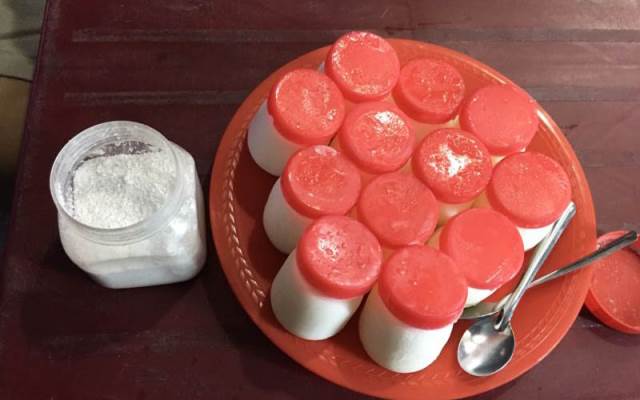 Right under the Tran Thi Ly Bridge is a bunch of street food stalls, vendors and restaurants. One of those very delicious things is "salt yoghurt" which is literally yoghurt eaten with salt. The taste is very unique and worth a try. This simple food costs you only VND1,000-1,5000 for one small cup but often sold in a set of 10.