Are you ready for the upcoming King Kong Skull Island movie? This time it was filmed at Ninh Binh, Vietnam – where Trang An landscape complex has been recognized as a dual world heritage.
Has been called "Halong bay on land" for a long time, Ninh Binh really deserves a new name for its distinctive natural beauty as well as its cultural values.
Spring and summer are the best time to visit and enjoy the tranquil and serene beauty of Ninh Binh. From Hanoi to Ninh Binh, you can easily catch buses
How to get there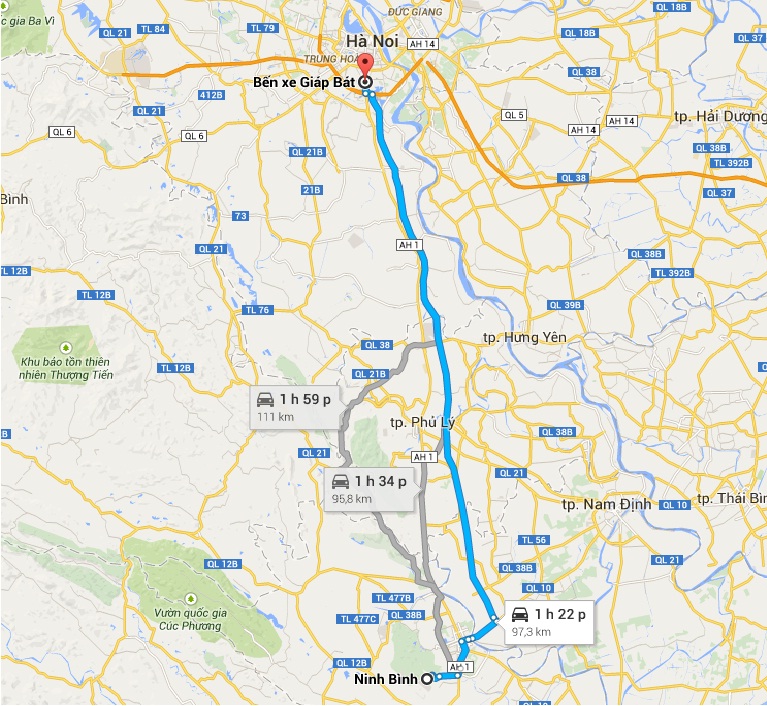 Either going by motorbike or by bus is possible. You should spend 2 or 3 days in Ninh Binh. If you go by bus, you can rent a motorbike in Ninh Binh city to move around.
Ninh Binh is only 80km away from Hanoi. Giap Bat and My Dinh bus stations have buses to Ninh Binh every day. In Ninh Binh city, you rent a motorbike for 120,000VND per day, not included gas cost.  If you go by motorbike from Hanoi, it takes you about 2 hours to reach Hoa Lu on Cau Gie – Ninh Binh highway and highway 1A.
Where to go
Van Long Marsh
Van Long Marsh in spring is the perfect getaway from the hustle and noisy cities. The marsh is shallow, surrounded with green limestone islets, wild grass and slow flows of water. Going by boat, you will have a chance to enjoy the joy of discovering through several caves and watch the aquatic life underwater. In autumn, there is lotus blossoming on the surface of the marsh making it a wonderful sight of nature.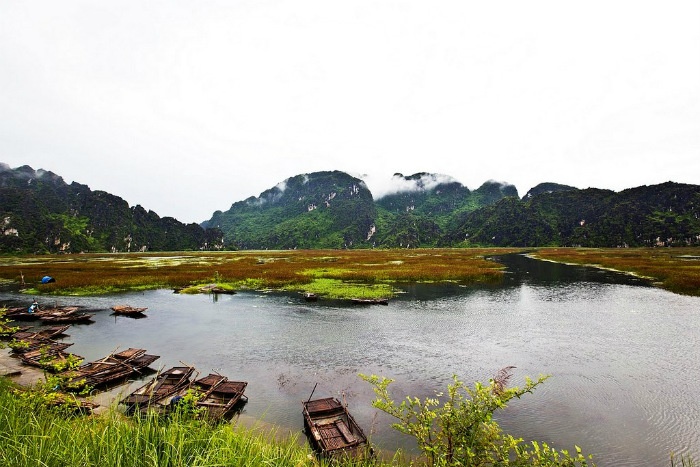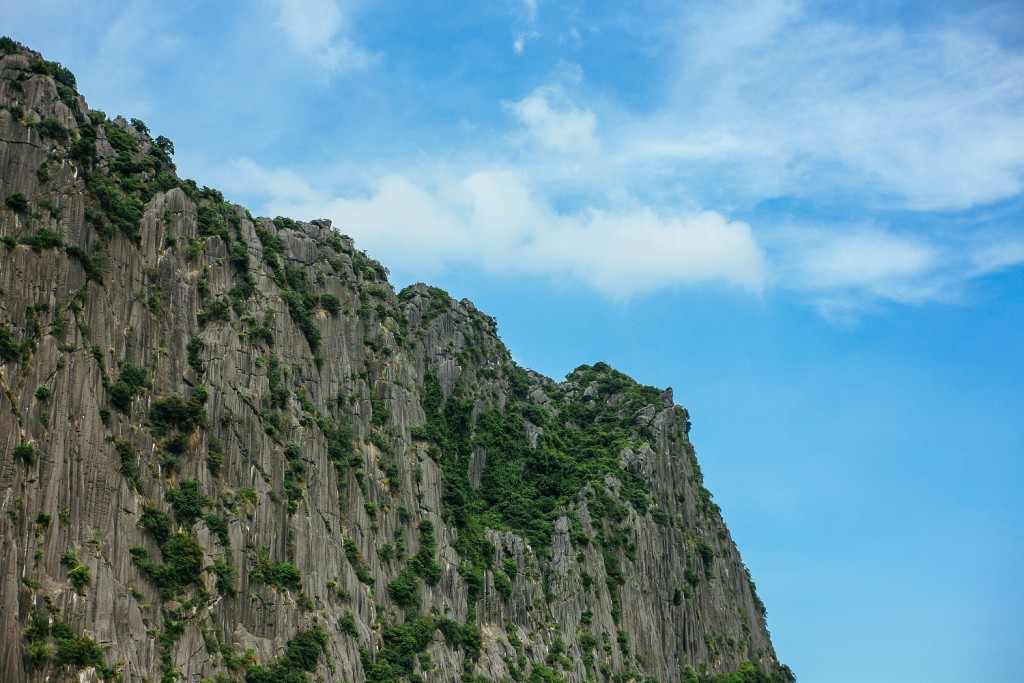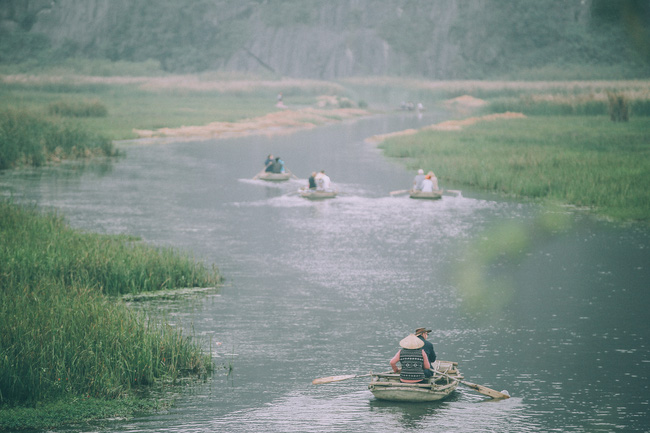 Trang An
Only 9 kilometres away from Ninh Binh city, Trang An is the newest world dual heritage for both natural and cultural values. On nature, Trang An is an eco-tourism complex of river, mountains and caves. Often called as "Ha Long Bay on land", Trang An has an impressive appearance with its massive karst system. There are hundreds of limestone islands, islets and river caves constructing by Sao Khe and Ngo Dong rivers. Some of them you can't miss Dia Linh cave, Sinh Duoc cave and May cave. Each cave is different in beauty and has its own legend. Dark Cave has wide and narrow parts while Light Cave is adorned with magnificent sparkling stalactites.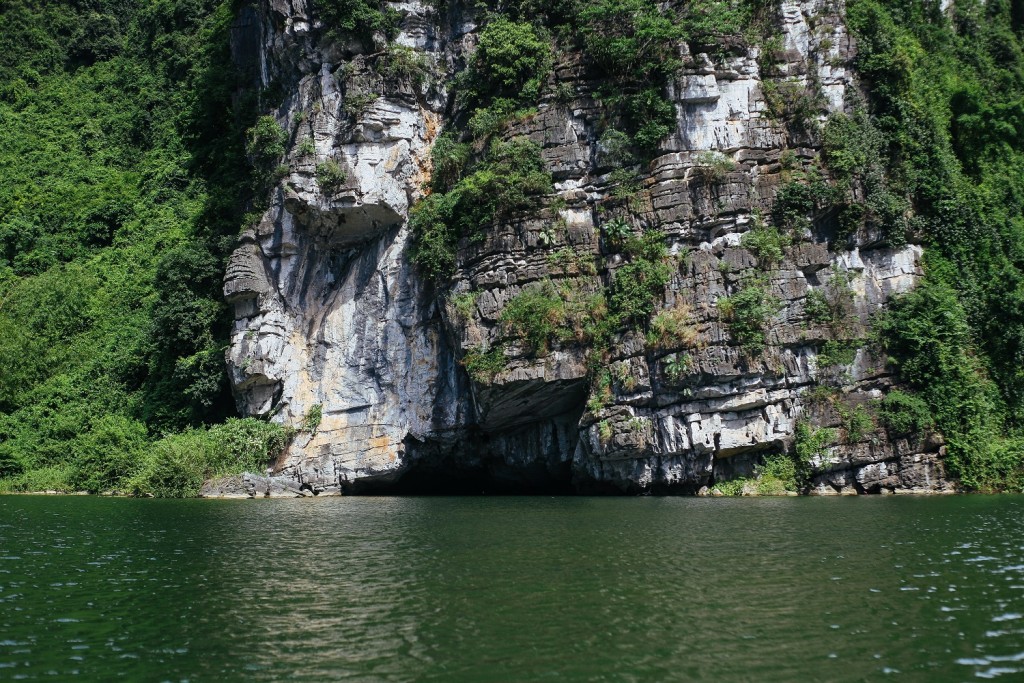 The picture of limestone islands, islets and green colour, quiet flow of Sao Khe river makes Trang An the most scenic site with outstanding values of landscape, geomorphology, geology. Trang An is especially stunning when you see it being clouded with white fog. The hanging forests on limestone pillars being circled by the thin clouds create a perfect ink wash painting in real life.
The cultural values of the heritage are also outstanding. There are many temple and shrines worshipping national heroes: Trinh Temple, Tu Tru Temple, Tran Temple…
To visit Trang An you must go by boat and pay 200,000VND for one person. It takes you 3 hours to boat around Trang An, you will probably be visiting 6 to 9 caves.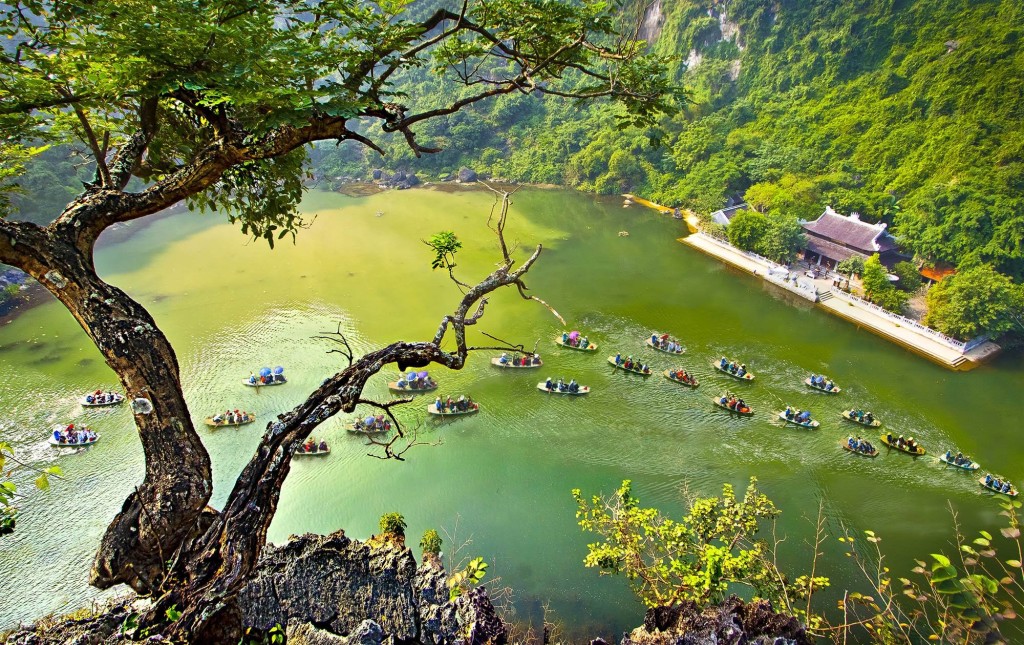 Tam Coc – Bich Dong
If you search for Tam Coc – Bich Dong on Google, a lot of poetic pictures of a narrow river path with vast yellow rice fields on both sides would show up. It actually is just the entranceway to a massive system of 3 big caves linking together as shown in the name of the site – Tam Coc (Three Caves), Bich Dong (Green Grotto or Pearl Grotto).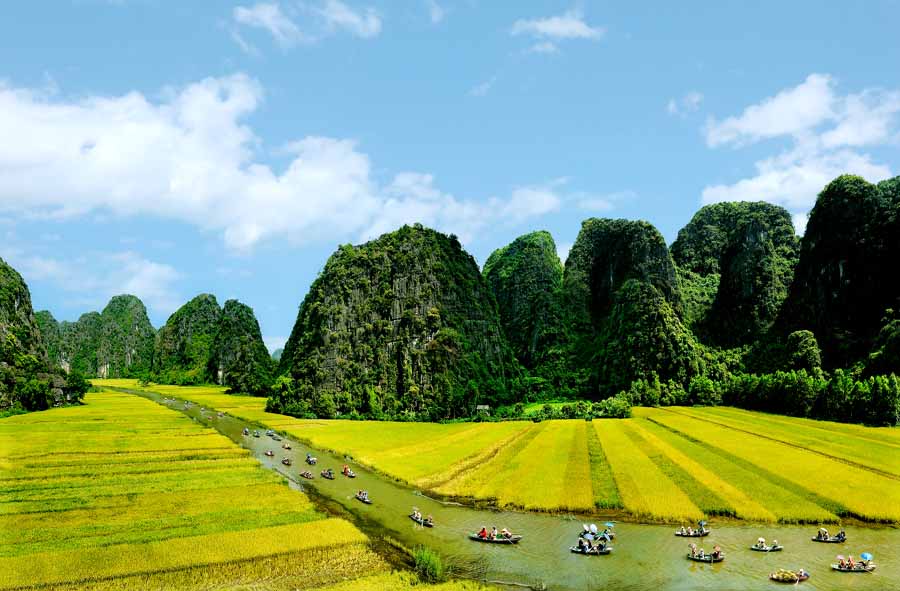 Tam Coc – Bich Dong is located not far away from Trang An, to access the place, you must use a boat and go through a very scenic riverway as described. The three caves of Tam Coc are Ca Cave (First Cave), Hai Cave (Second Cave) and Ba Cave (Third Cave). All these three caves are linked together by a river going under mountains.
From a high view, you can see the thin curves of the Ngo Dong river around the limestone islands and islets. A long time ago, Vietnam people preferred Tam Coc and Bich Dong as one of the best caves and grottos in Vietnam.
The First Cave is the longest with a length of 127m, lying under a big limestone mountain. The Second and Third Cave lengths are respectively 60m and 50m. All caves have unique and beautiful stalactites.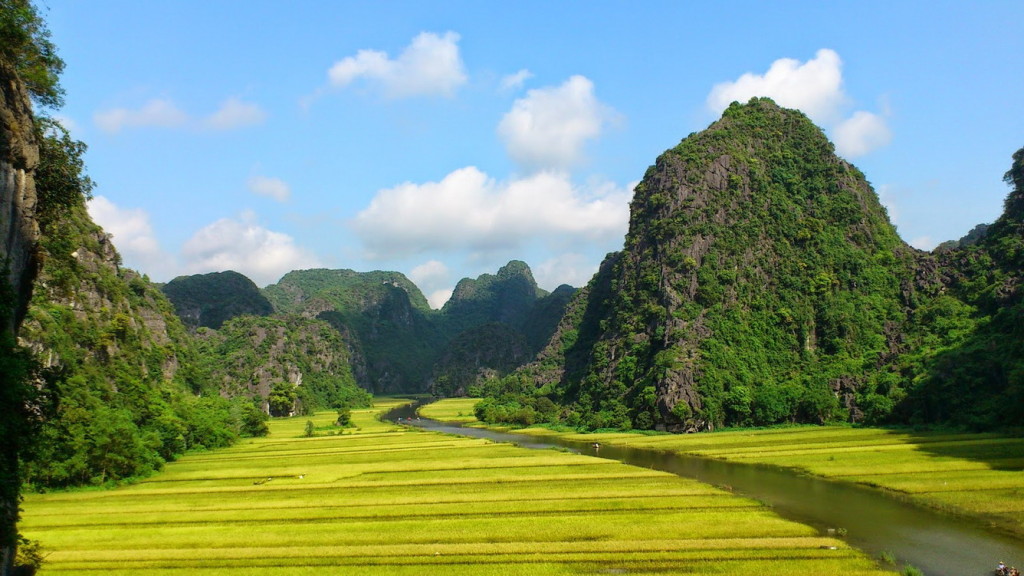 You will visit Thien Huong grotto on the way to Thai Vi temple. This grotto is wide, located on the mountain and looked very much like a colossal lightwell since the ceiling of the grotto is a hole. So it has also another name – Sky Grotto. Thai Vi temple is a place to worship many national characters and heroes: King Tran Thai Tong, King Tran Thanh Tong, General Tran Hung Dao, General Tran Quang Khai and Queen Tran Thi Dung.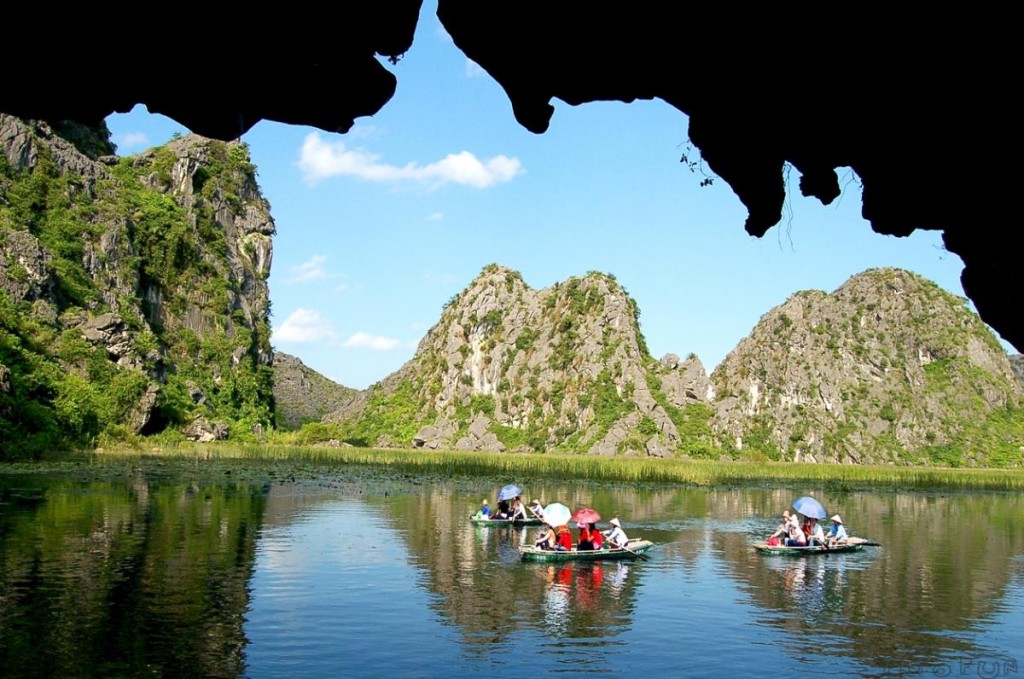 Bich Dong is the second-best grotto in the group of three best grottos of Vietnam (the first is Huong Tich grotto and the third is Dich Long grotto). Bich Dong is in fact 2 grottoes – one located on a mountain and another is a river grotto. The river grotto is called Xuyen Thuy Grotto which is like a stoned tube in half-moon shape in 350m long-running from east to west.
The end opening will lead you to the grotto on mountain and Bich Dong pagoda. There are many more beautiful sites to see as Sunlight Valley, Nham Valley, Buddha Cave, and Dancing Cave….
The price for an entrance ticket is 80,000VND, a boat for 4 Vietnamese people (or 2 foreigners) costs 100,000VND.
Bai Dinh Pagoda is known as the biggest pagoda in Vietnam. The pagoda is famous not only for its scale but also for its valuable architecture style. There are two sessions of the complex: the old pagoda and the new pagoda. The old pagoda is located 800m away from the new one, where you can find a spacious and quiet forest. Not far away are Light Cave and Dark Grotto; Cao Son temple, Nguyen Saint Temple. The new pagoda is built on a vast scale with many sub-buildings. Come to Bai Dinh pagoda in spring, you have a chance to join the Bai Dinh festival held on 1st January Lunar Calendar with many activities.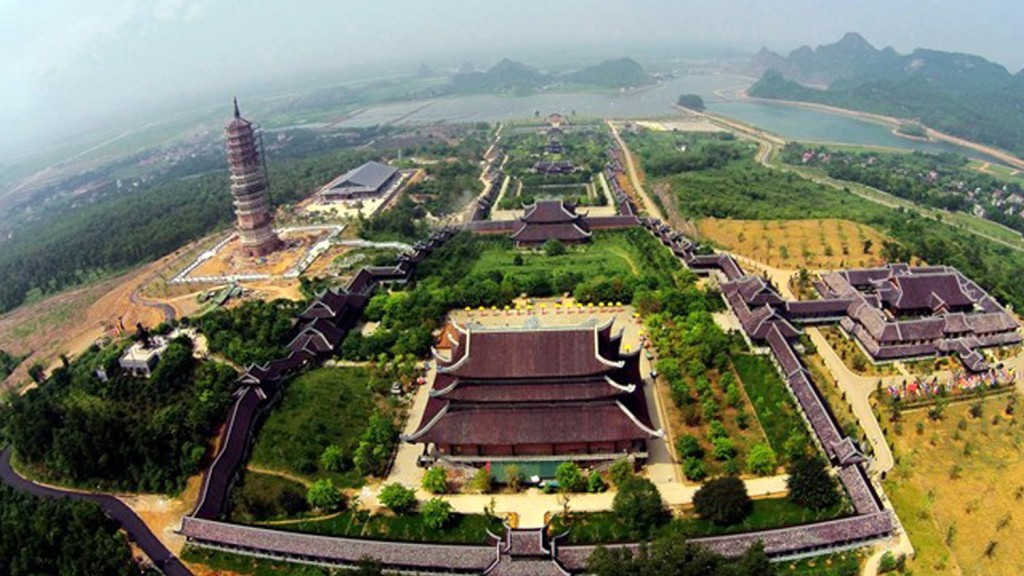 Phat Diem Stone Cathedral is the most famous church in Vietnam for the very special combination of Western and Vietnamese architecture styles. The whole cathedral is built of stone and wood for 24 years. It is known that the stone to build this church taken from limestone mountains. Phat Diem cathedral is a complex included a cathedral, a stone church, a lake, a bell house, and 3 artificial grottoes. The bell house which in Vietnamese is called Phuong Dinh is a 3-level building and completely made out of stone. On four towers of the bell, house stand 4 statues of 4 historical saints which are imprinted of Vietnamese architecture characteristics. The cathedral and the bell house are designed with much similar to traditional Vietnamese pagodas and temples.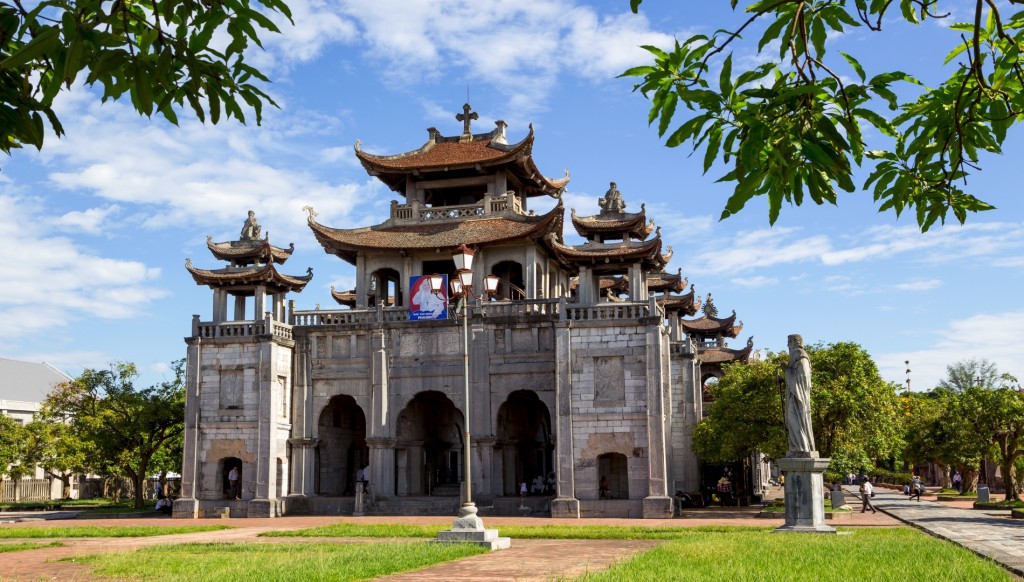 Cuc Phuong National Park is the first national park of Vietnam and the largest nature reserve. The scenery of the park consists of green karst mountain and lush valleys. The limestone mountains contain many caves which are accessible. The temperature of the park is varied depending on the heights.
Cuc Phuong has a wide range of diversity of flora and fauna. There are 97 species of mammals, including langurs; 300 species of birds, 11 species of fish; 2,000 species of vascular plants, and thousands of species of insects.
After paying 40,000VND of entrance ticket for one person, you continue to visit Endangered Primate Rescue Center which is responsible for rescuing individual animals of rare primates and home to over 140 creatures and 100 offsprings in all from 15 species of gibbon (long-armed, fruit-eating ape), languor (long-tailed tree-dwelling monkey) and Lories (smaller nocturnal primate with large eyes).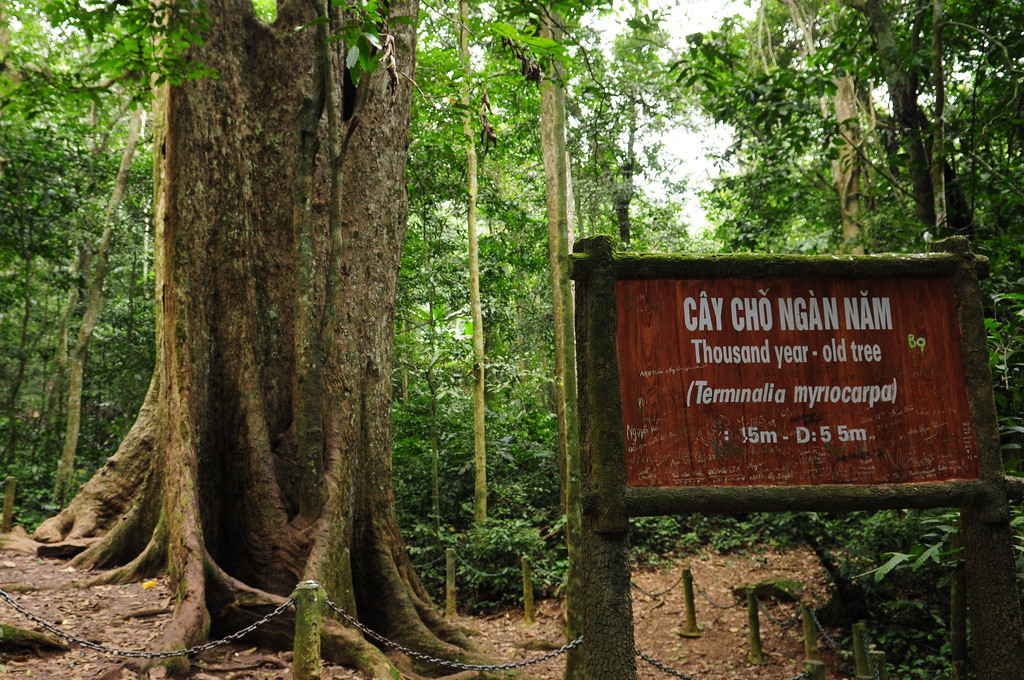 Stop at Prehistoric People Cave to see the place where ancient people were living 7500 years ago. The ancient Dang tree has a nice shape, height of 45m, the diameter of 8m, is located 2km from the cave. Another old tree is Cho tree which is already 1000 year old, with similar height as Dang tree but larger diameter. Son Cung Cave lies on a mountain and has beautiful scenery inside. If you want to have more adventurous experiences, conquering Silver Cloud Mountain would be a good choice for you. You must hike a total distance of 6km on a rocky and steep trail to reach the peak on the height of 648m. On the peak, you can enjoy the panoramic view of not only the national park but also Trang An – Bai Dinh complex, Hoa Lu ancient capital. Activities in Cuc Phuong include kayaking, bicycling, animal night watching, camping in forests….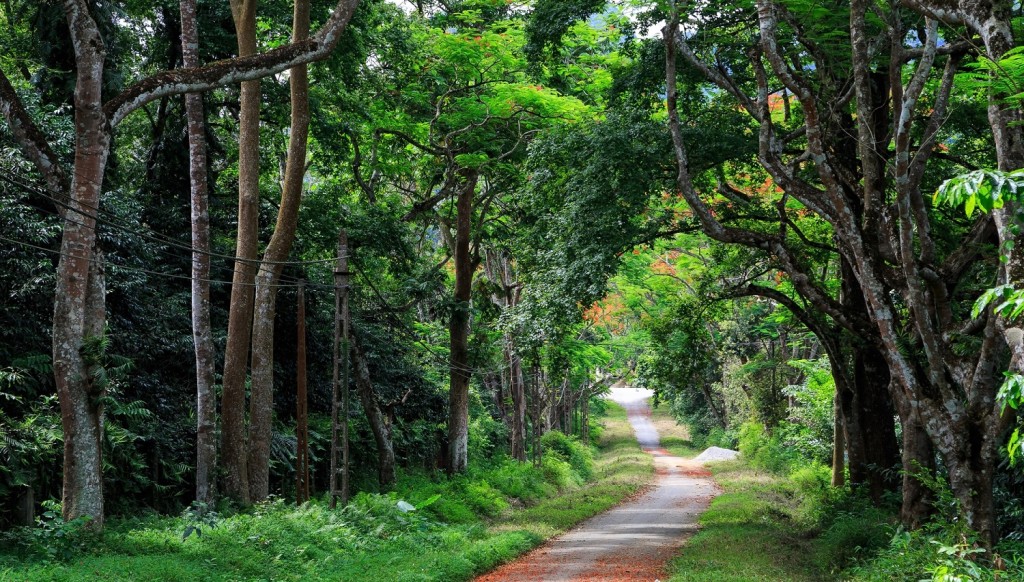 Visit Ninh Binh, you cannot miss the food specialities of the place that you wouldn't find them elsewhere.
Com Chay or Rice Crust or Burnt Rice is the most special food in Ninh Binh. This dish is made from rice, pork, beef and vegetables. The crust is made into smaller flat rounds which have a light yellow or brown colour. The chef will prepare dried rice rounds and when orders come, he will just fry them until crispy with sesame oil. Lastly, vegetables, beef or pork will be put on the rice; and a bowl of sauce will be made to use with this dish.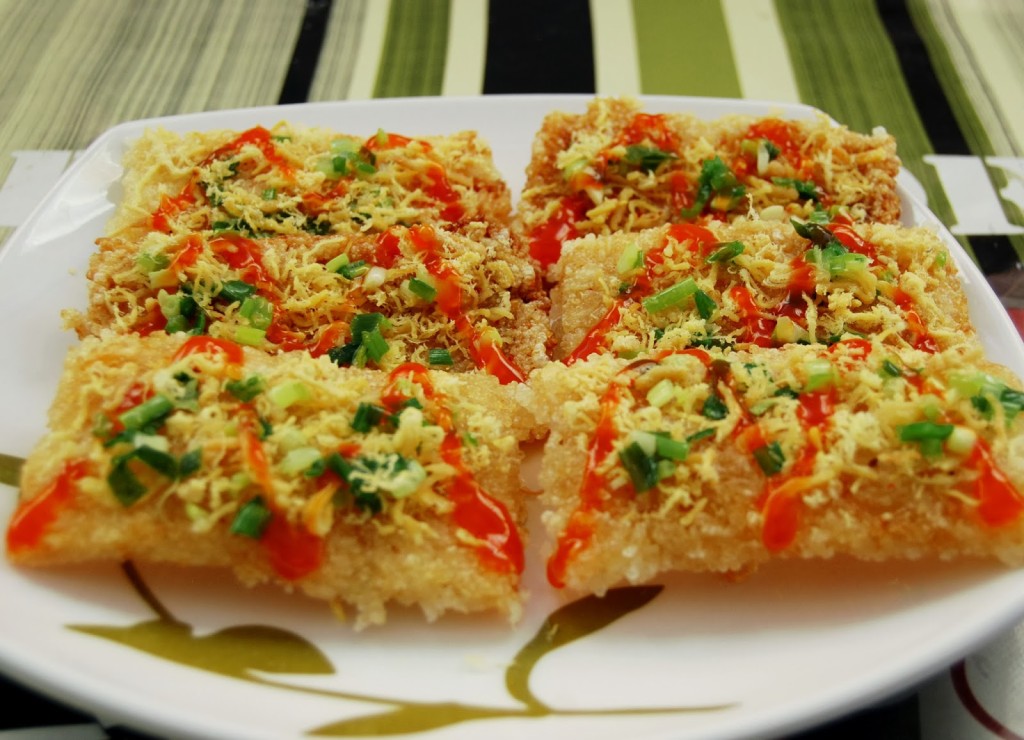 Nem Chua Yen Mac (Yen Mac fermented pork roll) has its name recognized for a long time ago. To make this dish, a secret recipe is required with a lot of efforts and passion. The rolls are fresh, lightly sour, used with herbs and sauce.
And there are more and more delicious foods in Ninh Binh which are really not expensive at all. Visit Ninh Binh, you will not only enjoy the natural and cultural beauties of the place but also the joy of eating and staying with friendly local people.