War was over and left behind but its remains still exist. Should anyone have chance to come to Phu Quoc in Kien Giang, you should not forget to visit Phu Quoc prison, which is considered as "the hell on earth" to learn more about the liberation war of Vietnam as well as will and energy of Uncle Ho's soldiers.
Phu Quoc is the biggest island among 105 floating islands in Kien Giang with an area of more than 593 km2, 100 km from the mainland. Take advantages of geographical features, French colonists  and American imperialists  established 3 prisons in Con Dao with aim of holding Vietnamese prisoners and French resistance fighters.
In nearly 9 years, this place detained over 40,000 Vietnamese political prisoners and 4,000 of them sacrificed here.
In 1996, Phu Quoc island was recognized as national historical heritage by Ministry of Culture, Sports and Tourism. After many times of restoration and reconstruction, Phu Quoc is now an attraction for domestic and international visitors. Vietnam war was clearly resurgent through photos, exhibits and posthumous writing of communists that partly makes visitors know to some extent about the harsh resistant war against French colonial.
Here are some pictures of Phu Quoc prison: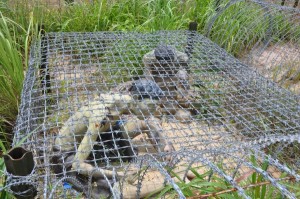 " Wire tiger cage", one of the most  savage  inventions of  Vietnamese puppet to torture revolutionaries in Phu Quoc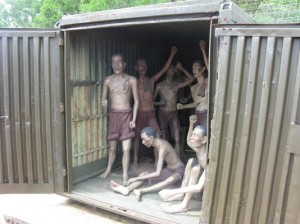 " Catso Tiger cage", an torture tool used to repress prisoners. The cage is made of iron that looks like a container. It was closed all the time, the cage was completely dark and extremely hot in the morning while completely cold at night.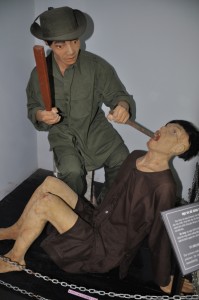 Breaking prisoners' teeth with hammer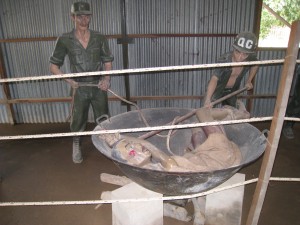 Boiling prisoners in a lotus-shaped iron pot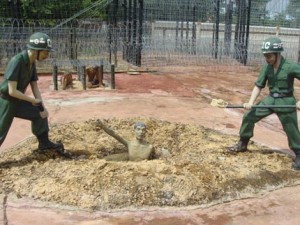 Burying prisoners alive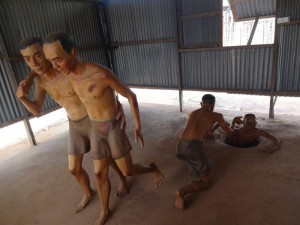 The two men successfully escaped doing this and one year later another two also managed to escape in this fashion. Documents state that there were 42 jailbreaks from the prisons with more than 200 inmates escaping to freedom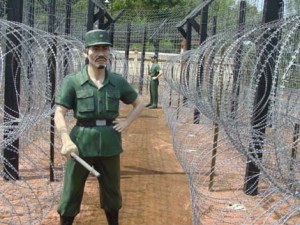 Wire fence surrounded the prison