Pho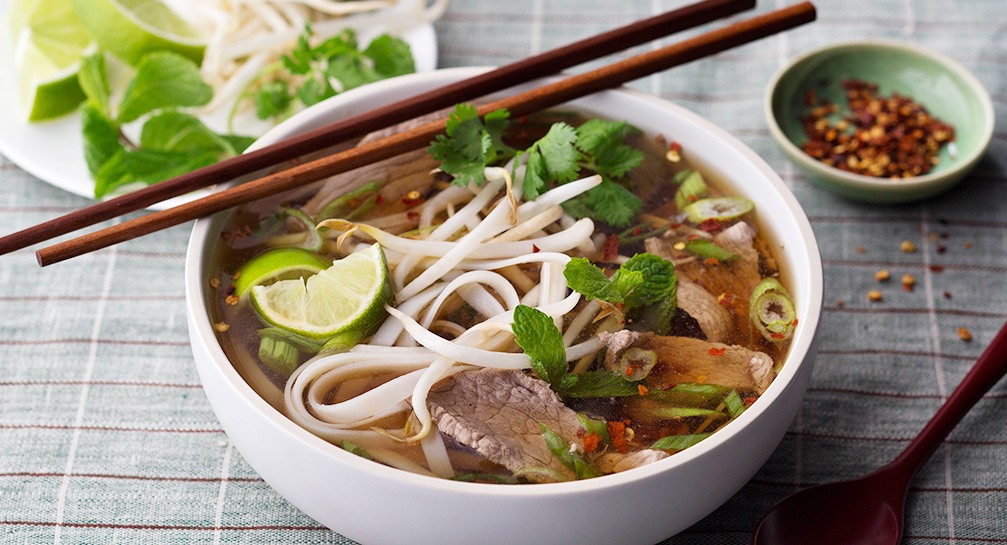 Pho is perhaps the most popular Vietnamese food. No matter if you've been to Vietnam or not, you've likely heard of pho. It's said that Hanoi is the birthplace of pho. That's why it's the most common dish of the capital.
What is pho? Pho is simply a Vietnamese noodle, traditionally served in beef or chicken broth, topped with thin cuts of beef or chicken and often finished with a sprinkle of green onions. Pho has the best flavour when be served with chilli sauce and herbs including sawtooth herb, mint, and coriander. To the Vietnamese people, the stunning part about pho is the broth. A stall with an excellent broth is always crowded with locals.
Banh da cua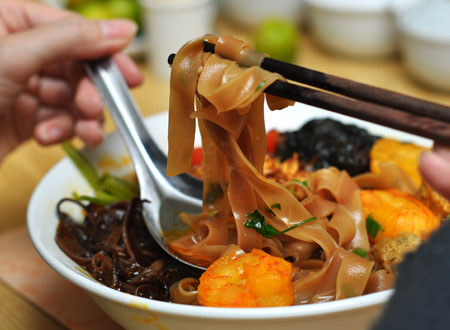 Banh da cua is favourite noodle soup in Haiphong that frequently eaten for breakfast. The noodle used for Banh da cua is thick, flat and larger than other types of rice noodles, with more of a roasted rice flavour. The broth is made from fat crabs caught from rivers or paddies to create natural sweetness. Some people even add bone broth to enhance the flavour of the broth. A bowl of bank da cua is the combination of brown rice noodle, normally prepared with fried fish cakes, prawns, bindweed, and cha la lot (betel leaf wrapped pork dumplings). Other toppings like beef and chicken can also be added.  A hit of lime juice and chillies made things even better. Similar to pho, banh da is full of flavour when be served with fresh vegetables and herbs.
Mi Quang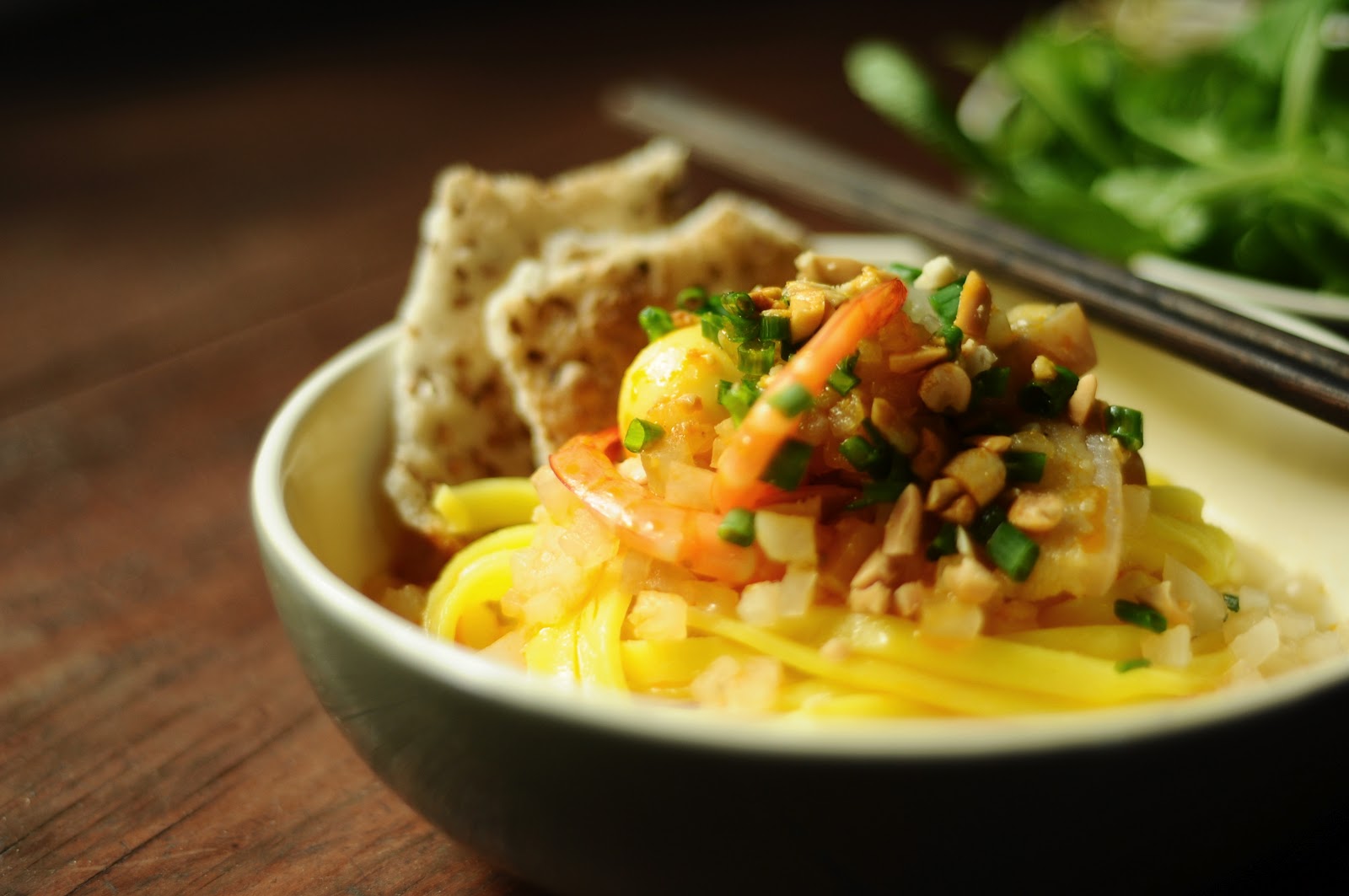 Quang Nam province is famous for Mi Quang for a long time and now it's still the speciality of the area. This noodle dish is quite unique compared to other soups like pho or hu tieu because the noodle is served with very little broth and almost like a dry noodle dish. A bowl of Mi Quang is always filled with thin rice noodles, chicken or a combination of shrimp and pork belly. Other toppings include black sesame rice crackers, crunchy banana blossoms, toasted peanuts, cilantro, green chillies, and finished off with lime juice. Mì Quảng can have many variations, so dishes may have something different depending on what street food stalls you go to.
Bun Bo Hue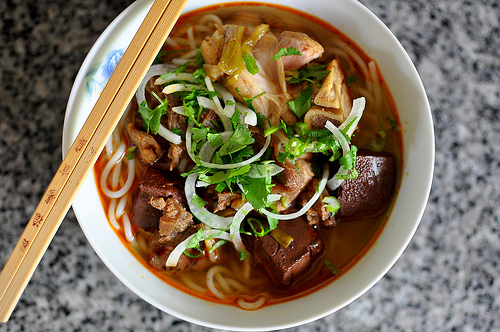 Bun Bo Hue originates in Hue, a city on the coast of central Vietnam. The broth of Bun Bo Hue is simmered with various types of beef and pork bones. The real highlight is lemongrass and red chillies. Although the noodle is well-known for being spicy, it's very worth a try. To prepare a delicious Bun Bo Hue, the cook will put thick round rice noodles into a bowl and top with slices of brisket, pieces of ham hocks, and cubes of congealed pig's blood. The savoury broth is then poured on top of the rice noodles. To finish off, a garnish of green onions, cilantro, and white onions are added. Similar to other noodle dishes, Bun Bo Hue is always served with a plate of shredded cabbage, banana blossoms, bean sprouts, mint leaves and lime wedges.
Hu Tieu Nam Vang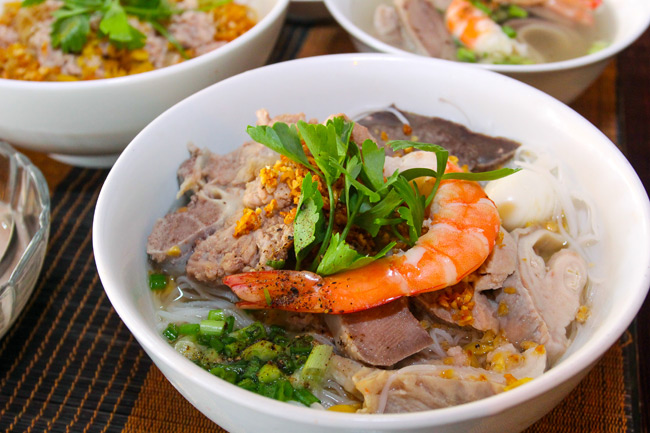 Hu Tieu Nam Vang is another popular noodle soup dish in Vietnam, especially in Saigon. It starts with a pork-based broth with a hint of toasted dried squid or shrimp. A bowl of noodles for a dollar or more, often include rice noodle, slices of all sorts of pig organs, a quail egg, and a shrimp, plus green onions and cilantro on the top. As usual, the noodle soup tastes better when combined with green herbs and chilli sauce.