Vietnam visa on arrival (VOA) is one of the three ways to get a visa to Vietnam. It is the most popular method right now among world travellers because of its fast processing time, convenience and easy procedure.
Vietnam VOA is applicable for almost all nationals around the world at from anywhere as long as you have an internet-connected computer. By using an approval letter, you can get a real visa stamp at all international airports in Vietnam. However, VOA is useless at land border crossings and sea harbours.
1. "Visa on Arrival" is NOT "Visa-Free Entry"

"Visa-Free Entry" means that you are allowed to enter the country without a visa for a specified period of time under what is called "landing permission" while "Visa on Arrival" can be granted at where you show up.
Visa-Free Entry can only happen when two countries agree on allowing each other's citizen to free visit other countries. Vietnam grants free entry for a limited number of countries, mostly in Southeast Asia, few countries in Europe, Korea and Japan…. The time valid for each nation is also different and often short (15-30 days) and the second visit must be after the first 30 days. Make sure you check visa requirements before applying for one.
2. "Vietnam Visa on Arrival" is a little bit different
Originally visitors can apply and receive VOA at the arrival airport of the country they are visiting. But it's not the case with Vietnam. To have this visa granted applicants must arrange an "approval letter" issued by the Immigration Department of Vietnam beforehand. That's a little tricky because no foreigner can apply directly to the department for this document. So there are visa and travel agents who are based in Vietnam and will take care of this approval letter. And only with this letter, you can board the plane to the country.
3. Who can get Vietnam Visa on Arrival?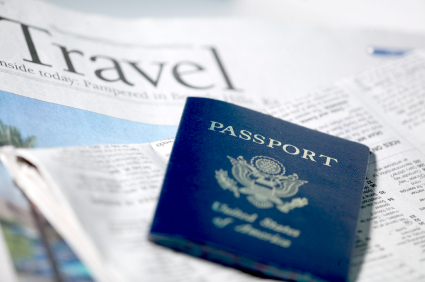 Foreigners from 163 countries who are eligible to apply for a Vietnam visa are also eligible to apply for VOA. Qualifications are:
Outside Vietnam foreigners;
Holding a valid passport;
Not falling into the cases of suspension from entry prescribed in Article 21 of Law on foreigners' entry into, exit from, transit through, residence in Vietnam.
Citizens from countries which are exempted need no visa to visit for a specific amount of time. Check here to know more information on visa exemption.
4. How to apply for a Vietnam Visa on Arrival?
First, you have to apply for the approval letter online then you will have a real visa stamp at the arrival airport.
There are four steps in total to do this:
Fill out the online visa application form provided by the Visa on arrival agent (based in Vietnam) with exact information as shown in passport. Double-check to avoid mistakes.
Make a payment online through a secured payment gateway with your credit or debit card.
Print out Visa approval letter sent to your email after 2 processing days together with entry-exit form NA1.
Get visa stamped at the arrival airport in Vietnam.
At the airport, you will have to present:
Your original passport
Printed Vietnam visa approval letter
The completed entry and exit form NA1 (filled in before for saving time)
Two passport-sized photos
Stamping fee (paid by cash): USD $25 (single entry) and USD $50 (multiple entries)
5. Visa On Arrival Airport Process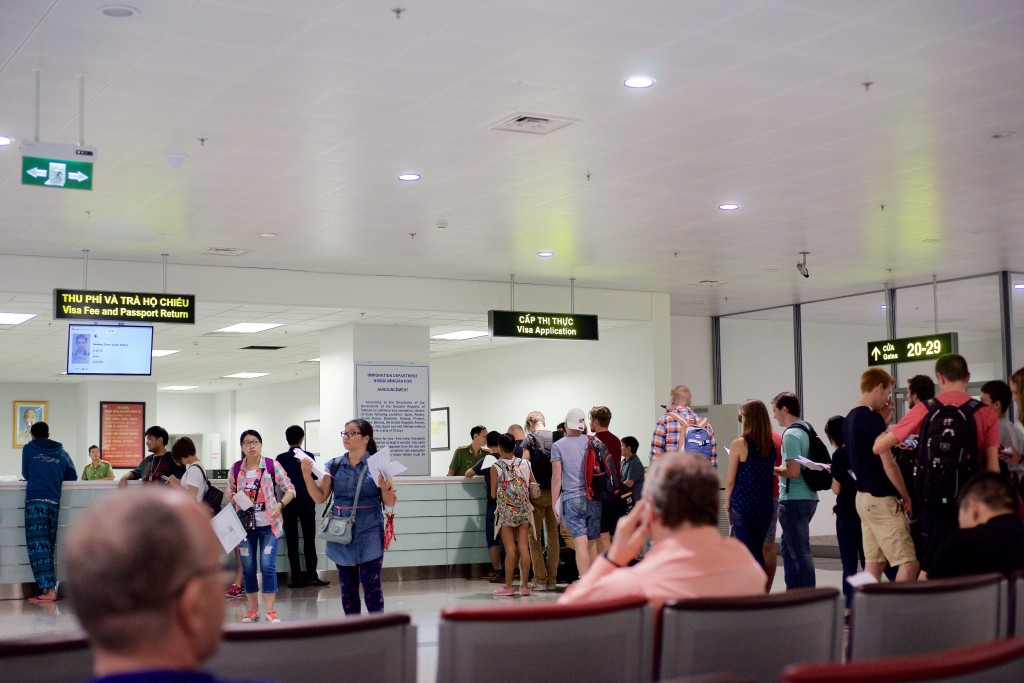 Locate the Visa on Arrival counter/desk at the airport:

At Ho Chi Minh City (Tan Son Nhat international airport), as you enter the immigration hall, you will find the VOA window situated over to the left. The counter itself is signed LANDING VISA.
At Hanoi (Noi Bai International Airport) the airport has changed with the recent (January 2015) opening of the new international terminal. You will notice the counter opposite the immigration desks.  There are two sides: the right side takes in the documents and on the left side they return your passport with visa stamp on it
At Da Nang follow the exit signs. As soon as you enter the huge hall it is very easy to detect window for processing landing visa- it is on the left-hand side and is clearly visible.

At times, the airport can be pretty crowded and the queue can be very long. So we suggest you notice the right sign of Visa on Arrival area and not stand in the wrong line.
If you don't like the idea if queuing and waiting too much or you have kids or you don't have much time, we recommend you to use our stamping assistance service.
US citizens can apply for more types of visa compared to other nationals: 6 months multiple tourist visa and 1-year multiple tourist visas. The stamping fees for these two visas are $95 and $135 respectively. Standard processing time is 2 business days. The approval letter and exit-entry form will be sent to your email.
Different staying duration allowed with different long-term visas: 90 days (6-month and 1-year multiple-entry tourist visas); 180 days (6-month multiple-entry business visa); 365 days (1-year multiple-entry business visas).
Tourist visa
Normal Services
Urgent
Services
Super
Urgent Services
Stamping Fee
(Cost/pax)
1-2 pax
3-5 pax
6-9 pax
>10 pax
1-month single
$16
$14
$12
$10
plus $10
plus $30
$25
1-month multiple
$23
$21
$19
$17
plus $10
plus $30
$50
3 months single
$26
$24
$22
$20
plus $10
plus $30
$25
3 months multiple
$45
$43
$41
$39
plus $10
plus $30
$50
6 months multiple (for U.S citizens only)
$50
$48
$46
$44
plus $10
plus $30
$95
1 year multiple (for U.S citizens only)
$55
$53
$51
$49
plus $10
plus $30
$135
Vietnam visa procedure for Australia citizens is easy and hassle-free due to the long history of diplomacy between the two countries. Australian absolutely can apply online for a visa on arrival and receive the real stamping fee at the arrival airport.
VISA TYPE
Normal Services
Urgent
Services
Super
Urgent Services
Stamping Fee
(Cost/pax)
1-2 pax
3-5 pax
6-9 pax
>10 pax
1-month single
$18
$14
$12
$10
plus $10
Contact
$25
1-month multiple
$23
$21
$19
$17
plus $10
Contact
$50
3 months single
$26
$24
$22
$20
plus $10
Contact
$25
3 months multiple
$35
$33
$31
$29
plus $10
Contact
$50
From the beginning of 2014, the Indian citizens have no longer had to provide a guarantee letter from the sponsor. Like any other national, Indian citizens just need to fill out a visa application online, pay processing fee with credit or debit card to receive the approval letter.

The prices for Indian citizens are a little bit higher as shown in the table below:
Visa type
Processing fee
Stamping fee
Normal process
Urgent process

(1 business day)

Super-urgent process

(4 business hours)

1-2 pax
3-5 pax
6-9 pax
10 pax
1-month single
$25
$23
$21
$19
Plus $10
Plus $30
$25
1-month multiple
$30
$28
$26
$24
$50
3-month single
$50
$51
$49
$47
$25
3-month multiple
$60
$58
$56
$54
$50
We have shared the overall information on  8 Things to know about Vietnam Visa on Arrival in 2017. If you have any questions on How to apply visa to Vietnam, please feel free to contact us at hotline +84 966.53.93.63or support email: support@vietnamvisa-easy.com or skype: vietnamvisaeasy.