The year 2020 starts with Hoi An, one of the busiest tourist attractions yet to date. Asides from the charming retro/Japanese mix with a traditional touch of Vietnam oldest cultural features that can be seen in almost anywhere, Hoi An also offers a great variety of entertainment from across the world, including the Bar services. So order your favourite cocktails and let us take a sip into the exotic energy and full of Hoi An's romantic nightlife, street bars!
Part 1: The American-Vietnam Bars
MANGO MANGO
We started off with one of the best cocktail bars in Hoi An, Mango Mango. Owned by a Vietnamese-American Chef, Mango Mango lives up to its predecessor the Mango Rooms by delivering some of the tastiest, electrifies cocktails in Hoi An. You will be enjoying your colourful cocktail watching one killer of a view. And if that's not enough, Mango Mango's 9 – 12 AM Asian flavour breakfasts are not something to be underestimated. The bar also held live music every night at 7 PM with no performances identical from the others.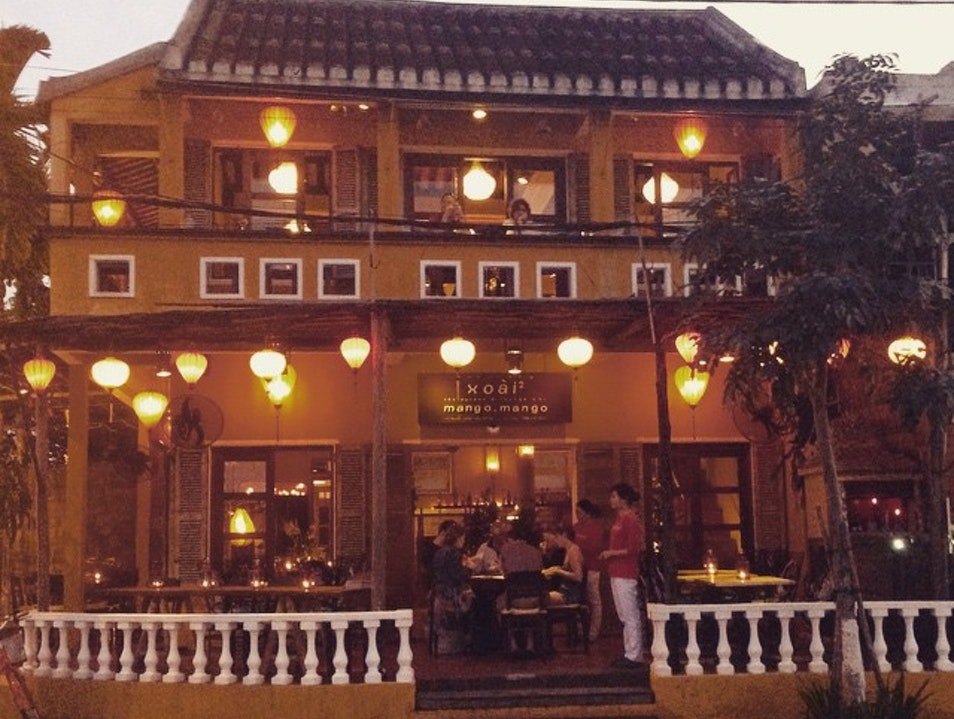 Address: 45 Nguyen Phuc Chu, Hoi An
Tel:  +84 (0) 235 3911 863
Opening hours: 09:00 – 22:00
Average price: 12 USD – 20 USD
2 Additional cocktail bars are 92 Station (92 Tran Phu) and The Deck Hoi An (39 Dao Duy Tu), both offer an open-air, sunset view surrounding by an old, luxury vibe of the buildings.
FENDER BAR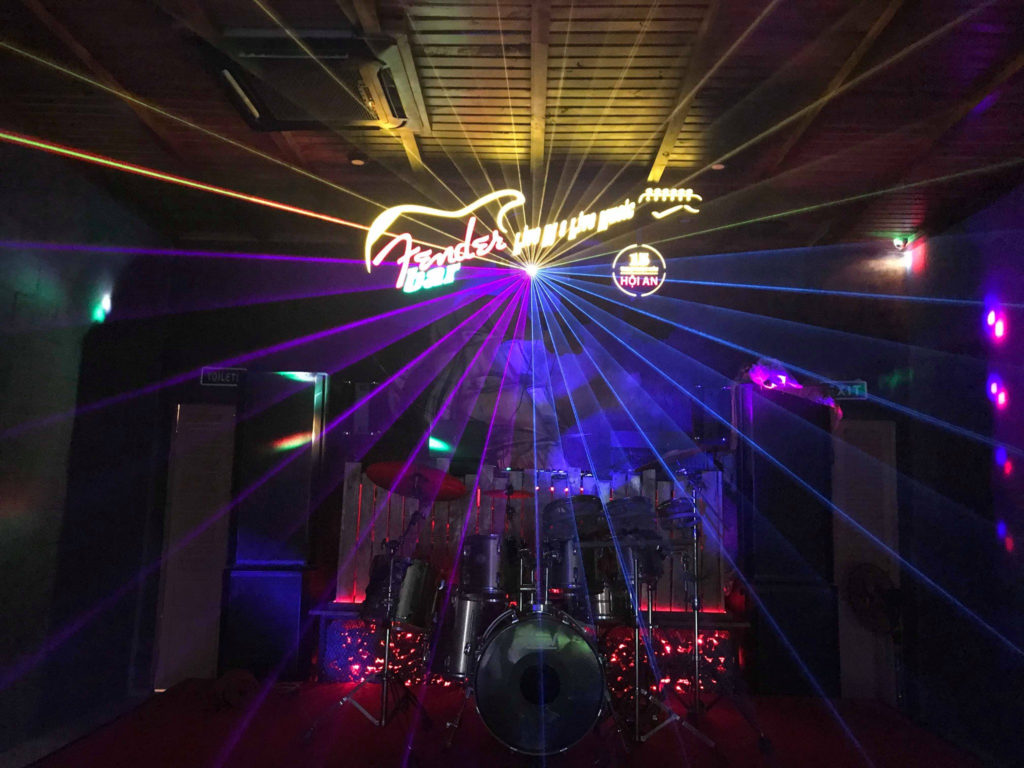 If you are a fan of live-jamming the guitar with a backup band, then Fender Bar is the place for you!
Owned by Hoi An's guitar virtuoso Tam Huu, the bar has been well-known for its restlessness music day and night. Fender Bar is one of the rare Local's choices in Hoi An simply because everyone loves Tam's take on the guitar, a true maestro. Even more, yourself, the customer, can go up on the stage and jam it out with the band, from Vietnamese love ballads to Western rock classics, Fender Bar is the place to go.
Address: 15 Thai Ngoc Hau, Hoi Anh
Tel: +84 93 511 61 47
Opening hour:  Live music: 8:00 p.m. – 11:00 p.m. Open mic or live DJ: 11:00 p.m. – 4:00 a.m
HOI AN SPORT BAR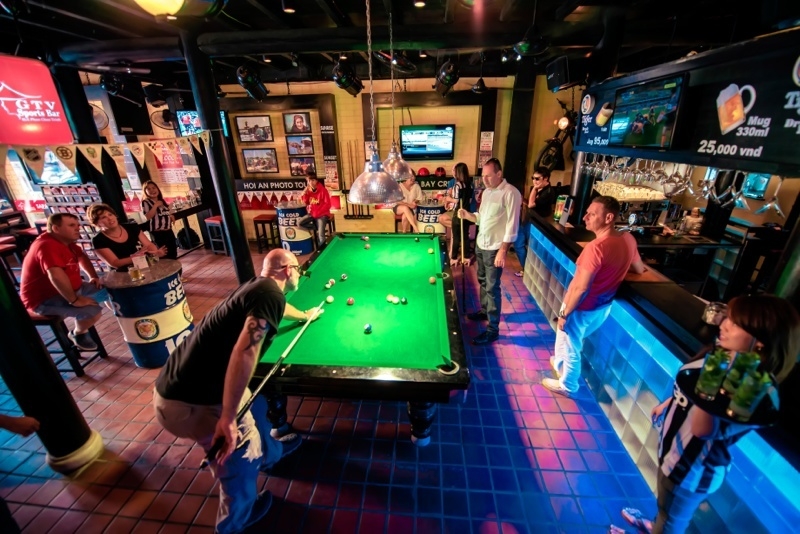 Welcome sports enthusiasts to this one sport-paradise of a bar! Run by Gordon North, an Aussie sports enthusiast himself, the bar has every of its corner surrounded by small TV screens and a large projector screen which only puts on Sports Channels (e.g. NRL, NBA, Super Rugby, etc.). The customer can enjoy their cold beers and play a few games of pool, or if you went to the upstairs lounge, the area is full of foosball machine, darts, Xbox, Wii, PlayStation and a lot more of board games! Hoi An's drinks are a range of local and imported beers.
Address: 61A Phan Chau Trinh Street, Hoi An
Tel: +84 510 6545 357
Opening Hours: Daily 11:00 – 23:00
Average price: Above 25,000VND
Part 2: The Authentic/Japanese Bars
Q-BAR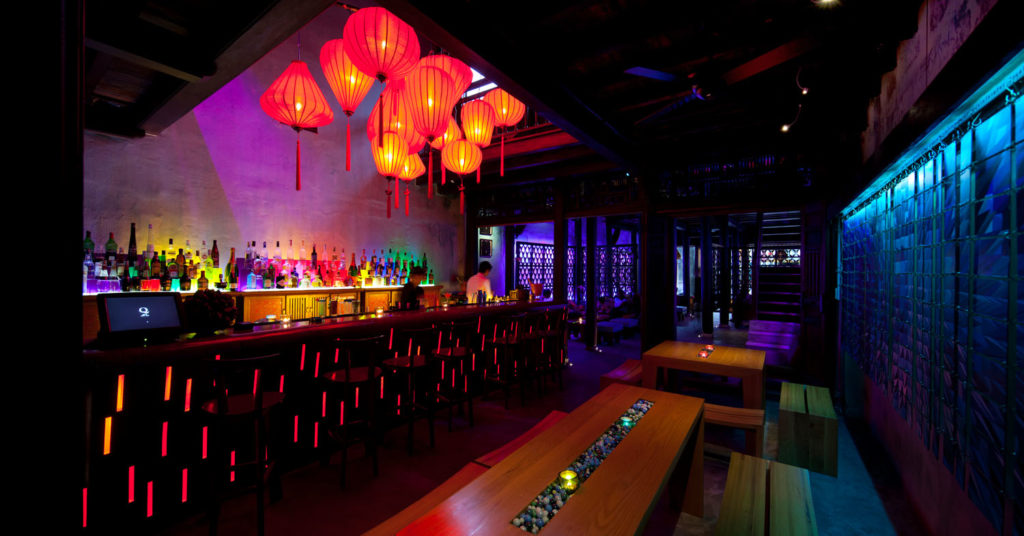 If you love strolling through the Japanese Bridge, you will love to spend time in Q-Bar! The bar is lifted up with Japanese decor and furniture style in and out features the classic retro Japanese LED lighting paints.
Q-Bar's menu is an extensive list of cocktails, beers and imported high-quality Japanese snacks for both locals and tourists in Hoi An. Set out just a three-minute stroll from the Japanese Covered Bridge, the bar is situated in a traditional merchant house in Hoi An Riverside. The view from there guarantees to feed you up with a relaxing, retro vibe while you enjoy your drink.
Address: 94 Nguyen Thai Hoc Street, Hoi An
Tel: +84 510 391 964
Opening Hours: Daily 11:30 – Late
Average price: 50,000VND – 400,000VND
TADIOTO WHISKEY BAR/RESTAURANT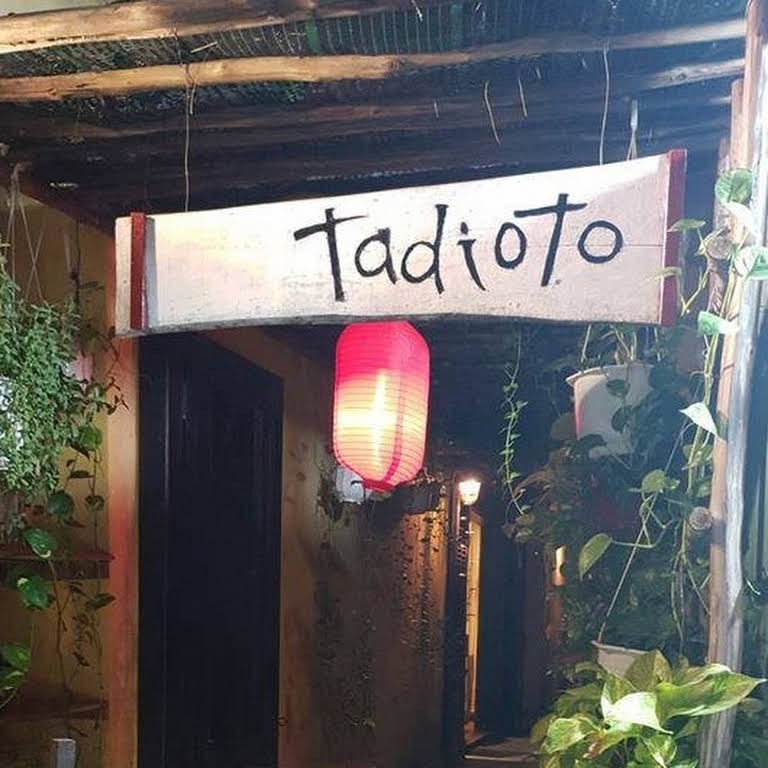 Another thing Japanese is well-known for is the calming, sophistical lifestyle, and that is just what Tadioto Whiskey Bar is all about. A lowkey bar residence in the narrow alleys of the Old Town that should be more recognizable. The Menu and Decor of the bar speak the bar motto: Artful and minimalistic. The bar welcomes individuals with its rare liquors and creator's beverage and a full range of whiskies, wines, sake and sushi.
Address: 54 Phan Boi Chau, Hoi An
Tel: +84 869 997 586
Opening hours: 9:00 – 11:40
DIVE BAR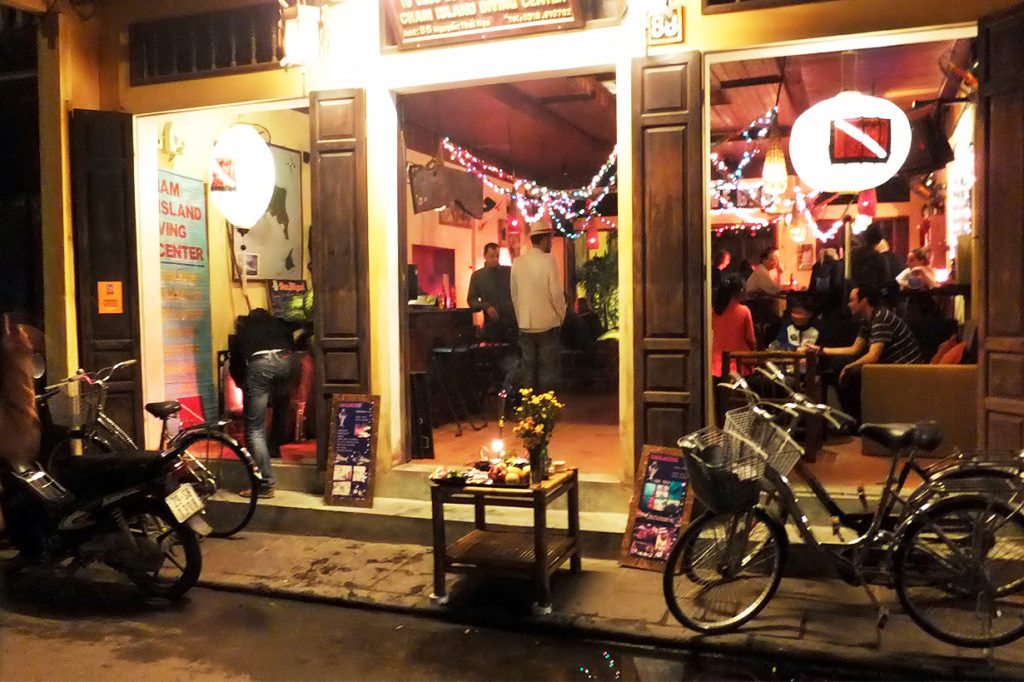 Dive Bar offers not a fine quality of liquors and beverage but the rather warm-hearted vibe that will sure to make you feels like home. The old-cultured Hoi An infrastructure gives away a vintage, aesthetic feeling. Dive Bar's top menu included imported beers, strong cocktails and exclusive wine with a creator's touch and a wide variety of Vietnamese and western pub grub. Between 17:00 and 21:00 every night, you can have a go at making your own cocktails for 30USD under the guide of a certificate mixologist. On Tuesday, Thursday and Saturday evenings, live music is played during the evening with a confusion of different types of music from acoustic to loud ones like blues, reggae.
Address: 88 Nguyen Thai Hoc Street, Hoi An
Tel: +84 510 391 0782
Opening Hours: Daily 10:00 – Late
Average price: 25,000VND – 110,000VND