Is Mai Chau worth visiting compared to Sapa? This post will give you the most honest answer, so keep on reading!
If you would like to run away from the hustle and bustle of the city life to refresh your mind, Mai Chau – a rural district belonging to the west of Hoa Binh Province, is the new world that you are looking for. Laying in the middle of the huge Tay Bac mountains, Mai Chau is a forested valley that got a breathtaking and dreamy rural landscape. With the advantages of position which is closer to Hanoi (only 160km away from Hanoi to Mai Chau) and less crowd of visitors than Sapa, Mai Chau is also one of the best choices for nature lovers who are looking for a pleasant place with the dreamy rural landscape surrounding. All these things are reasons explaining why almost travelers coming to Mai Chau once will keep coming back again and again.
Mai Chau is on your travel list now, but you don't know where to start?
Let VietnamVisa-Easy give some helpful reviews and guides for your upcoming tour to Mai Chau.
1. How can you arrive at Mai Chau?
There are three main options for you to experience your tour to Mai Chau:
Motorbike: In order to gain the feeling of freedom and mingle with the mountain scenery completely, backpackers usually choose driving a motorbike through National Road 6, which may take about 4-5 hours to arrive at the valley. Although the road condition to Mai Chau has been improved much better than in the past, we advise you to be careful with the steep paths and the weather condition for safe driving.
Direct Route: Ha Noi's City Centre (Hoan Kiem District)– Nguyen Trai Street- Ba La Street ( Ha Dong District) – Xuan Mai– National Road6(QL6)– Deo Thung Khe (Thung Khe Pass)– Tong Dau – Mai Chau Valley.
Gas cost: 70.000 vnd – 100.000 vnd.
Private Car: Taking only 3 hours to arrive at Mai Chau, Car is a perfect option for you to have the private experience with your friends and family as well as ensuring the safe travel.
You don't know where to rent vehicles for Mai Chau Trip?
Here are some attractive offers from VietnamVisa-Easy for you:
Taxi: 80-90$/one-way (The rental fee is flexible and depends on your tour program)
Motorbike: $50/day (Gas expense is on you)
Contact us to get more information!
Bus: You can easily take a direct bus from Hanoi to Mai Chau by going to My Dinh and Yen Nghia bus stations where provide daily bus services to Mai Chau.
Start Hour and End Hour: 2:00pm – 5:00pm, 2:45pm – 5:45pm, 7:45pm – 10:45pm.
Ticket price: 80.000/person.
Getting Around Mai Chau: If you would love to go around Mai Chau, bike renting services are available at a very low price: only 20.000 vnd.
2. Where to stay in Mai Chau?
There are different types of accommodations in Mai Chau that you can choose, which depends on the way you want to experience.
Local Homestay: 
Located mainly in Lac and Poom Coong Village, homestays with the traditional architecture and peaceful rural views usually attract great interest from visitors. Homestay here, with another name – "Stilt house", are all built of rattan, bamboo, wood panels and roofed with palm leaves. Each stilt house of Thai people can contain from 40 to 100 people and be fully equipped with fans, pillows, cushions, mosquito net, bathrooms, etc. Staying in local homestays are not only the best way to travel on a budget but also a great chance for you to get a deeper understanding of local people's lifestyle as well as traditional activities.
Price: From 20.000 – 300.000 vnd/person/night.
Suggestions: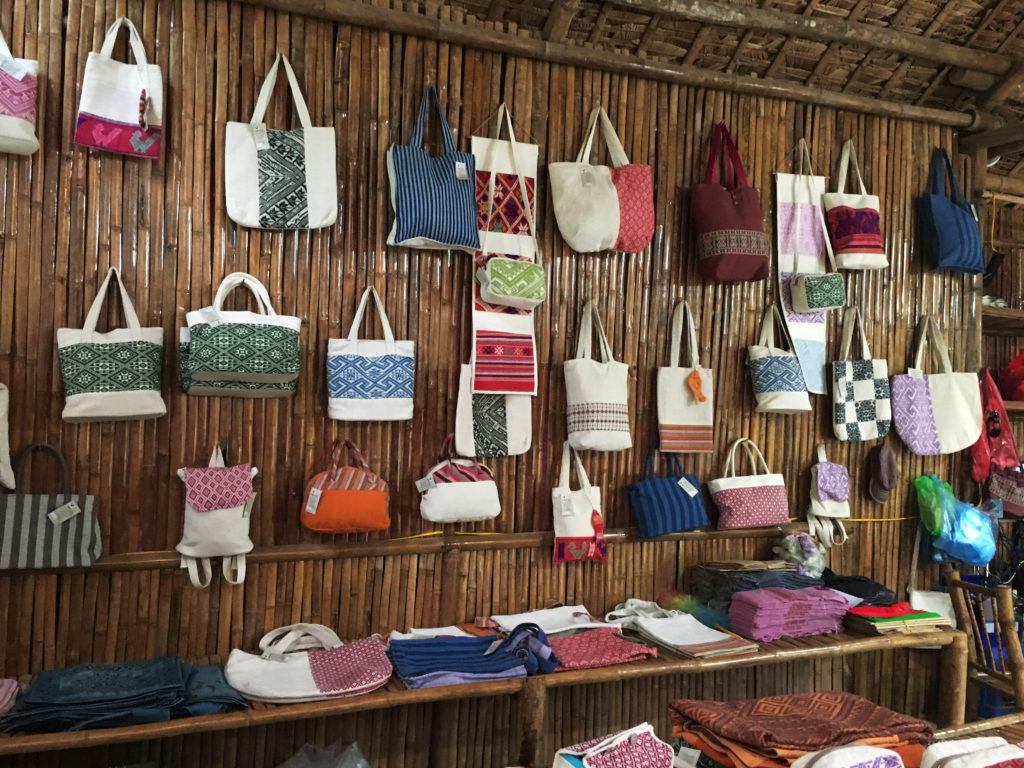 Hoa Ban Homestay – No66, Lac 2 Village.
Contact Number: 0917 671 066.
Locating in the small road leading to the village, Hoa Ban Homestay is the very big wooden stilt house that can hold up a large group of people living there. The main theme covering this homestay reflects both the authentic lifestyle of the locals the raw beauty of mountainous areas, making it the ideal place for tourists to stay. Besides some traditional activities they offer, we also had an opportunity to join a memorable charity event held in this homestay and come over the handicraft shop next to it to buy some cute Thai handmade souvenirs made by disabled people. Spending our time here with them is the most meaningful and precious moments!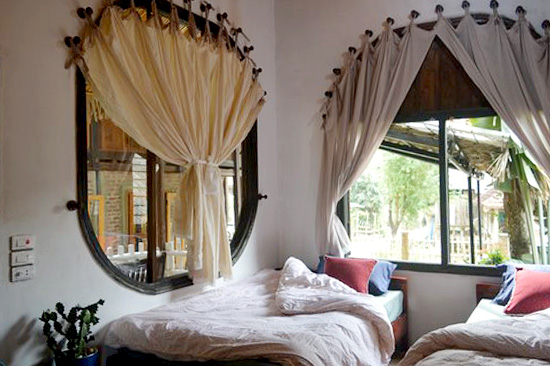 Lim's House – Alley 1, Group 3, Mo Village. 
Contact number: 0947 462 113.
Lim's House Homestay is another recommended place for your trip to Mai Chau. Tourists staying here are not only obsessed with cozy and natural interior designs but also completely satisfied with the hospitality of the owners. We promise Lim's pets and her home-cooked meals will make you cannot stop coming back to this homestay again. You should take your time to talk with Lim as you can get useful travel tips and interesting stories from her. 
Hotels and Resorts: Mai Chau also have various hotels and resorts with high standard rooms and good quality services are offered. The designs here are mostly inspired by the raw beauty of Mai Chau's nature and culture, bringing the feeling of wildlife as well as while tourists are living there. Here are some popular and high-rated hotels and resorts inMai Chau: Mai Chau Ecolodge; Mai Chau Sunrise Village, Mai Chau Valley View, Mai Chau Green Rice Field, etc. Most of these hotels and resorts will provide you with free wifi, free bicycles, free parking lot and other utilities such as out-door pools, in-house spa, restaurants,…
Price: From $20 – $150/night (depend on the room type you book).
3. Top 4 Famous Attractions in Mai Chau:
Lac Village: Being believed to be the must-go place in Mai Chau, Lac Village is surrounded by giant mountains and vast rice fields stretch until the horizon with several wooden stilt houses lying silently on it. Lac Village attracts visitors because of not only its tranquil atmosphere and breathtaking landscapes but also the cultural richness. The tradition of handcraft makes this village full of brocade fabrics and colorful Thai ladies, making handmade items become the signature of Mai Chau and Thai people. So don't forget to get some for your family and friends after visiting this village!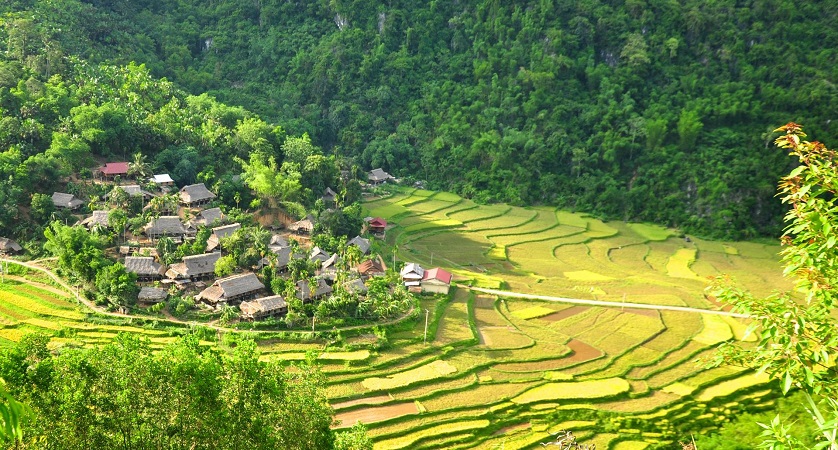 Poom Coong Village: Although Poom Coong village attracts fewer tourists than Lac Village, it still amazes visitors with its imposing natural sceneries. This village is the place where approximately 70 households gather with more than 300 local people living. Besides some features similar to Lac Village, "Thai space" in Poom Coong village usually impresses visitors with its clean places and freshwater resources, making them feel safe and healthy when coming here.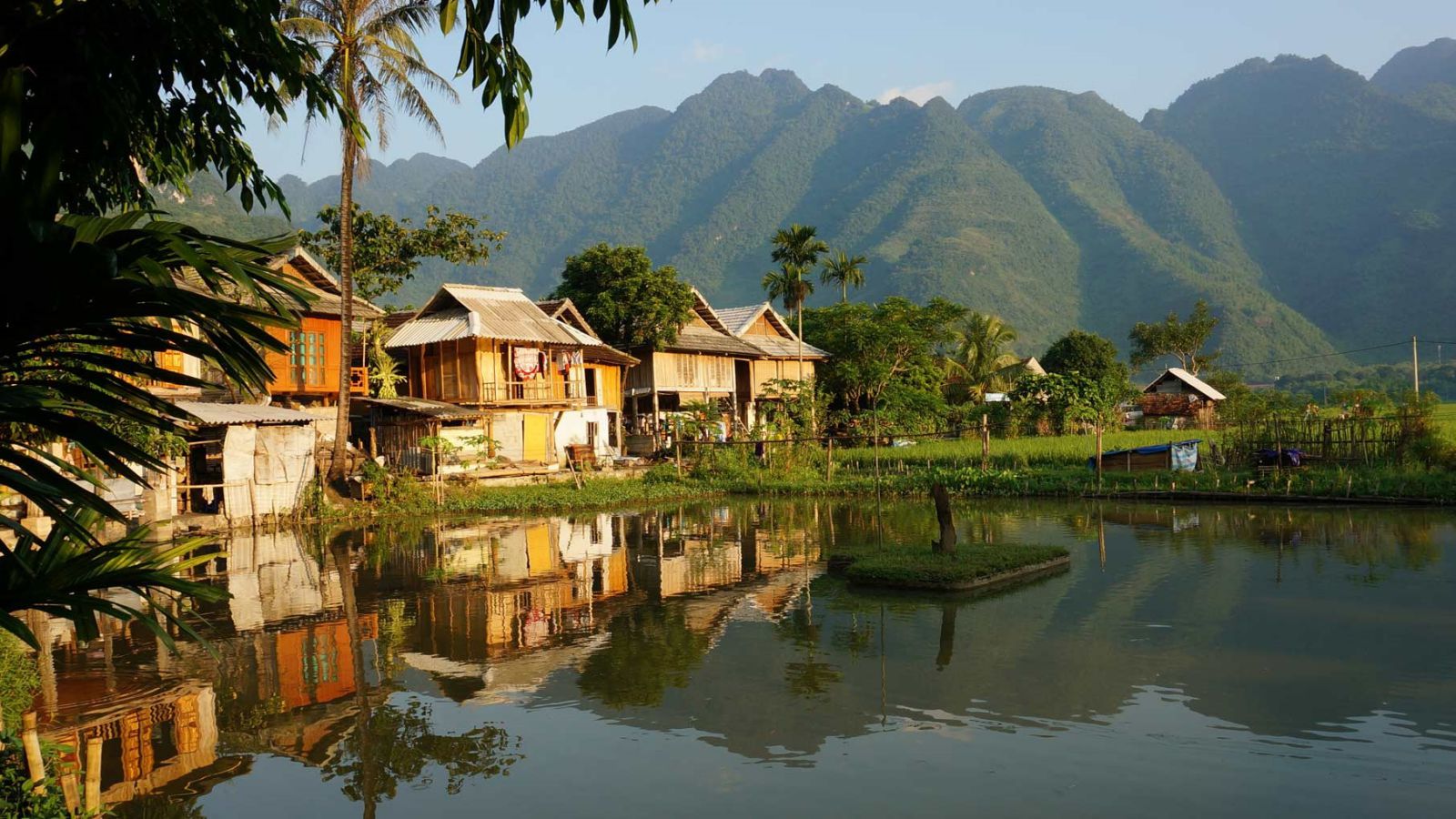 Thung Khe Pass: Before going to Mai Chau, you will travel through Thung Khe Pass and don't just pass here too fast or you will regret later. Taking a break in this attraction, you will see the full view of magnificent scenery with misty mist covering all over the roads and giant mountains, giving you the feeling of standing on the top of the world. We suggest you grab some local snacks such as boiled eggs, grilled corn, and sticky rice to eat while enjoying the landscapes.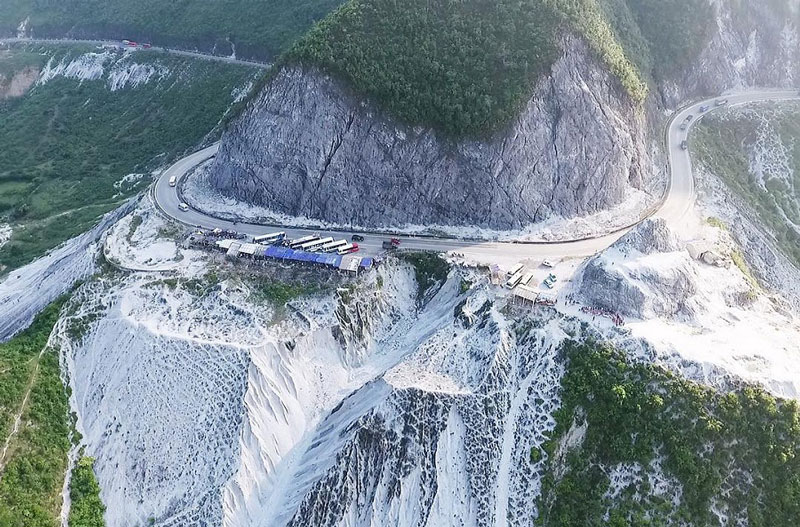 Mo Luong Cave: With the stunning and various unique shaped stalactites, Mo Luong Cave has 4 main caves with a total depth of nearly 500m and each cave has different lengths and heights. This attraction is the ideal choice for those who love exploring wildlife and seeking new feelings. In order to visit the rest of the cave, you should have good health and hiking skills to ensure your smooth and enjoyable experience.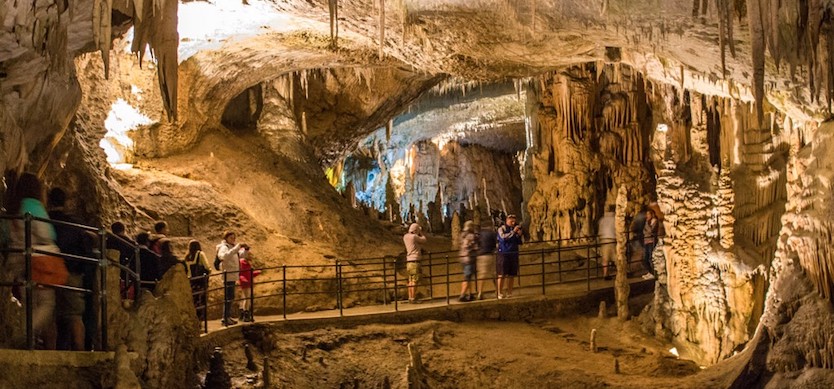 4. Mai Chau's people:
The most important element that builds up the beauty of Mai Chau is local people. Mai Chau consists of 7 ethnic minority groups including White Thai, H'Mong, Zao, Muong, Tay, Hoa, and Viet. Meanwhile, White Thai and Black Thai are two groups making up the largest population of this region. In a family, there is less or even no conflict between members thanks to the priority of respect with each other and gender equality. Mai Chau people will not only surprise you with the close-knit relationship among people but also their hospitality to guests. If you are worried about being "ripped off" by the locals when shopping as some other places in Vietnam, it is completely different here, in Mai Chau. Mai Chau people are so pure, kind, and easy to make friends with, so that you will have the most pleasant trip without any problem.
5. Brocade Fabrics on Thai Traditional Clothes: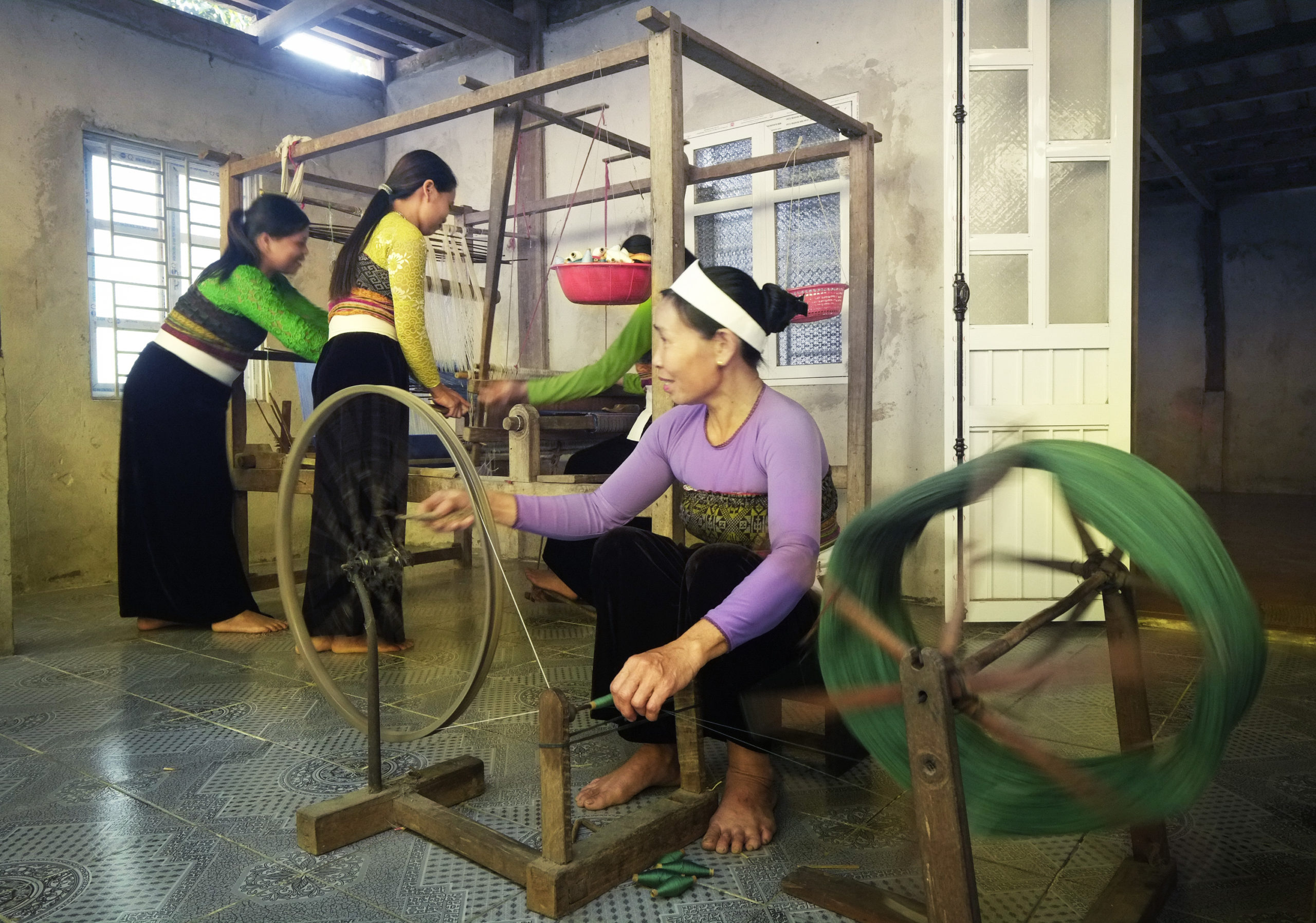 Brocade Fabrics is another wonderful piece that contributes to the beauty of Mai Chau's culture and tradition. Coming over Ban Lac (Lac Village) – a small town in Mai Chau, where this brocade weaving jobs are passed from one generation to next, it seems to be quite close-knit to White Thai women's lives. Almost Thai girls get familiar with learning the process of making brocade fabrics from their mothers at an early age, so that they will have enough experience and a high level of skills to make the best performance in the future.
Although the tradition of making hand-crafted products used to disappear in the past, Mai Chau people still consider it as a part of their lifestyle and culture. Therefore, Mai Chau's traditional brocade village has been established in order to provide jobs to Thai women as well as preserving Mai Chau's colorful identity. And now, people visiting Mai Chau can easily see such a peaceful image of Thai women working at a loom not only in brocade village but also in every household. This traditional job keeps growing stronger and being more popular that hand-crafted products made in Mai Chau are always highly appreciated and believed to be used widely and export internationally.
So why Mai Chau's handmade brocade is considered to be much more unique in comparison to the ones made by machines?
The differences start from the very first stages, Thai women make and get silk by themselves from raising the silkworms and growing mulberry trees to feed them. While making their cocoons, those silkworms will spin about a kilometer of the filament within 2-3 days. After putting the glossy yellow cocoons into boiling water to kill the silkworms, the fibers will be extracted and put into the spinning reel. This process takes quite a long time and much effort to move to the next stage – the most tired and longest – silk reeling. They have to take great care and pay attention to every detail to make sure the silk threads will be equally-sized and smooth.
The raw silk is then steamed to be softer before being dyed by different colors. It is more interesting to know that the colors for dyeing silk or fabrics in Mai Chau are all-natural ingredients from a variety of forest trees such as sophora japonica flowers for red or bright pink silk, the heartwood of jackfruit trees for yellow silk, and indigo for dark blue silk. After drying the dyed silk under the sun, Thai women will weave the silk reels into different pieces of brocade in a variety of patterns with a mixture of vibrant colors.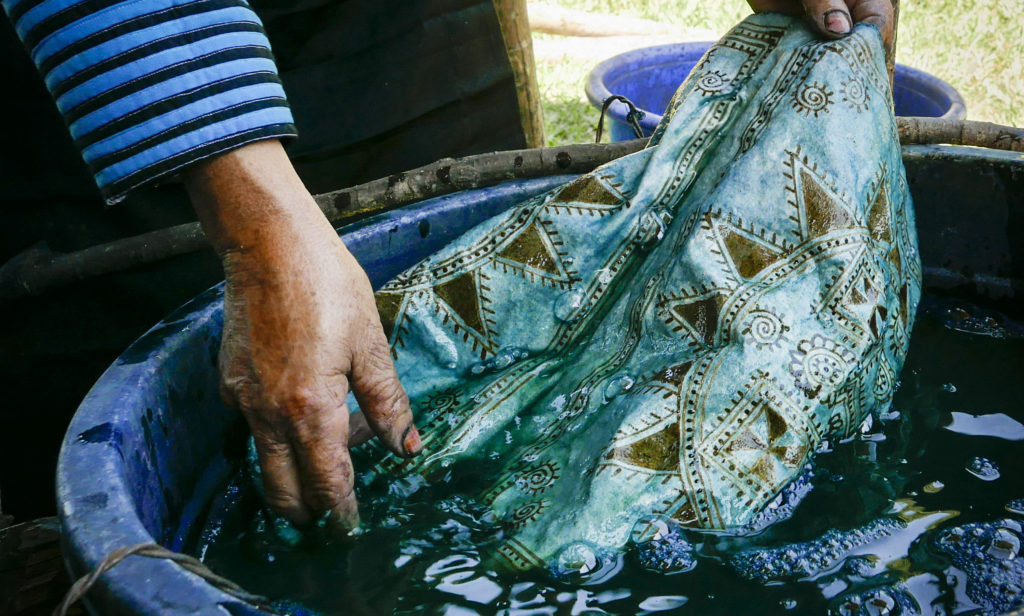 What is Brocade Fabrics used for?
In Mai Chau, brocade fabrics are always used to make traditional costumes for both genders and play a role as the highlight for the overall outfits. Besides, Thai Brocade is also used for other daily items and souvenirs such as woven scarves, decorated wall hanging fabric, hand straps and wallets…
6. Must-try Dishes in Mai Chau:
Tasting traditional foods should be a must-do point on your checklist for a trip to Mai Chau. Going to restaurants may be a good choice, but we recommend you to try it in the stilt house of local people where you can enjoy the truly home-cooked dishes as well as learning how these dishes are made. Let us introduce you to several traditional dishes in Mai Chau that may delight your taste buds.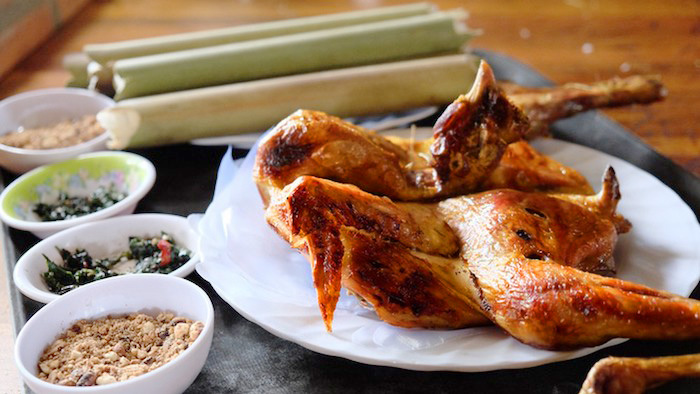 Chicken (Ga Doi): 
This is one of the most favorite dishes that tourists coming to Mai Chau cannot ignore. Instead of feeding a great amount of food, farmers in Mai Chau only treat their chickens really small food ration, then let them run-up to the hill and find food by themselves every day. This is a reason explained why chicken meat is so firm and juicy. Baking chicken with lemon leaves in charcoal creates a very beautiful dish with sweet barbecue smell and wonderful taste.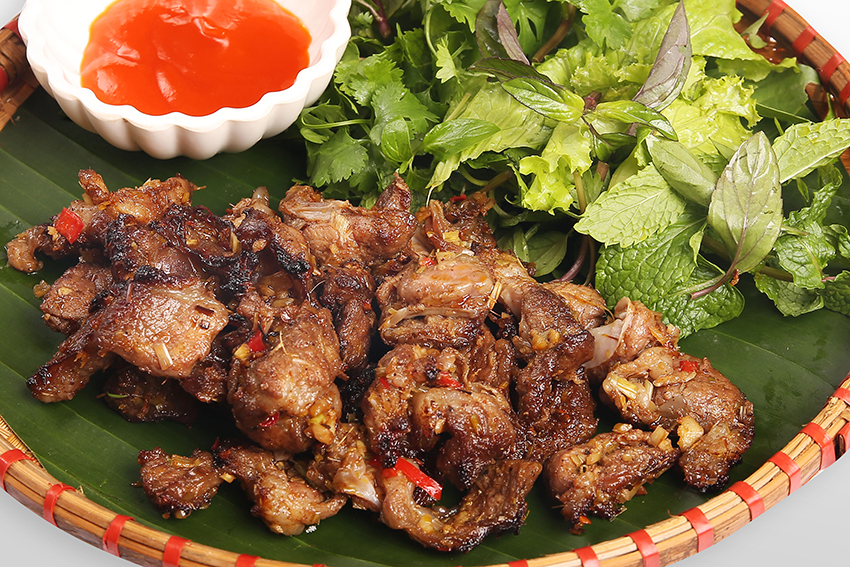 Grilled Pork Meat: Pork Meat is mainly from black pigs which are fed with vegetables without stimulants. Pork Meat can be cooked to various dishes such as fried pork or steamed pork, but grilled pork meat is the best choice ever. Being marinated with many spices such as salt, chili powder, citronella, lime leaves, ginger, turmeric, and vinegar for 30 minutes, they will grill the carefully chosen piece of pork until it slowly turns into the beautiful yellow color and the dish is ready to serve.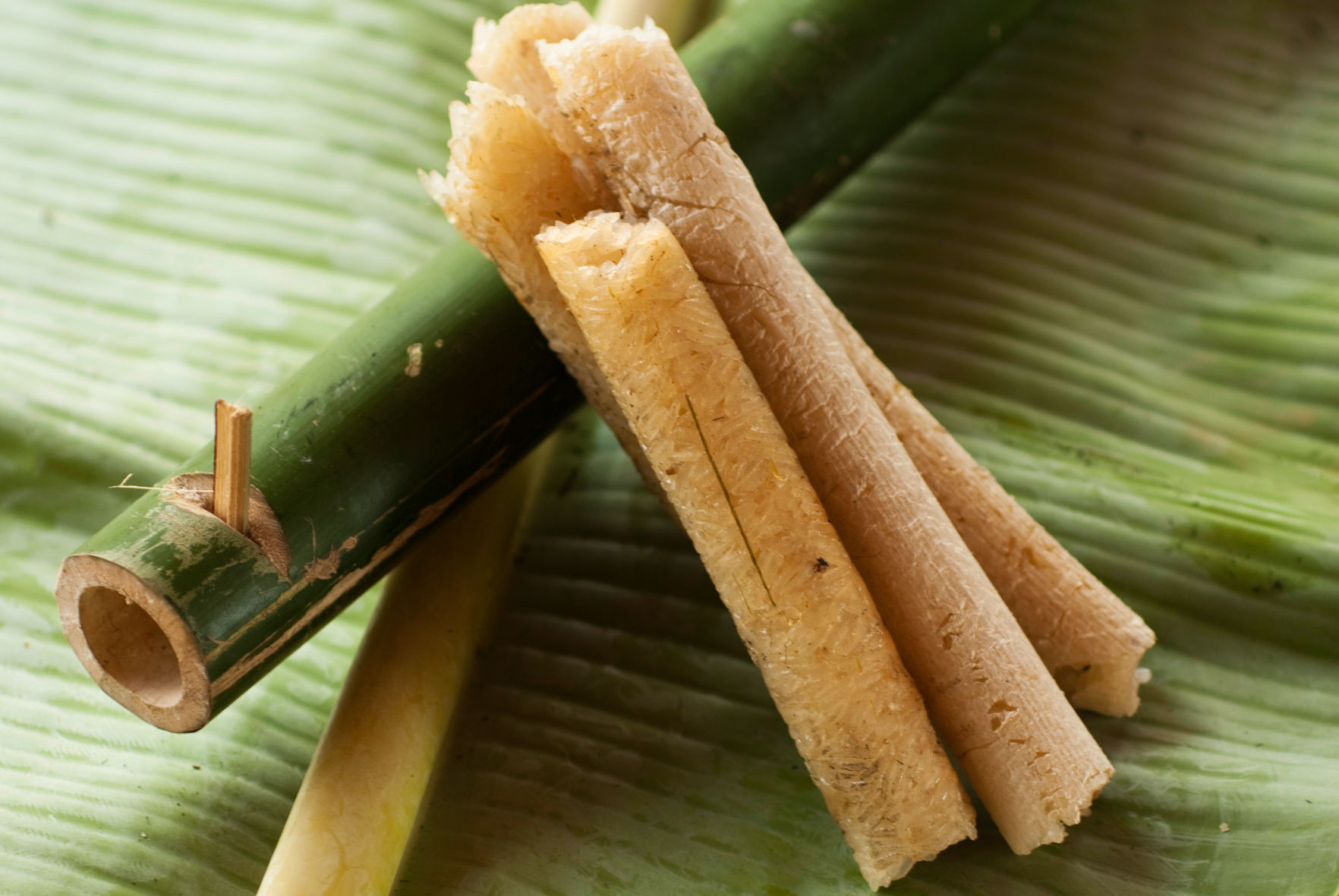 Bamboo-Tube Rice (Com Lam): In Vietnam, you can only find bamboo-tube rice in the mountainous religions and it is very popular among ethnic groups. Although the recipe for this dish is simple than others which are putting sticky rice inside bamboo tubes and then baking, we still recommend it to you because of not only delicious taste but also an interesting story beside it. The origin of this food is coming from the difficult life of mountainous people and the lack of essential items in their daily life in the past, therefore, they have to find out the way to cook with natural materials. Grilling rice with bamboo is the best and the most convenient choice at that time to make delicious daily meals.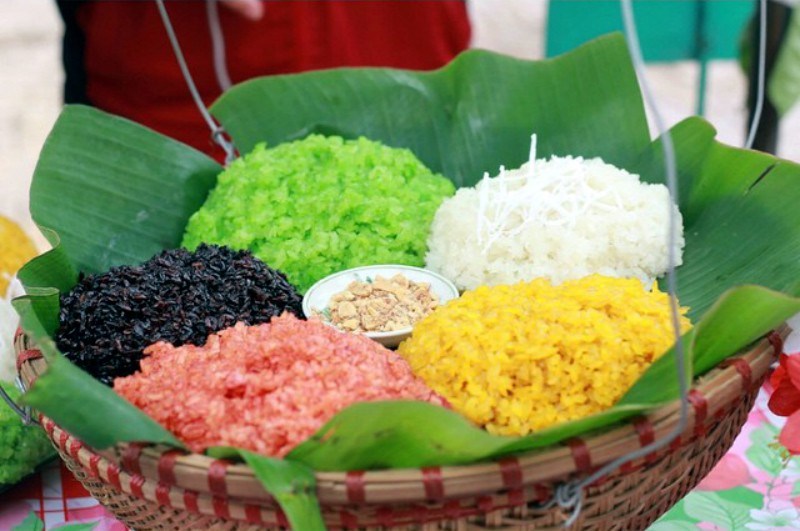 Five-colored sticky rice: In Mai Chau, the tray of five-colored sticky rice is the perfect combination of traditional and meaningful values. The five colors to dye the rice are all made from natural ingredients: the white is the original color of rice, the red is from the red sticky rice, the purple is from the black sticky rice, the yellow from gingers, and the green from the ginger leaves. After being dyed, rice will be steamed with constant fires in order to get the ripen and glutinous dish. For those who curious about the meaning of this colorful tray, the five colors stand for solidarity, loyalty, and filialness.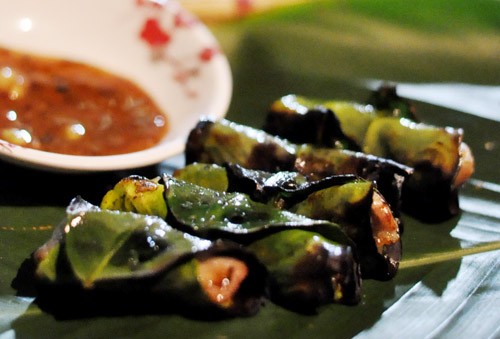 Grapefruit Leaves Roll: You may be in love or heard about spring roll before, but have you ever tried Grapefruit Leaves Roll? I guess it has been the first time you know this. After mixing ground pork with different spices, it will be rolled by a small piece of grapefruit leave, then being grilled on charcoal. It is so easy to cook but the taste is so good and impressive.
7. What to do in Mai Chau?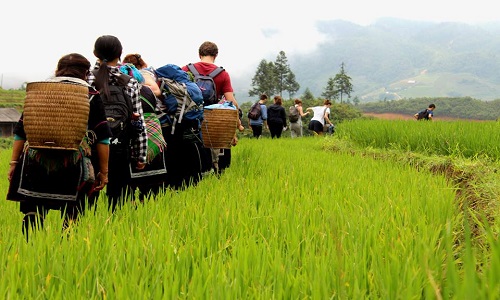 Trekking in Mai Chau: Trekking is the key activity that you cannot miss in this trip since it is the best way to discover rural hamlets and the ethnic culture richness. Many trekking guide services are available for you and we suggest you booking and following the trekking guides which are extremely beneficial to your multi hiking days on rural roads and help avoid the language difference problems with the locals.
Riding a bike around: The ideal choice to contemplate Mai Chau beauty instead of walking in a long way is cycling. You can easily rent a bike at a very cheap price or get a free one from hotels and homestays you live in. This activity promises to bring you the most relax and peaceful moments.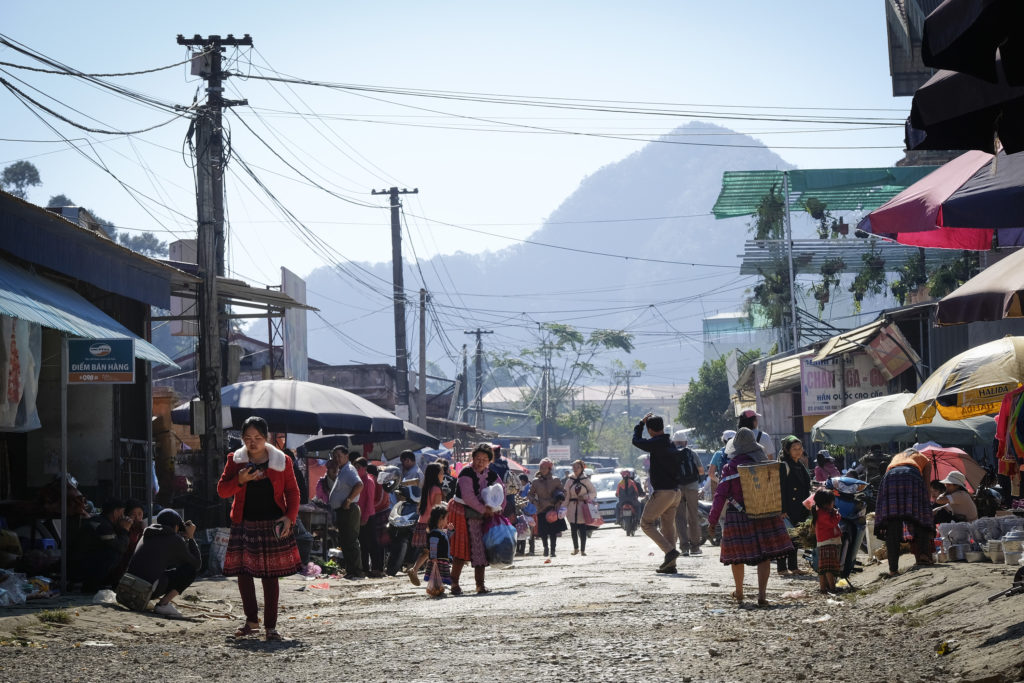 Shopping in Mai Chau's markets such as Pa Co and Muong Markets: These are the nice places for you to know the weaving culture as well as get handmade souvenirs for your friends and family or decorative items for your house.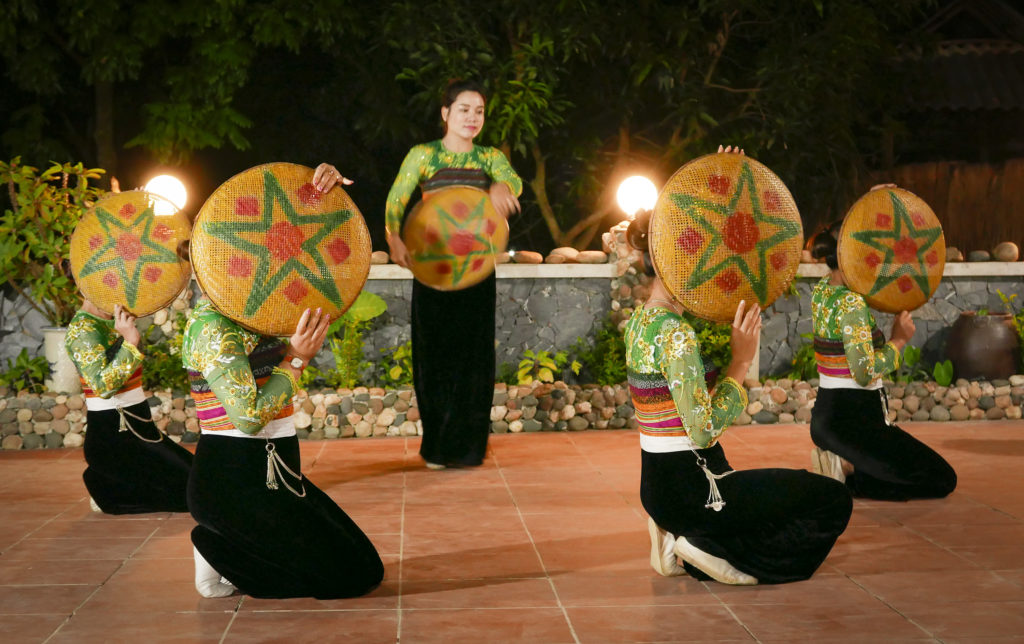 Folk Games and Dances: At night, the locals will perform special dances – Xoe Dance in their traditional costume, which is originated from the labor and production activities in their daily life. Thai women will hold each other hands and make eye-catching movements around the fires together, creating the beautiful image of local people that attract great attention from tourists. Tourists will be asked to join and practice folk games (walking on stilt) and dances with the locals as a part of getting familiar with the tradition and culture here. These activities will entertain you a lot and give you the happiest moments.
Mai Chau is fantastic destination to visit, right? What are you waiting for? APPLY NOW 
Let us know if you have any questions by commenting below and feel free to Contact Us!