Reuters Agency (England) reported on 25 January 2013: According to the survey studies from 140 world-wide online hotel booking websites by a tourism website named Trivago, Hanoi ranks the 2nd of the list of 10 cities which have the best hotel services.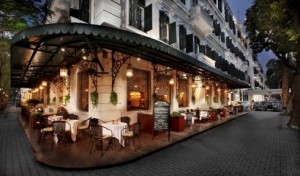 This survey was carried out in 100 cities with at least 135 hotels.
Among 10 best service hotels, the German city of Dresden  ranked the top with its hotels receiving  positive reviews from guests:  reasonable cost for right service, tasty breakfast, good services, large space and excellent hotel view. Hanoi (Vietnam) is at the second and then Portland (American), Tokyo (Japan), Santiago de Compostela (Spain), Gdansk (Poland),Chicago (U.S), Seattle (U.S), Krakow (Poland), Budapest (Hungary)
Hanoi has always been highly evaluated by foreign tourists for its hospitality and hotel services. In 2012, Ha Noi was in the top 10 cities in Asian which have the best street foods. According to CNNgo, Hanoi is considered the paradise of tourists who love street fast food.