With an area of over 2,734 ha in Gia Van Commune, Gia Vien District, Van Long tourist base is  a nice combination of limestone mountains and wetland area. The tourist base includes 32 large grottoes and diverse fauna and flora with 39 species, especially endemic delacour langur, one of the world' most endangered primate species.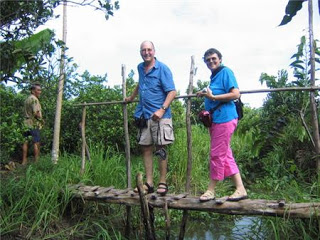 In addition, Van Long has a lot of historic and cultural sites such as Dich Long pagoda and cave, Hoa Lu cave,  Dinh Tien Hoang Emperor temple, Duc Thanh Nguyen temple…. and other special festivals like Ben Noi temple festival, Hoa Lu cave festival… Van Long tourist base is considered as key attraction of Ninh Binh that has drawn a large amount of international tourists.
Owing to tourism development, Gia Van Commune has big changes. Transportation roads, schools, craft villages are all upgraded and expanded. Many hotels and resorts are also constructed.
In recent years, the local has welcomed about 50,000-60,000 tourists/per year. Thanks to tourism activities, more than 400 households are created highly-paid jobs, said Mr Dinh Van Cap, Gia Van Commune People's Committee.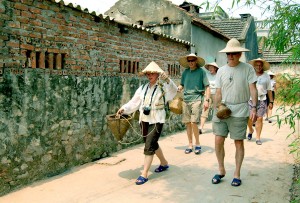 In homestay program, tourists will eat, live and share majority of their time with the hosts and their families. Bamboo tape fans, bamboo beds are so normal to local people but strange to tourists. More than that, the tourists will be able to participate in working activities such as transplant rice seeding, grind paddy, scoop water, fish with bamboo pot, cooking with wood fire, drink green tea…
 The homestay experience really interests foreign tourists. " I am very impressed with customs and habits as well as lifestyle of  the locals". Francoise Raymond, a French tourist said excitedly.
Or Park Kim Hea, a Korean tourist shares his feeling " I love the living implements here. They are so friendly and well-connected to nature".