One of the things that make Hoi An a famous tourist destination worldwide is the skilful tailors. Making clothes is not a new business here; in fact, you can trace the origin of the practice of this craft dated back to generations ago. Not just the women, the craftsmen in Hoi An are the masters who can copy any designs that are requested.
To buy the best couture clothes, anyone who has a little knowledge on this matter in Vietnam would recommend you to go to Hoi An.
In the 15th century, Hoi An once raised as the most important harbour of Southeast Asia which made its reputation known to China, Arab countries, India and even Europe empires. Hundreds of merchant ships from all over the world brought here luxury things such as perfume, silk, pottery. Chinese and Japanese merchants even built several assembly halls which still remain as of today. Hoi An Old Quarter which is now a UNESCO heritage was built in the deep influence of Chinese architecture. Many of the old houses inside the quarter are now tailor shops. You can easily to find a tailor shop; however, choosing the best ones out of them is definitely a difficult thing to do.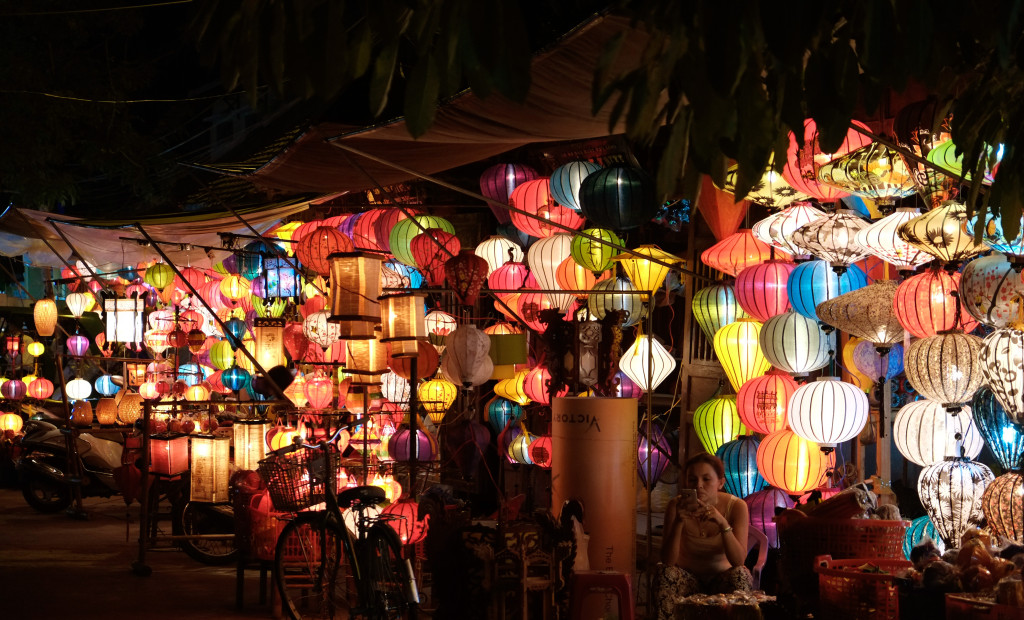 Make time in Hoi An
Even though the tailors in Hoi An can make your clothes within 24-48 hours, you should spend more time for the two or three fittings to get the most perfect final outcome as possible which never came out at the first time. That's why you should have several fittings, two as a minimum. Three fittings should properly take three days so if you want to get your stuff done in the best way.
If you only have two nights in Hoi An, make two fittings in one day and the third in the morning of the following day.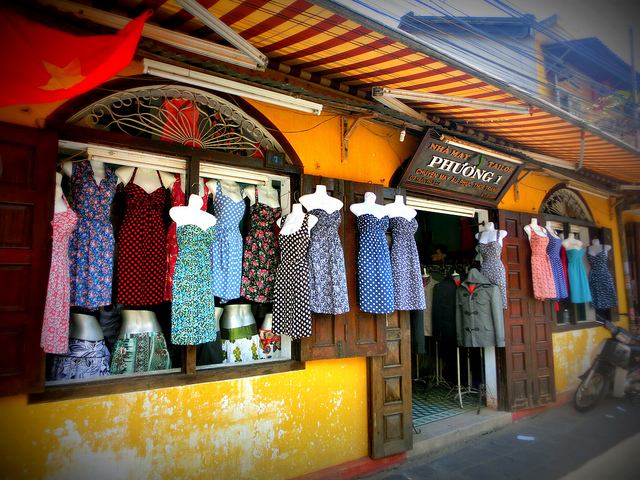 Know what you want
If you are looking for the latest fashion trends then Hoi An tailor shops are not the place for you to look. But if you want something classic like a new suit, a formal dress, winter coat or an Ao Dai, the tailors in Hoi An can make one in 24-48 hours. It's also better if you research the styles and cuts that suit your body type rather than relying wholly on the tailor's recommendations. Tailors are not designers, you have to be very specific with them. Or if you don't seem to have any idea what would your dress be like, the shops have countless clothing catalogues and their most popular styles on display. It would help to inspire your choice.
In another case, if you want to decide to have a brand new design, make sure to handpick every detail and be very specific with your tailor. More meticulously, you will want your dressmaker to draw our exactly what you want and do not hesitate to add or change things even after the cut was done. Be sure design details are clear on the overall design (front, back, sides) and pocket style, all items should be double stitched.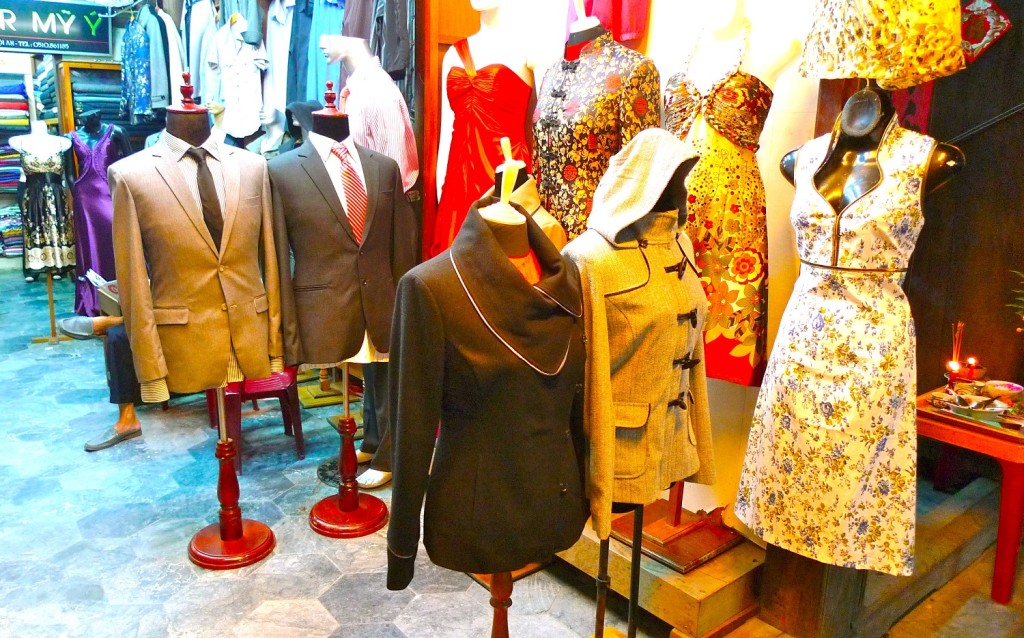 Visit several shops before order
You should never order right after visiting the very first shop. There are a massive number of tailoring shops in Hoi An, especially in streets like Le Loi, Tran Hung Dao, Phan Chau Trinh,…. Each shop has a different level of skills of the tailors, different fabric selection range, different way of treating customers, and of course different price. If you are serious about what you are going to get for yourself, walk around and ask thoroughly on their prices, check their fabrics and the time to make your clothes. Be sceptical about taking any recommendation on this matter that comes from a taxi driver or hotel. It's better to research about the shops on your own. And one thing to remember, only deposit a small amount of money (<50%).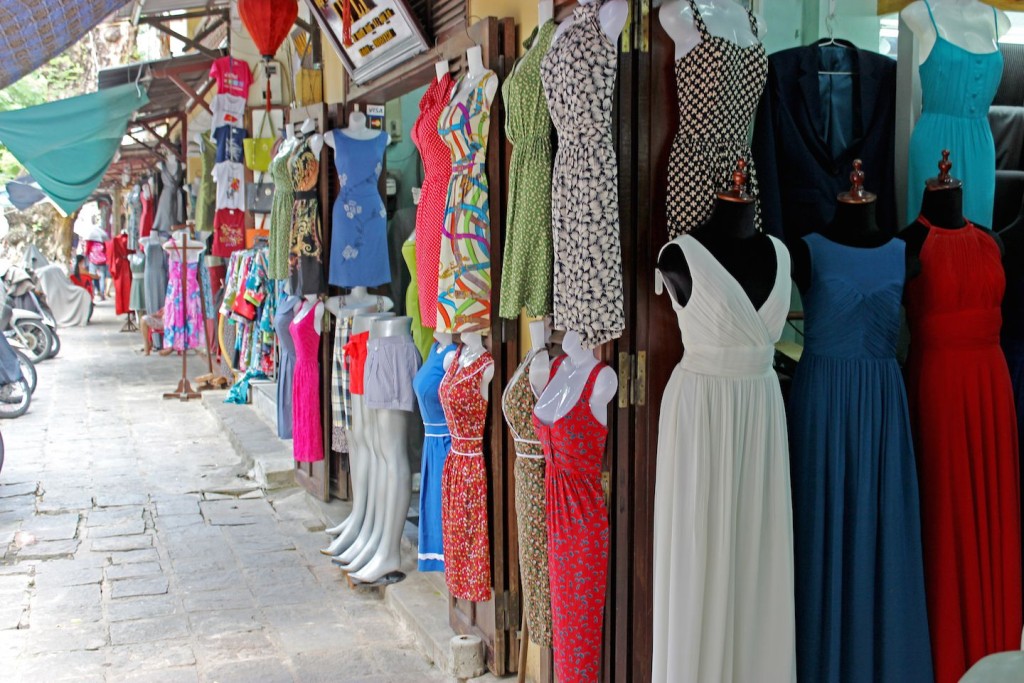 Get the right material and style
Know the fabrics for each item you want. You should ask for the tailor's advice for what kind of fabric would suit the style. Feel the softness with your hand and look with your eyes. Make sure to choose the fabric's colour which looks good with your tone.
One thing to notice that it might be hard for you to find a shop in Hoi An that has access to polyester or real jean material. Real silk would be tricky to recognize and mostly the silk is blended.
Pictures are not always reliable
Showing a picture of the clothes you want to the tailor is something you should do, however, it might make you disappointed when the final result doesn't quite deliver the same feel as in the picture. There is a fact you should be aware of: sometimes pictures, especially magazine pictures are not honest. Firstly, if you aren't shaped the same with similar size as the models in these pictures, prepare for the outcome that this item might look very different on you. Secondly, the magazines have tons of tricks to make the clothes appear so much better than it actually is. You should ask the dressmaker if that look of the clothes in the magazine can be achieved. If they say no, you better believe them.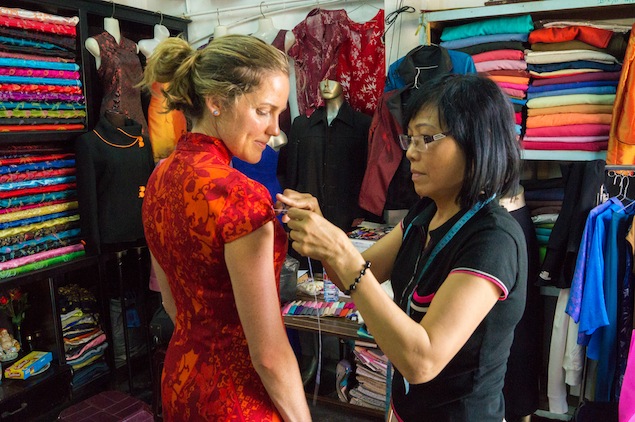 Bring an existing item to get a replica with a few changes
In case you already have a type of clothes you wear confidently (especially with office wear) and want to make another one with some changes, bring that favourite item to a Hoi An tailor, you'd be surprised. Be sure to tell the tailor specifically how you want to change, what to add and the overall impression of the final result.
The fittings are important
The first fitting is to try on the completed version, the second is to fix the details and the last is to confirm the finished product and take home. Be honest about how you feel about the clothes at the very first fitting. First and foremost important thing is that it has to be really comfortable. No one ever deserves to wear clothes that are too tight or too big. Speak if you find that the tailor didn't really deliver the cut or the material isn't right. A good tailor is one who will offer you a re-do if they know you don't like what they made. However, don't be too rigorous, if the clothing is nothing formal (like office wear or suit) and still wearable and you still feel comfortable wearing, remaking is not really necessary but it's still your decision to make.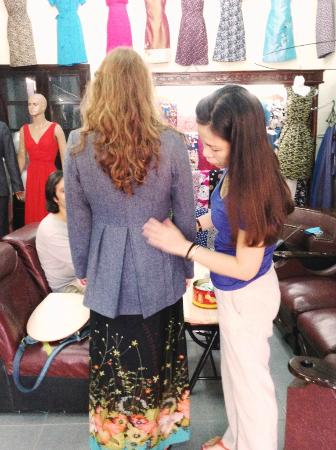 Famous tailor shops:
Hoi An town is home to nearly 400 cloth shops and tailor shops which is a massive number and can easily overwhelm anyone who wishes to pick out one amongst these. Below are the most well-known and trusted tailors that have been recommended by many customers around the world:
Yaly Couture
Email: yalyshop@dng.vnn.vn or quynh@yalycouture.com
They have 4 showrooms all over Hoi An
Showroom 1: 47 Nguyen Thai Hoc Street, Hoi An Town.Tel: +84-510 3910474 or 84-510 3923415
Showroom 2: 47 Tran Phu Street, Hoi An. Tel: + 84-510 3861119
Showroom 3: 358 Nguyen Duy Hieu Street, Hoi An Town. Tel: + 84- 510 3914995
Showroom 4: 580 Cua Dai Street, Hoi An Town. Tel: + 84-510 3914997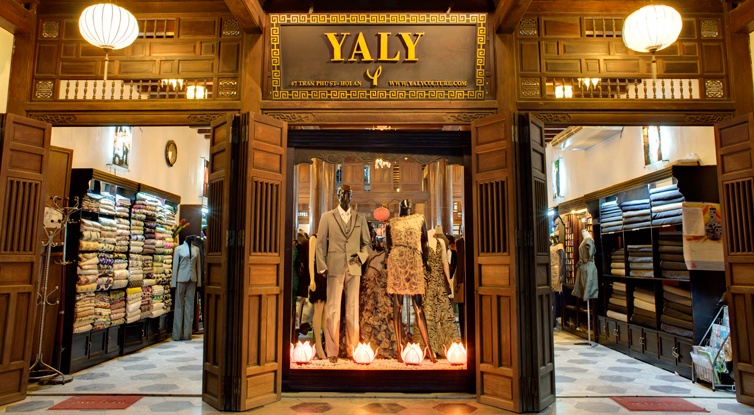 Yaly has the widest and highest quality range of fabrics available in town. Their tailors are very skilled with good service. Therefore the prices in Yaly are not cheap which can tell a lot about their confidence in their job.
A Dong Silk
Add: 40 Le Loi, Hoi An
Phone: (+84.510) 3 910579/3 861386
Website: http://www.adongsilk.com/
Email: info@adongsilk.com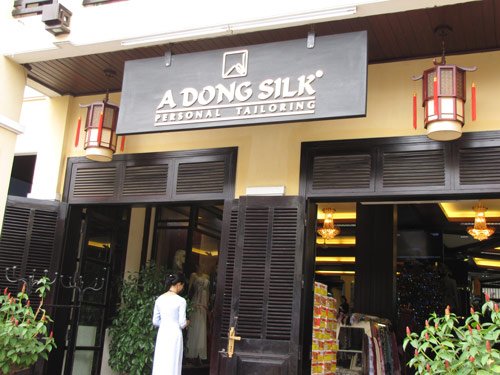 The tailors in A Dong silk are highly praised for their great service. They really pay attention during the work, care for customer satisfaction with a friendly and patient attitude. You definitely should as for their advises as much as you can because of their deep knowledge on how different materials work with each style.
Lana Tailor
Add: 130 Tran Phu St./94 Le Loi St
Phone: +84-510.2212240/ 84-510.3911211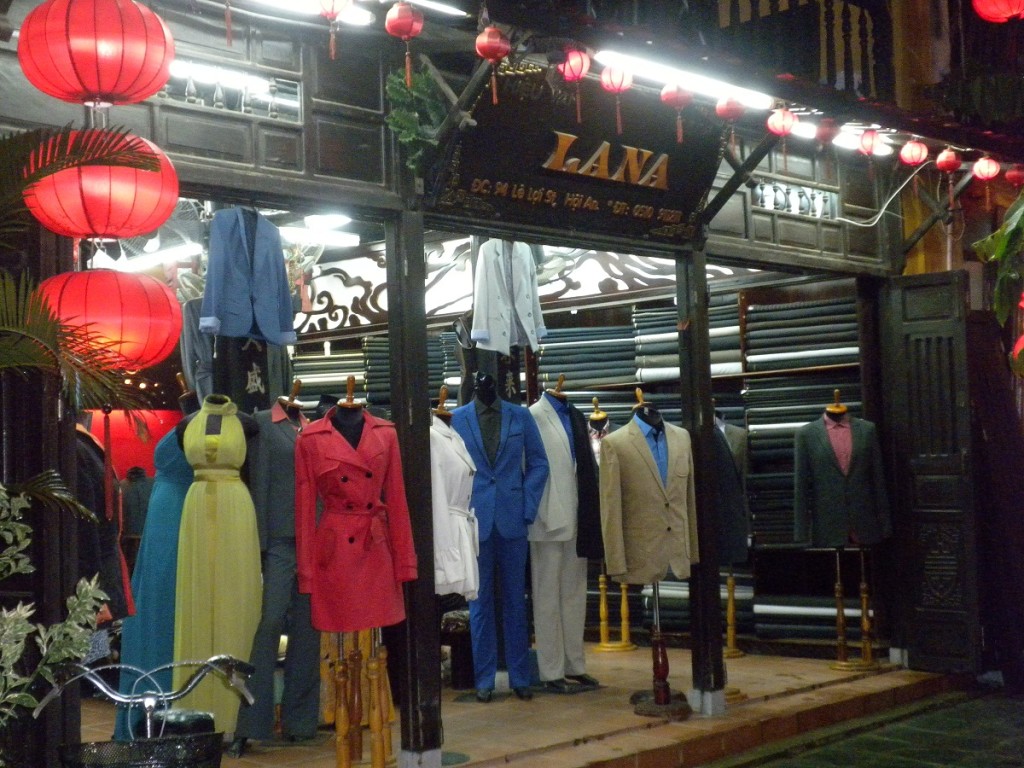 Lana is the best tailor shop for women with their large selection of designs and fabrics. The girls from Lana can impress you big time by their talent and hospitality. If you want high-quality clothes at reasonable prices, Lana is definitely your choice.
Bao Khanh Silk
Add: 101 Tran Hung Dao St., Hoi An
Phone: +84-510. 3861 818
Email: baokhanhsilk@vnn.vn
Website: http://www.baokhanhsilk.com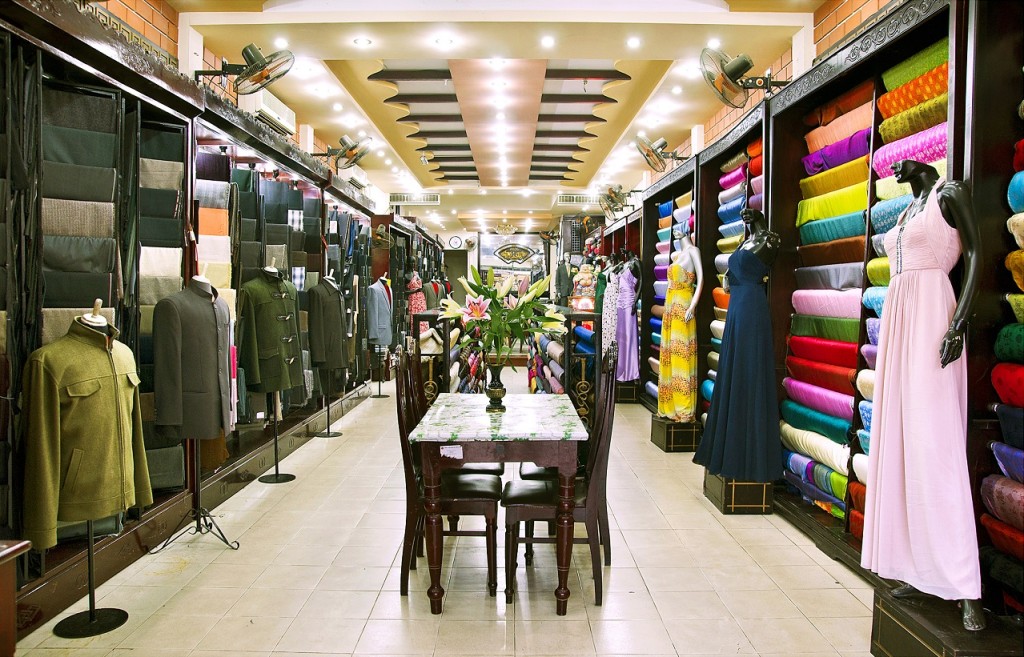 This shop once made it in the Sunday Times Travel as the best cloth shop in Vietnam and top 2 in the list of 25 best cloth shops in the world. Bao Khanh is specialized in making made-to-measure (standard-sized) fashion, and formal wear. The tailors are very talented with a range of skills and professional services.
Thu Thuy
Thu Thuy has three shops at 60 Le Loi St.; 54 Nguyen Thai Hoc St.; and 88 Tran Phu St., Hoi An.
Phone: 84-510.3861699/ 84-510910699/ 84-510.3911699
E-mail: tthuy.ha@dng.vnn.vn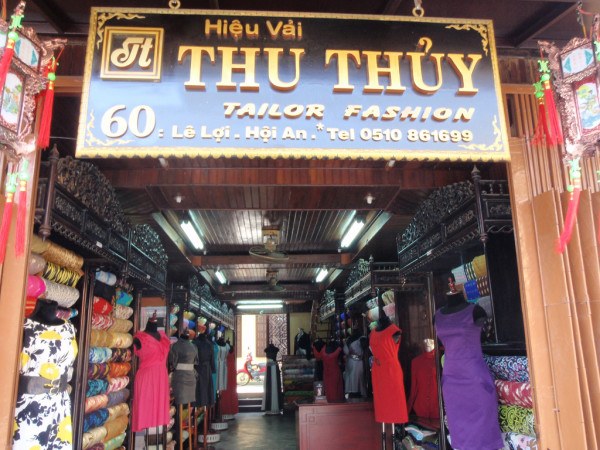 Named after its owner – Madamme Thu Thuy, this shop is probably is the largest and the oldest in town, has been in business since 1989. The tailors in Thu Thuy shop have so much experience and can make your dress in the shortest time.
B'Lan Silk
Add: 23 Tran Phu Street, Hoi An
Phone: +84-510.3861866
E-mail: bichlan@dng.vnn.vn or bichlan456@yahoo.com.vn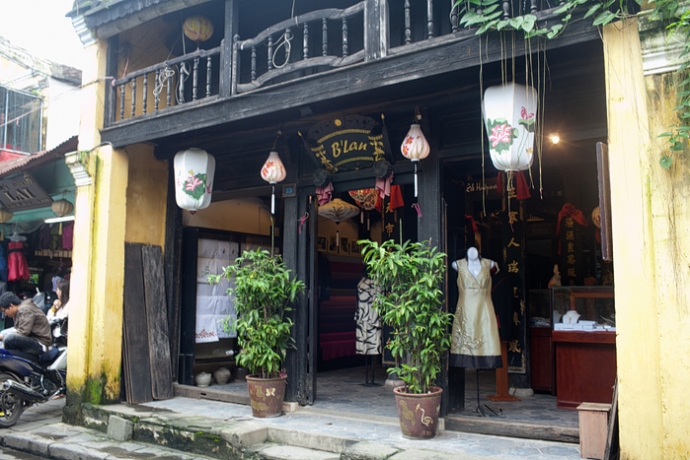 Occupied a 200-year-old ancient house, B'Lan Silk has a different atmosphere, much more classic and nostalgic. The customers will have a free tour around the old house and clothes made by the owner of the house – Ms Bich Lan. One thing to notice is the "no-bargain policy" of the shop. But don't worry, the prices are guaranteed to be reasonable.
Other articles related to Hoi An: