Located in the north of Central Highlands, Kon Tum province is on the junction of Indochina. Kon Tum shares border with Laos and Cambodia and most of the province is high mountains of Truong Son range. Many rivers pass through this district such as Cai river, Se San River and Ba river. The capital city has the same name as the district.
Kon Tum has a central highland climate which is divided into 2 seasons: dry and wet. The right time to visit Kon Tum is November to December because, in this time of year, Kon Tum has less rain and not too hot. The average height of Kon Tum is from 500m to 700m, the north terrain is higher with 800m to 1200m, especially Ngoc Linh Mountain which is peaked at 2596m.
This district is also home to many minorities of Central Highlands which are Sedang, Ba Na, Gia Rai, Gie Rieng, B'Rau, R'Mam. Come to Kon Tum, you will not only have the chance to enjoy the peaceful landscapes but also join the colourful ethnic festivals of local minorities.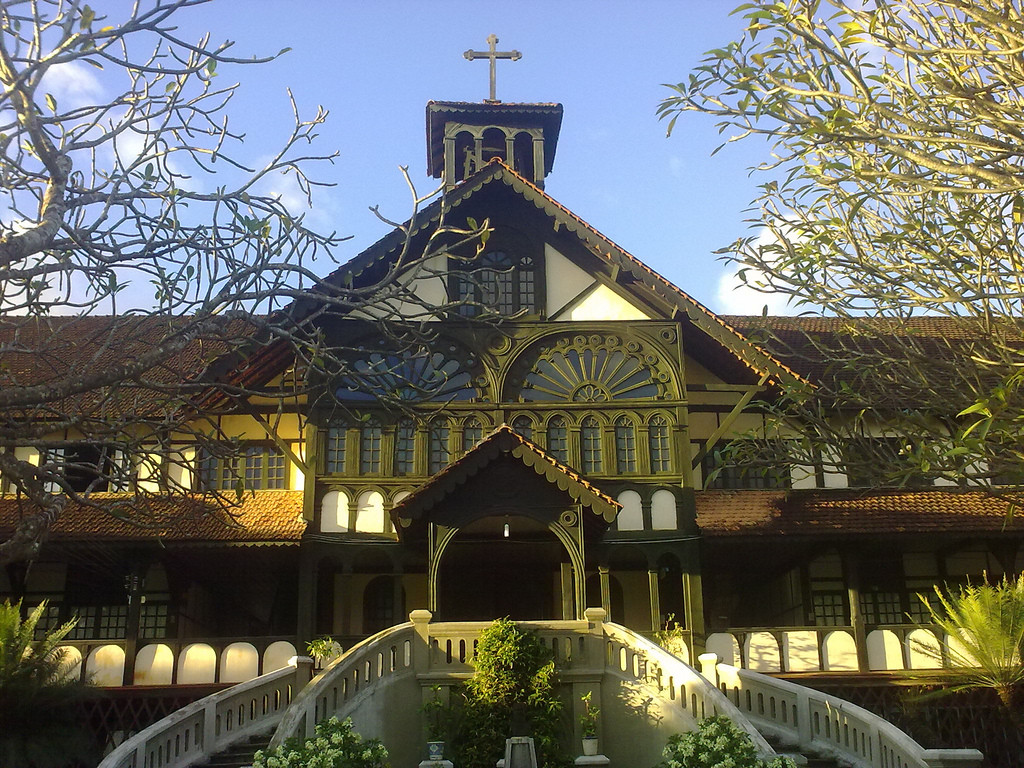 How to get there
If you are interested in going by plane you have to know that there is no straight route from big cities like Hanoi or Saigon to Kon Tum. You have to take a flight to Pleiku Airport which is 50km away from Kon Tum, and you will catch a bus to Kon Tum for 30,000 – 35,000 VND. From Hanoi or Ho Chi Minh City to Pleiku, there is a fight every day which costs you 1,800,000 – 2,500,000 VND each ticket.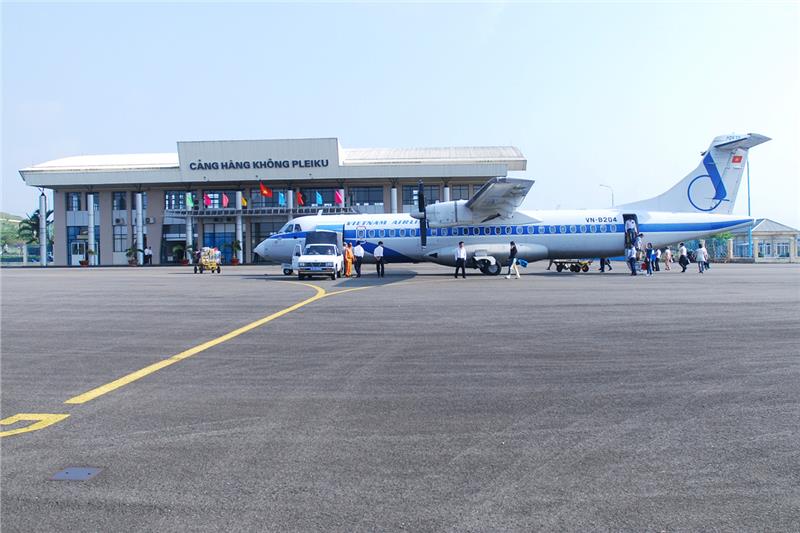 In case you want to go by coach, there are many reliable brands depart each day from Hanoi, Hai Duong, Ho Chi Minh City, Da Nang,…. You can easily find their phone numbers on the internet to get more information.
To get around Kon Tum, using a taxi or renting a small coach if you go with a group is more convenient. In fact, there is no motorbike rental service in Kon Tum; but if you are so keen on a motorbike, you can rent motorbikes from the motorbike taxi owners for 120,000-150,000VND per day, not including fuel cost.
Accommodation
Cheap hotels and hostels are available in Kon Tum with prices range from 200,000 – 800,000 VND per night per room. There aren't many luxury hotels and resorts in Kon Tum, but you might enjoy the 3-star Indochine Hotel Kon Tum rooms with reasonable rates.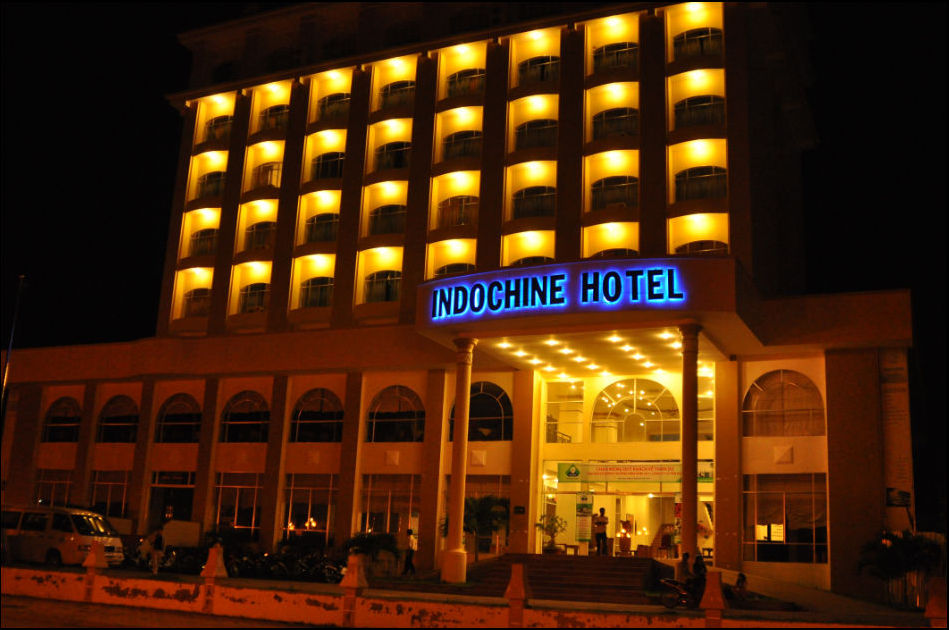 Attractions
There are lots of interesting sites to visit at Kon Tum, if you have enough time, you should not miss a single attraction below.
Wooden Church Kon Tum: this church is located on Nguyen Hue Street, made at 1913 by a French priest. The church is an excellent combination of Roman architecture style with distinctive characteristics of a traditional house of Ba Na ethnic. As the name of the church defines, the whole building is built out of woods, mostly from ca chit trees. The walls of the church are formed by a material which is made by a mortar mixed with straw – a traditional method of the central people. There is also a displaying area of ethnic and religious products, a brocade textile facility, and an orphanage. This is one of the most churches in Vietnam for its unique architecture and design.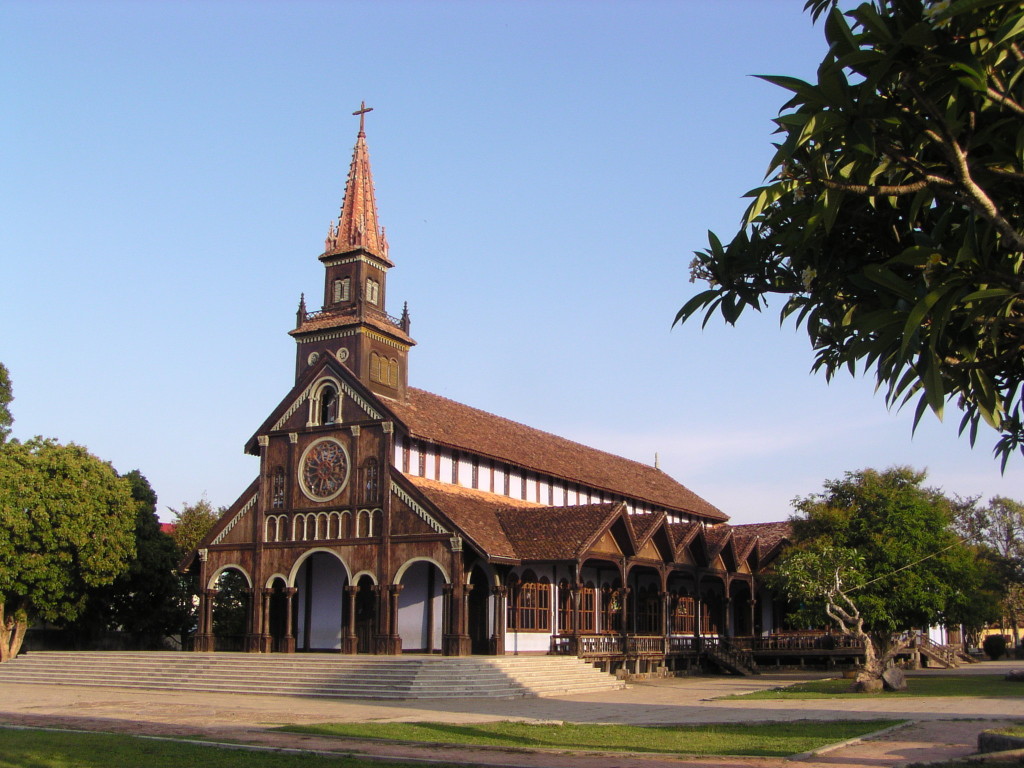 The Rong House Kon K'lor: is located at the end of Tran Hung Dao Street, near the famous river Dakbla. Rong house is a traditional communal house of Ba Na ethnic which is a pride of northern central highlanders. Rong house is built when a village is founded and all villagers must join to complete the house. A special thing about the house is that visitors when coming to the village will see this house from all directions. The Rong house is the place where all activities of the village take place especially festivals, meetings, ceremonies, weddings…. From outside, the house is very outstanding with its giant roof made of yellow-dried giant leaves and 8 big wood pillars. The roof is incredibly tall, steep and in the shape of an axe blade. Ba Na people use many symbols which are referring to the image of the brilliant God of Sun to decorate the Rong House.
Cultural Village Kon K'Tu: right beside the Rong house is the suspension bridge Kon K'lor the biggest bridge crossed the Dakbla river. This bridge is a wonderful place to watch the sunset on the river. Cross the bridge and go for 6km more, you will reach the cultural village Kon K'Tu. You should homestay here for at least one night to join and enjoy the cultural activities of the people here, taste their delicious foods and drinks, watch folklore performances. Boating on Dakbla by dugout boat is something you should try. The H'Lay waterfall is only 2km away from the village; you can totally go there by yourself.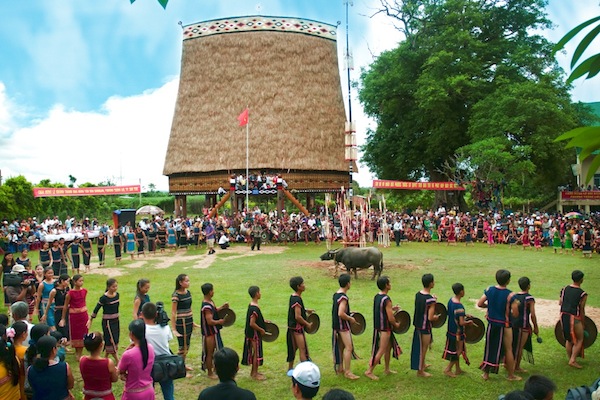 Bo Y Border Gate: you now might ask why you should visit this border gate. It seems that there is nothing interesting about the place. Actually, this border has a milestone that forks 3 countries: Vietnam, Laos and Cambodia. Another name of this place says it all – Junction of Indochina. You go on 14 National Highway for about 80km from Kon Tum city. It is easier if you go by car, in case you go by motorbike, you must go for a long way. ID or passport must be prepared in case the border guards ask of them. You will be climbing some steps before you reach the three-front milestone.
Mang Den Ecotourism Area: is 50km away from Kon Tum city following the national highway 24 to the east. The name Mang Den in Mo Nam ethnic language means a flat and vast land. This area is located between Mang Den pass and Violak pass and the way there is quite dangerous especially when it's wet. In the last months of the year, you can enjoy the scene of terraced rice fields on your way which is quite similar to the fields in northwest highlands of Vietnam. The path that leads you into the ecotourism area is covered with pine trees on both sides and the air is filled with the scent of pine. Mang Den is known for its cool climate and idyllic scenery. This is the best place for you to rest and enjoy nature. There are also interesting sites to visit in Mang Den eco-tourism area and the most famous are 7 lakes and 3 waterfalls. People call Mang Den "the land of seven lakes and three falls" related to a legend of the birth of this land. Besides, you can also visit Marian Statue located not far from the ecotourism area. This statue is built in the French revolution time, by French troops.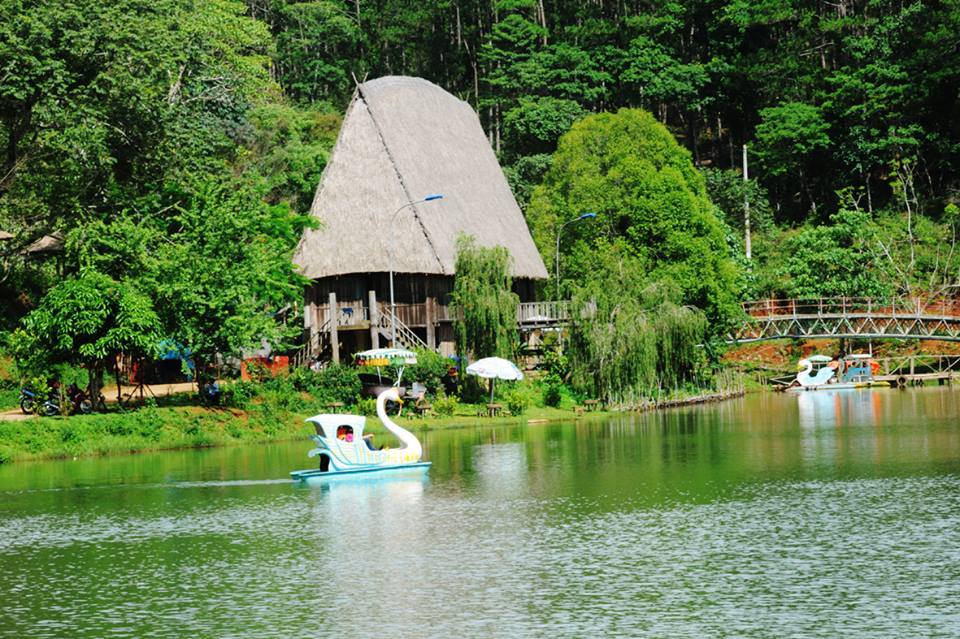 Ngoc Linh Mountain: is the highest mountain in central highland, a part of South Truong Son Range. If the north has Fansipan, the South has Ngoc Linh which is on an altitude of 2596m. Conquering the peak of Ngoc Linh mountain is definitely not for everyone. Ngoc Linh range is located in Ngoc Linh Nature Reserve with a height from 800m to 2800m containing 10 peaks in total. The range runs on northeast-southwest direction dividing 2 river systems. The reputation of Ngoc Linh mountain first come from a belief that no one in the past has conquered the peak of the mountain. It makes this land even more mysterious in the eyes of adventurers. People say all digital equipment will be unable to work on the peak, and the road passing the primaeval forest is too hard to go. But nowadays, a new trail is open for tourists who want to conquer the second highest mountain of Vietnam making it much easier than before. Ngoc Linh mountain is also famous for its rare endemic Ngoc Linh ginseng, you can visit planting zone of this plant on the way to the peak. However, because of this valuable plant, to visit Ngoc Linh mountain, you have to have a permit from local authorities.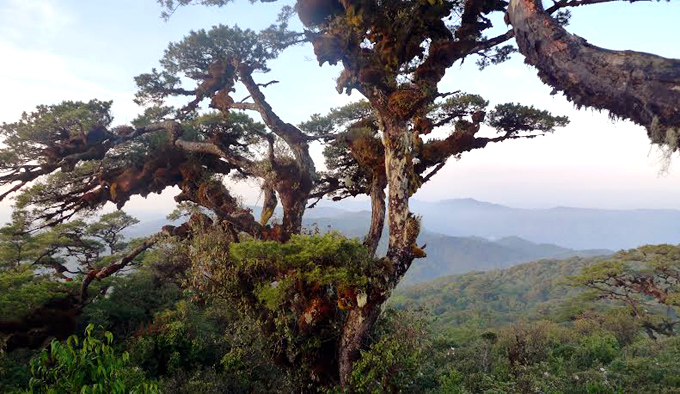 Chu Mom Ray National Park: is 30km on the west, gifted with a wide range of biodiversity and home to many ethnic minorities such as H'Lăng, Gia Rai, K'Dong, Rờ Mâm, Bơ Râu. This place isn't popular to researchers and visitors due to the difficulties of the location and the roads. A national park is a living place of 620 species of animals and thousands of trees. Come to Chu Mom Ray National Park, you will have the chance to enjoy the great scenery of nature and the traditional ethnic culture of highland minorities.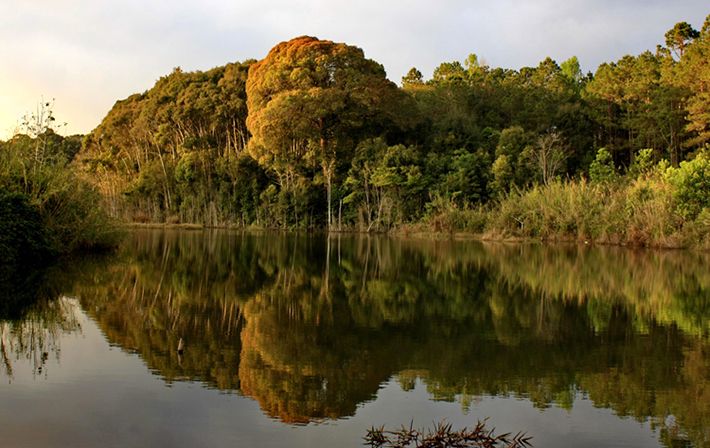 Foods
Many specialities of central highlands can be found in Kon Tum.
Leaves Salad (Goi La Kon Tum): this dish is made of more than 40 kinds of leaves of which some only be found in the forest. Use leaves to wrap around pork, fried shrimp… roll and dip it into a sauce which is made of wine and egg.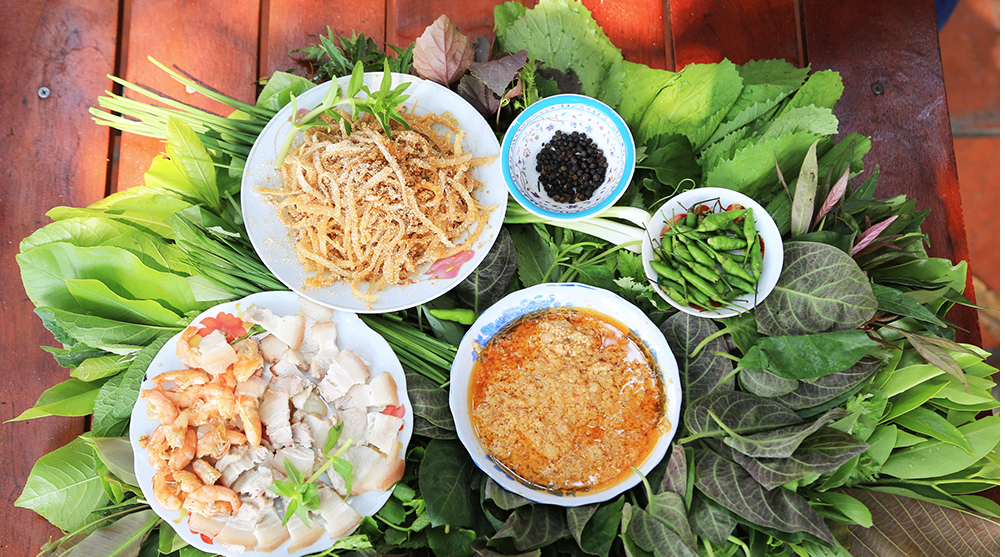 You stay at cultural villages, you can also enjoy many other specialities of ethnic minorities. R'Man ethnic has Fish Salad with Golden Ants; B'Rau has a dish called Fermented Cassava Leaves, Dried Fish with Cassava Leaves and many more. Each region has to its own special and unique dishes you should try.