Visiting the Central Highlands at the same time means that you can't miss Gia Lai as one of your destinations. Talking of Gia Lai we talk about the blue Sea Lake in Pleiku which has been compared to the eyes of a young girl many times; about the scent of a highland coffee cup; and cultural festivals of highland ethnic minorities….
As in the name of this province, "Gia Lai" or in the original language of Gia Lai ethnic – Jarai – is "the land of Gia Rai/Gia Lai (Jarai) people". Gia Lai is located on Kon Tum Plateau in northern central highlands, right next to Kon Tum province with an average height from 700m-800m above the sea. Gia Lai is distinctive with 3 terrain forms: mountain, plateau, and valley. The province has a highland monsoon climate, high rainfall, 2 seasons – wet and dry.
You should visit Gia Lai in November and December because it's dry and has a cool temperature. This is also the time for flowers to boom and festivals to take place. Gia Lai is famous partly for its unique festivals such as buffalo stabbing, leaving the tomb, harvest celebration, gongs festival…
How to get there
From Hanoi, Ho Chi Minh or Da Nang, you can catch a straight flight to Pleiku airport. Or if you choose to go by coach, it's also possible since there are abundant brands like Mai Linh, Hong Hai, Tan Phat… having coaches running to Gia Lai every day from all big cities from north to south. Price for a one-way ticket from Ho Chi Minh City to Gia Lai is 200,000-300,000VND.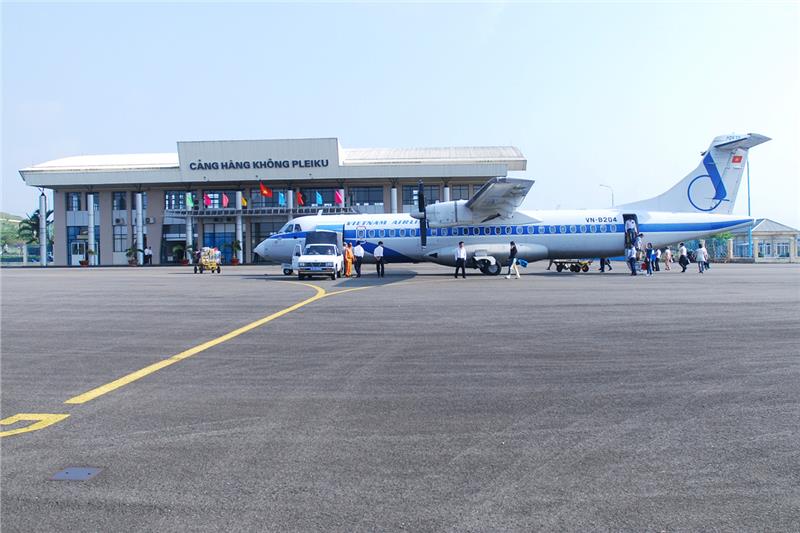 Get around in Gia Lai, Peilku
You can catch buses to go around Pleiku for only 10,000-35,000VND. If you prefer riding a motorbike, the rental price is around 200,000VND per day, no fuel cost included. Most of the hotels in Gia Lai offer motorbike rental service so it's easy to rent one. Ask and confirm the price before you make a deal to avoid paying for additional costs.
Attractions
Pleiku City: are the capital of Gia Lai province and one of the three biggest cities in the central highland region. Pleiku Airport is just 4km away from the city centre. The common price for a standard room is 250,000VND, quite reasonable. There are also three-star and four-star hotels in Pleiku if you prefer luxury facilities. You should spend a day in Pleiku city because you are not going to waste your time here. Ham Rong Mountain (Dragon's Jaw) is a great place for those who love climbing. The end of the year is time for wild sunflowers to the boom on the path that leads to the mountain's peak. The most famous site in Pleiku which appeared in a popular Vietnamese song is Sea Lake, original name – T'Nung Lake, located in Bien Ho Commune. This lake is actually an oval-shaped crater of a dead volcano, covers an area of 250ha, and 18m of depth. Local people call this lake "Pleiku's eyes" because of the blue and clear water. There are some legends of the lake, the famous one is a story of a village where people lived happily together but was destroyed by a volcano eruption; then the lake was formed by the tears of ones who survived cried for their lost ones. You will be surprised by the peaceful landscape of the pine trees on a winding road, green terraced rice fields on the banks to the turquoise colour of seawater. Boating on the lake under moonlight would be a very special experience for you. Although this site is great for sightseeing, the tourist service here is developing.
Minh Thanh pagoda: is located at Nguyen Viet Xuan Street, Pleiku city, built-in 1964. This pagoda is known for its Taiwanese architecture which appears quite rare in Vietnam. The pagoda has a Chedi tower that is 40m high, a presbytery with the height of 16m which resembles a blooming lotus, a bell house, many statues, and a lake garden. All buildings of Minh Thanh pagoda are roofed with light green titles. The complex of this pagoda is well-designed and beautiful, a wonderful site to visit.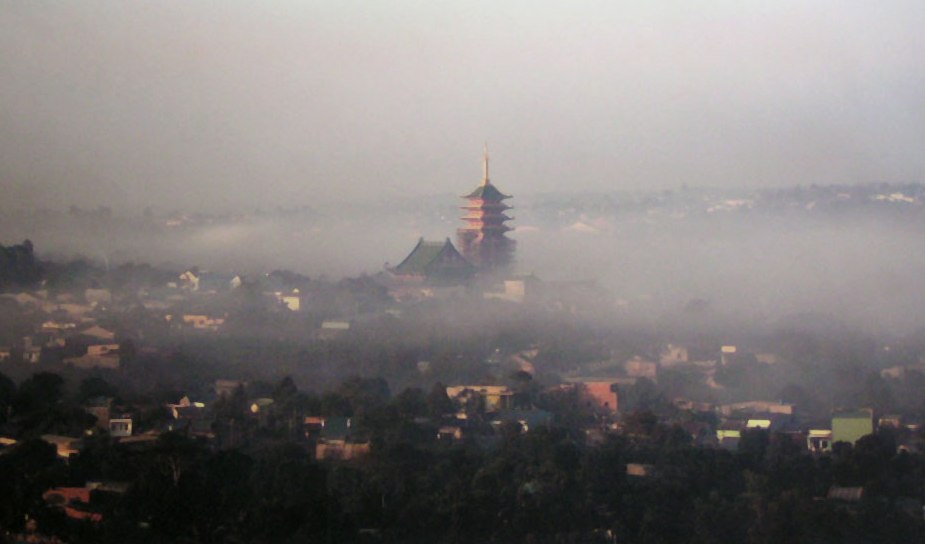 Ya Ly Lake: travel farther to the north near Kon Tum you will reach Ya Ly Lake which has been famous for a long time. Ya Ly Hydroelectric Dam is the second biggest dam in Vietnam. Ya Ly lake with its beautiful scenery has attracted many tourists and travellers. Entrance ticket is only 30,000VND.
Phu Cuong Waterfall: is another famous site of Gia Lai, located 40km away Pleiku city, in Phu Cuong Waterfall Ecotourism Area. In the wet season, the white water pours down from the top of the fall so powerfully, but in the dry season, the waterfall is just like a thin white silk scarf hanging down the mountain. The height of the fall reaches to 45m, one of the highest fall in Gia Lai. In the foot of the fall, sometimes you will see a rainbow. The water of the fall flows to Auyn Ha Hydroelectric Dam, this location is an ecotourism area too. Auyn Ha Lake is 25km away from Phu Cuong Waterfall, 20km long running along with many villages of ethnic minorities such as Ba Na and Gia Rai people. There are many other beautiful waterfalls in Gia Lai we can name as Xung Khoeng or Le Kim waterfalls. These falls are also high, has many levels with great scenery.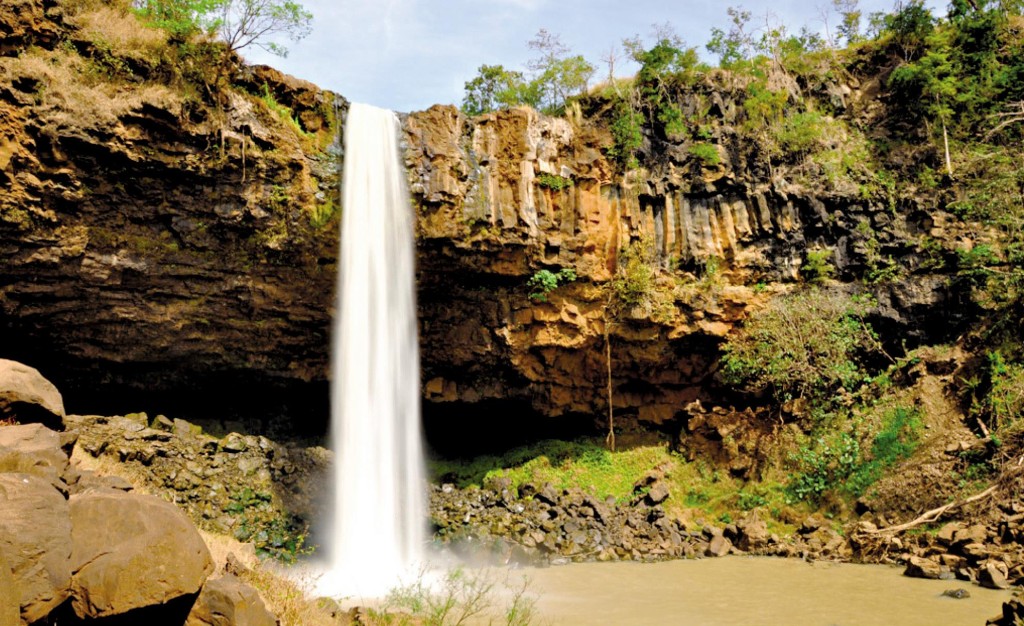 Ha Tam Pine Hill: if you go in large number, Ha Tam Pine Hill is a wonderful site for camping. This hill is only 5km from Pleiku city, on an average height of 1150m above the sea. You can enjoy a quiet atmosphere and romantic views of the hill.
Kon Ka Kinh National Park: attracts travellers who love to adventure. The national park is in the northeast of Gia Lai, 50km away from Pleiku, in Commune of Ayun, Mang Yang District. This park is honourably listed on the ASEAN Heritage Park with other three parks of Vietnam – Ba Be, Chu Mom Ray, and Hoang Lien. On an altitude varies from 570m to 1748m with the highest point is Kon Ka Kinh peak. This park has a wide range of diversity of fauna and flora: 687 flora species of 459 genera and 140 families including 24 precious and rare species; 428 animal species of which 223 species are of vertebrates living on land and 205 species Invertebrates. You can visit places as river system, streams, waterfalls, naturally beautiful whirlpools as Dak Pooc waterfall, Knia streams, Dak Ko Bung fall, etc. Climbing on Kon Ka Kinh paek you will experience the majestic scenery of the Truong Son range: the high mountains covered with clouds, the endless sight of forests, and white waterfalls….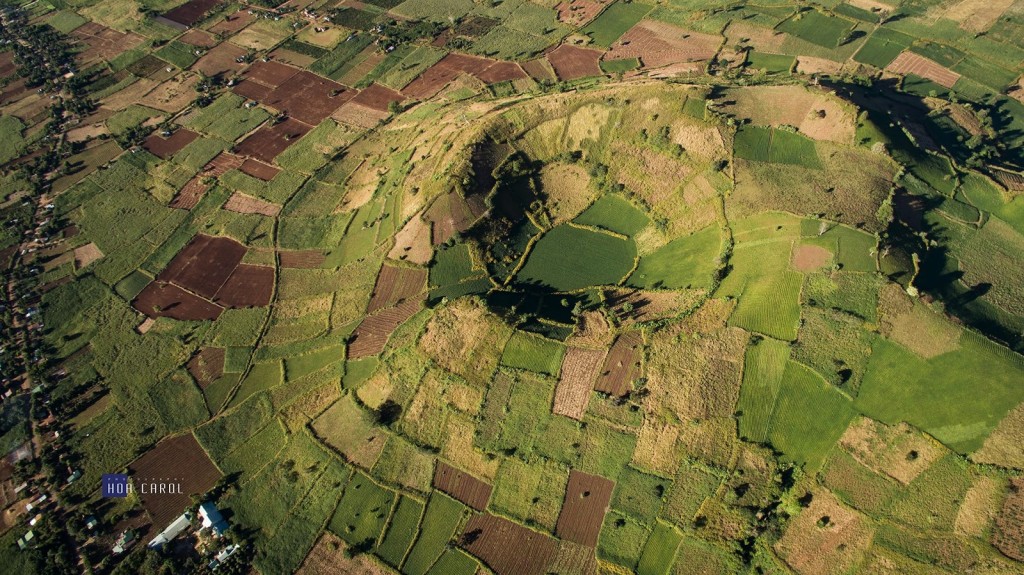 Festivals 
Buffalo Stabbing Festival of Ba Na People: this festival is dedicated to village founders, ancestors, harvest celebration, or other important events. This festival is often taking place on a wide and flat ground, or in front of Rong house (communal house of Ba Na people) or longhouse (traditional house of Ede people). In the middle of the ground, villagers prepare a tall bamboo pole and decorate it with flowers and leaves, colourful flags, banners and rattles made by bamboo. On top of the pole is a phoenix often made by bamboo or wood, and carefully decorated. This pole is just like the New Year tree (Cay Neu) of Kinh people. The village patriarch will choose a buffalo of Langbiang breed, clean and feed it, then tie it by a rope around the neck. The first day is for worshipping ceremony, on the next day morning, the buffalo stabbing ceremony officially starts. Healthy men from the village who are chosen before will use long darts to stab the buffalo. The buffalo meat will be shared with each family of the village.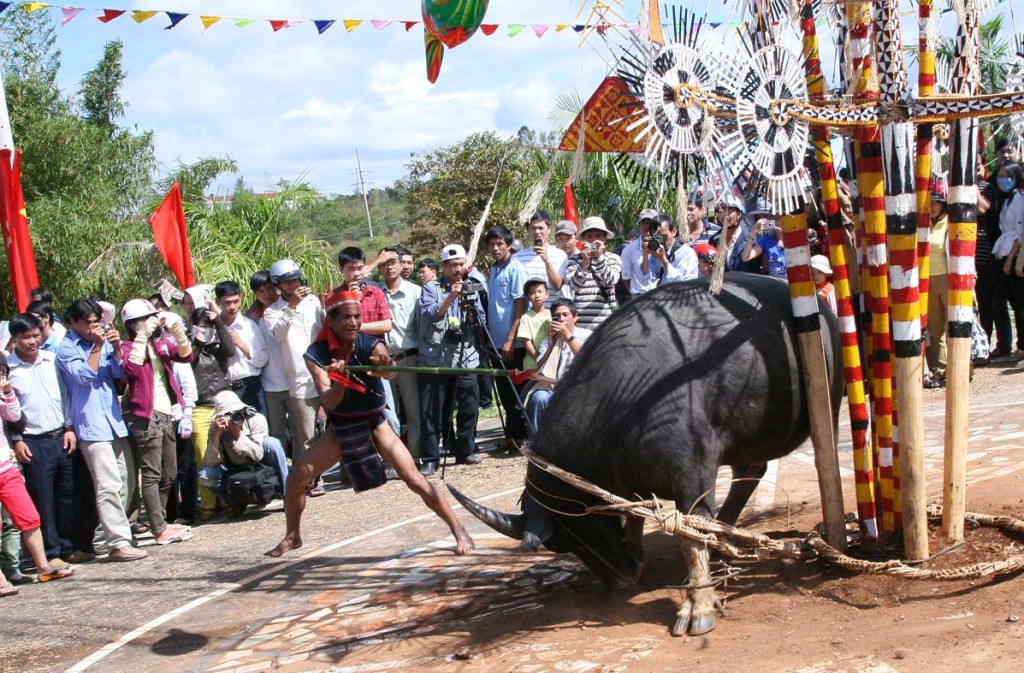 Leaving Tomb Festival of Gia Rai People: according to Gia Rai people, when a man dies, his life is not over yet. His soul will remain with his family members for some time. The soul just joins with his family in all activities, the family members even "talk" to the soul every night. Only after the leaving tomb festival takes place, the soul would be gone. This festival is held in March and April every year, long after the harvest. The people prepare for this festival many weeks beforehand. They go into forests and choose the best woods to make wooden statues to place around the tomb-houses. Besides, foods must be sufficient for 3 days of the festival. The villagers will dance and sing and drink in these three days as a send-off. After that, they consider that they will have no connection with the dead.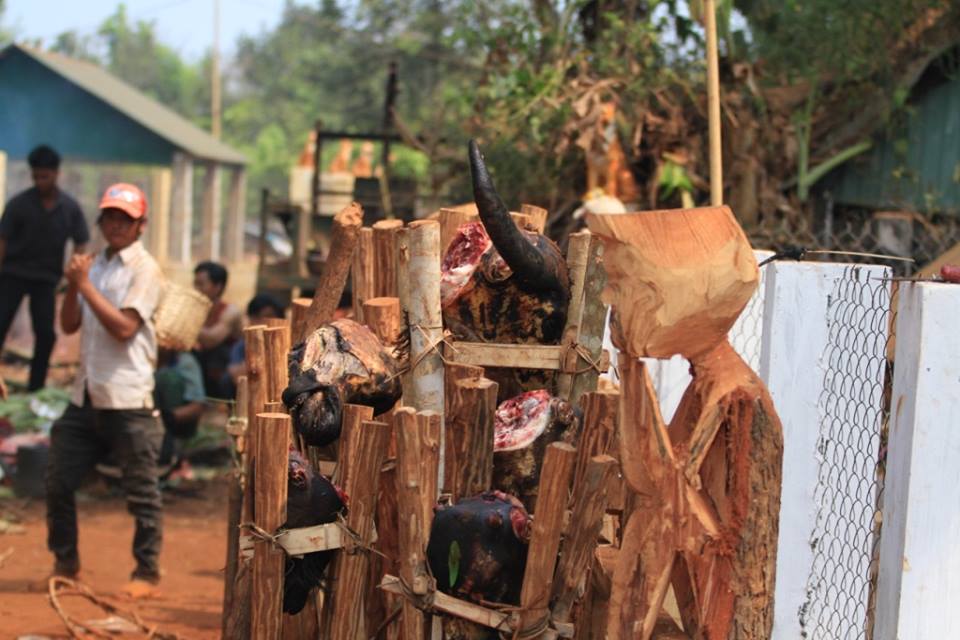 There are also many other unique festivals of ethnic minorities in central highland you should experience.
Foods
Dry Noodle (Dried Pho): this dish at the same time is similar to both kinds of noodle in the north and south Vietnam. Dry noodle is served in 2 bowls – one for noodles and other for both. The stock is carefully made of knucklebones with many spices. You shouldn't miss this dish when you have the chance to come to Gia Lai.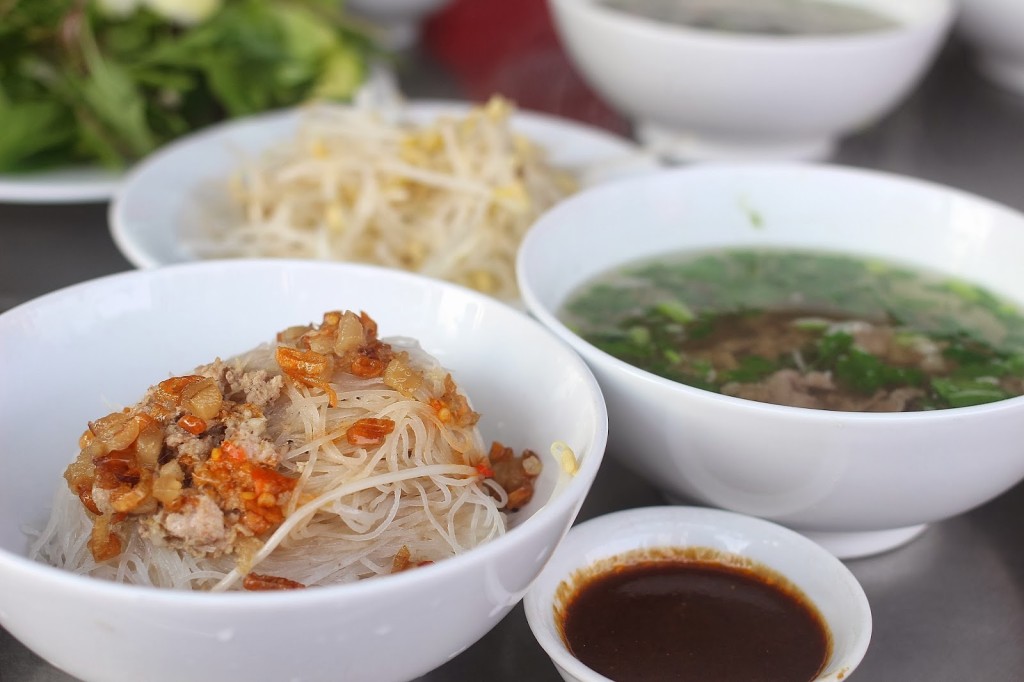 Noodle with crab sauce with bamboo shoots: not that everyone can eat this dish because of its strong smell. But if you can, you won't be able to forget the taste of this special dish. The crab sauce must be kept for one day until it smells. Then bamboo shoots, pork, spices will be put into the sauce. Pour the sauce on noodles, put lemon, mix all together and you can enjoy.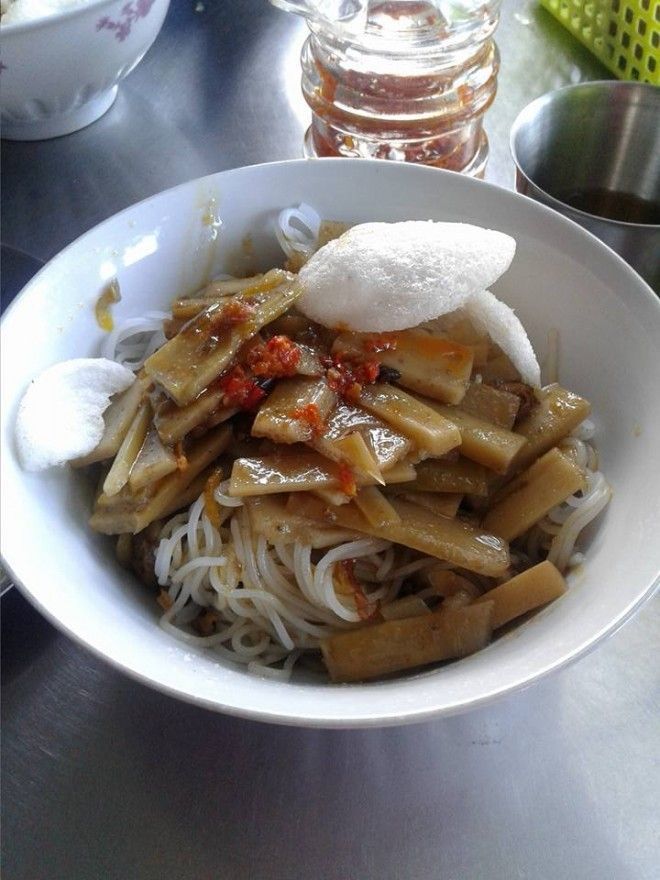 Bep leave soup: the Bep leave isn't known widely because it only can be found in the forests of central highland. This leave has a distinctive sweet taste. It's very simple to cook soup with this leave. You only have to put the leaves and slat in water, then boil. Nowadays, local people invented many new ways to make this dish more interesting.
Golden Ant Salt: to make this salt, local people have to go deep into the woods to find golden ants then stir fry them then pound them with spicy chillies, leaves, salt. This often salt is used with dried beef.