Mai Chau valley (Mai Chau District, Hoa Binh Province) has just been voted as 1 of 10 Asia newest destinations in 2013 by readers at Asia top online hotel booking site: www.agoda.com.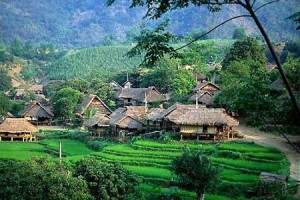 This survey taken place annually by tourists and travel experts of agoda.com. Besides the most attractive destination category, Agoda also provided information such as how to get there, where to stay and what is the best time to travel.
Being located 130 km away from Hanoi, Mai Chau valley (Mai Chau District, Hoa Binh province) is attractive destination for domestic and foreign tourists. Majority of people live in Mai Chau valley are Thai ethnic minorities, Muong Mun previously. Thai ethnic villages gather in crowds and still keep traditional culture features, typically stilt houses.
Coming to Mai Chau, tourists will be inspired by spectacular nature, stunning scenery, the  green of paddy fields and poetic beauty of mountainous area. Together, they create an amazing picture of Mai Chau. Furthermore, tourists will be able to visit abundant farms, participate in raft races in the stream or trekking tours. Mai Chau valley is also the collection of historic and archaeology sites such as Mo Luong cave, Chieu cave, Pieng Kem grotto, Lang cave, Khau Phuc cave…. It is currently the typical example for communal and cultural tourism.
The other destinations named in this list include: Tana Toraja (Indonesia), Ella (Sri Lanka), Ipoh (Malaysia), Hakone (Japan) Damyang County (Korea), Khanom (Thailand)…