Every year, from May to June and from September to October, travellers from different places on earth march to the paradise of rice Mu Cang Chai of Yen Bai with hope to witness the glory of nature through the works of human beings. Our trip on motorbikes lasted for 2.5 days with great moments despite that we came a little bit late when about half of the fields are harvested. We have not only enjoyed the landscapes and the foods but also met great local people and had a great time with them.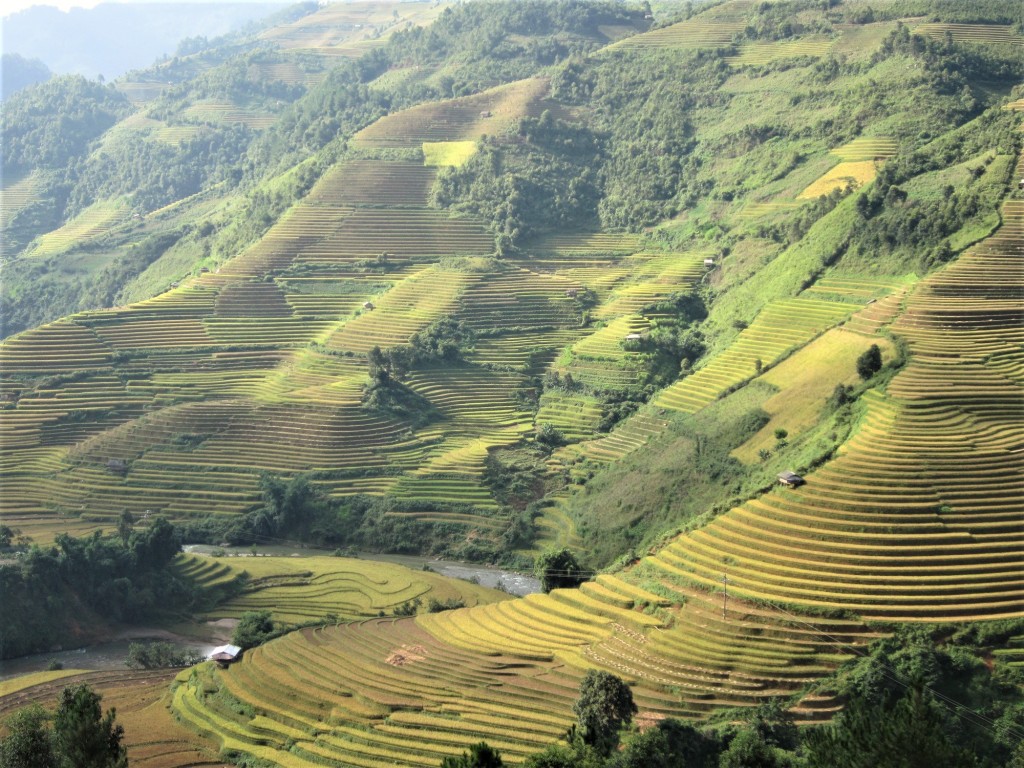 Day 1: Hanoi – Nghia Lo
We have had 6 people in the beginning and a hard time deciding whether we should go because the weather forecast had proclaimed that there would be rains and storms at the weekend. Thankfully, Friday's morning had kicked in very beautifully bringing full of hope that it wouldn't rain any time soon. We officially had planned to start our trip at 13:00 of Friday to reach Nghia Lo by about 18:00 but because of the late decision, we all had to prepare a lot more and it took more time than we thought.  About 16:00 of the day, we started our trip from Hanoi. The national highway 32 led us through Son Tay town, then to Thanh Son and Thu Cuc and lastly Van Chan before we arrived at Nghia Lo at 22:00 of the day. The roads were fine I guess, the only hard part was Khe Pass with many slopes and bends which we had to ride through in the dark.
We were very lucky to contact a Thai couple who have acquainted with a member's relative so when we reached Nghia Lo plantation, the couple had already been waiting for us. I actually expected that their house would be a traditional Thai stilt house since they live in a Thai village with stilt houses surrounded. However, their house was clean with enough room for 6 people of us. Their family only had 3 people at that time. We were treated with a great meal with grilled fishes that made in Thai ethnic's way. The couple shared a wish to go with us on the trip in the next day. They will be married at this Lunar October; therefore they wanted us to do them a favour. In this highland town, it is not easy to have a decent wedding photo album for the soon-to-be wife and husband, so they came up with an idea that they will go with us to Mu Cang Chai where the landscapes are superior and one of our members will take the photos and make the album for them. In exchange, they will be our guides and help us to find a place to sleep the next night.
Day 2: Nghia Lo – Tu Le – Khau Pha Pass – La Pan Tan – Mu Cang Chai
We woke up early in the morning, tried to do personal hygiene as fast as possible. After having breakfast with Pho at a small restaurant, we continued our trip to Mu Cang Chai with 2 new members. I got fond of the little wife very quickly, she is only 18 and I found her very innocent and kind.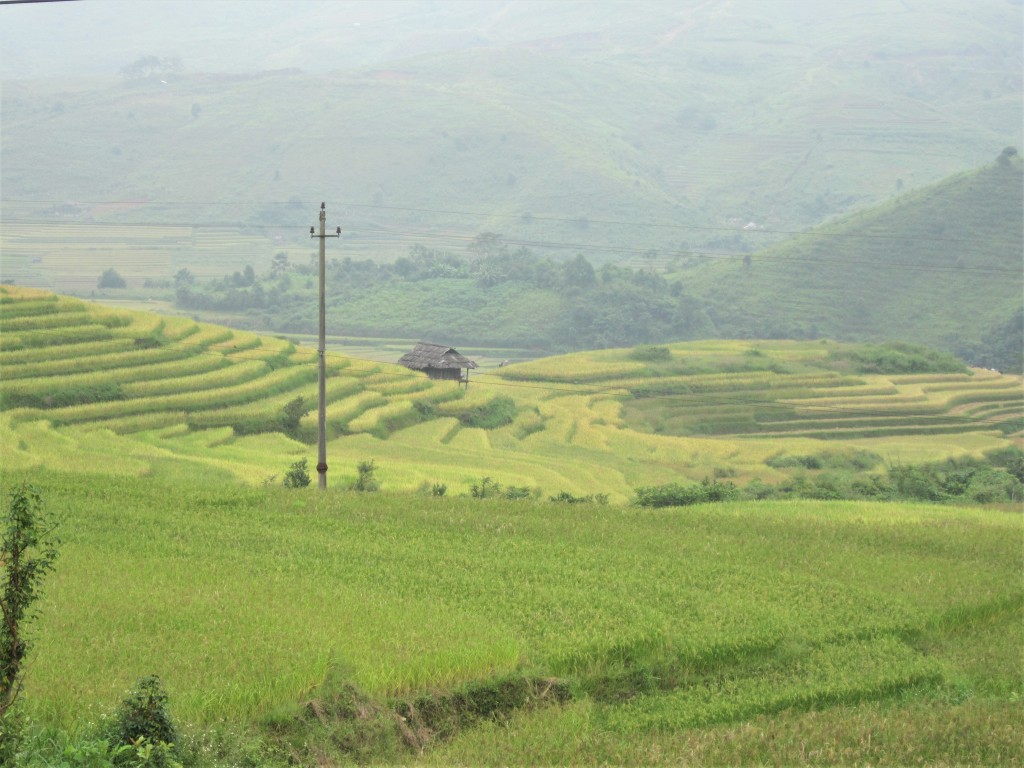 From Nghia Lo to Tu Le, there are 50 kilometres. The higher we rode up the colder the air became. We skipped Tu Le and confronted the majestic Khau Pha pass which is longer than 30km and considered the most dangerous pass on national highway 32. In the tongue of Thái people "Khau Pha" means "sky-high horn" (Vietnamese: "sừng trời") since the top of the pass – engulfed in dense fog – looks like rising from a sea of clouds. There was indeed a lot of fog and cloud as what people said. I even had to turn on the headlight to warn people in the opposite direction. Anyway, it was getting warmer and we went through smoothly without any accident. The scenery on the way was so wonderful so we stopped many times to take pictures and give candies to the ethnic children. On the way, there were 2 girls on a motorbike wanted to join our group and we agreed.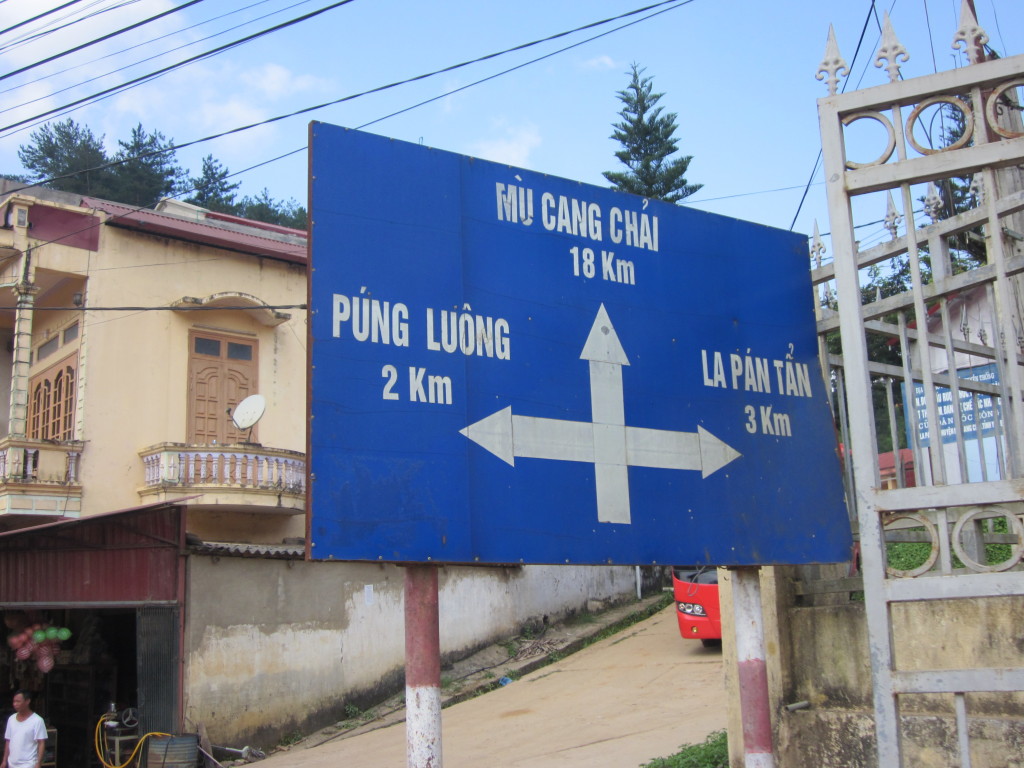 When all 8 of us reached Nga Ba Kim, there is a sign showing that we have to turn right and go 4km to La Pan Tan where the terraces are most magnificent. When everyone is gathered, here started the real adventure: the slopes were too steep for the motorbike to carry 2 people so we all had to go with the lowest gear. What a feat to accomplish! However, we didn't get to the La Pan Tan viewpoint because our guides had mistaken the direction but no one knew about it. At the biggest T cross, we should have turn right instead of left. Our group met another group and they did know the way just like us. We joined and had a great lunch in a Thai family house. After the meal, we started our search for the viewpoint but we were just running in circle cluelessly on the red dirt roads which got harder and harder to ride.  All of the members of two groups were separated into three smaller groups running on different roads. I and my trip-mate were in the first group with the guides to get down to the national highway. There were some local xe om drivers asked us if we wanted to get to the circle fields on the top of the terrace. I wanted to go but others got already too exhausted with the riding and getting lost, so I gave up with the excuse that the rice was harvested and there was nothing left to see.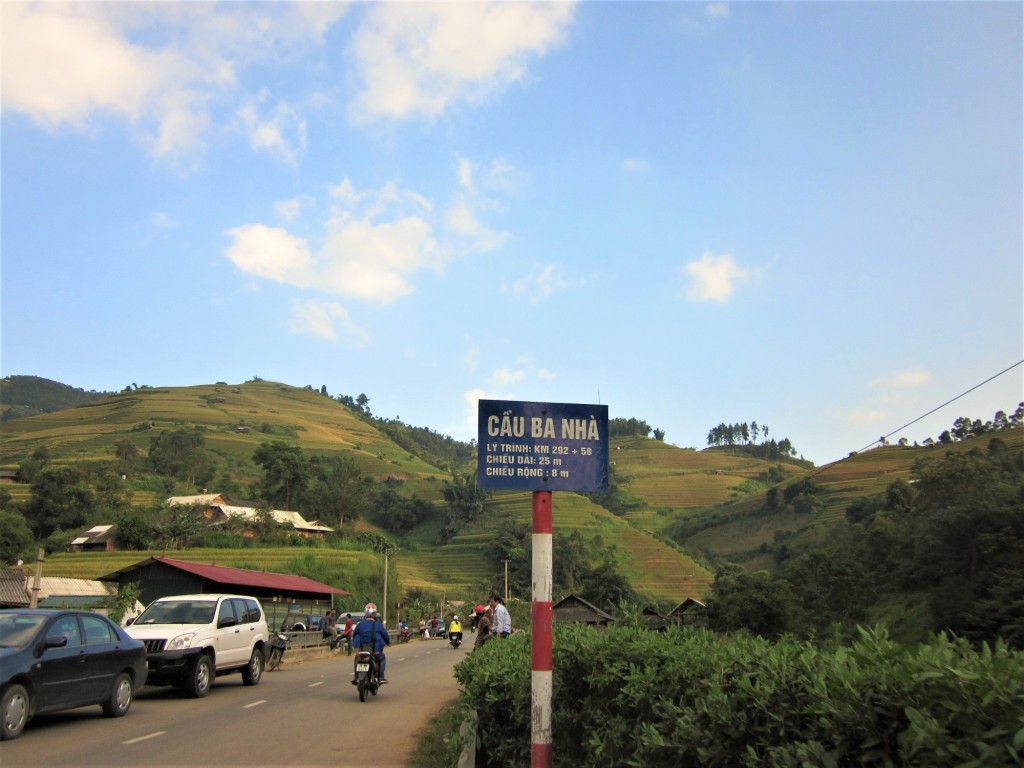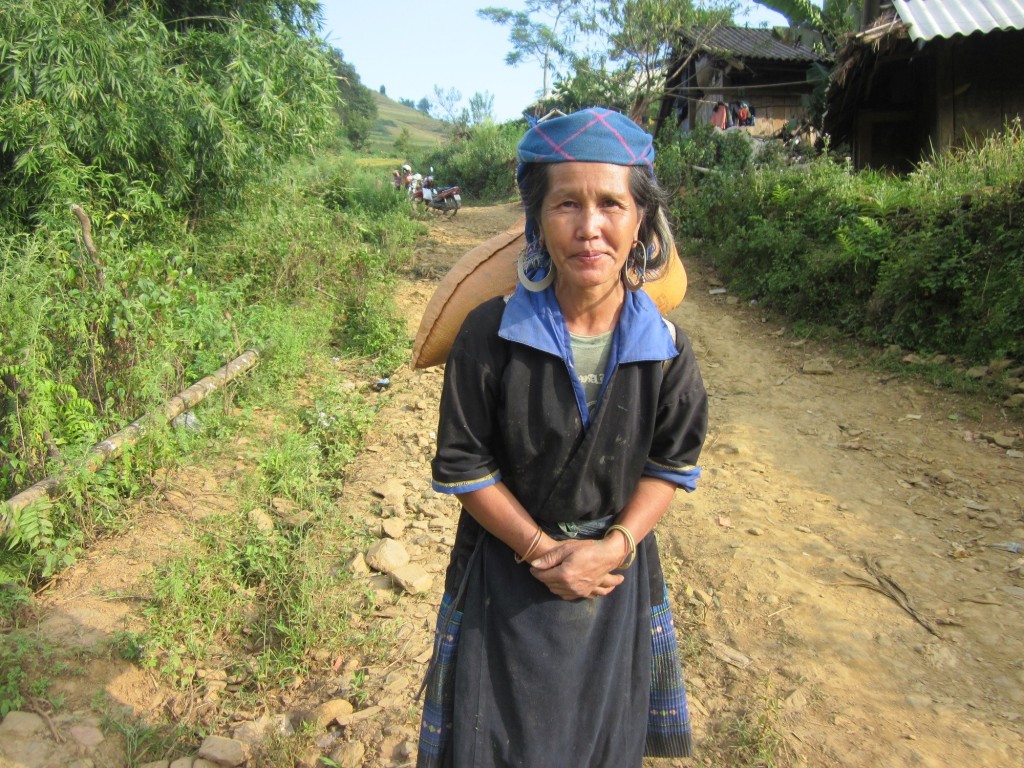 By that time, my group had ten people (with four added) in total, we parted way with the other group and went on. Not really far from La Pan Tan is Ba Nha Bridge, a favourite site of young travellers. The landscape was so scenic and romantic. From the bridge, visitors can have the view of the whole hill that is terraced with rice fields and turned to bright yellow under the sunlight. The road uphill was another story: full of rocks and very steep. There were a lot of xe om drivers asked us to use their service just for under 100,000VND per a round trip. Other members decided to ride up the hill to an H'Mong house located at the middle of the slope. I was the last and some of the drivers yelled something like "Girls can't ride up that slope, stop!" and then I made sure that they have to change their mind about that.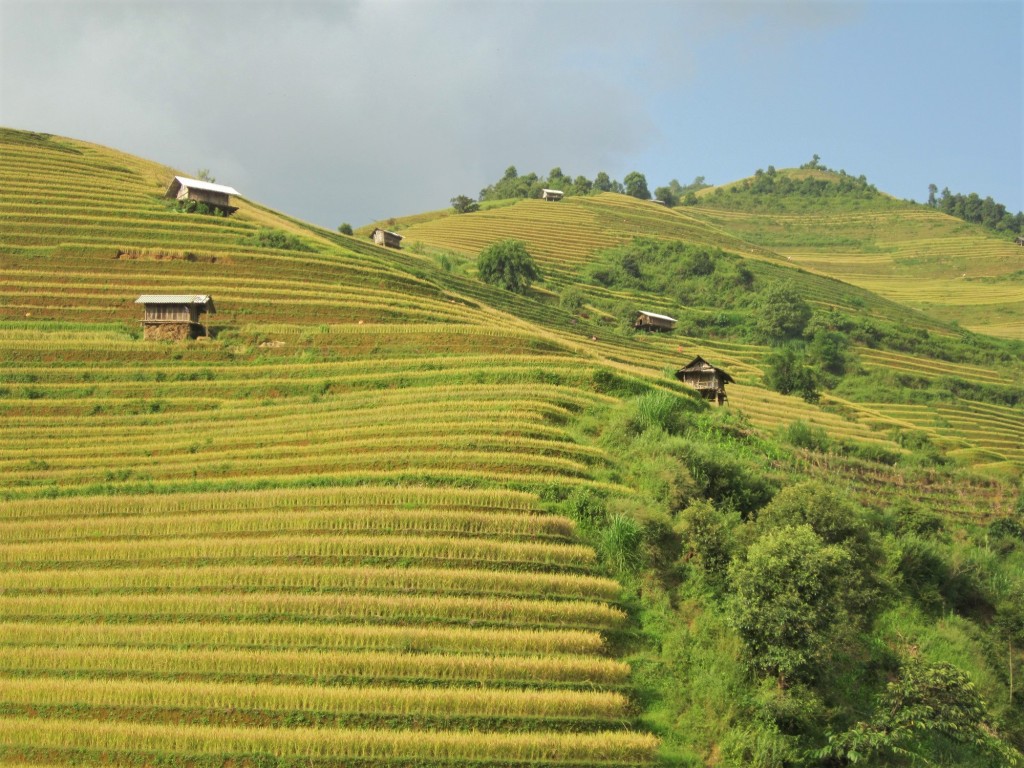 The view up there was even more wonderful because the sunlight started to shine very brightly. Everyone was occupied with the photo-shoot for the lovely couple and luckily the H'Mong family had a traditional costume rental service and we rented one-woman costume for the wife and one man costume for the husband. You pay them as you will. Black H'Mong women and men both wear in dark and dark indigo colour and use silver as an ornament; therefore these colours are very outstanding with green and yellow in the background. We did a good job on the photos and they came out prettily.
After finishing the photo-shoot, we continued to Mu Cang Chai district. The group stopped many times on the road to take photos but we were not alone. We would encounter many groups that stopped for posing along the road. And when we finally arrived Mu Cang Chai, it felt like all local travellers had come to this place. Overcrowded! The Kim Noi village is so different to 4 years ago since my first visit: a few travellers, no road lights at night, no bonfires at weekends for tourists and no foreigners. Now it has everything mentioned above and I was happy that the place developed rapidly yet still kept its uniqueness and traditions. Our guide contacted his relatives and they agreed to let us stay in their house for one night. That was a traditional Thai stilt house. The host family wasn't a rich one but the stilt house was wide enough for the ten of us. Everyone was excited to stay at a stilt house, except me because I experienced this quite often in the past. What really amazed me was the change of the village. All the roads are enlightened by the road lights and filled with travellers from north to south and even foreigners. The cultural house of the village was organizing an event for tourists: young Thai girls and women in their traditional costumes singing and dancing around the bonfires on the traditional ethnic music playing loud at the background. We joined the merry environment and I can see that everyone was happy.
The group went back to the district's centre to find a restaurant for dinner. There were some common highland specialities of Mu Cang Chai we enjoyed like buffalo meat and stream fishes. After a long day on motorbikes, all of us just ate like crazy though we were all sleepy.
Day 3: Mu Cang Chai – Che Cu Nha – Lim Mong village – Ha Noi
I was the only one who could sleep soundly and were the latest to wake up. Everyone complained about how cold it was and they hadn't prepared enough clothes and blankets. Anyways, the dawn was brilliant signing for a rainless day. We had breakfast with instant noodles at a small restaurant (they had nothing left).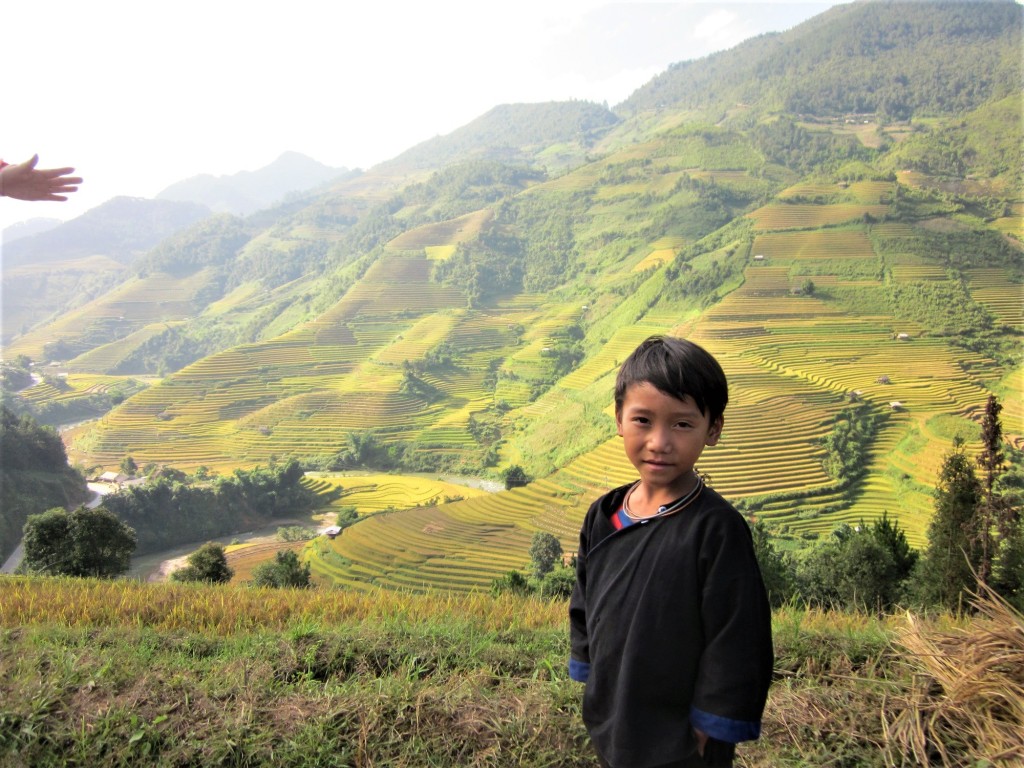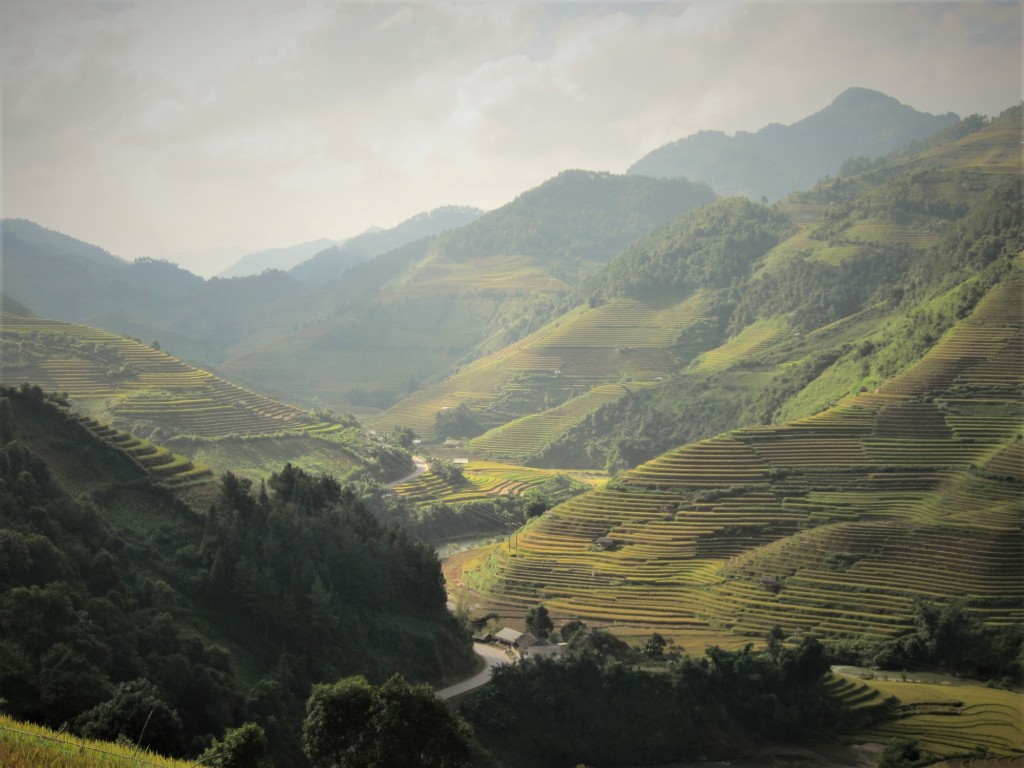 It was about 7km away from Mu Cang Chai to Che Cu Nha commune. The sight of the slopes scared us to no end. This is probably the hardest part of the trip. It was too steep and the bends were crazy. For a girl like me, this is the first time have I tried something like that. However, all the drivers got to the top without any accidents. And the scenery was amazing. In front of us was the vast view of the endless terraced rice fields covered mountain after mountain in the light green and yellow colours. Photo-shoot continued and we got down slowly one by one and the way down scared us even more than the way up.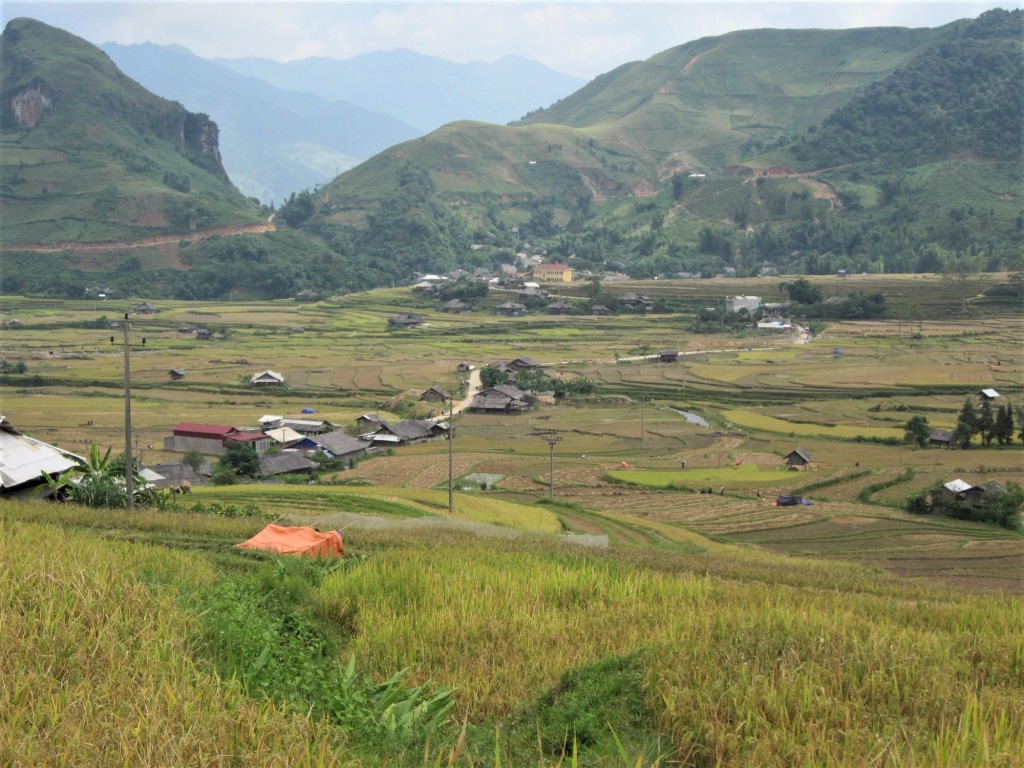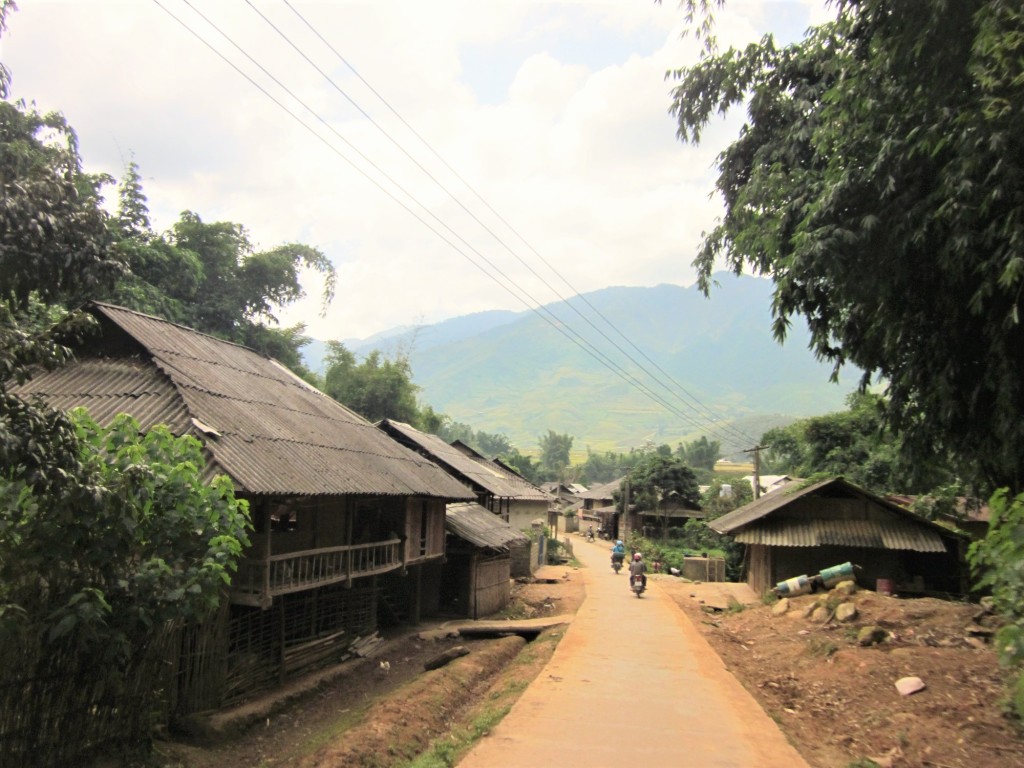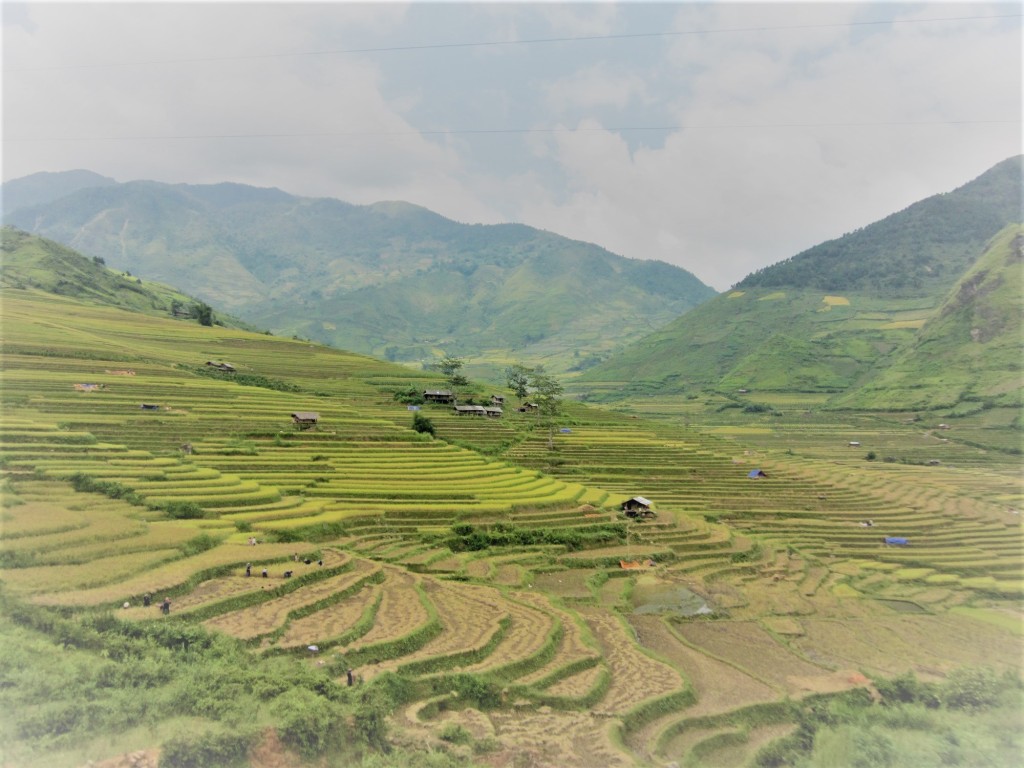 We drove back through Khau Pha pass and surprisingly saw the road sign that shows the way to Lim Mong village which is considered the most beautiful site of Mu Cang Chai. I had read somewhere that the road to Lim Mong is dangerous but actually it was nicer than we thought. The village lives up the praises. The stilt houses of Lim Thai village located lower, nearer to the stream and alongside the road. H'Mong people have a tradition of living on high ground and this tradition really gave visitors a difficult time, but worth it. We got high enough to take in the whole scene of the below with the road running through stilt houses and vast rice fields under green mountains. Indeed the most beautiful and we couldn't do anything but to praise the wonders of nature and creativity of ethnic people. I believed that there are more to see up there and tried to convince the group to take to the top. However, it seemed like everyone was too tired to ride up the steep road. We got down to the stream and I tried again to convince other members of the team and succeeded. Three of us continued to a higher place. I rode alone and when I got to the viewpoint, I met a group of young people and the male members of that group seemed to be really fascinated by the fact that I rode there by myself. Three of us enjoyed the scene so much but not for long because other members started to call us down.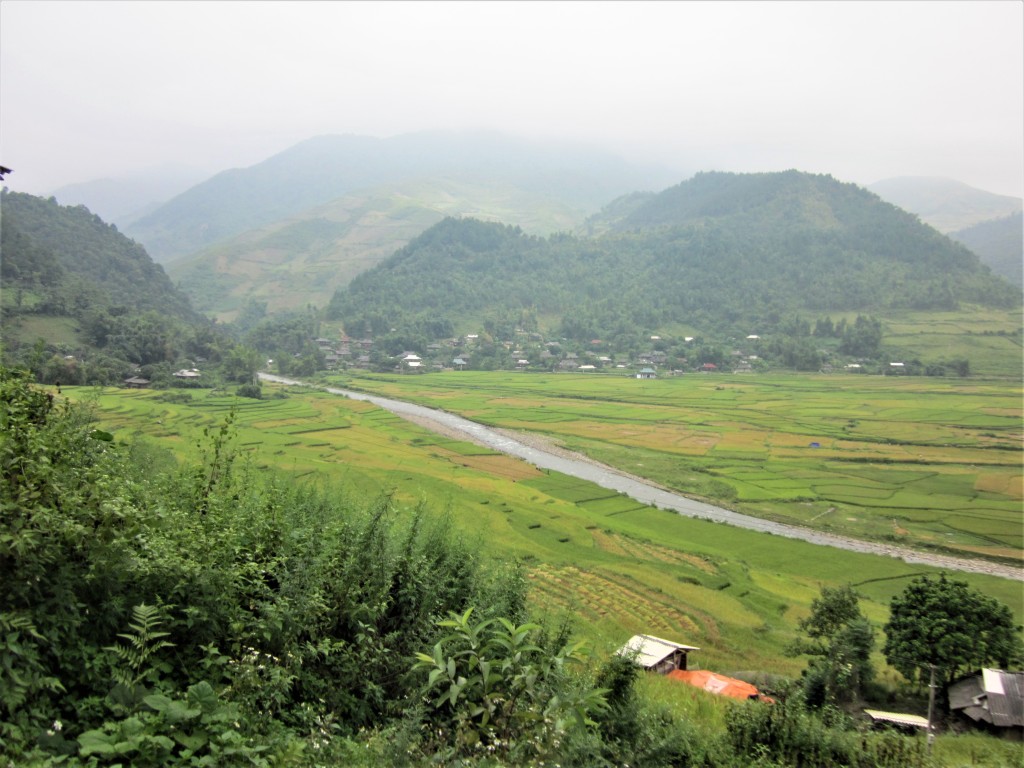 We left Lim Mong village in regret, if only we could stay longer! The team met at Tu Le to have lunch with Tu Le glutinous sticky rice with chicken at Pho Nui restaurant. It was a nice meal but quite expensive according to our view. We also bought a lot of Com – green rice and other specialities that are sold on the streets.
Around 16:00 of the day, we started to go back from Tu Le to Hanoi. We said goodbye to the lovely Thai couple at Nghia Lo town, promised to give them the photobook as soon as possible. Around 22:00 we arrived in the city, tired but very happy about the trip. We can't wait until the next year to come back to Mu Cang Chai to join the local festival there. Mu Cang Chai, see you again…till the next time.
See more our photos of Mu Cang Chai