Mu Cang Chai is located in Yen Bai province, about 280km away from Hanoi and very famous for its terraced fields.  There are 2 times of the year to visit Mu Cang Chai: from mid-September to October this is the grain season, from May to July when Hmong people start sowing and pouring water on the fields.
Mu Cang Chai is also known for its ethnic minority groups, specifically the Hmong and Thai. La Pan Tan was declared as an official tourist attraction in 2007 for preserving its culture.
Check out our own journey in 2015 to Mu Cang Chai.
How to get there
By motorbike: it will take you about 8 hours of riding. Therefore, you shouldn't ride continuously. Take rest at Nghia Lo town for the first night and conquer the rest on the second day.
By bus: Hanoi – Lai Chau buses that stop at Mu Cang Chai: Hai Van, Hoang Anh, AnhTu (start at My Dinh bus station). Going by bus would take you a whole day to get to Mu Cang Chai.
You should visit Mu Cang Chai from 2.5 to 3 days to explore all the sites.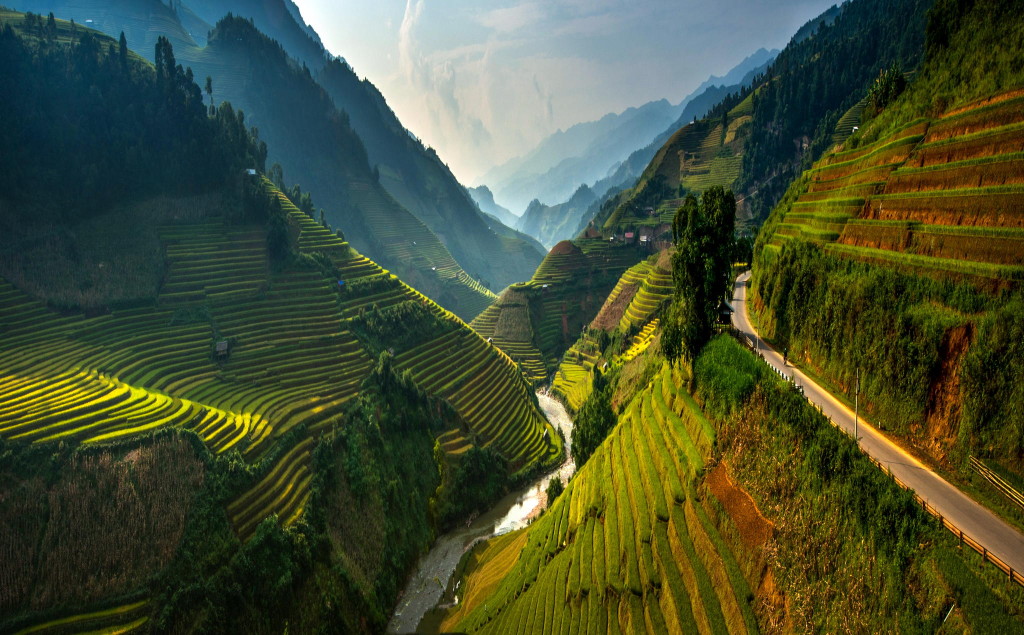 Accommodations
If you choose motorbike to travel, stay at Nghia Lo town for the first night. There are two hotels Nghia Lo hotel and Mien Tay – Nghia Lo hotel with price ranging from 150,000VND to 200,000VND.
On the second night, you can either choose to stay at hotels or hostels in Mu Cang Chai or homestay in ethnic villages. There are a number of hotel and hostels in Mu Cang Chai, but guests have to make their reservations at least one month before if they intend to visit during the peak season because all accommodations tend to be fully booked during this time.
Attractions
Tu Le commune belongs to Van Chan District and famous for its scenic landscape and idyllic village of Thai people. The commune is situated right next to the Khau Pha pass and from the top of the pass you will take in the panoramic view of Tu Le fields. These rice fields lie completely inside a valley surrounded by low hills and mountains. The most famous thing in Tu Le that any visitor should try is the hot spring of Chao village.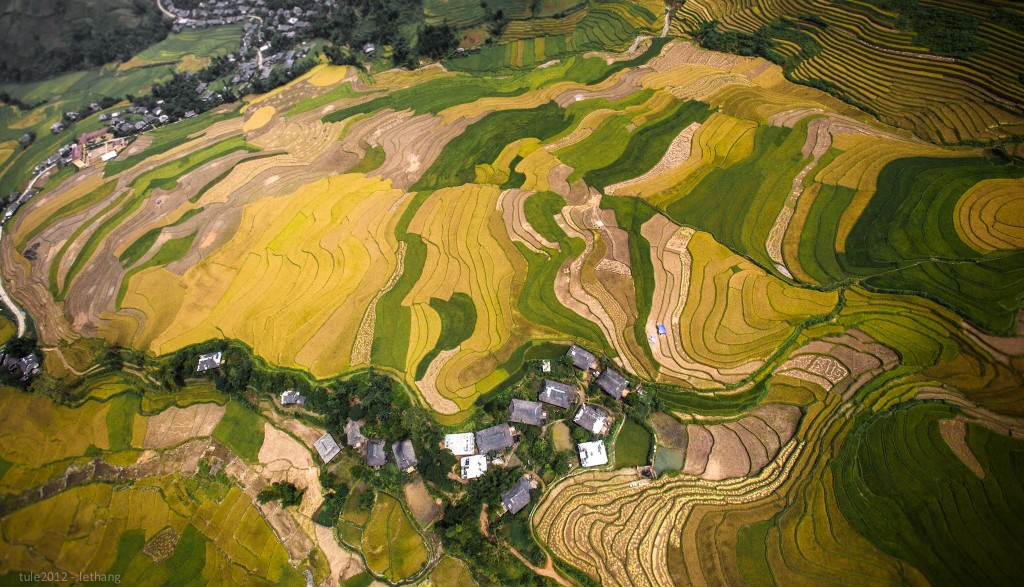 Khau Pha Pass is one of the most beautiful and dangerous passes in Vietnam and often called "the sky's horn". From Yen Bai city, go off-road on highway 32 for about 5 hours and right when you pass Tu Le, Khau Pha Pass will appear lying embraced by surrounding mountains. The pass road runs through old forests and terrace fields of ethnic minorities. From the pass, you will have a chance to enjoy the wonderful scene of green and yellow rice terrace fields in September and October.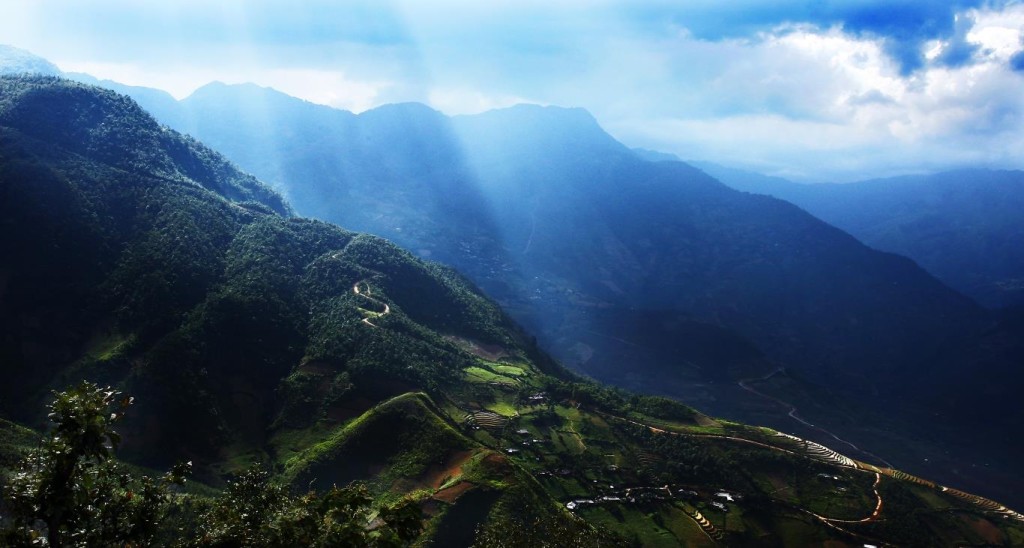 Lim Mong village is home to Hmong people situated near to Lim Thai village which is the living space of Thai people. Compared to Lim Thai, the Hmong's village is on higher ground and more remote. The landscape of Lim Mong village stands out among other sites. When you reach the village, the majestic view of purest blue sky above and vivid green and yellow rice fields running down the valley will amaze you. There is one more thing; the road to Lim Mong is very steep so you must be very careful if you want to ride a motorbike up there especially in rainy weather.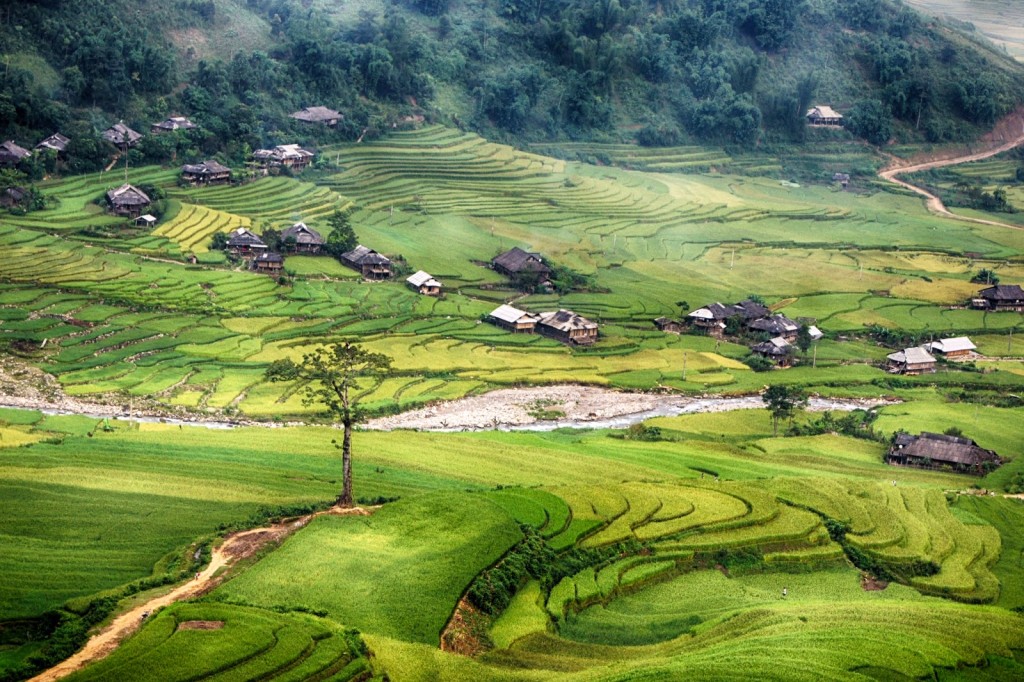 La Pan Tan Commune has the most beautiful terraced rice fields in Vietnam. Each year, when September kicks in, thousands of people march to the northwest coming to La Pan Tan just to enjoy and admire the view of endless rice terrace on a mountain after mountain. The Hmong people have shown their limited creativity in this great work that resulted in the national scenic heritage certified by Culture, Sports and Tourism Department in late 2007. La Pan Tan viewpoint is only 6,9km away from the centre of Mu Cang Chai district; you can easily get there either by walking or motorbiking.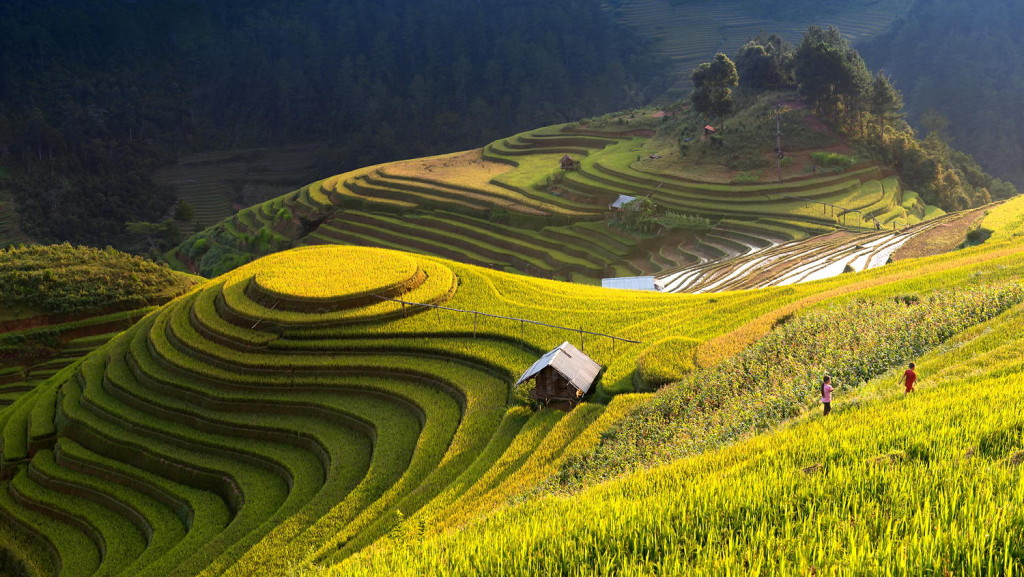 Che Cu Nha is a remote commune located closed to Mu Cang Chai town. The road up to Che Cu Nha is only 2km but very steep and rather dangerous. However, the scenery is absolutely gorgeous and beautiful, especially on sunny days.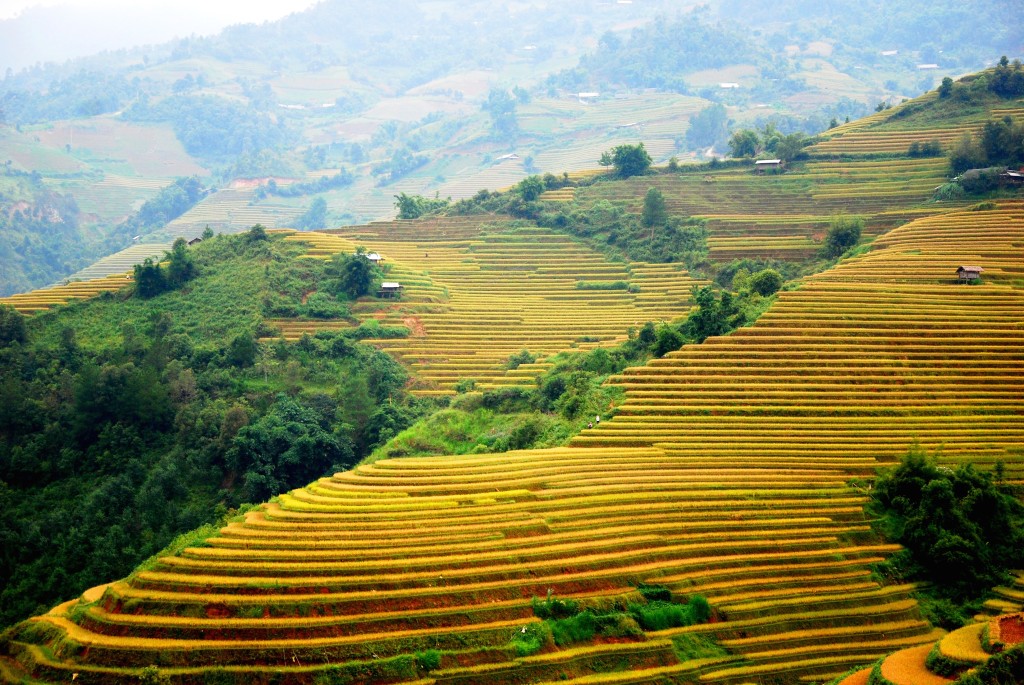 Ba Nha Bridge is only 10km away from the commune centre and a favourite place of photographers. There is xe om service from the bridge up to the top of terrace fields priced 50,000VND for a round trip, maybe cheaper depending on your bargaining skills. If you don't like that option, you can ask for the roads to walk or ride your motorbike up there (it takes you only 20-30 minutes walking). However, be aware of the bad condition of the road, especially on rainy days.
Kim Noi village in Mu Cang Chai town which lies on an altitude of 930m above the sea, located on the other side of the town's bridge. By turning left for one km after passing the bridge, you will reach the village. There are a lot of families that offer homestay service. This is a great place for those who want to discover the daily life of Thai ethnic people with the friendliness of the people and calmness of the environment. In weekends, you will have a chance to join many cultural activities like a campfire, traditional Thai singing and dancing performances of ethnic women.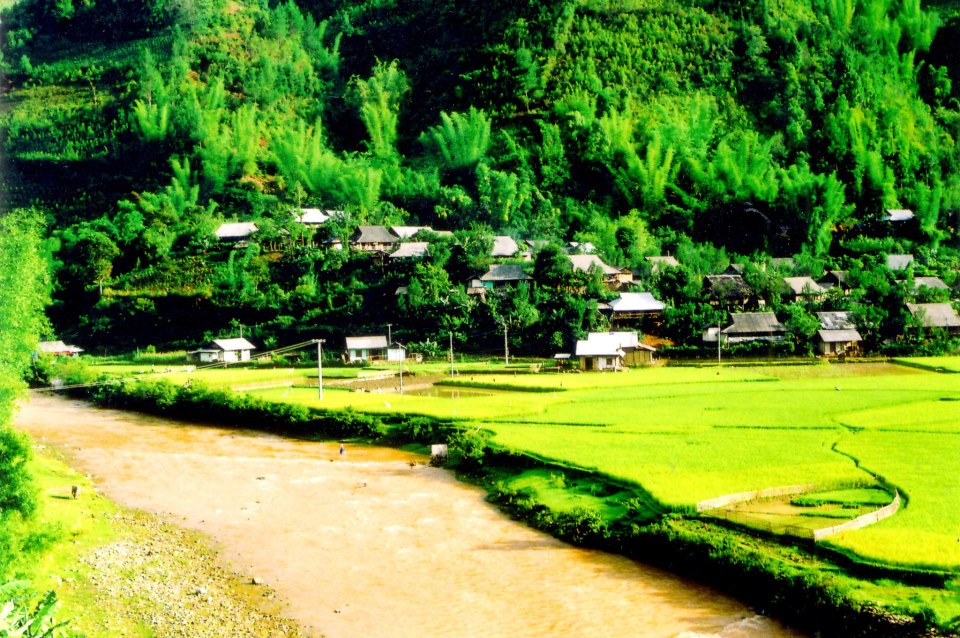 Pu Nhu waterfall is located in Pu Nhu village, La Pan Tan commune, about 10km away from the district centre. The fall with the height of 20m is the confluence of many headsprings and stream from Than Uyen, Lai Chau.
Mo (Dream) waterfall cascades down in between Na Hang A hill and Na Hang B hill. From afar, the four-level water looks like a white silk scarf gracefully spread along the mountainside. To reach the fourth level you have to trek from highway 31 to the foot of the waterfall then climb up the top. There you will find a great view of the surrounding areas.
Foods
Tu Le glutinous sticky rice: is loved (beside Tu Le hot stream) for its lightly sweet and sticky taste and heavenly aroma. Try once and you can't ever forget the taste.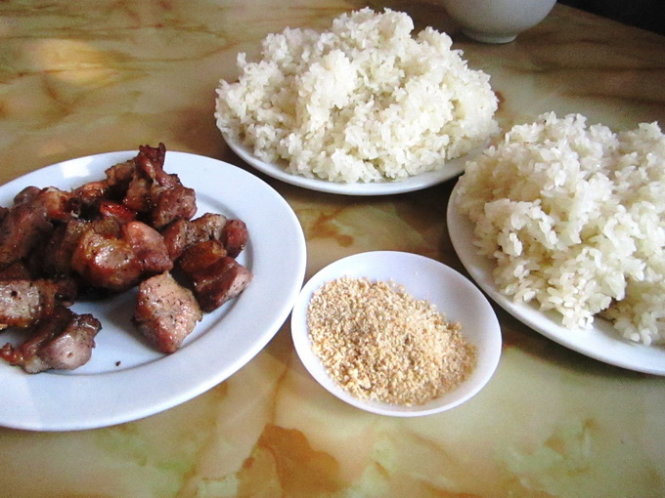 Tao Meo: is a specie of small apples found in the mountainous areas and is highly regarded in Mu Cang Chai (between September to October) because of its ability to treat certain diseases such as stomach pains, high blood pressure and even heart-related sicknesses. It is also said to be ideal for those who are on a diet.
Tam Hoa plumb: the fruits appear to be red-skinned and slightly bigger than other species. The taste is naturally sweet and fresh. Its season starts on May of Lunar calendar.
Salmon: salmon is available in Khau Pha restaurant where is also the largest salmon breeding farm of the north.