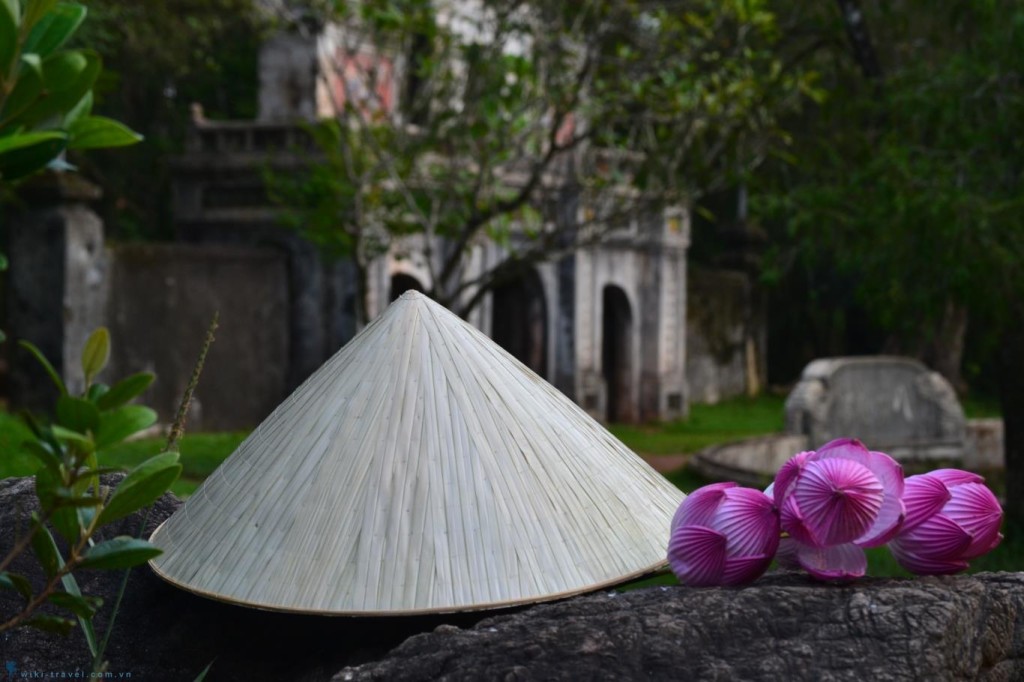 This hat is one of the cultural symbols of not only Vietnamese women but also Vietnamese people in general. The conical hat is made of bamboo cataphyll, often worn to cover the face from the sunlight when working on rice fields. Along with the graceful silk Ao Dai, the non has become a sort of informal Vietnamese national fashion symbol that is recognized worldwide.
The hat has a conical shape, is kept on the head by a silk cloth chin strap. Non La is particularly suitable for a farmer for working on the paddy fields in a country that has fierce sunshine and heavy rains all most all year round. It is also one of the oldest fashion items that survived the lapse of 2000-3000 years of Vietnamese history. The making of conical hats is no less of an art because there is no machine dexterous enough to mass produces this sophisticated yet simple headpiece. And each region of Vietnam has its own regional variation that suits different aesthetic tastes.
Come to Vietnam, the hat can be found in any big market or souvenir shop. Hats sold at these places are often a little bit fancy with more gaudy decorations. The common rate is only around 20,000VND-30,000VND for one hat which is considered cheap even for the Vietnamese.
Ao Dai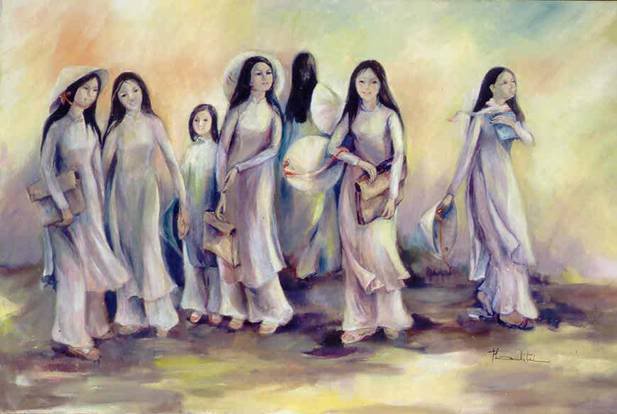 Ao Dai is another renowned fashion icon of Vietnam, an irreplaceable cultural symbol and favourite wear of Vietnamese women at all ages.  If you search for the word "ao dai" in Oxford dictionary, you will get: "A Vietnamese woman's long-sleeved tunic with ankle-length panels at front and back, worn over trousers". Ao Dai is like a Vietnamese version of traditional cheongsam with additional trousers and the two panels and sleeves are longer. According to history, Ao Dai was officially made and became national costume in the 18th century by Lord Nguyen Phuc Khoat who was the first designer of the Ao Dai. Through hundreds of years, Ao Dai is modified a lot from its official form by many historical characters. Nowadays, the most traditional and beautiful Ao Dai is the Ao Dai in white colour without any pattern or decoration, representing for the pure and innocent beauty of Vietnamese women. The costume itself is charming yet is worn respectfully. In modern life, Vietnamese women often wear Ao Dai in national celebrations, holidays, meetings, the first day of school…. In some cities, Ao Dai is also used as a school uniform for high school girls. Come to Hoi An ancient town, you will find the finest Ao Dai tailors there which will satisfy any of your requests. I can name some: Yaly Couture, A Dong Silk, Lana Tailor…. In Hanoi, you can easily find Ao Dai shops in the Old Quarter. The prices are not cheap though.
Silk
If you visit Hanoi and are a silk enthusiast, do not miss Ha Dong (or another name Van Phuc) silk village which is located only 10km southwest of Hanoi Old Quarter. Van Phuc silk village is very famous for its traditional weaving and premium quality silk products. At the age of 1200 years, Van Phuc also is the oldest silk village in Vietnam.
Van Phuc silk has been known for its smooth, lightweight, and elegant appearance. Especially, the traditional Van Silk made in Van Phuc makes the wearers feel cool in summer and warm in winter. To meet the demands of the market, Van Phuc Silk producers have expanded their production into a wide variety of types, colours, and uses. Therefore, the prices are also various and you can always find something which suits your wallet here.
In the centre of Hanoi, you can find some fine silk shops around the Old Quarter such as in Hang Gai street. A silk suit here will range from about $35 to $75 or even more depending on the silk. And a blouse or shirt will cost $15 to $20.
Brocade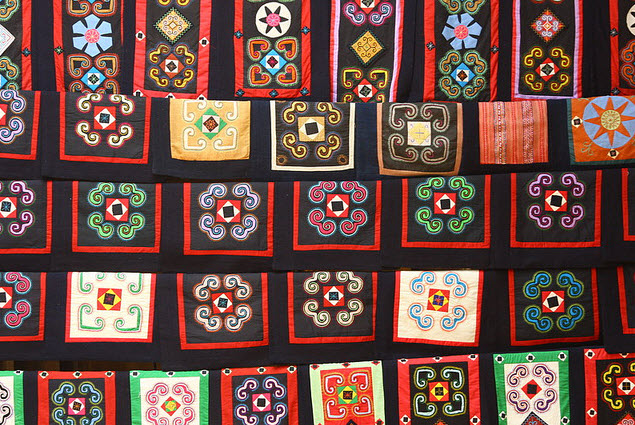 The brocade products of ethnic minority groups are very unique and considered the best gift to give from Vietnam. Each has its own individual style and colours of clothing, with distinctive embroidery and weaving patterns. Mai Chau, Sapa, Ha Giang are good places to buy the finest brocade products. However, you still can buy brocade products in Hanoi with slightly higher prices. Craft Link at 43 Van Mieu is a Vietnamese non-profit organization to help handicraftsmen and ethnic minorities to sell their products and establish their businesses. Many products made by many ethnic groups such as Thai, Mong, and Dao are on sale in their own distinctive style of embroidered, stitched handicrafts, with a different range of colours used. Prices are considered cheap for the small and simple embroidered covers, caps and wall hangings. Bags, hemp, scarves and clothing are more expensive. If you have a chance to travel far to north Vietnam, you will find brocade products and clothing at any local market with significant cheap price.
Embroidery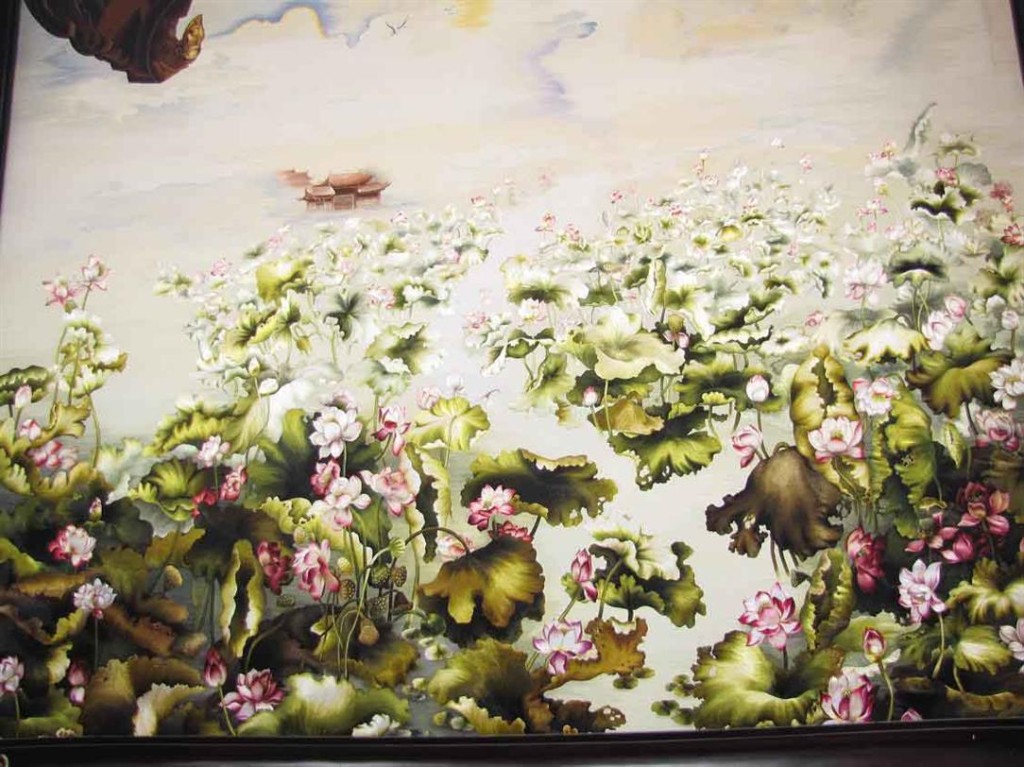 Like any other Asian culture, hand embroidery is a long time traditional craft which would make a precious gift for Vietnamese people and meaningful souvenir for international visitors on their occasion to Viet Nam. The art itself is 700 years old, passed on from generation to generation. In the past, the art was practised by young girls and studied as one of the extra-curriculum activities in high school for young girls together with cooking and cloth sewing.
In Hanoi, there are many shops which have embroidery on sale. Hang Gai street with shop Tan My (66 Hang Gai) is an excellent example for its design and quality. Chi Vang at 17 Trang Tien showcases exquisite and splendid 100% hand-made embroidery made entirely with natural materials. In general, fine embroidery stuff are often more expensive. If you are a fan of embroidery, do not miss XQ Vietnam stores, located at many major cities across the country.
Lacquerware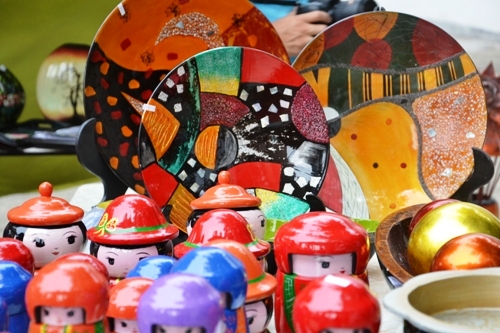 As a traditional Vietnamese art, lacquerware has been reserved for generation after generation.  Vietnamese lacquer making is rather an extremely time-consuming and labour-intensive work. It's not only the lacquer artists and lacquer painters, but also many other workers to the finished lacquerware product. After thousands of years of practising, Vietnamese can put the many layers of lacquer mixed with resin onto many shaped bases such as bamboo, wood, and coconut…. The finest product must be the mother-of-pearl lacquerware which is also the most sophisticated and most expensive. To find lacquerware, Old Quarter has the best of them. However, it will be hard if you want traditional hand-made products because the market has been invaded by mass-produced goods such as boxes, bowls, photograph albums, vases and trays, inferior in comparison with traditional lacquerware. One sign for you to recognize the traditional products is their weights are heavier due to the many layers painted on the surface.
Pottery and ceramics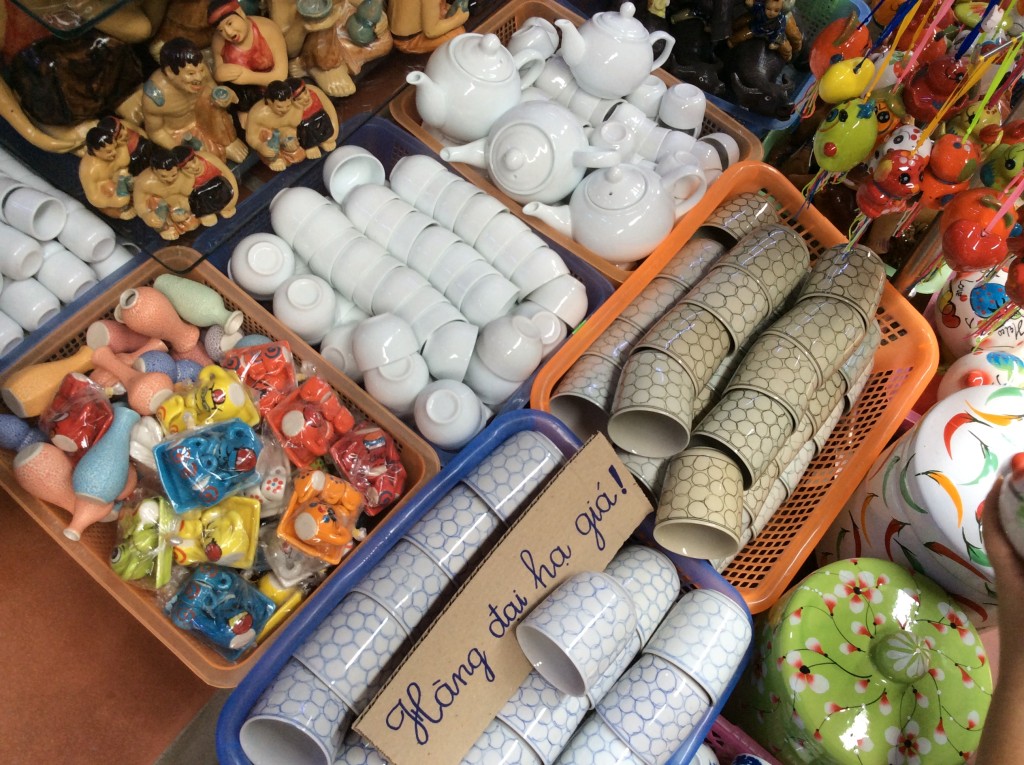 Pottery and ceramics are also the traditional craft of Vietnam which has made its popularity outside the country. Throughout history, the craft appeared very early but reached its finest during Ly and Tran dynasties. Vietnam Fine Arts Museum and Imperial Citadel of Thang Long exhibit many pottery artefacts remained from these times. Nowadays, to buy the best products, head to Bat Trang village which is located just 10km out of the city. The pottery market here has a very wide range of variety of products from antique-like to urban and simple style, from decoration use to daily use. In comparison with other Asian countries that also are famous for pottery such as Japan, the prices in Bat Trang village offers much cheaper prices for decent quality. If you have children, your kids will love the pottery making and painting activity here which costs only 40,000VND per person. You can also visit to see the procedure of making a final pottery product made by experienced craftsmen.
Vietnam still has over 60 villages practising their crafts across the country. Their products are no doubt sophisticated, well made, aesthetically pleasing and full of Vietnam traditional characteristics. However, it can't be avoided that the market is going to be overtaken by cheap mass-produced goods with modern technology. We hope that every tourist that comes to Vietnam will help the craftsmen by buying their products into which they have put their hearts.