Among hundreds of tourist landscapes spreading through from north to south, Vietnam has 8 of them that are World Heritage Sites recognized by UNESCO as of 2016. These sites are valuable and special of cultural and physical significance with the country's ethnically and natural properties.
Phong Nha – Ke Bang National Park
Phong Nha – Ke Bang is located at Quang Binh province of Central Vietnam, listed as a world heritage in 2003. The karst formation of Phong Nha – Ke Bang is measured to have its age of 400 million years; therefore makes Phong Nha – Ke Bang the oldest karst area of Asia. The national park is also claimed to be one of the world's largest karst regions with more than 300 caves and grottoes, ecosystems and limestone forests with one of which is the largest cave on earth just discovered in 2009 and made well known recently – Son Doong Cave. The total length of the cave system is about 126km and more to be explored. The longest river system underground is believed to belong to Chay and Son rivers of Phong Nha- Ke Bang as well. Not to mention the renounced Paradise and Phong Nha Caves are also parts of this wonderful park. The diverse and richness of fauna and floral of the region are one of its charms.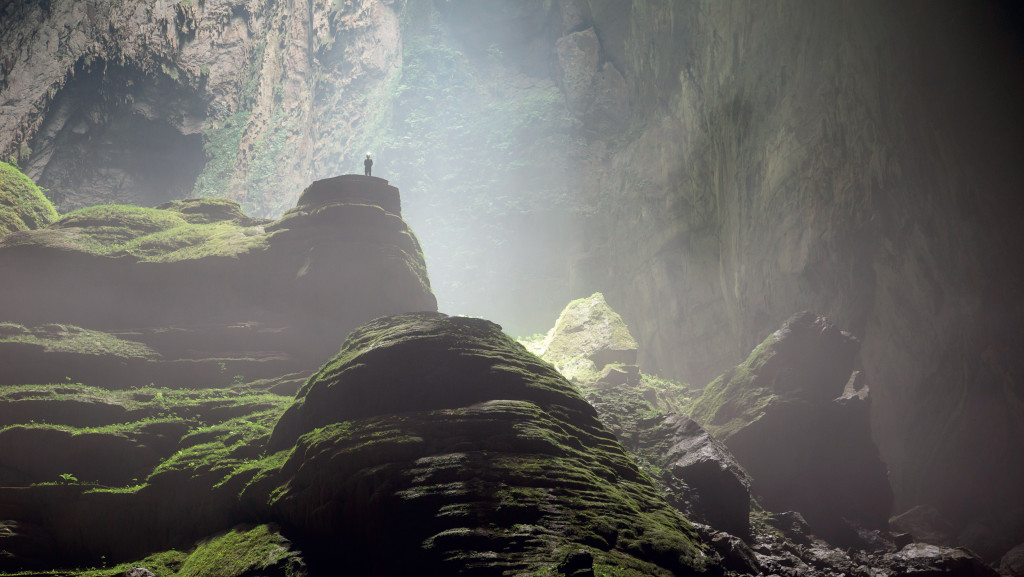 Ha Long Bay
It's hard to escape Ha Long Bay whenever we need to list the best destinations of Vietnam. Not only one of the best, but Ha Long Bay is also a world natural heritage, listed by UNESCO twice, first in 1994 for its "outstanding, universal aesthetic value" and the second time in 2000 for its "geological and geomorphologic value". Vietnam still wants the third time, though. There are quite too many things to say about how magnificent the bay is. Located in the Gulf of Tonkin, Ha Long Bay is a complex of 1,600 green islands and islets, forming a paradise-like seascape of limestone pillars erected on the immense emerald blue water. These pillars are uninhabited and remain intact from human presence. When there is limestone and there is a lot of water, we have karst formation. Sung Sot (Surprise) Cave and Dau Go Grotto have some really beautiful stalactites and stalagmites. Not to mention other dozen of caves you can explore by kayaking. I also believe Ha Long Bay is one of the most beautiful locations on earth to watch the sunset and there are some really nice beaches to work on your tan. Tourist service here is abundant, if not too much, and various to choose. Be careful with the price of seafood.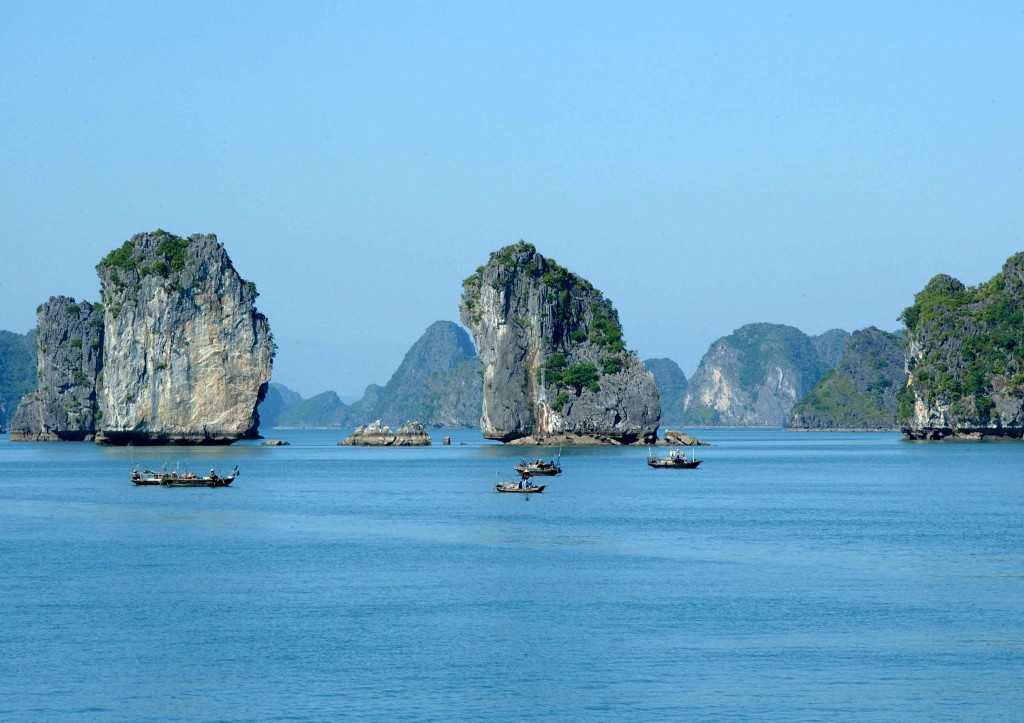 Hoi An Ancient Town
Hoi An of Quang Nam has been promoted for a quite long time as the best destination of Vietnam and it does deserve its top position with a long history, rich local culture charms and wonderful services. The town was listed in 1999 by UNESCO as World Cultural Heritage as "a well-preserved example of a south-east Asian trading port of the 15th to 19th centuries, with buildings that display a unique blend of local and foreign influences". As being a trading port in the past, Hoi An became influenced with mostly Chinese and Japanese cultures. Chinese merchants built a lot of assembly halls in the town while the Japanese constructed the symbol of Hoi An – the Bridge Pagoda. The local houses still hold on the Vietnamese style in the rustic roofs and walls. Lantern is a Chinese cultural product, used perfectly in the ancient town of Hoi An. On the 14th night of the lunar month, all electricity lights go off after sunset, the old streets and houses are filled with lanterns only, their light reflected on the Hoai river making the town sparking beautifully.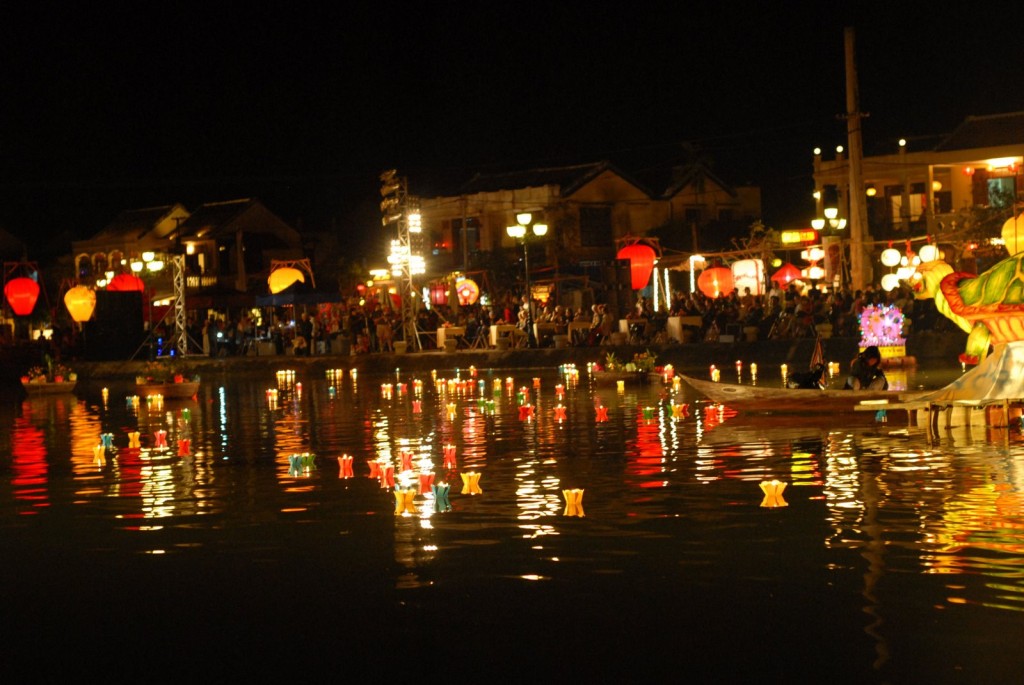 The complex of Hue Monuments
Hue was the capital of Vietnam during Nguyen dynasty from 1805 to 1945, a span of continuous 140 years. Hue was a not only political but also cultural and religious centre of the country during the period. Lying along with the poetic Perfume River; Hue, besides being an important historical site, also is a very romantic, with a slow tempo and soulful style. The complex of Hue Monuments was listed as a world cultural heritage in 1993. Since then, Hue has attracted millions of people from all over the world to visit. Like many other important political constructions, the Hue citadel was built based on the Asian geomancy (Feng Shui) to achieve natural beauty as well as defining its symbolic importance. At the same time, the citadel's structure has to adapt to the Five Cardinal Points (centre, west, east, north, south), the Five Elements (earth, metal, wood, water, fire), and the Five Colors (yellow, white, blue, black, red). In shorter words, you will see a Vietnamese styled Chinese imperial citadel.
My Son Sanctuary
Listed as a world cultural heritage in 1999, My Son Sanctuary has become a very unique tourism site in Vietnam. My Son Sanctuary is a largest religious construction of Cham culture originated from Indian Hinduism with 71 monuments and 32 epitaphs out of 225 Cham vestiges founded in Vietnam, located neatly within a valley in Duy Phu Commune, Duy Xuyen District, Quang Nam Province. The sanctuary was the worshipping ground and royal graveyard of Champa Kingdom during the 4th and 13th centuries. The series of tower temples have a variety of architectural designs symbolizing the greatness and purity of Mount Meru – the mythical mountain of Hindu gods. In general, the architecture of these fired bricked tower temples is influenced deeply by Hinduism, a unique work without equal in Southeast Asia.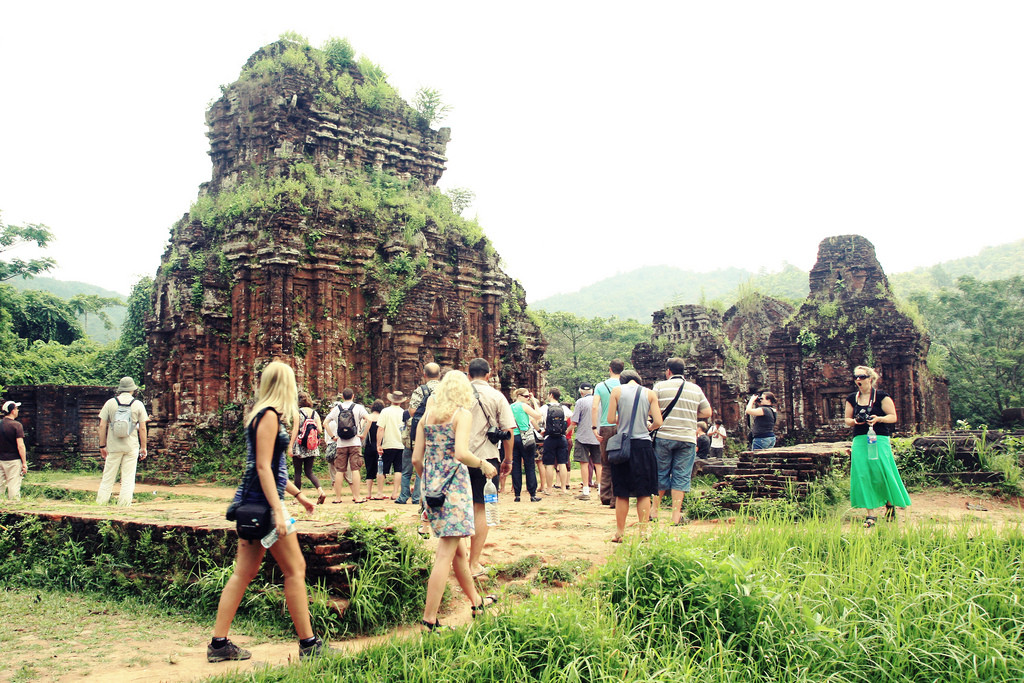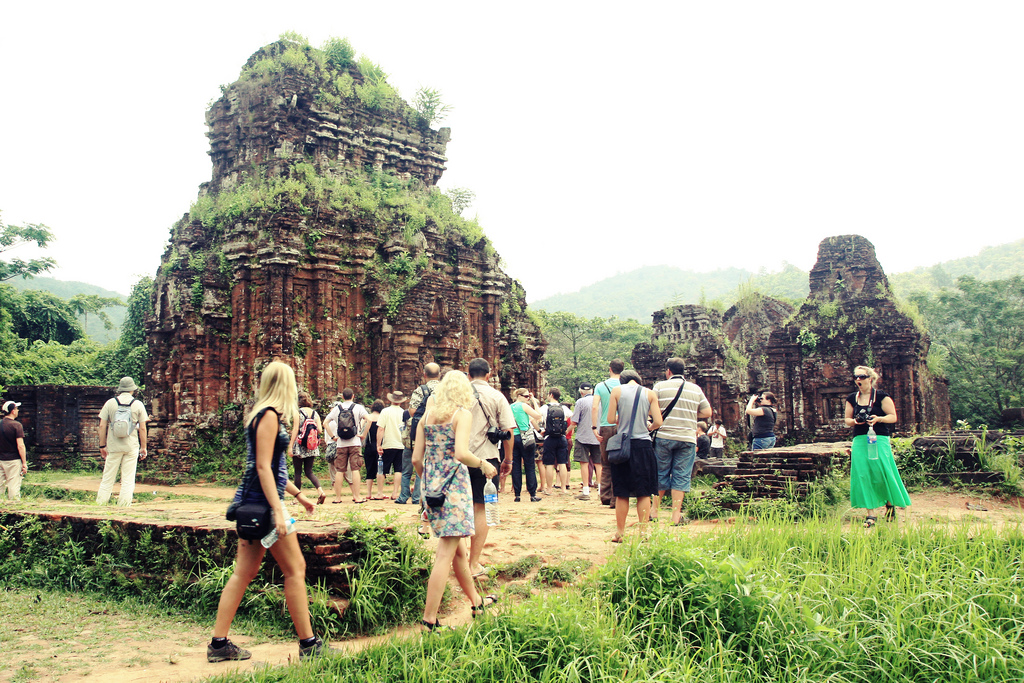 Trang An Landscape Complex
This is the newest world heritage of Vietnam listed in 2014 for its both natural and cultural values. Trang An Landscape Complex situated in the southern margin of Red River Delta, Ninh Binh province is the most perfect harmonization of large-scale karst formations on water and historical – religious facilities. Just as its well-deserved nickname "Ha Long Bay on land", Trang An with countless limestone islands and islets linked together with a colossal river-cave system is like a maze of spectacular landscapes. There are 31 lakes and ponds connected by 48 caves. And there are 4 types of caves known as the ancient underground cave, ancient karst cave, stone roofed cave and cleft shaped cave. The limestone mountains, the caves, the quiet flowing Sao Khe river all make Trang An the most outstanding in landscape, geomorphology, and geology. Trang An still has more to offer. Hoa Lu ancient capital relics is also a part of Trang An along with many other temples worshipping national heroes such as Trinh Temple, Tu Tru Temple, and Tran Temple.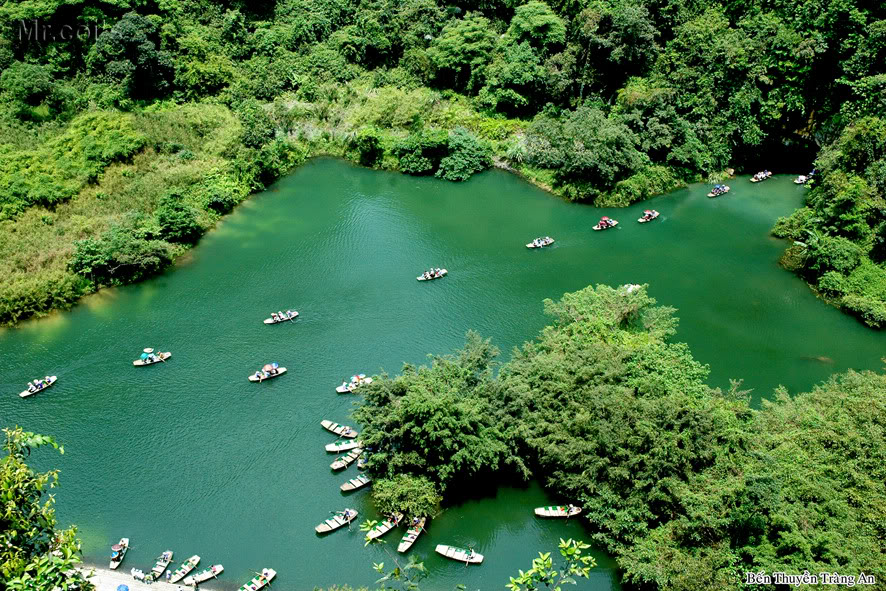 Central Sector Imperial Citadel of Thang Long
Located at 18 Hoang Dieu Archaeological Site, represented for the most developed imperial period, the Imperial Citadel of Thang Long is one of the most important historical sites of Vietnam. Citadel of Thang Long was built in the 11th century by the Ly Dynasty; marking the independence of Dai Viet. At this site, a huge volume of artefacts was discovered. The deepest layer contained evidence of buildings from the pre-Thang Long-period (7th-9th centuries AD) or the Dai La Citadel. Next layers contained architectural traces of Ly-Tran dynasties (11th-14th centuries) and Le Dynasty (15th-18th). The age of the objects found in this site span over 1000 years, proving the continuous development of the imperial citadel itself.
Citadel of the Ho Dynasty
Citadel of Ho dynasty covers an area of communes Vinh Tien and Vinh Long of Thanh Hoa province, was the capital of Vietnam from 1398 to 1407. Ho dynasty in Vietnamese history only existed for 7 years from 1400 to 1407, founded by Ho Quy Ly after dethroned Tran dynasty. Ho Quy Ly then moved the capital from Hanoi to Thanh Hoa and he himself became king. This citadel was built in a lapse of three months, all by stone, in order to defence the Ming invaders from the north. However, the people didn't follow the new king for his considered "wrongful act" against the Tran dynasty which was loved by the people back then. Ho dynasty fell quickly with no support and Vietnam became a colony of China once again. This architectural work of stone is unique in Southeast Asia with very high construction techniques.