Transportation
Not very far from Saigon, Mui Ne beach and immense sand dunes are really ideal destinations for you to organize an interesting weekend break.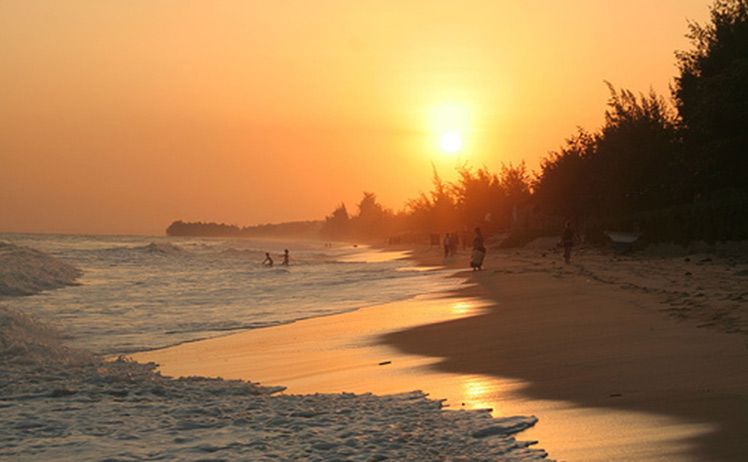 From Saigon, you could catch the bus to Phan Thiet, Mui Ne at Mien Tay or Mien Dong station… The food and hotels in Phan Thiet are quite cheap. Therefore, you could choose to stop in Phan Thiet and then go to Mui Ne (20km away) by bus or go directly to Mui Ne.
Accommodation
Aside from famous resorts or high-class hotels, you can easily find guesthouses offering affordable price if you are not afraid to go across the asphalted road to the beach. The room price ranges from VND 250.000-VND 400.000/night for a couple.
Attractions
Situated about 15 km from city centre, Rang beach features green rows of coconut trees and clear water and attracts a lot of visitors every afternoon.
Hon Rom is located in Lon Son village, Mui Ne ward with pure blue water, soft waves. In every morning or afternoon, you could sit at the beach and contemplate sunrise and sunset. When the evening comes, you can watch the moon rising or organize campfire and collective activities.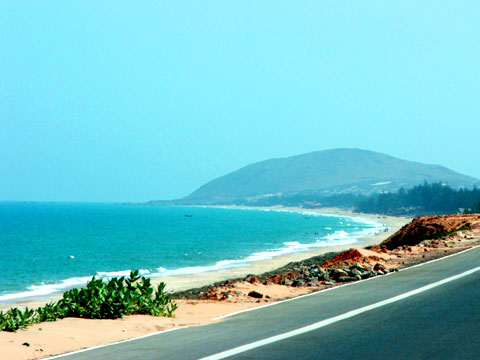 Mui Ne sand hill is nearby Hon Rom with beautiful sand dunes in various shapes and colors. Reaching to the sand dune, you could have fun with sand slide or hide a motorbike to ride around the sand dunes. The best time to come here is around 7-8 am. During this time, the sands are not so hot and you can comfortably walk barefoot on the sands.
Besides, you can visit some tourist attractions such as Cham-Poshanu Tower. This is a complex of 3 towers worshiping Shiva spirit and Posanu princess.
Mr. Hoang's chamber is a place marking romantic love story between Han Mac Tu and Mong Cam. Stand at Ba Nai peak to get panoramic view of Phan Thiet.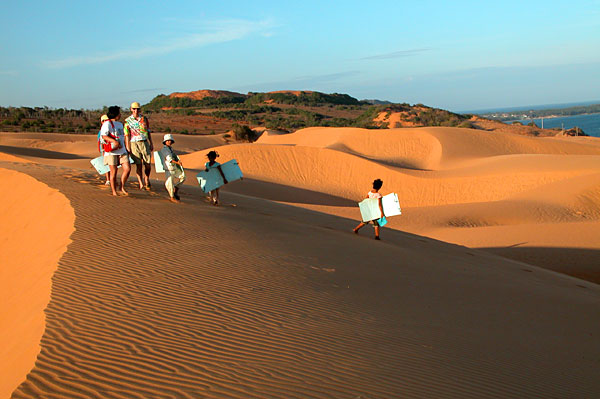 A little further is Co Thach beach and rocks in Binh Thanh commune, Tuy Phong district. This is a seven color rock situated in Co Thanh tourism area, very worthy of a visit.
Along the coast about 5 km is Son rapids in Chi Cong commune, Tuy Phong district. In early morning or peaceful afternoon, you can see the daily activities of fishing village from the rapids.
Food
At Mui Ne market, you could enjoy many types of food such as banh trang cuon deo, banh trang mam ruoc, banh quai vac, banh canh. Enjoy the seafood salad served with vegetables and vermicelli and special sauce.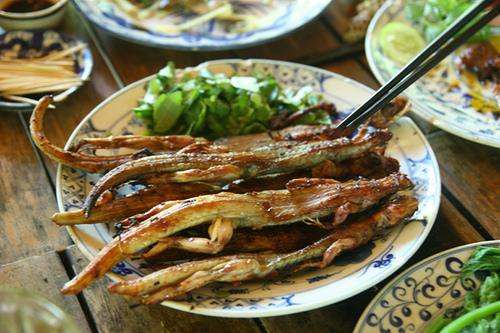 In Phan Thiet, there is one dish that you can not miss. That is flan cake at No.300 Tran Hung Dao.