Duration: 12 days/ 11 nights
Direction: Ho Chi Minh City – Can Tho–An Giang – Ha Tien – Phu Quoc – Kien Giang – Soc Trang – Ho Chi Minh city
During the trip, you will experience different means of transport.
Day 1: Ho Chi Minh City – Can Tho

You should start riding as soon as possible because it might take you 4 to 6 hours to reach Can Tho from Ho Chi Minh. If you start at 7:00, you will arrive at Can Tho about 12:00. In the afternoon, you can walk around the city, Ninh Kieu Quay's surrounding areas and Can Tho market. Ong Pagoda is located right next to the area and is a famous attraction to tourists. Ancient house Binh Thuy is also an interesting site in Can Tho. At night, there is a night market and you can try many dishes of Can Tho such as Banh Xeo, Banh Cong, crab soup or noodles…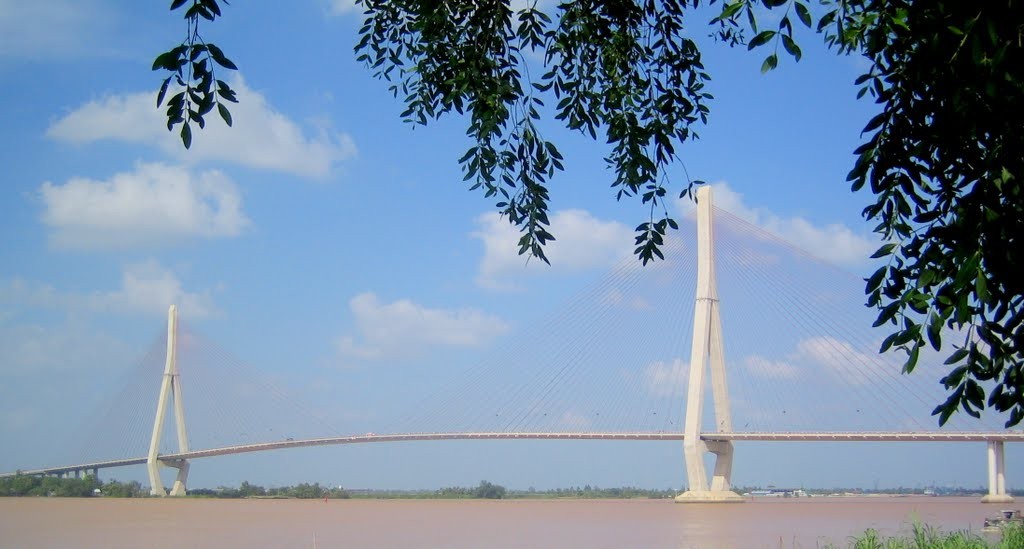 Day 2: Can Tho – Long Xuyen
Wake up early to catch a boat at Ninh Kieu Quay to visit Cai Rang floating market. From the city centre, the market is 7km away, and it takes 30 minutes of sailing from the quay to reach the market. You will have a chance to catch the sight of breaking drawn on Hau river when the river dwellers busying prepare their cargo. The market lasts within a half-day. In the afternoon, you either want to pay a visit to Bang Lang stork garden or the orchards alongside the banks of Hau river.
At 14:00, depart for Long Xuyen City in An Giang via national highway 91. At 16:00, you should arrive in Long Xuyen. You can visit some of the sites such as Thoai Lake, Sap Mountain, Ba The Mountain, Son Tien Pagoda, Long Xuyen floating market in the next morning. Enjoy the night at the city centre.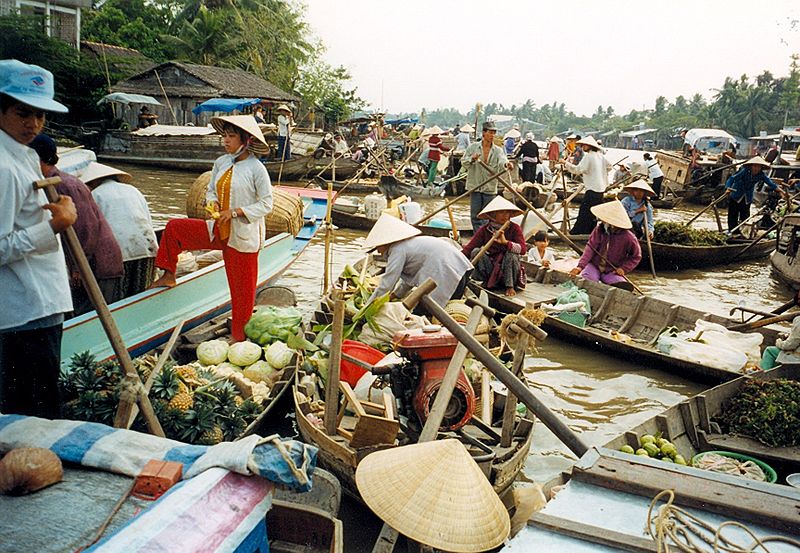 Day 3: Long Xuyen – Chau Doc
On the way from Long Xuyen to Chau Doc, there are many sites to visit. You should take provincial highway 943 instead of keeping going on Highway 91. This way will lead you through almost all sites of An Giang: Co To Mountain and Tuc Dup hill (both in Tri Ton), Cam Mount and Ket Mount, Tra Su Bird sanctuary in Tinh Bien district. Arriving at Chau Doc, Sam Mount with the very famous Xu Lady temple and the fish sauce market of Chau Doc you can visit.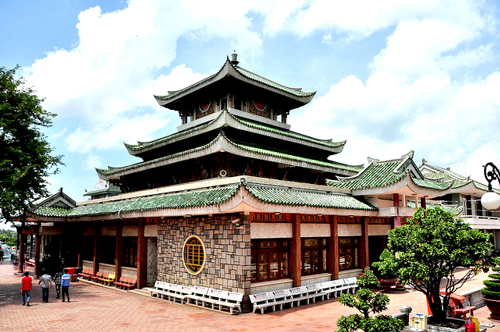 Day 4: Chau Doc – Ha Tien
The distance is only 90km but you should depart early to save the day for visiting many sites in Ha Tien town. The town is a major tourist site with many attractions. In the afternoon, you should spend time to visit Mui Nai beach and Mui Nai Khmer Pagoda, Thach Dong (Stone Cave), Da Dung Mount, Tam Bao Pagoda. There are also sites such as Ha Tien seafood market, 9 Fairies Park, To Chau bridge at night, Nam Ong pagoda….
Stay the night at Ha Tien to enjoy the peaceful atmosphere of the sea town.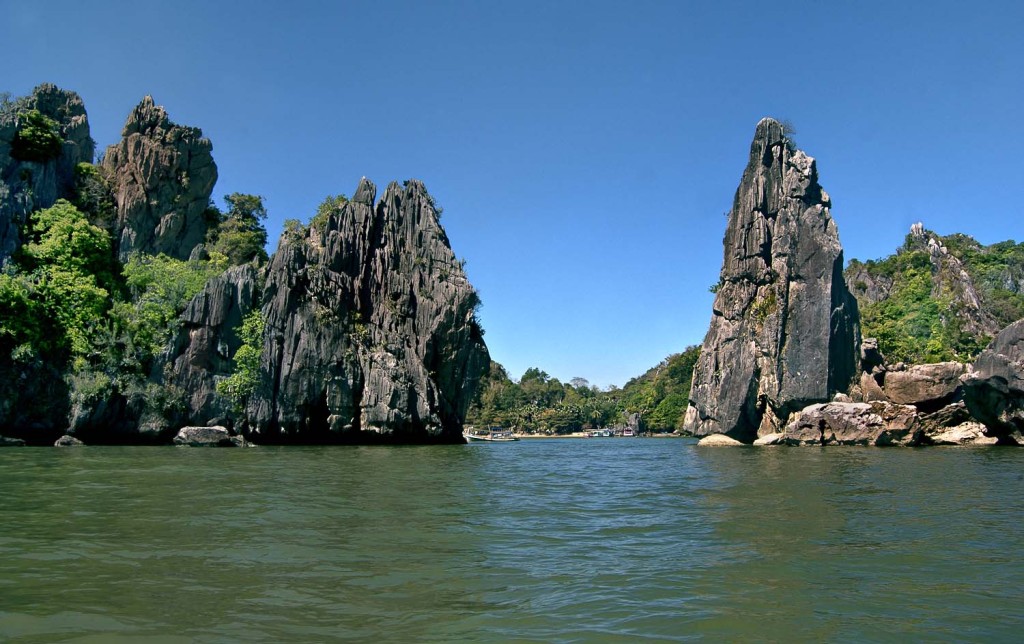 Day 5: Ha Tien – Phu Quoc
From Ha Tien, you can either go to Phu Quoc island by ferry or by speedboat, but we recommend you to choose speedboat to save time (and energy). From Ha Tien wharf, the speedboat will take you to An Thoi Quay in 1 hour and 15 minutes. There are boats that depart at 8:20 and 8:45 (Hong Tam 1 and Thach Thoi) and at 13:15 and 13:30 (Hong Tam 2 and Superdong 1). The prices for one boat ticket vary from around 200,000VND to 300,000VND. It seems that you can't bring motorbike on the boats so to explore the island, you can hire one at hotels or hostels. The price is reasonable. An Thoi Quay is on the south part of the island, you should book hotels/hostels at Duong Dong town. In the afternoon, visit the most beautiful beaches Sao beach, Khem beach, Long beach which is praised a lot by foreign tourists…or a famous historical site Phu Quoc Prison. Stay the night at Duong Dong and enjoy the nightlife at the island's town.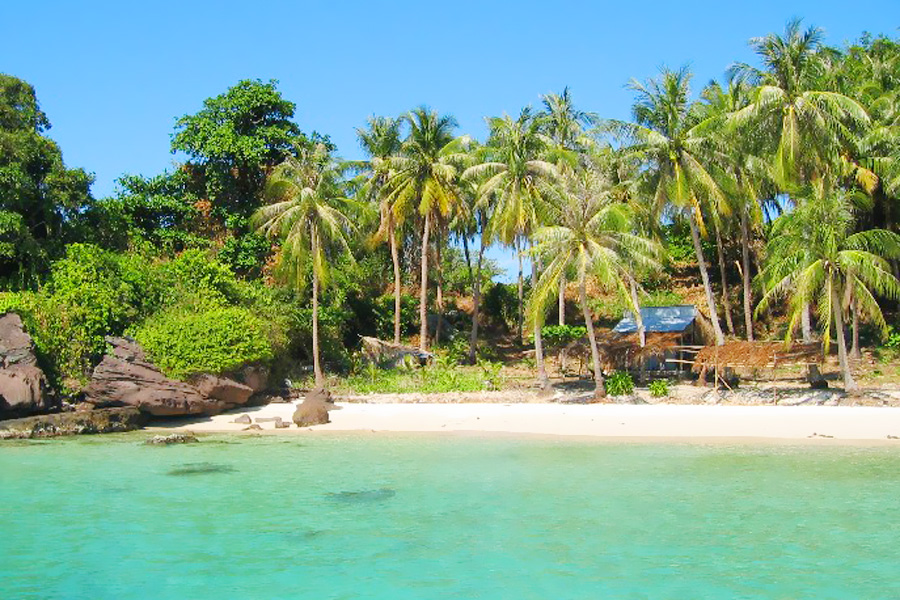 Day 6: Phu Quoc–Rach Gia
Go up the north of the island to trek through Phu Quoc National Park on the east side and Ganh Dau beach on the west side. On the way to Ganh Dau, you can pay a visit to Nguyen Trung Truc temple or if you want real adventure, Han Ninh mount and Table Stone Stream or Tranh Stream.
Return to An Thoi Quay to catch a boat to Ha Tien, you have two choices: if you are tired after the sailing, stay one more night at Ha Tien, but if you are fine, depart for Rach Gia city.
Day 7: Rach Gia – Ca Mau
Rach Gia is not much of a tourism destination. However, you might find the sea encroachment areas interesting. Along the sea, coast are the sidewalks under the green tree canopies. Rach Gia market has a wide range of seafood for you to choose.
You should depart for Ca Mau rather soon because the riding time is at least 3 hours. Stay the night in Ca Mau.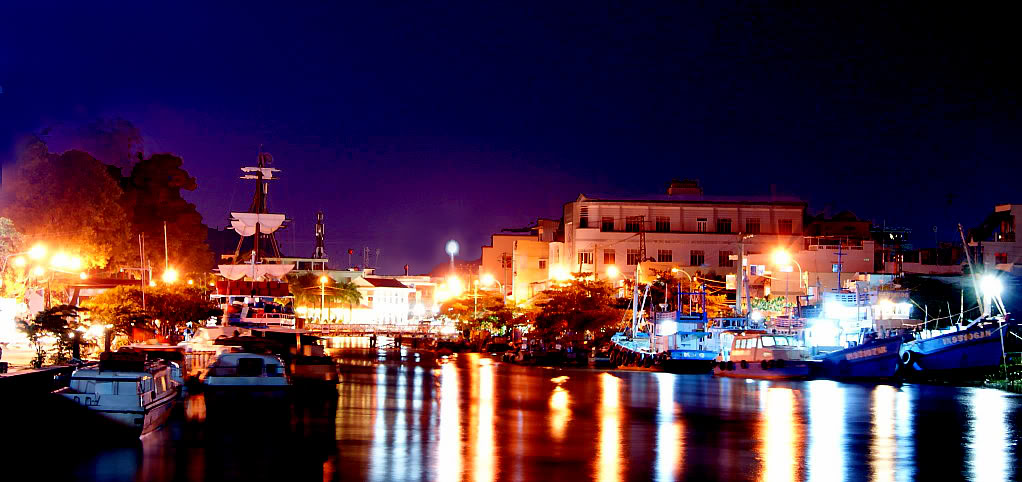 Day 8: Ca Mau 
Ca Mau has many interesting sites to explore. Ca Mau Cape is very famous and attracts many domestic visitors but as for foreigners, if you want to visit the place, you have to arrange a permit from authority departments, the easiest way is through a travel agency but this takes some time. Other great sites in Ca Mau including Silver Stone, Thi Tuong reservoir, Lower U Minh National Park, bird yards….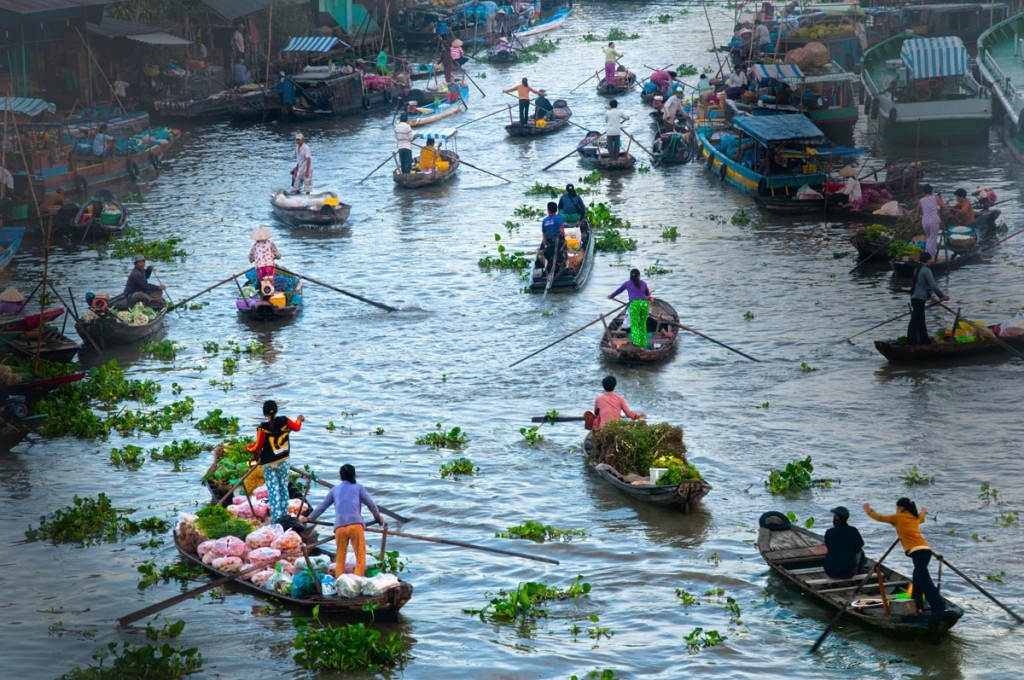 You have to spend a whole day if you want to visit Ca Mau Cape not to mention the other sites. In case you want to visit all the sites at Ca Mau, two days are required.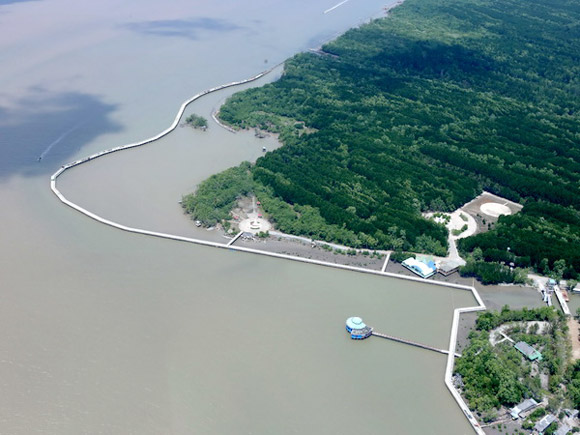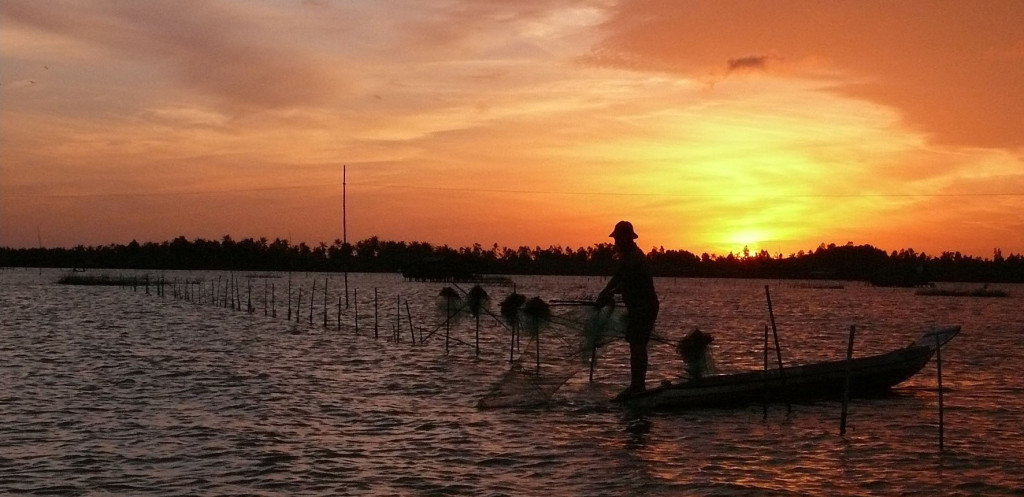 Day 9: Ca Mau – Bac Lieu
Xiem Can Pagoda in Bac Lieu is famous for its gorgeous architecture style and culture values. Phuoc Duc ancient temple is also a great place to visit. Other sites are Bac Lieu bird yard, 100 years old longan garden.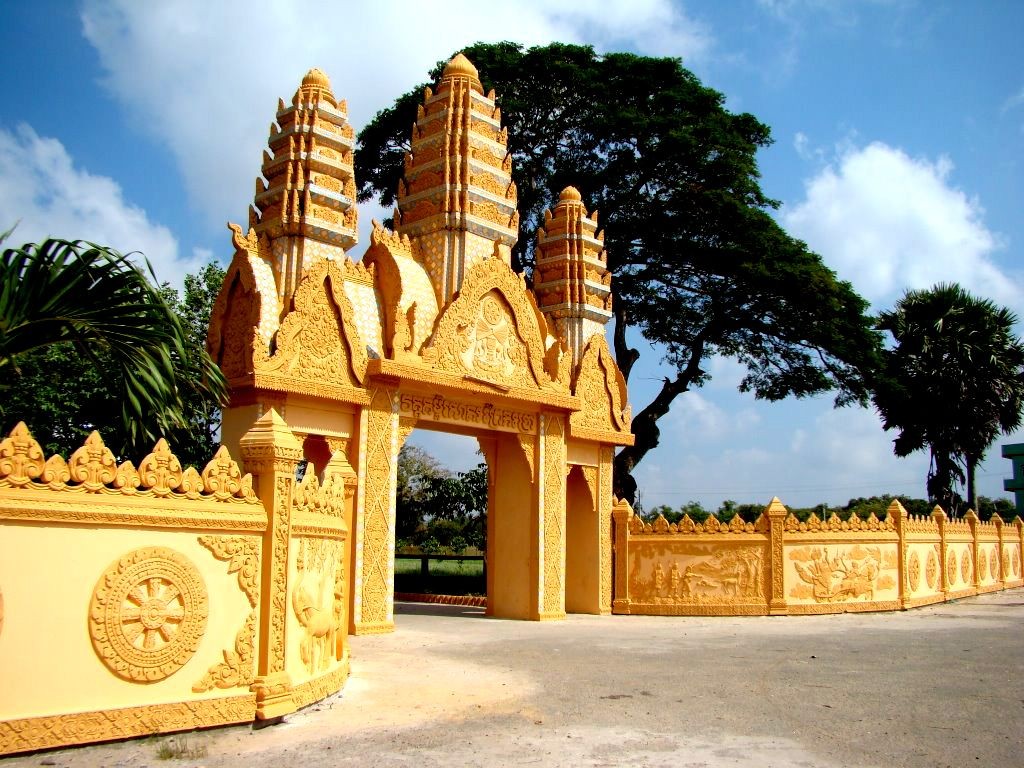 Day 10: Bac Lieu – Soc Trang
Nga Nam floating market in Soc Trang is the busiest floating market among Mekong Delta provinces which is special because it is the point of five rivers which flow into five different it is the convergent directions. Tan Long Stork Garden deserves your visit. Kh'leang Pagoda – the oldest pagoda of Soc Trang and Bat Pagoda – famous for being the living place for thousands of bats can't be missed in your trip.
Stay at Soc Trang before heading to Ben Tre.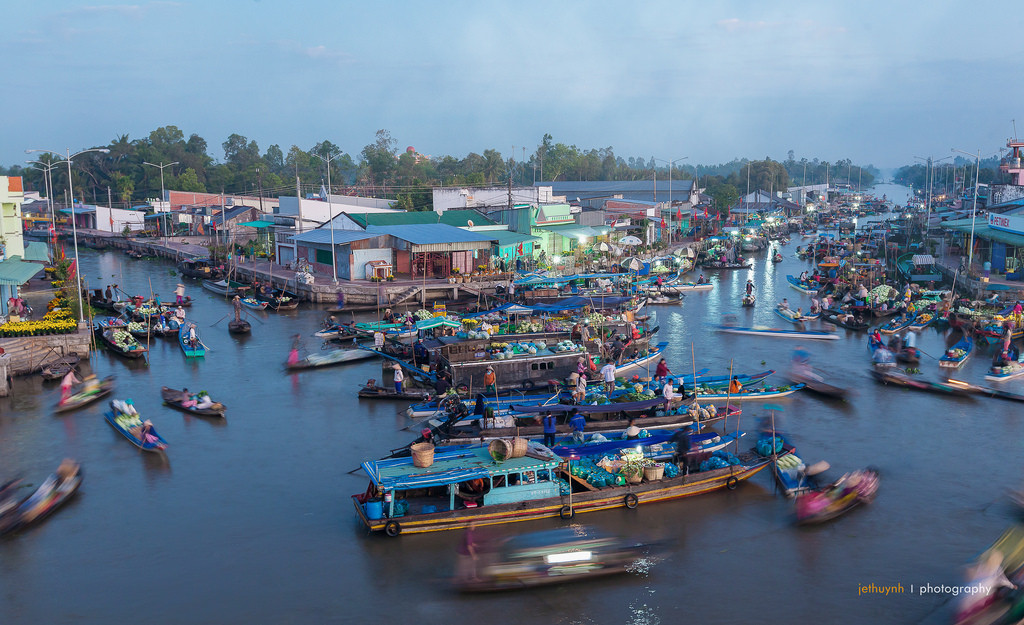 Day 11: Soc Trang – Ben Tre
You can take a boat tour on a hand-rowed sampan, enjoy seasonal fruit & honey tea to the sound of "Southern Vietnamese folk music", performed by locals. Visit a family business which epitomizes the idyllic rural lifestyle, taste the delicious coconut candy and observe the pastoral life as you roam through the fruit plantation and village.
Spend the night at Ben Tre.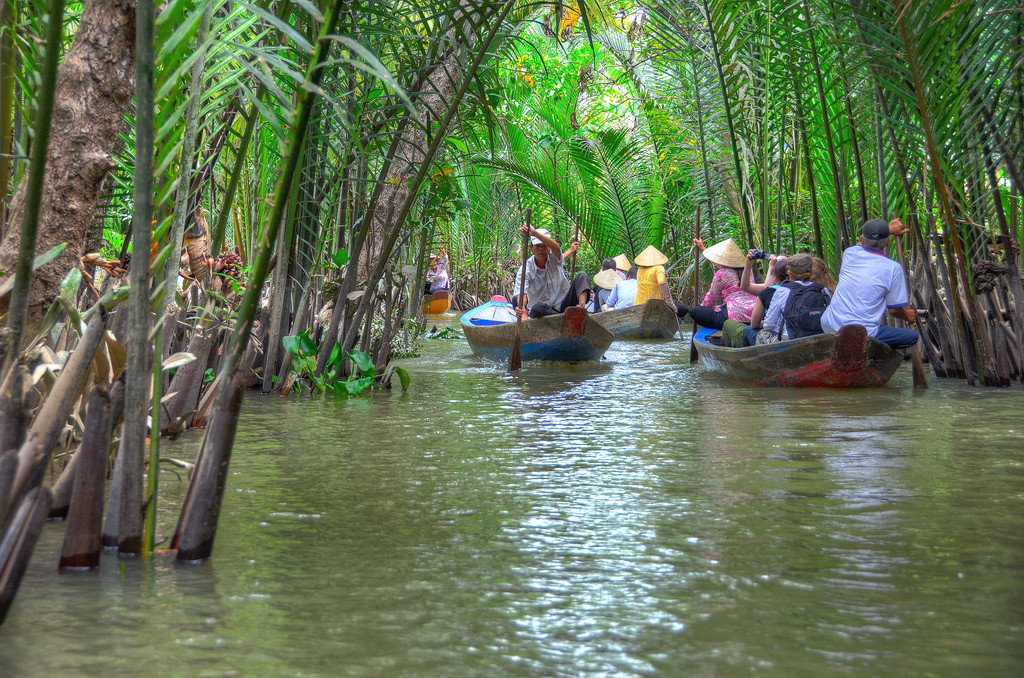 Day 12: Ben Tre – My Tho – Ho Chi Minh
Depart from Ben Tre to Ho Chi Minh city. If you still have time and energy, you should stop at My Tho to visit Vinh Trang pagoda or fishing villages along the river banks.
In the afternoon, arrive at Ho Chi Minh city, finish your trip.