Are you enjoying your time in Vietnam but finding yourself running out of visa validity? If you're looking to extend your stay and explore options beyond the usual visa extension process, you've come to the right place! This article aims to guide you through a popular alternative known as a "Visa Run." So, let's dive in and discover how you can extend your visa while saving time and money.
If you're unfamiliar with the term, a "Visa Run" involves crossing the border to a neighboring country and then returning to your host country with a fresh visa stamp. In the case of Vietnam, many foreigners opt for a visa run to the Moc Bai Border Checkpoint, conveniently located near Ho Chi Minh City. It's a popular choice due to its accessibility by bus, friendly officers, and cost-effective nature.
To make your visa run to Moc Bai a breeze, it's important to be prepared. Here's a checklist to ensure a smooth process: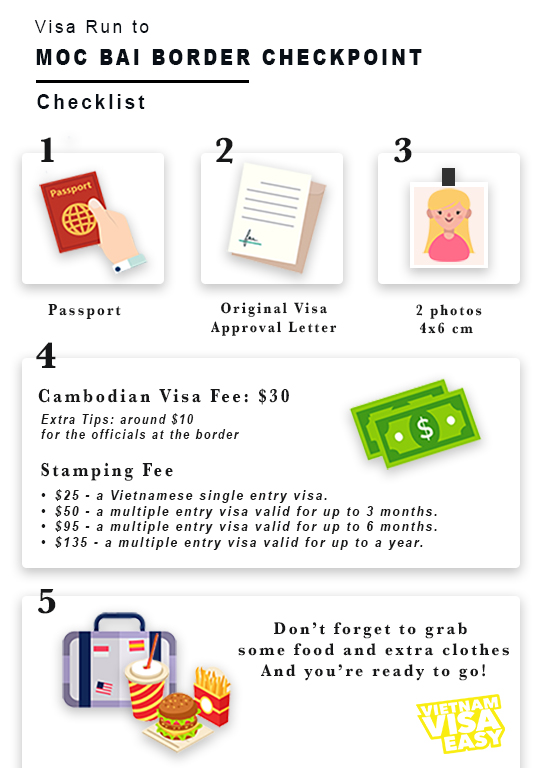 *NOTE:
Obtaining an evisa letter through VietnamVisaEasy is a straightforward process. Simply send a copy of your passport, a portrait photo and your travel date. If you're curious about the charges, you can find more information on the website or WhatsApp at +84 70 554 9868 for instant support.
Depending on your nationality, you may need to check the Cambodia visa requirements before embarking on your visa run. If a visa is necessary, don't worry! Cambodia offers a convenient visa-on-arrival facility at the border.
Now, let's explore how you can make your way to the Moc Bai Border Checkpoint: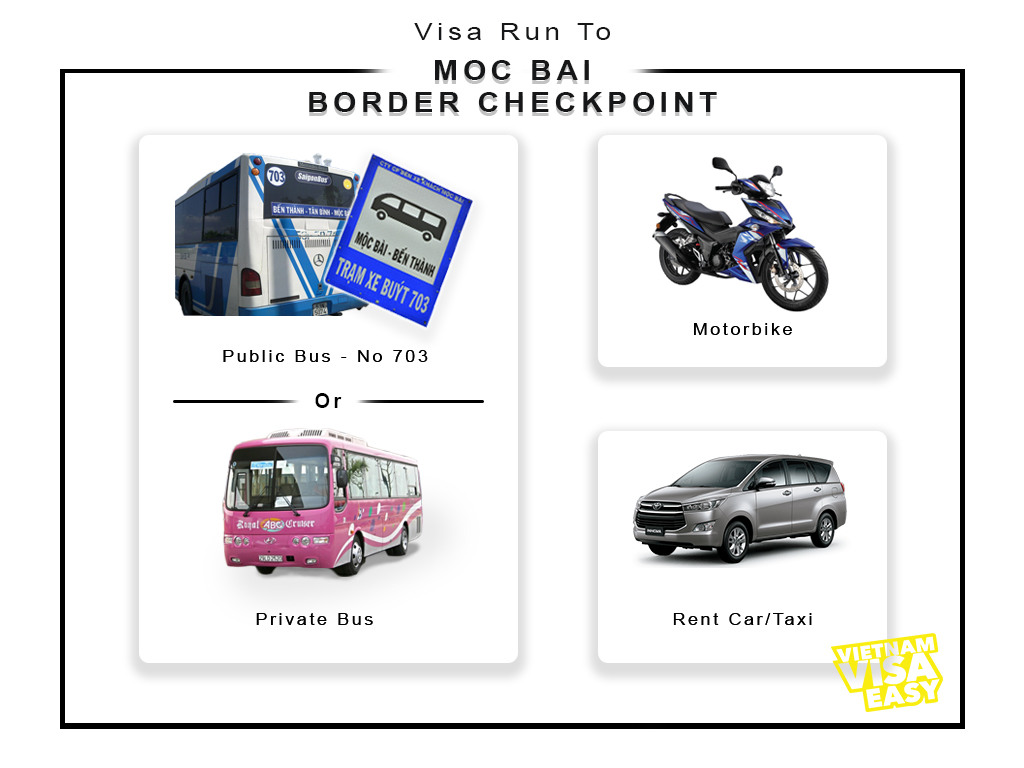 By Bus: Taking a bus is the most popular and economical choice. Buses are well-equipped with air conditioning, and comfortable seats, and even provide food during the journey. Simply catch Bus No. 703 (Ben Thanh – Moc Bai) from the bus station at Park 23/9 in District 1. Tickets cost $2 per person for a one-way trip.
By Motorbike: For those seeking adventure and a budget-friendly option, driving a motorbike is a great choice. Follow National Road 22 (QL22) from Ho Chi Minh City, which leads directly to Moc Bai Border. The journey takes approximately 2 hours, and you can expect to spend around 60,000-100,000 VND on petrol and 10,000 VND for parking.
By Taxi: If convenience is your priority and the cost is not a concern, you can opt for a taxi or car rental service. However, be aware that this option can be quite expensive, similar to the price of a flight ticket.
2. Entry and Exit: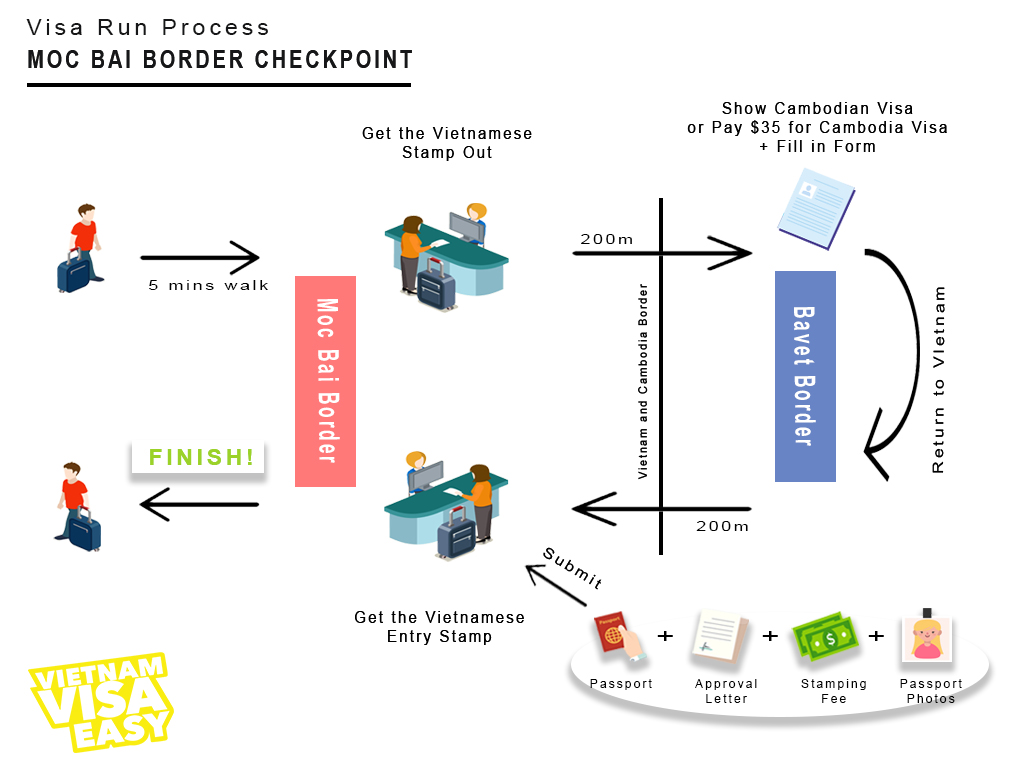 Exit Vietnam – Enter Cambodia
Once you reach the Moc Bai Border, the entry and exit process begins. After parking your motorbike or getting off the bus, you'll walk to the Vietnam Moc Bai Border Gate, which is just a short 5-10 minute walk from the parking lot. Make sure you have all your documents ready to avoid any delays. If you arrived by bus, follow the crowd and wait in line to retrieve your passport from the conductors. Stand in line until you receive the Vietnamese exit stamp.
Next, walk to the Cambodia Border, which is around 200 meters away, to complete the entry procedure. Present your Cambodian visa (if you obtained one in advance) or apply for a Cambodian visa on arrival. Fill out the provided form and pay the Cambodian visa fee of USD 35 if required. If you're from a visa-free country for Cambodia, you'll receive an entry stamp free of charge.
Exit Cambodia – Enter Vietnam
After obtaining the stamp for entry into Cambodia, exit the building and turn left to reach the exit gate, officially placing you inside Cambodia. When leaving Cambodia, you will be asked to pay a service fee by the officials before being allowed to pass. Return to the Vietnam Border for the visa run. Present the evisa letter and your passport to a customs officer in the booth. Within a few minutes, you will receive an entry stamp and your passport back.
Congratulations! You have completed the entire process of obtaining a new visa through a visa run. Now, you can enjoy your journey back to Ho Chi Minh City with a renewed visa. If you have any questions about taking a Vietnam visa run to Moc Bai Border, please feel free to CONTACT US!
Related Post:
March 10th, Covid-19 updates: 34th confirmed cases in Vietnam.
Updating 2020: Vietnam Visa Run to Cambodia.
Vietnam Visa Run to Kuala Lumpur.