Binh Thuan is a South Central Coast province, with a provincial city Phan Thiet which is 200 kilometres away from Ho Chi Minh city in the northeast, 250km from Nha Trang city in the south, 1518km from Hanoi. Binh Thuan has a coastline of 192km from Chet Rock of Ninh Thuan to Binh Chau mudflat of Ba Ria Vung Tau. Mui Ne which is about 20 kilometres away from Phan Thiet City, is one of the most popular tourist destinations in Vietnam.
The terrain is mostly low hills and narrow coastal deltas with 4 main kinds – sandy soils and coast dunes; alluvia plains; hills and mounds; and low mountains. Binh Thuan climate is characterized with equatorial tropical monsoon kind which makes the land very sunny, windy and the driest region of the country. The wet season starts from May to October, dry season from November to April. The average temperature is around 26 degree. The ideal time to visit Binh Thuan is from August to December because the waves and winds at this time are calmer.
How to get there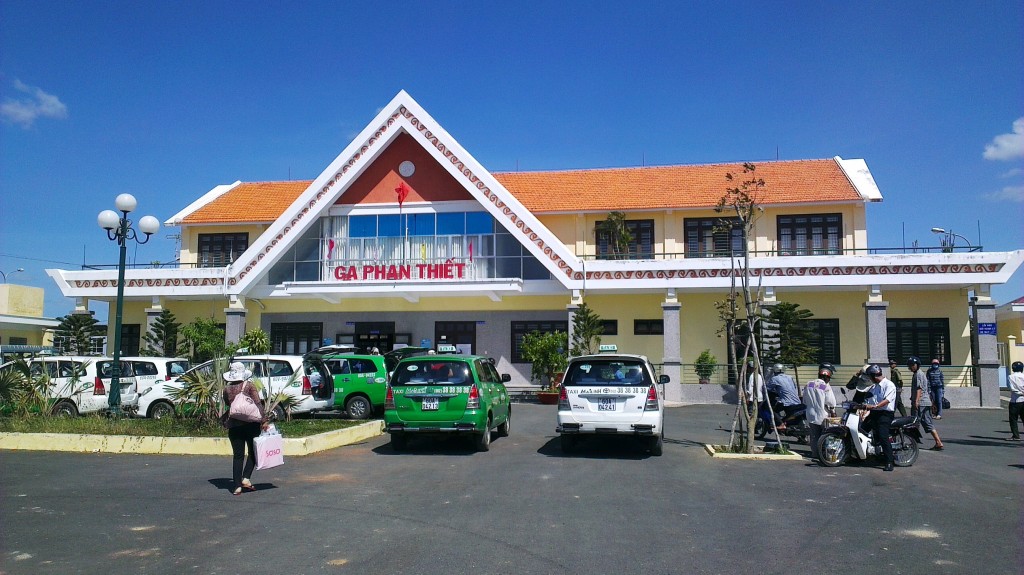 By train: there is a train that starts at Ho Chi Minh to Phan Thiet city every day at 7:05; at weekends, one more train in the afternoon. After the new train's upgrade, the travelling time from Ho Chi Minh from Phan Thiet is lessened to 4 hours. The price ranges from 150,000 VND to 200,000 VND. The freight for scooter and motorbike transit by train is 155,000 VND and 145,000 VND respectively. From Hanoi, the price is varied from 500,000 VND to 1,5mil VND.
By coach: from Hanoi, you can catch straight route to Phan Thiet with Mai Linh express at Nuoc Ngam bus station for 700,000 VND to 800,000 VND; or if you want to save time and energy you should take a flight to Ho Chi Minh or Da Lat then take a bus to Phan Thiet. From Ho Chi Minh, reliable brands are Phuong Trang, Mai Linh, TheSinh Café, Kim Travel… having coaches to Phat Thiet every day. The price is only 85,000 VND per person. From Da Lat, the distance is around 250km and it takes you 5 or 6 hours to reach Phan Thiet city. The price is from 100,000 VND to 250,000 VND.
By plane: From Hanoi, you can take flights to either Cam Ranh (Khanh Hoa), Da Lat, or Ho Chi Minh City then take a bus to Phan Thiet. Da Lat is the closest major tourist destination to Phan Thiet.
Get around Phan Thiet and Binh Thuan
In Phan Thiet, the best way to explore the city is to rent a motorbike at the hotel or hostel you stay, the cost is around 150,000VND per day with no fuel cost included. Or as mentioned, you can bring motorbike to Phan Thiet if you travel by train, but keep in mind that you shouldn't fill the tank full before taking your motorbike to the train.
Another cheap way to explore Binh Thuan is to go by local public bus: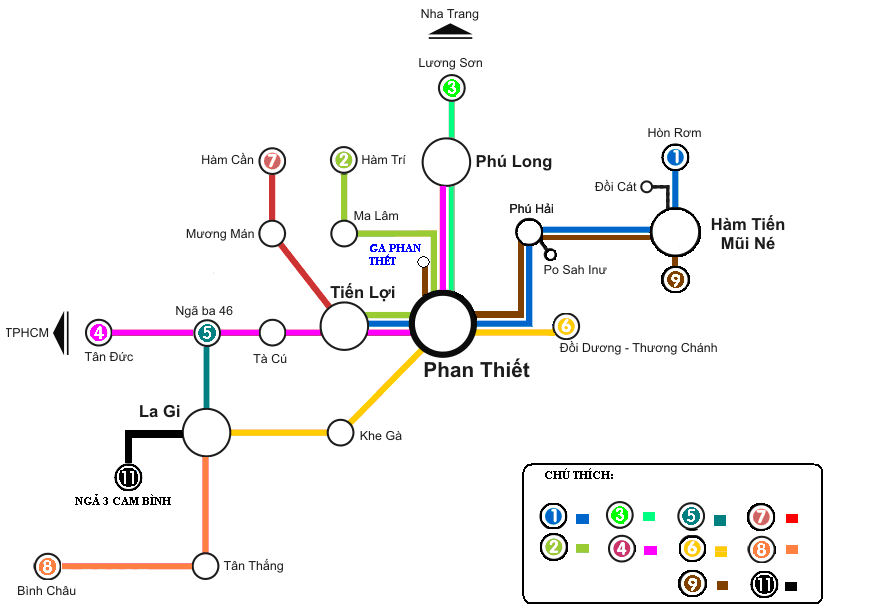 Route 1: Tiến Lợi – Mũi Né – Hòn Rơm – 4000 – 7000 – 10,000VND
Route 2: Tiến Lợi – Ma Lâm – Hàm Trí
Route 3:  Phan Thiết – Phú Long – Ngã ba Gộp – Lương Sơn
Route 4: Tà Cú – Phan Thiết – Phú Long
Route 5: Phan Thiết – Kê Gà – Tân Thành
Route 6: Phan Thiết – Mương Mán – Hàm Cần – 4000/6000/10,000/14,000/18,000 VND
Route 7: La Gi – Tân Hải – Bình Châu (Bà Rịa – Vũng Tàu)
Route 9: Nam Phan Thiết bus station – Trần Quý Cáp –Trường Chinh–Nguyễn Hội –Từ Văn Tư  – Trần Hưng Đạo –Thủ Khoa Huân – Hàm Tiến – Mũi Né – Gành tourist zone – 18,000VND
Route 1 and Route 9 both stop at Mui Ne.
Attractions
Phan Thiet City: along the Ca Ty river banks there are many game centres and restaurants for you to spend your nighttime in the city. Not far from the city centre, Doi Duong beach gently lies facing the beautiful Phan Thiet bay. The sea is calm and the water is blue clear, very suitable for swimming. Duc Thanh school located in the city centre is the school where Ho Chi Minh president was teaching in his twenty (1910) before he crossed the ocean to find the way to release the country from invaders. Ong Pagoda is a largest religious construction of Hoa community in Phan Thiet worshipping Duc Quan De Quan Saint. Van Thuy Tu Palace is built in 1762 to worship God of South Sea or Whale God due to the belief that when the land is hit by fierce storms, the Whale God will shield and protect the people and keep them safe. Phu Hai fishing village is a very interesting place to visit. The village lies on Ba Nai hill foot, close to God of Land's stone with white sandy banks. Also on Ba Nai hill, Po Sah Inư temples stand so solemnly, are relics of ancient Champa kingdom. These temples are 7km away from the city centre, is dedicated to Shiva God and Po Sah Inu princess. Despite the small scale, this construction represents for the glorious and defined architecture and culture of Cham people. Mui Ne or the so-called "foreigner village" attracts many foreign tourists because of its special location and landscapes. This site is known for the blue water, white sandy banks and curvy sand dunes. The sand dunes here change their colours in every hour under the sunlight effects.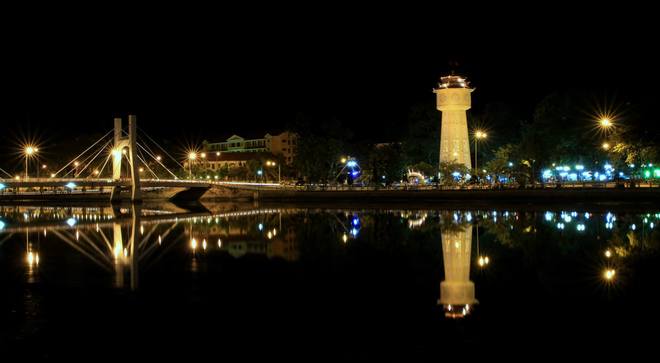 Ke Ga island: located about 50km away from the city centre, is a small, clean and primitive island facing the immense eastern sea. You should travel by motorbike along the coastal highway to enjoy the sea, hot winds and sands of Binh Thuan. On the island lies a 108-year-old lighthouse which was built in French colony time to warn ships out of the danger of the reefs and the traffic in the area. This lighthouse is officially reported as the tallest and oldest of all existing lighthouses not only in Vietnam but also in Southeast Asia. The lighthouse is unique with its French architecture and height of 60m with 183 spiral stone steps. On top of this lighthouse you will witness a spectacular view of the colourful sea and sky in dawn and sunset. Visitors can spend the night on the island to enjoy night fishing time. Especially fishing under the moonlight will be so memorable.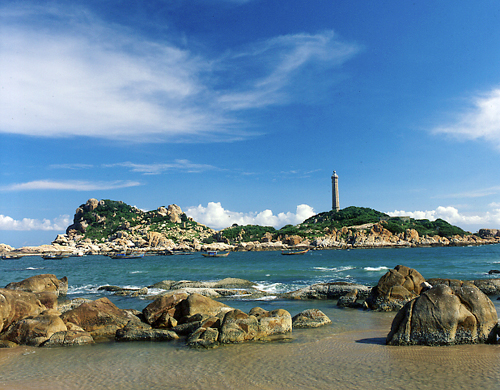 Ta Cu mountain: on the top of Ta Cu mountain lie the lengthiest Buddha white statue in Asia which is 45m long. The peak is measured at 649m above the sea, 28km away from Phan Thiet city. The climbing routes include 2290m-long trekking or by 1600 m-long cable car. There are two pagodas at the height of 563m – Upper Pagoda (Linh Son Truong Tho) and Lower Pagoda (Long Doan). For those who love adventures, you should spend time to visit the Cave of Ancestor lying deep underground for 100m. The cave entrance is narrow; the way that leads inside is both narrow and dark. You must be careful of the slippery stones under your feet. The deeper you reach, the thinner the air is. Near the end of the cave, there is a very clean freshwater stream you can rest here for a while before you get out of the cave after 2 hours of exploring. It is possible if you want to stay overnight on the mountain. The accommodation is acceptable with sufficient facilities.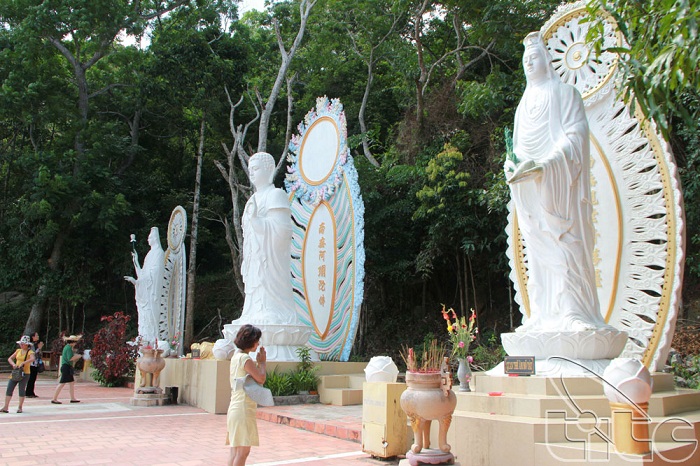 A shared room is around 550,000VND for 12 persons, an extra bed is 30,000VND.
A room equipped with 3 double beds is 350,000VND, an extra bed is 50,000VND. And the 2-double bedroom is priced 250,000VND.
Cable car: A round-trip cable car ticket for an adult is 100,000VND, a one-way ticket is 60,000VND. For children, it's 60,000VND and 40,000VND.
Fishing: 10,000VND per fishing rod (the price is changeable)
Swan water bike pedal boat: 10,000VND per person (changeable)
Electric car tour: adult – 10,000VND/person/tour; children – 5,000VND/person/tour
There are also restaurants both on the mountain and at the foot of the mountain.
Bau Trang: is like an oasis in the middle of the desert. Bau Trang is actually a large freshwater lake located 62km from Phan Thiet city on the northeast. This is the only freshwater lake of Binh Nhon commune. According to the legend, this was a very large lake in the past, local people made a dyke crossed over diving the lake into 2 smaller lakes – a small lake and a big lake. At the time, locals-only call this site "Bau" because in the local accent, "Bau" means lake. In 1867, Nguyen Thong a notoriety and a government's official was passing by this area, enjoyed the beauty of the lake, gave the name "White Lake" (Bach ho); since then, people combined the "Bau" (Lake) in their own accent with "Trang" (White) as the name Nguyen Thong gave. The two lakes are named Bau Ong (Mister Lake) and Bau Ba (Lady Lake). Bau Ba has more water, larger, 19 deep in the wet season. People plant lotus in Bau Ba lake making the scene so beautiful and poetic. The landscape here is quite surreal – white sand dunes embracing the lotus lake like a gentle trait to soften the harshness of the endless deserts. In Bau Trang, visitors can rent boats from locals to go sightseeing or fishing. There isn't much of service in Bau Trang. You can spend 400,000VND to rent a jeep car to go to Bau Trang from Hon Rom or to conquer the sand dunes in the north of the lake.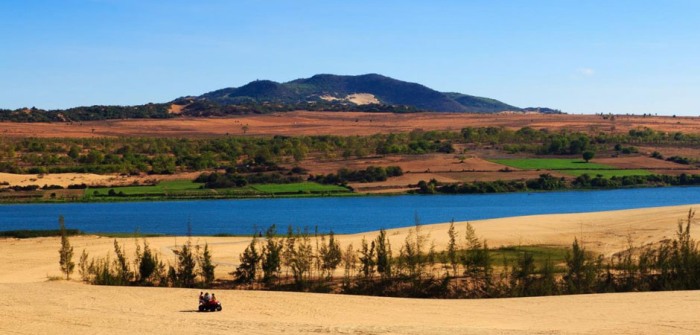 Hon Rom (Straw): is a small mountain which is located just right beside Mui Ne. There is a specie of grass that grows a lot in the mountain. The length of this grass is 0,5m and when the weather is sunny and hot, the grass fields often burned. From afar, people think the mountain just looks like a colossal straw rick so they call the mountain Hon Rom (Straw mountain) ever since. With a serene beauty, Hon Rom beach which is 17km long and with no reefs has become a must-see site of Binh Thuan.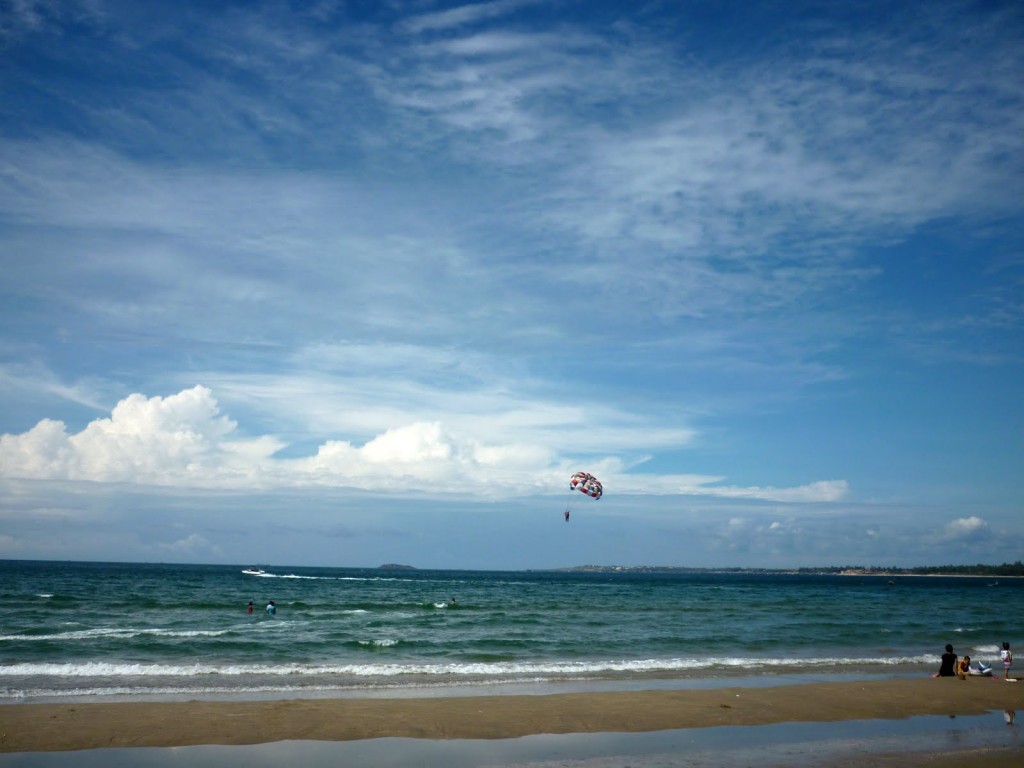 Ghenh island: is 1km from Mui Ne, a new destination for travellers to Binh Thuan. To get to Ghenh island, you can use service from Siva tourist village or take a round-trip boat of fishermen for 200,000VND per boat with a capacity of 10 persons. It only takes you 10 minutes to the island. The water here is so clear that you can see the coral reefs from the beach. There are rocks lying around the mountain, to reach the top, you must conquer them. On mountain top, a magnificent view of sea, sky and land lying there waiting for you. If you have time, fishing in the morning is something you should try. You might catch big fishes in this sea area.
Cu Lao Cau island: this remote island often is referred to as a blue paradise of Binh Thuan. Cu Lao Cau is about 110km from the city centre, 1500m long and 700m wide. Come to Cu Lao Cau, you will enjoy the purest and clearest water, a wild shore with a unique rock setting. Yen Cave is the living place of hundreds of canary birds. Three-stone cave is so special when the cave is made by 3 huge stones only. Activities on the island include swimming, diving to see coral reefs, fishing, and camping.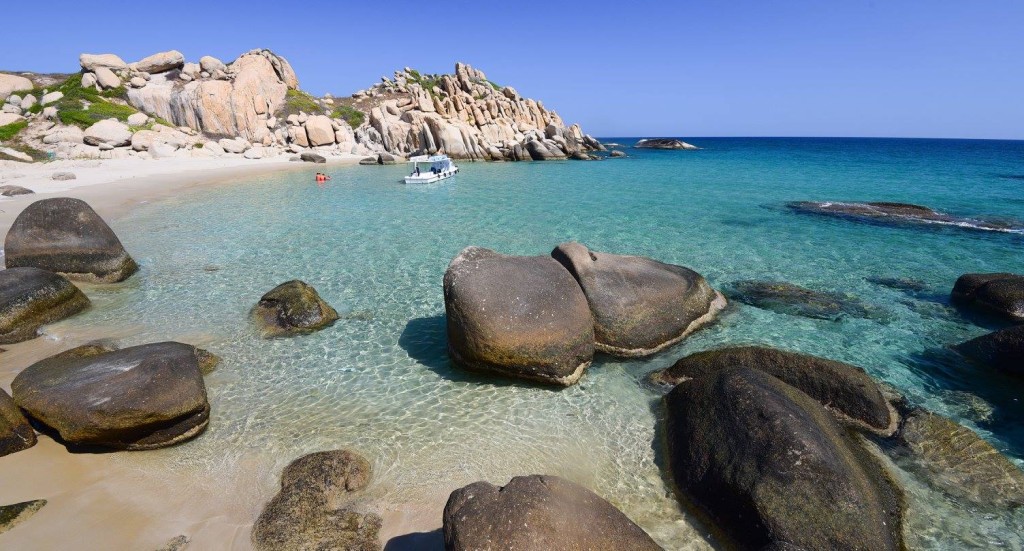 Mui Ne: In nowhere else you can find the sea that blue and the sand that white (and red). Sand-sledding at Doi Hong (Red Sands Dunes) and Bau Trang (White Sands Dunes) is a common activity. It cost 15,000VND-20,000VND to rent a sledge. An annoying thing here is the pickpocketing, so beware and do not hand over your things to anyone. Mui Ne beach is a great place for swimming and other water sports and activities, famous for kitesurfing. The water here is warm, blue-coloured and the sandy shore is quite clean and white. The wind waves are perfect for any kind of surfing. Not far from Mui Ne town is the Fairy Stream with unbelievable sight of scenery. Other beaches nearby are also worth your visits such as Suoi Nuoc or Hon Rom.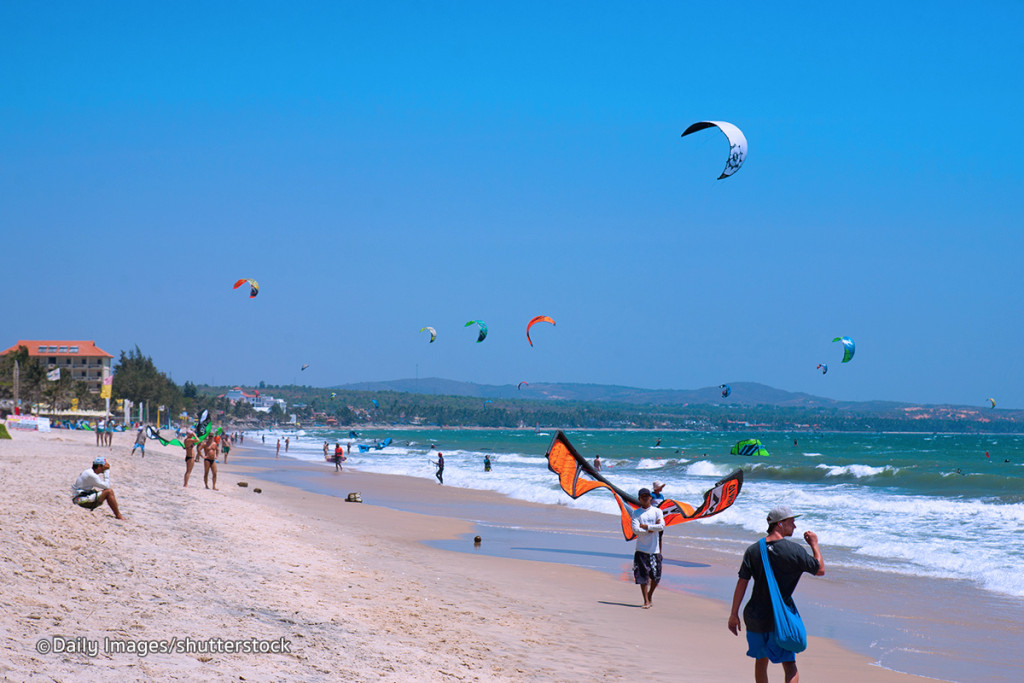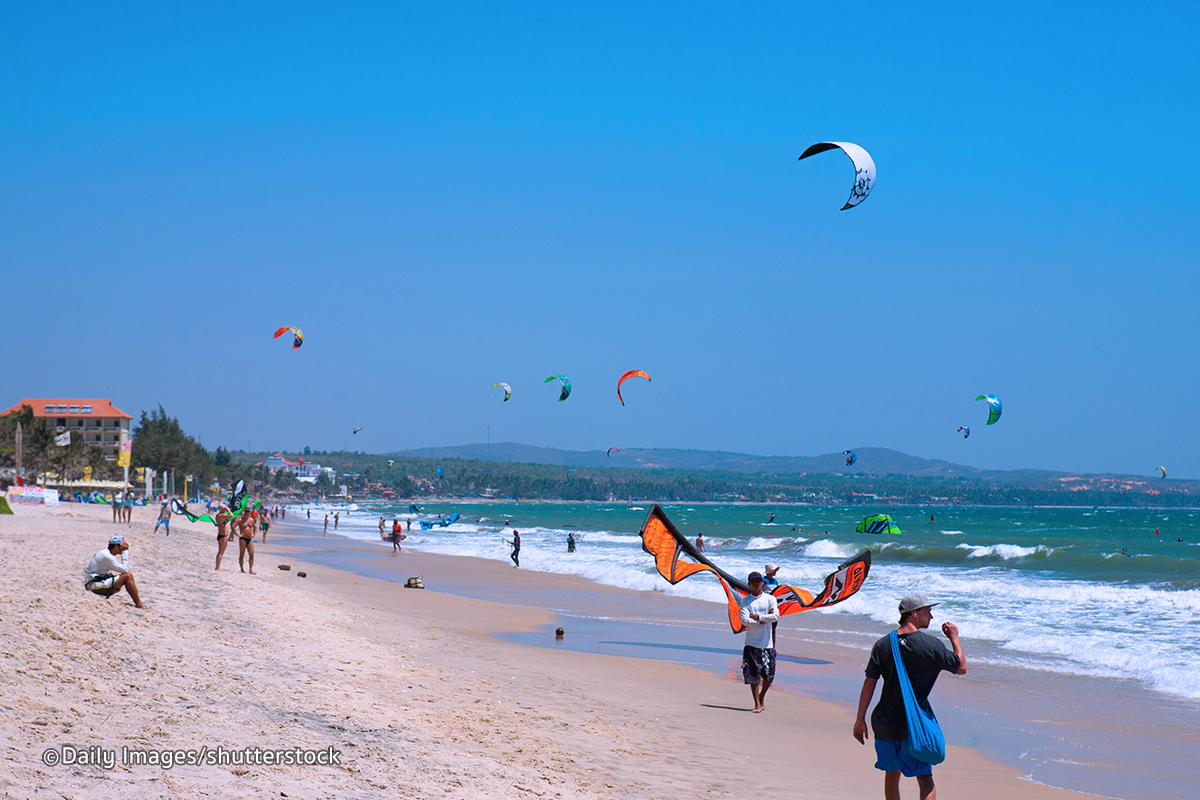 Festivals
Dinh Thay Thim Temple's festival: takes place in 15th and 16th September lunar calendar yearly in Dinh Thay temple, about 70km from Phan Thiet.
Cau Yen Festival of Cham people: is the traditional festival of Cham people which takes place every first month of the year according to Cham calendar, in Cham Ba Ni people's villages. The festival's meaning is for people to chase away the bad and unlucky things of the previous year. They dance and sing to their traditional folklore songs. There is also a game like a boat racing.
Nghinh Ong Festival: this is a common festival of many provinces in central and south coastal regions. Fishermen have a custom of whale worshipping and each year the festival takes place to pray for a year of safety, peace and wealth from the sea. Nghinh Ong is the biggest water festival in Vietnam and recognized as National Intangible Cultural Heritage. In Binh Thuan, this festival is held in July lunar calendar.
Boat racing festival on Ca Ty river: happens in the second day of every new lunar year. The boats are decorated colourfully with flags, flowers and banners come from all the districts of Binh Thuan. Local people will stand on the banks of the river to cheer for the racers. This festival is an activity to welcome a new year in Binh Thuan and a very common custom in coastal regions.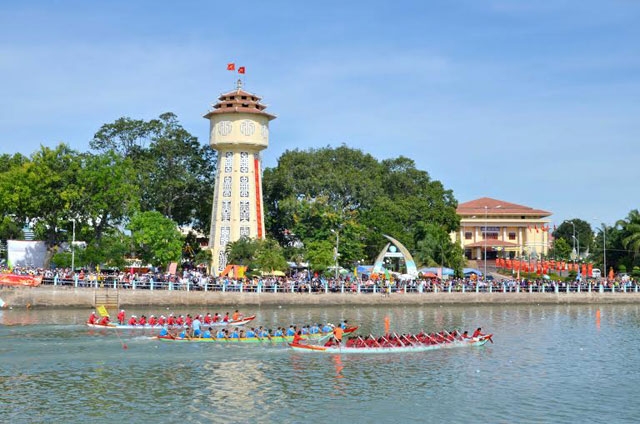 Foods
Banh Canh Cha Ca: Cha ca (fish meatballs) is fried with oil until brown eaten with rice noodles. The fragrant and sweet broth is made from the fishes of Phan Thiet sea. This dish is served with green onions and herbs.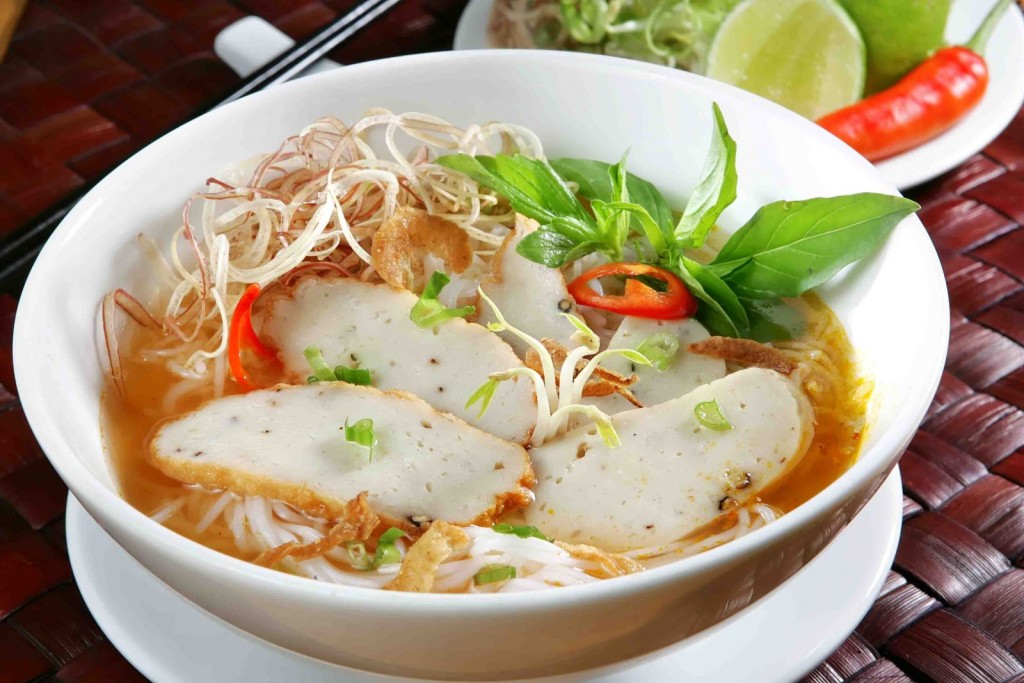 Can Cake: The rice cakes are made by grilling on a pottery mould. Eggs, oil and green onions are put onto the cake. This dish isn't served with herbs like other cakes in Vietnam but with sliced green mango, cucumber, onion and sauce.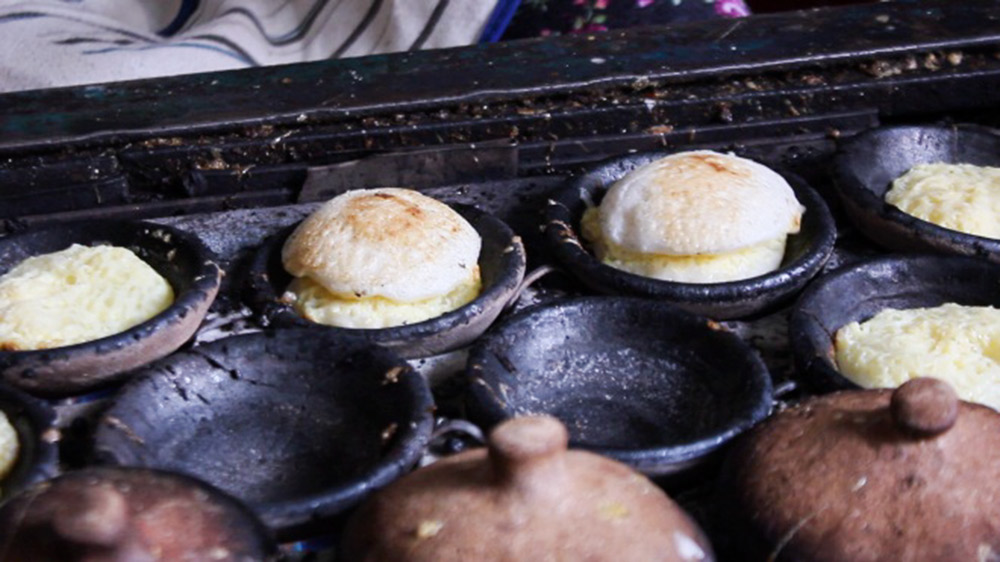 Grilled rice cake with shrimp sauce: this is a very common dish in Binh Thuan. Quail eggs, chicken meat, or fermented pork, pork roll green onion, oil are placed on a rice paper. The shrimp sauce is put on the meat and eggs. Take the whole paper and put it on a wood fire. Use a pair of chopsticks to roll the rice paper while grilling it until it's crispy and brown. The dish is served with sauce or chilli sauce.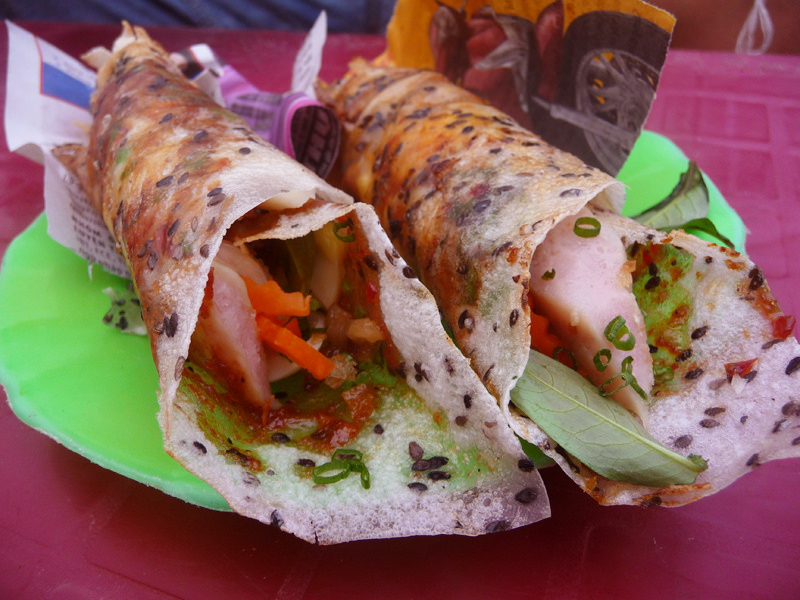 Thu Khoa Huan and Tuyen Quang are two streets where you can find a lot of Phan Thiet's delicacies.