Out of over two thousands of islands along the coast of Vietnam, a handful of them have great potentials to develop tourism, yet only some of those foreign tourists can visit without a permit.
Vietnam government is little too serious about security even in most recent years. There is a military post in almost all big island, inhabited or uninhabited. Vietnamese citizens are free to visit most of the island; with sensitively located islands they only have to inform the border guards their presence, the duration of stay. Meanwhile, foreign travellers have to get a permit in advance from the provincial administration. When you arrive at one of these islands, border guards will check for this document, yet due to several reasons revolved in the decision-making process, you still might get to turn back to the mainland.
Islands in Vietnam are famous for their natural beauty with blue beaches, clean air and delicious seafood. The distance from the mainland makes the islands great getaways in the summertime. However, holiday overload happened with famous islands too often causes inconveniences in many aspects such as transportation, tourist services and general security.
Cat Ba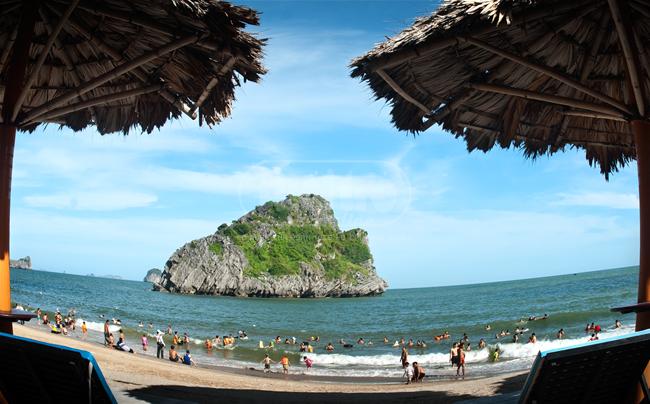 Cat Ba is the largest island in North Vietnam and also has been developing tourism for a long time. Therefore this island is open for all visitors, both domestic and foreign. All you need to do is buying a high-speed boat ticket at Ben Binh wharf and it will take about 50 minutes to get to the island. Boats run every day, available both in the morning and in the afternoon. From Hanoi, it's very easy to buy a combo ticket (bus-boat-bus) with Hoang Long bus company. You pay $13 at the bus station in Hanoi and they will drop you on the main street in Cat Ba after 5 hours of travel time.
Because Cat Ba is a tourist island, there are so many choices for you on accommodation, restaurants and services. Yet it can be so confusing and make you disoriented. We suggest you book everything in advance and don't forget to confirm prices with them.
Cat Ba has plenty things to do:
Cat Co 1,2,3 beaches are better than most of the beaches in North Vietnam. Cat Co 1 and 2 are close to each other and are always crowded in peak season. Cat Co 3 is a bit further but clean and obviously less stuffed.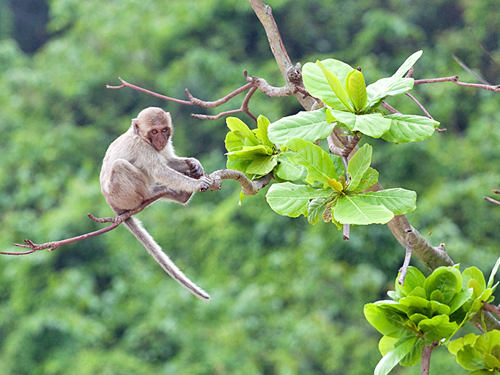 Lan Ha bay and Monkey island are great places to discover. A kayaking tour around the bay is the best way to enjoy the stunning scenery of the green limestone islands filled bay, together with the hidden caves, unspoiled beaches, lagoons and floating fishing villages. Monkey island or Pineapple island has plenty of both monkeys and wide pineapple trees. Tourist can see the money and feed them too but do not disturb or try to force them in any way. The beach on the island is pristine and quite clean. There is a trail to get on the top of the island, you might have the chance to see monkeys on the way.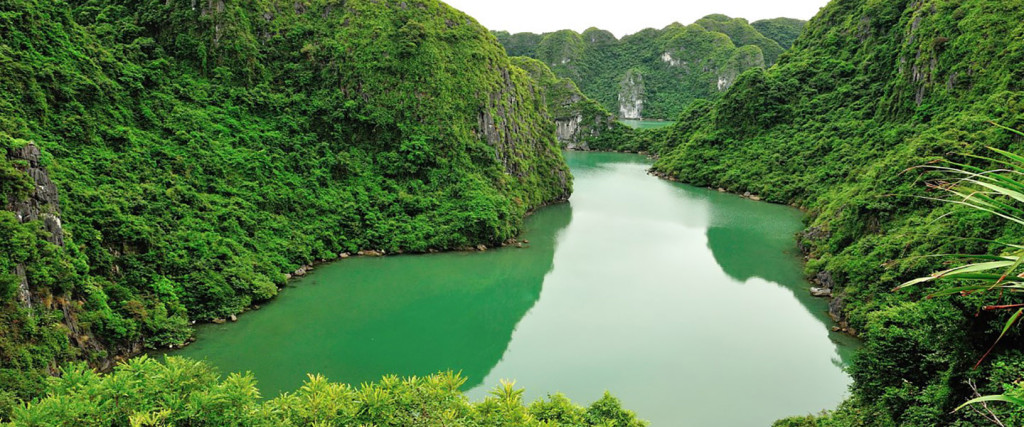 If you are a trekker, don't wait to check out Cat Ba National Park – home to 32 kinds of mammals and 70 bird species, subtropical evergreen forests, freshwater lakes and streams, coral reefs and mangroves. The admission is only 40,000VND and you can even ride a motorbike into the park. Don't miss Ao Ech (Frog Lake) – a small paradise in the middle of a mountain. There are two trails to follow – both take about 2 – 3 hours. Yet you might not see the renowned Golden-headed Langurs because they tend to move deep in the forest when humans are present. The best way to see them is to take a kayaking tour around islands. The trail from the park to Viet Hai village is the one that is frequently preferred by foreign tourists.
Co To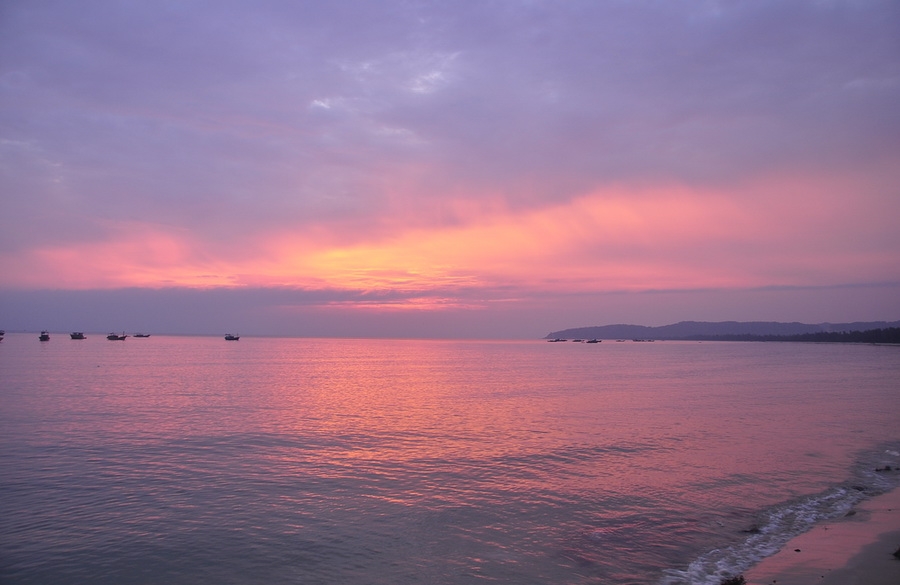 Co To archipelago of Quang Ninh province is one of the most beautiful islands in North Vietnam, given that Quang Ninh has so many islands and thousands of islets. Located 22 kilometres away from land, a journey to Co To by speedboat takes from one hour – 90 minutes; you'll be more exhausted on windy days. Slower boats take 3 hours to get to the island but the price is surely cheaper. There are at least three companies have boats running all days from Cai Rong wharf (Van Don, Quang Ninh).
Summer is the best time to visit Co To. April and May are the best months when it's sunny enough and fewer storms than other months. Boats might not depart in bad weather condition.
Co To lighthouse built in late 19th century, reached a height of 16 meters above the ground, would make a wonderful viewpoint of the island and the Tonkin bay. To get to the top of this lighthouse you'll have to climb 72 spiral steps but the view is rewarding.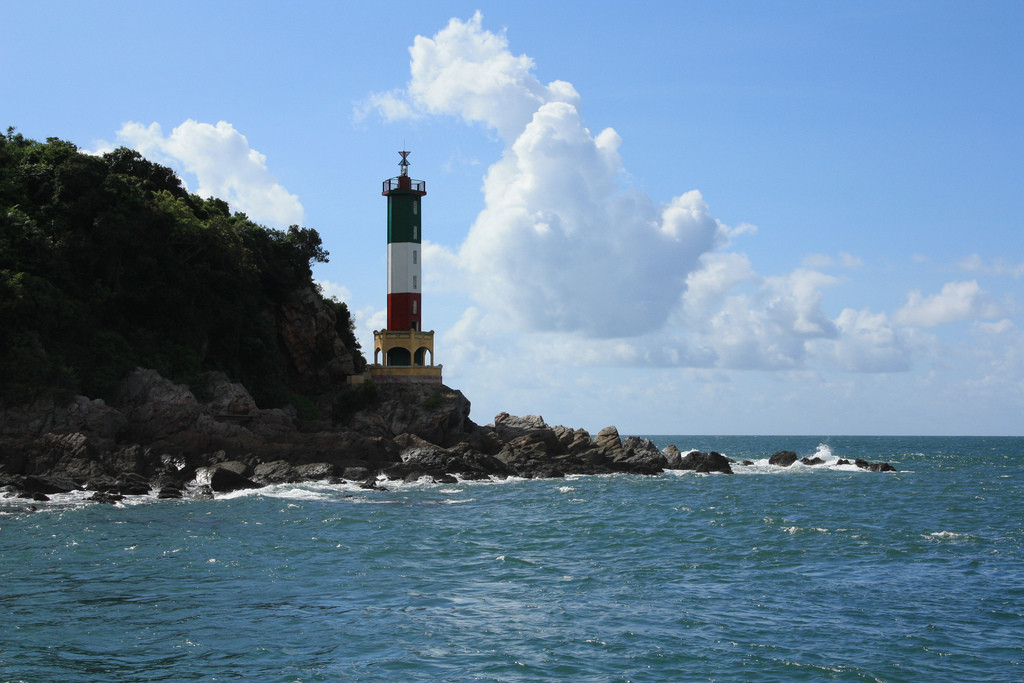 Cau My Stone is claimed to be a masterpiece of nature – a huge sedimentary rock which has been eroding over thousands of year, creating a unique rock structure and very different with another island in Vietnam. Under sunlight, the rock layers turn into a spectrum of colours.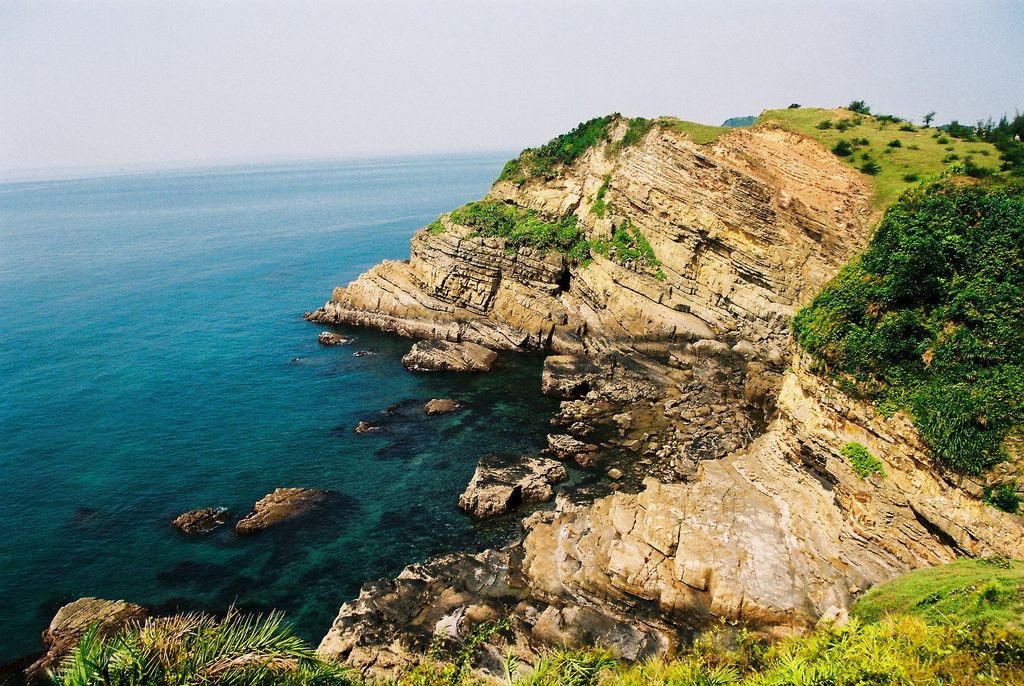 The beaches in Co To are considered the most beautiful ones in the north. Hong Van and Van Chai are the two beaches you can't miss once you visit Co To. Hong Van has small waves and is much calmer since Thanh Lan island standing nearly the beach blocks out the winds. Therefore this beach is especially safe for swimming, most suitable for children. On the west of the island, Van Chai beach stretches its shore along the crescent curve of the land. Together with Love beach, Van Chai is a perfect place to watch the sunset.
It probably takes you 2 days at least to see all of Co To, including Small Co To island, Road of Love, Bac Van beach…
Ly Son
Ly Son has long been the most famous island for tourists in the central part of Vietnam which is located on the sea of Quang Ngai province, covers an area of 9,97km sq. The island has three prominent craters, among which the largest is Mount Thoi Loi, five mountains in total that are the remnants of volcanic eruptions.
Best time to visit: June – September are the best months to visit Ly Son. The weather is just right for swimming.
To get to Ly Son, you will have to get to Quang Ngai first. From Hanoi and HCMC, plane, train and bus are all available. By flying, the planes only get you to Chu Lai airport (Quang Nam) which is the nearest airport to Quang Ngai.
From Quang Ngai, you can buy a boat ticket at Sa Ky port. Boats to Ly Son depart at the time between 7:30 and 8:00, tickets selling from 6:30 in the morning. One boat departs in the afternoon. One ticket costs VND220,000, you'll need to show your personal information (ID number, full name, DOB…)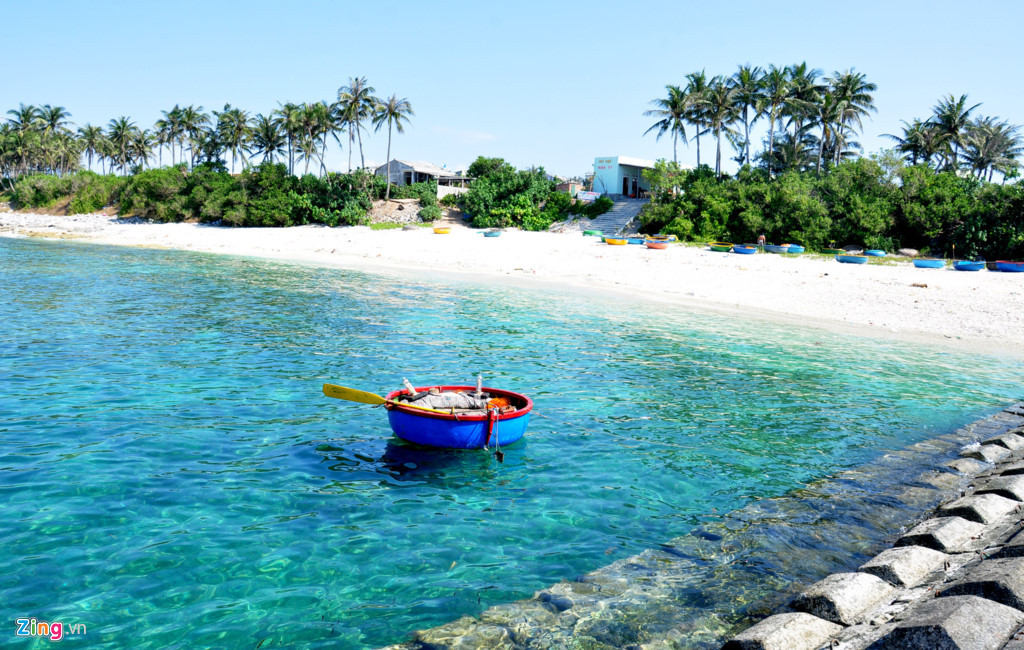 There is one thing to notice that tours in Ly Son also include Little Island which has incredible blue and clean beaches and is located only 8 knots away from the main island. Activities: swimming, snorkelling, diving, caving and camping….
Mount Thoi Loi is the highest peak on the island, formed by an extinct volcano. A freshwater lake on the top of the island sufficiently supplies water for both main and little islands. The view on the top of the mountain is vast, stunning and grandiose.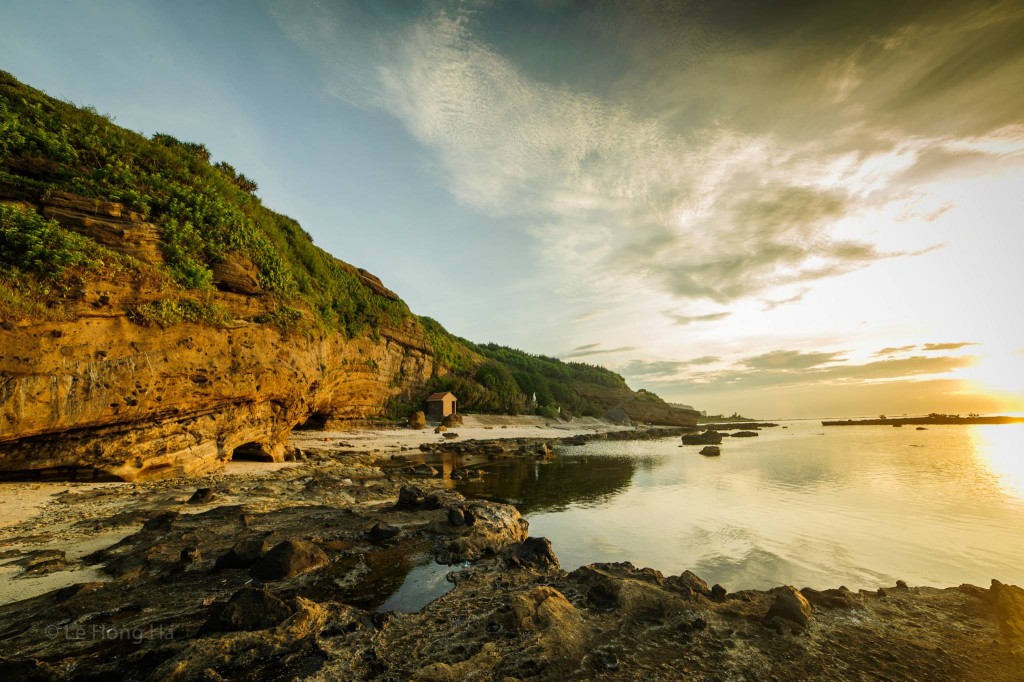 Cau cave is located at the foot of Mount Thoi Loi, worth visiting for its stunning lava rock structure. While having the mountain foot as its back, the cave's opening turns to the beachfront, completing a unique mountain-cave-beach complex. Right at the shore, you can see a lot of flat rock reefs being covered in green moss blankets. Seawater is blue and clear to the point you can see the fishes, rocks and coral reefs under the surface 5 meters.
Hon Mu Cu, Duc Pagoda, Shrine of Ghosts, To Vo Arch and the island's market are also must-see spots on the island. There are detail instructions on the location of each place and how to get to them.
See more of Ly Son here.
Nha Trang bay's islands
Nha Trang is one of the most famous destinations in Vietnam with its renowned blue beaches. Nha Trang is no doubt very open to tourism, not only the beaches inland are managed in good condition but the islands in Nha Trang Bay are also accessible for foreigners permit-free.
Tourists often buy a shared package tour to three or four islands around the bay, so permit for access is unrequited. Tour price for each person is also quite cheap, only from VND200,000 to VND300,000. However, if you don't buy a tour from tour companies, you will have to buy a two-way canoe ticket which can be very expensive.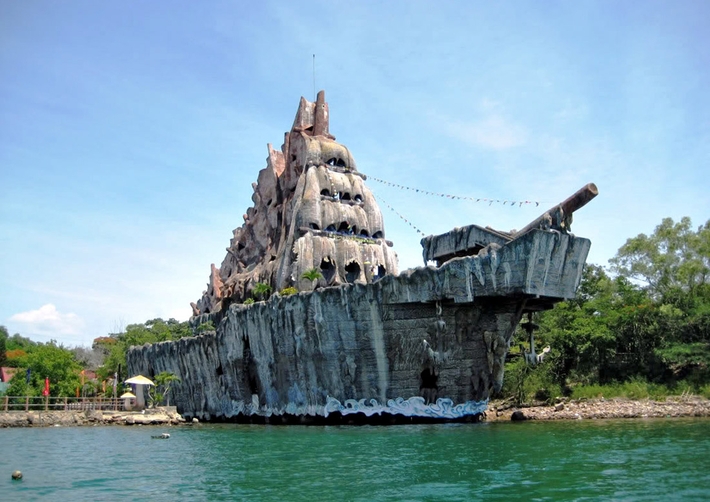 Mieu Island: by motorboat, you will get to Mieu Island in 20 minutes. Tri Nguyen Aquarium in the shape of a huge rusty sailing ship is a house to many species of marine creatures, especially the coral farmed in the ocean. The aquarium is divided into indoor and outdoor areas. The indoor part consists of three floors: the glass tunnel where you can clearly see many marine creatures. Floor 2 and 3 are places for visitors to buy souvenir items and seafood restaurants. The outdoor part has ocean farms of mackerel, tuna, rays…hiding between the coral reefs. Bai Soi and Bai Tranh are ideal for swimming and snorkelling.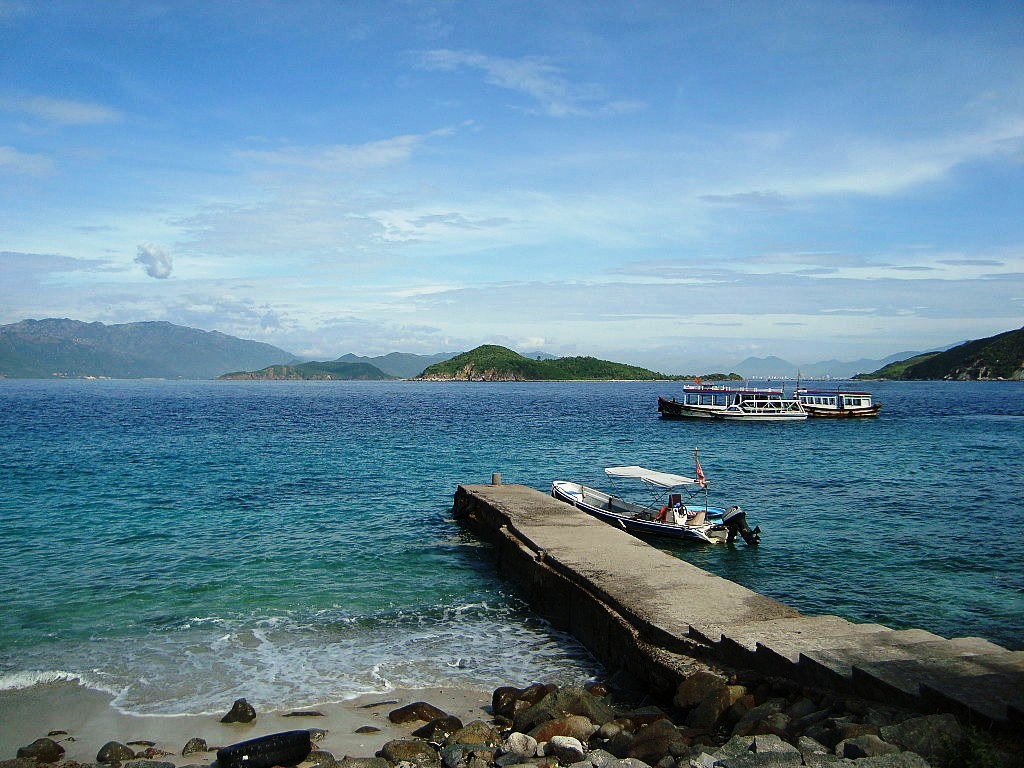 Mun Island: one of the most beautiful islands in Nha Trang Bay. Many water activities you can find here like snorkelling, swimming, diving, watching coral reefs on glass-bottom boats…. The coral reefs here are colourful and Hon Mun is considered as the best spot to enjoy the sights of corals. Indeed Hon Mun is also the core of the very first Sea Reservation Zone established in Vietnam.
Tam Island must be the second touristic island in the whole complex after Tre island. Hon Tam is about 7 kilometres away from Nha Trang city on the Southeast. Boats to this island are available at Hon Tam Jetty, you can hire one for yourself or buy a tour to the island which costs VND600,000 with a lunch buffet, or VND220,000 without lunch buffet. There are a lot of entertainments for you to enjoy like kayaking, flyboarding or parasailing….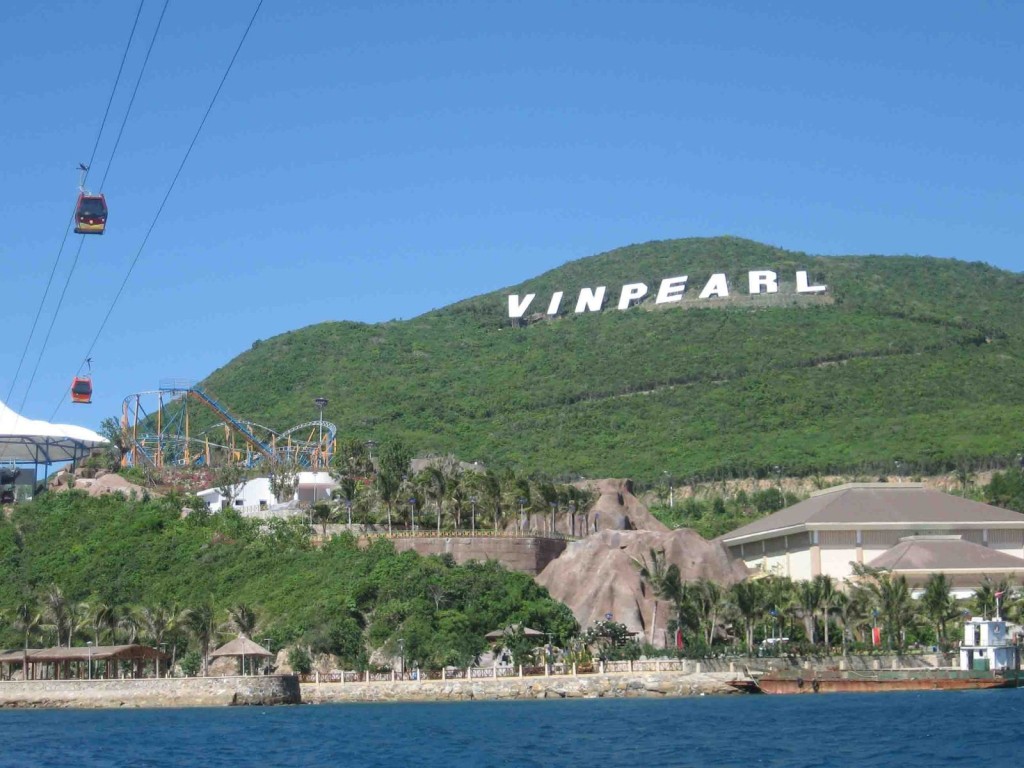 Tre Island is the biggest island of Nha Trang bay. Covering a total area of 32.5 kilometres square, located about 5 kilometres away from Nha Trang city on the east. Tre island is the place where the famous Vinpearl Park and Resort belongs to. So you can come to Tre island by two way: by boat or by cable car. There are two main parts of the island:
Vung Me – Bai Tru – Dam Gia – Bai Ran: Vinpearl Land park and resort area, Hon Tre cultural park and Bai Soi ecotourism area.
Dam Bay: a marine ecosystem tourism complex is being developed here. The colourful coral reefs are boosting the diving service while Dam Bay ecotourism village bringing fresh air to the whole picture of the tourism industry on Tre island.
Water Sports and Activities in Nha Trang
Phu Quoc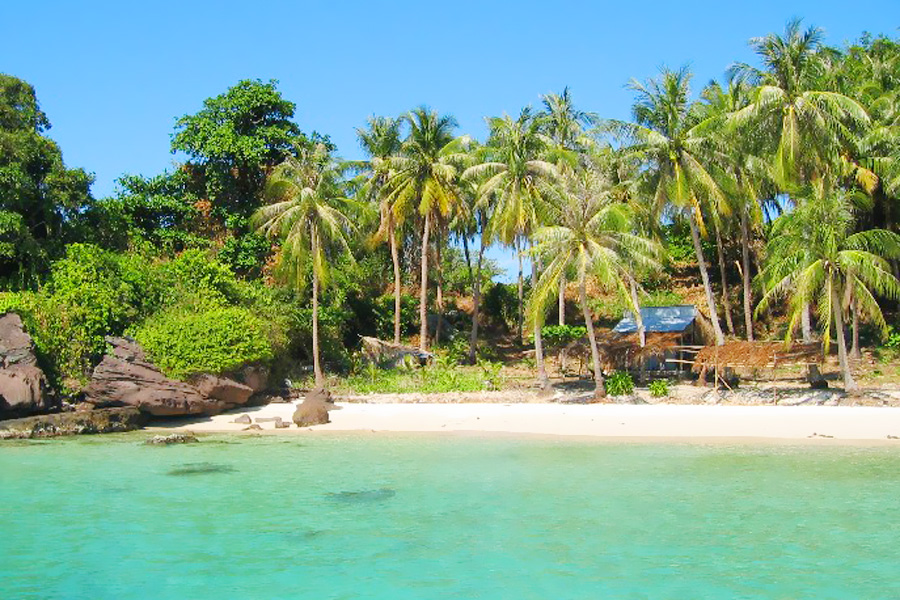 Phu Quoc must be the most open-to-access island, has most supportive facilities for tourism activities in Vietnam. The island offers many things to enjoy from natural wonders to historical and cultural charms. Phu Quoc also is the only place in the country that offers a 30-day visa-free exemption for all nationalities.
Best time to visit: you can visit the island almost year-round. In each season you can expect something different here.
November – April: the dry season (also peak season). What to do: watch sunsets, swimming, snorkelling and diving.
May – October: wet season (also off-season). What to do: explore the national park (hiking, trekking), picnic time at waterfalls and remote beaches.
How to get there: by air and by sea.
By air: 177 flights of 4 airlines available every week from HCMC, Hanoi, Can Tho, Singapore and Siem Reap.
By ferry/speed boat: boats or ferry to Phu Quoc from Ha Tien or Rach Gia (>= 2 and a half hours).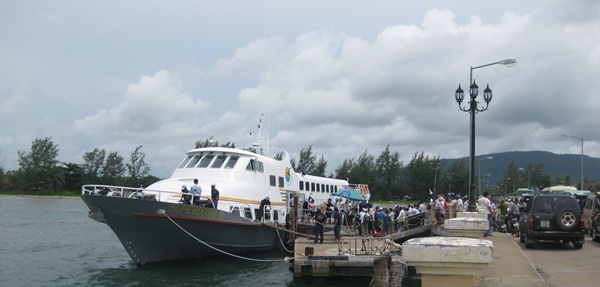 Of course, the beaches will be what we talk first about Phu Quoc because they are mainly what people come to Phu Quoc for. Many travel magazines have praised the beauty of Phu Quoc's beaches, so we just want to keep it simple. Many beaches in Phu Quoc have their white sandy shore embellished by rows of coconut or casuarinas trees. Seas are limpid and turquoise blue, suitable for all kinds of water activities in summer. Even though the main beaches such as Long Beach, Sao Beach and Khem beach with full of tourism facilities are convenient to stay at, Phu Quoc still has many other beaches which are untouched and boast immense beauty like Ganh Dau, Ong Lang, Trang beach.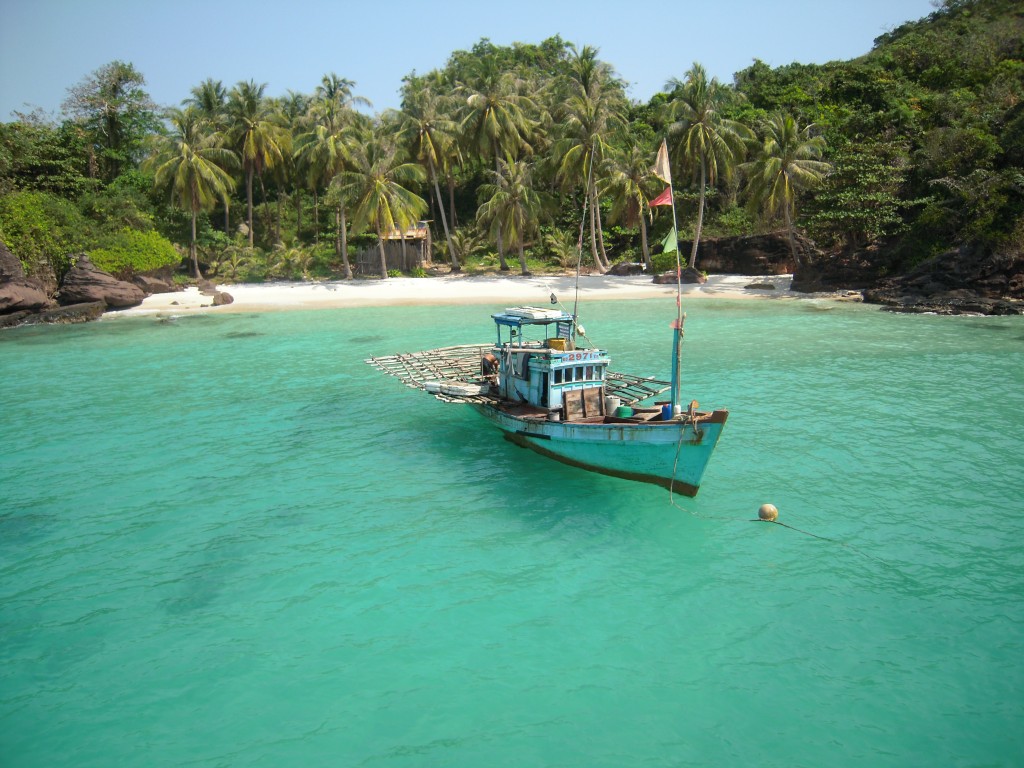 Phu Quoc National Park might not be what you come to Phu Quoc for but it will be your favourite part of this island. Established in 1993, the park covers over half of the island, including both terrestrial and marine sections. The park's biodiversity importance has been recognized by UNESCO. There are over one thousands species of plants and at least 8 types of the forest; a large number of animals of which 200 species are vertebrates, 28 mammals, 11 birds…. Given all the facts, Phu Quoc National park is a perfect place for hiking, trekking and wildlife spotting. Three main trails to explore:
Bai Thom – Duong Dong Highway near Bai Thom village
K7 road between Rach Tram Beach and Thom Village
Ham Ninh Mountain Range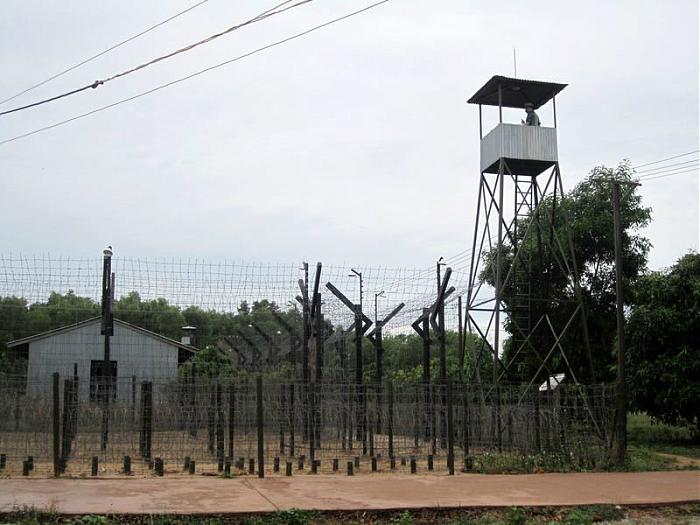 Phu Quoc Prison (Coconut Tree Prison) in comparison to Con Dao prison was larger in scale and witnessed more brutal crimes against human rights. The prison is located about 25 kilometres from Duong Dong Town and 5 kilometres from An Thoi Town, near both Sao beach and Kem beach.
Today, Phu Quoc Prison is recognized as a national heritage with special historical significance. More than 40,000 North Vietnamese soldiers and activists were imprisoned, a large number were tortured during the Vietnam-American war. One of the most common methods of torturing here is the tiger cages – the outdoor prison setup completely with barb wire in which the persons inside could hardly sit up. Admission is only 3,000VND and it will take you 30-40 minutes to tour the museum.
Other than the places we introduced, there are still many sites in Phu Quoc that worth of your visit.
Con Dao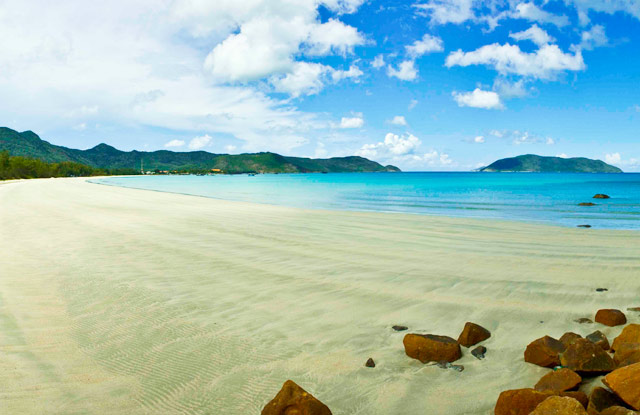 Con Dao archipelago consists of 16 islands located about 145 miles away from Ho Chi Minh city in the southern sea. Con Dao has some best beaches in Asia yet a dark history making it a whole lot more mysterious to travellers. Foreign travellers can visit the island without a permit.
Best time to visit: November – March (dry season, also peak season) and April – October (Wet season, also off-season). Each season in Con Dao has distinct things for you to see and do: in the dry season, visiting Con Dao prison, swimming, and stargazing; in the wet season, exploring the national park, snorkelling and diving.
You can get to Con Dao by ferry/speed boat and plane:
By boat/ferry: depart from Vung Tau at 17:00 and arrive in Ben Dam port at 6:00 the next day.
By plane: flights available from both Ho Chi Minh City and Can Tho.
Come to Con Dao, you can't miss the beaches. An Hai, Lo Voi, Dat Doc, Ong Dung, Dam Trau, Bai Nhat, are names of the best beaches here. The white sand shores and the blue sea water will leave you amazed.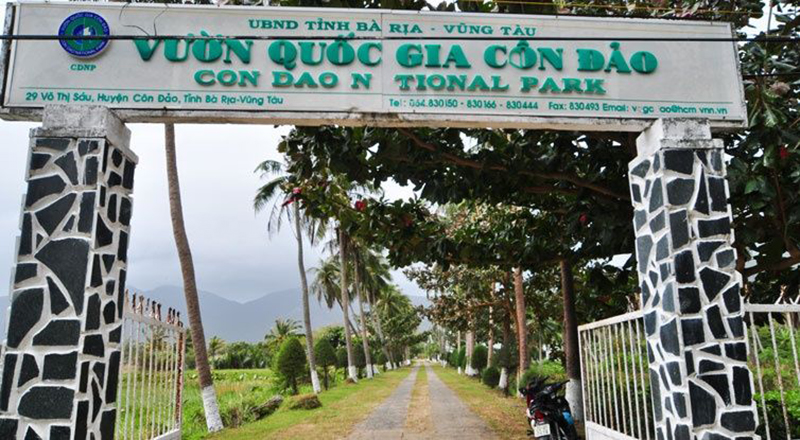 Con Dao National Park was established in 1993 with a total protected area approximately 20,000 hectares. There are 1.300 species of marine animals, of which only 5 individuals of dugong still existing. Watching turtle laying eggs on the beach has now become a part of many tours. Coral reefs are considered some of the healthiest in Vietnam with 355 coral species recorded, creating a great scene under the water awaiting snorkelers and divers around the world.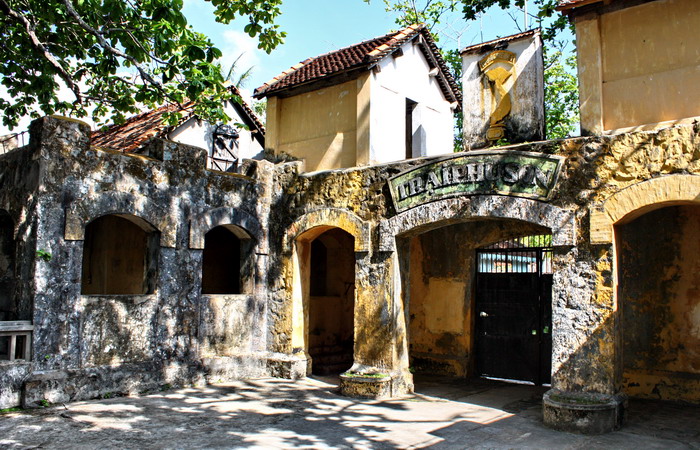 Con Dao Prison is a place you cannot skip if you want to understand the sufferings of the Vietnamese people under the French colonist period and later US-backed South Vietnam Government. One name still brings the terrors to many survivors until today, Tiger Cage, a one-of-the-kind and extremely horrifying solitary confinement area which was well hidden away from human-rights watchdogs that time. Visit the prison to learn and pay homage to the fallen revolutionaries.
Con Dao, heaven for tourists in Vietnam