December – January – February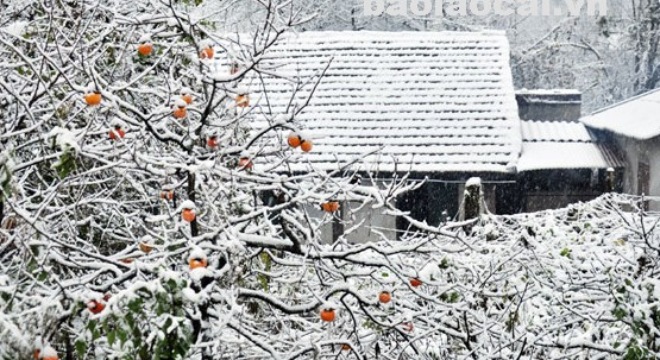 During these months the winter reigns. Winter in north Vietnam is often dry and cold except late February and March when it turns cold and wet. In these three months, you can almost travel to anywhere in Vietnam. If you do not like the cold, go south and enjoy the sun and beaches. If you love flowers, mountains, winding roads and ethnic villages, the north also has it all. This is also the months for traditional New Year eve and festivals throughout the country with an exciting and brightened atmosphere with vivid visuals, peaceful sounds and enriched tastes everywhere.
Sapa, Lao Cai
Snow in a tropical town is like a miracle. The snow never fell too much here, just enough to put a light blanket on the roads, the pine forests and the villages. But not only snow, but Sapa in wintertime also becomes so much more romantic with colourful flower trees like plumb and peach blooming here and there. The mountains look solemn and magnificent under the white clouds. This time is the time of New Year festivals and seemingly the ethnic people here look happier in their specially prepared traditional costumes. The new cable car system recently opened brings a chance to people who never challenged "the rooftop of Indo-china" Fansipan and now it only takes you 15 minutes to touch the stainless top saving time, money and energy.
Moc Chau, Son La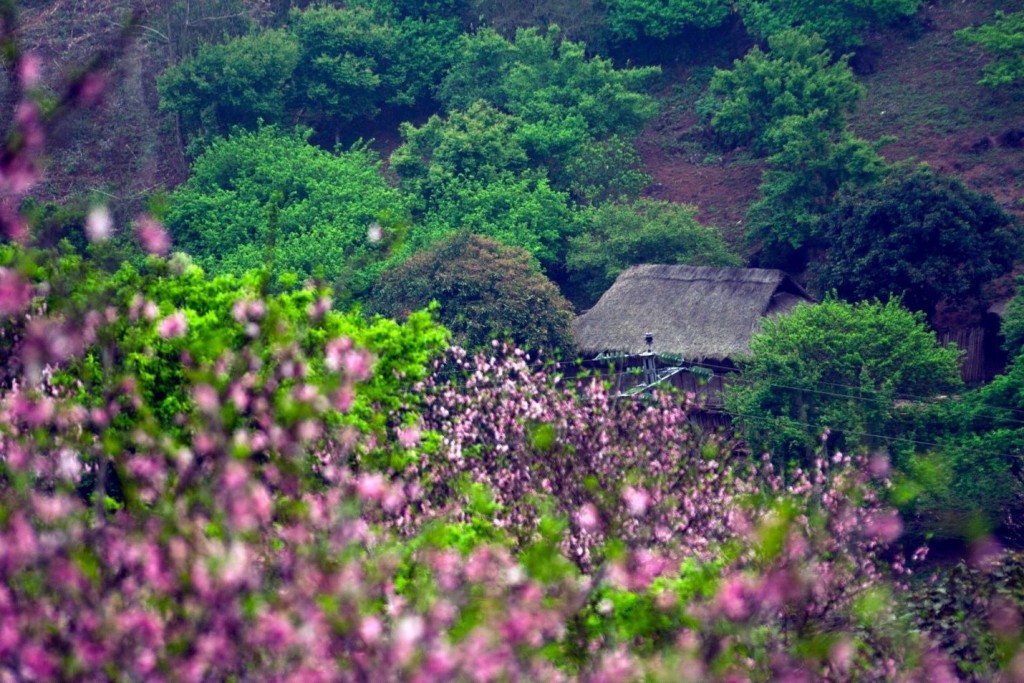 In these months, Moc Chau calls for the young locals to come with the forests and fields of colourful flowers, the immense green hills of tea, and authentic culture traits of Thai and H' mong people. It's also the best time in the year to visit Moc Chau with perfect weather and peaceful scenery.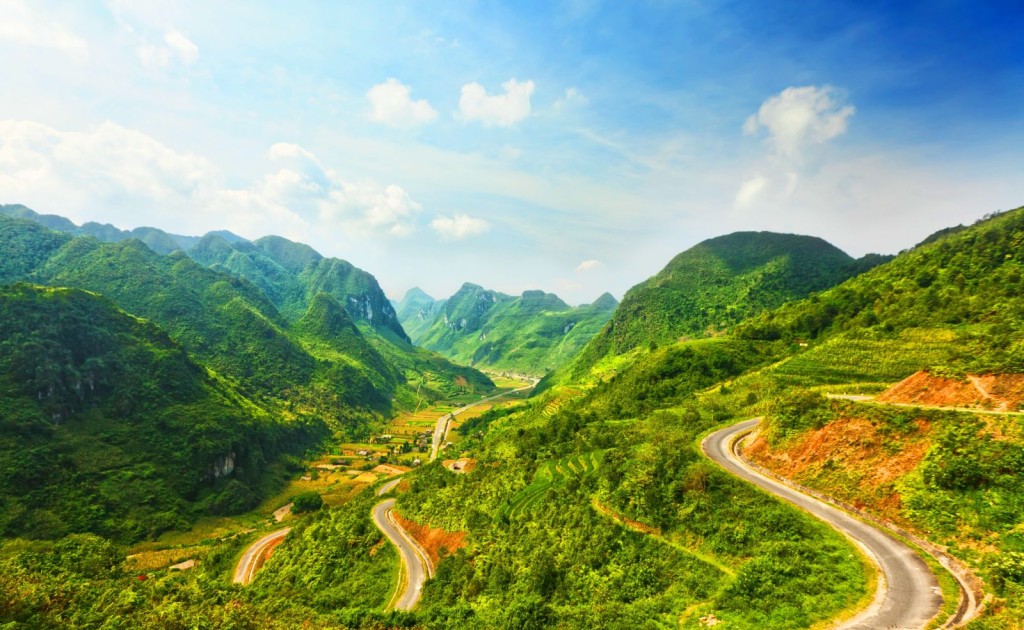 Just like Sapa and Moc Chau, it's also the right time to take a trip to the "last frontier" of North Vietnam – Ha Giang. In winter, Ha Giang is much colder compared to other highlands due to its altitude. And because the lands are so diverse making the landscape so stunning and scenic. Riding up to the slopes of Ma Pi Leng pass in a dry winter day is dangerous yet very rewarding with the full scene of Tu San chasm and the poetic Nho Que river running between mountains. Homestay in H'mong traditional houses and enjoying the very special dishes of ethnic people like thang den, colourful sticky rice and au tau soup would be wonderful experiences in Ha Giang.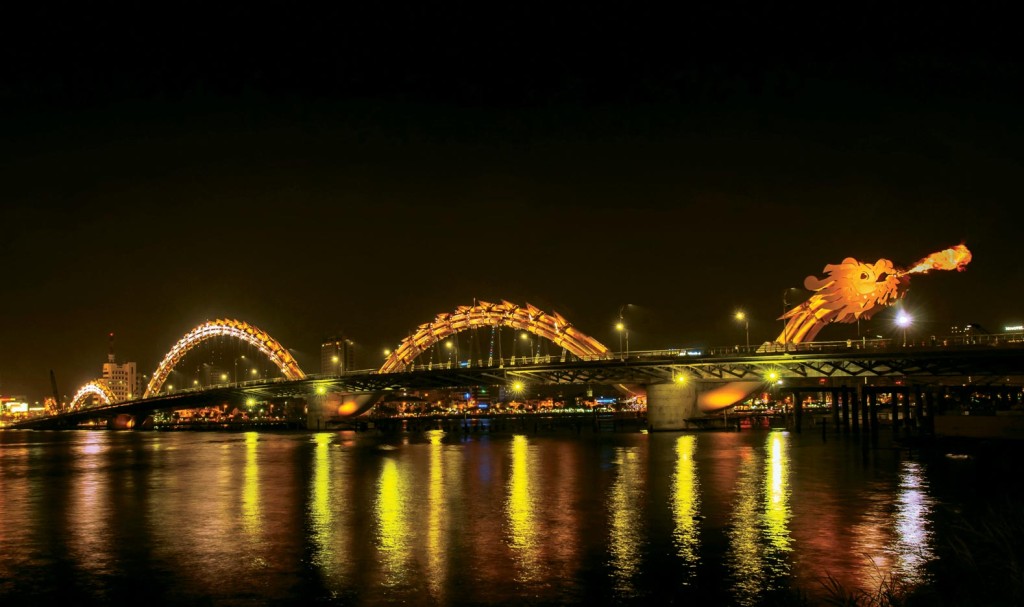 These three months are the best months of the off-season in Da Nang when there is no storm and the prices are so much lower. Since it's the time when everything is cheaper, having a food tour around the city is the best thing to do. Come to Con market, the food section here has all dishes and snacks, or you can easily find many food stalls and restaurants along Han riverbanks.
People in Da Nang are very friendly and helpful, I'm sure you will have a really good time here.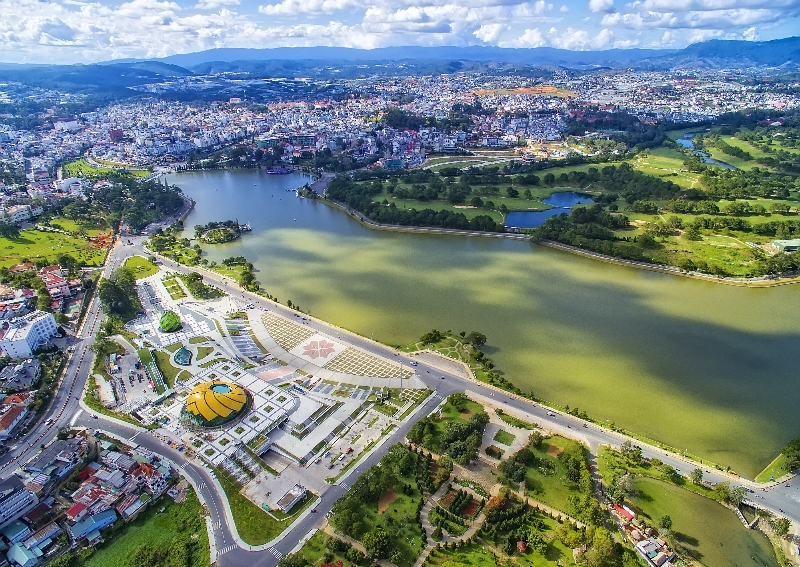 Da Lat is considered the most romantic city in Vietnam for couples. This time is also the best time to visit this wonderful paradise. These months are the best time because of two reasons. First, it's the dry season in Da Lat. Second this is also springtime when thousands of flowers start to bloom. January is the time of the beautiful Da Lat Cherry blossoms (Mai Anh Dao). Actually Mai Anh Dao is of an apricot branch but has pink colour so Da Lat people call the flower Mai (Apricot) Anh Dao (Cherry). Da Lat is also famous for another flower – Da Quy (Wild Sunflower), blooming just before Mai Anh Dao. Da Lat has many beautiful destinations and good food.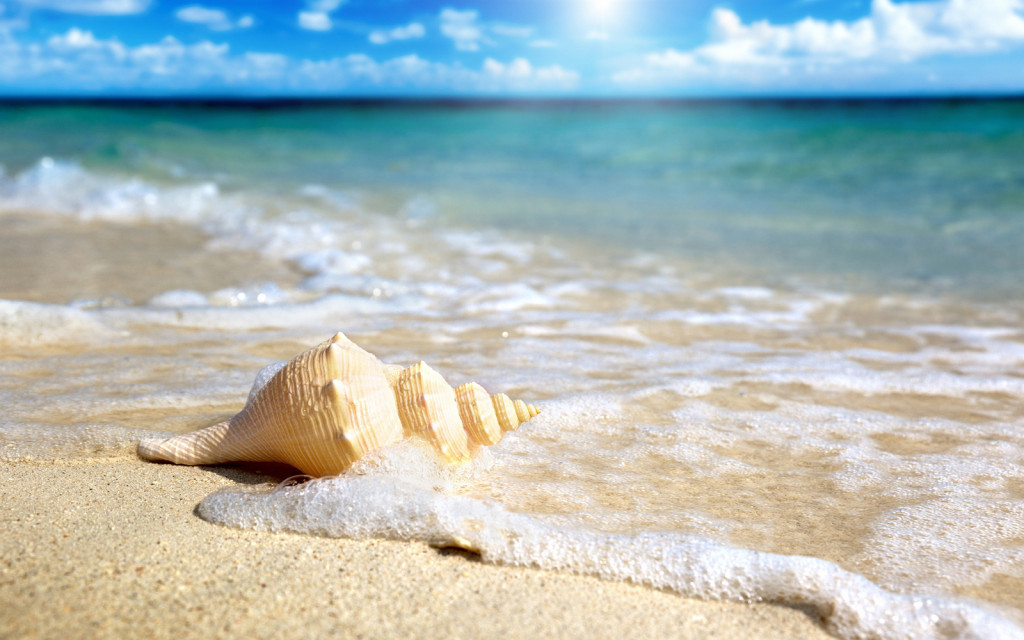 The weather in Phu Quoc is calm during these months. The dry season is from November to April, the average temperature is from 17oC – 24oC, very suitable for beach activities. Phu Quoc has some of the finest beaches in Vietnam with turquoise seas and spectacular sunsets such as Bai Khem, Bai Dai and Bai Sao. For adventurers, Phu Quoc National Park or the coral reefs would be perfect for you. Do not miss the delicious seafood dishes here, especially night squid fishing tour where you can take the chance to catch some by yourself.
April, May, June, July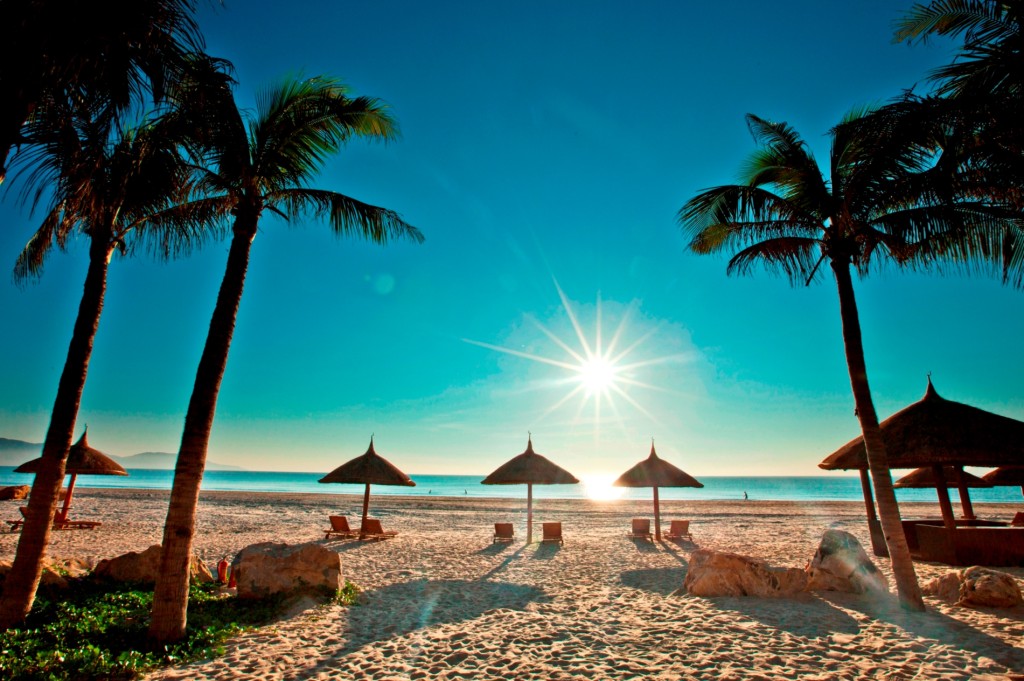 It's summertime and also the peak season of domestic tourism. We will get the heat as much as we will get the rain. The hottest months are May and June and they aren't really the months for tourism except for the beaches and islands. April and late July are slightly milder but still hot, we recommend you to visit Vietnam in these times.
I'm very sure that during these months, Ha Long Bay is always crowded. However, this is the only suitable time to visit Ha Long if you love swimming, kayaking and caving. Caves and grottoes in Ha Long are the best places to hide from the heat for a while and the cool seawater at Titop and other beaches would be perfect for swimming. Seafood in Ha Long is top-notch, especially the squid and oyster, but be careful of the prices.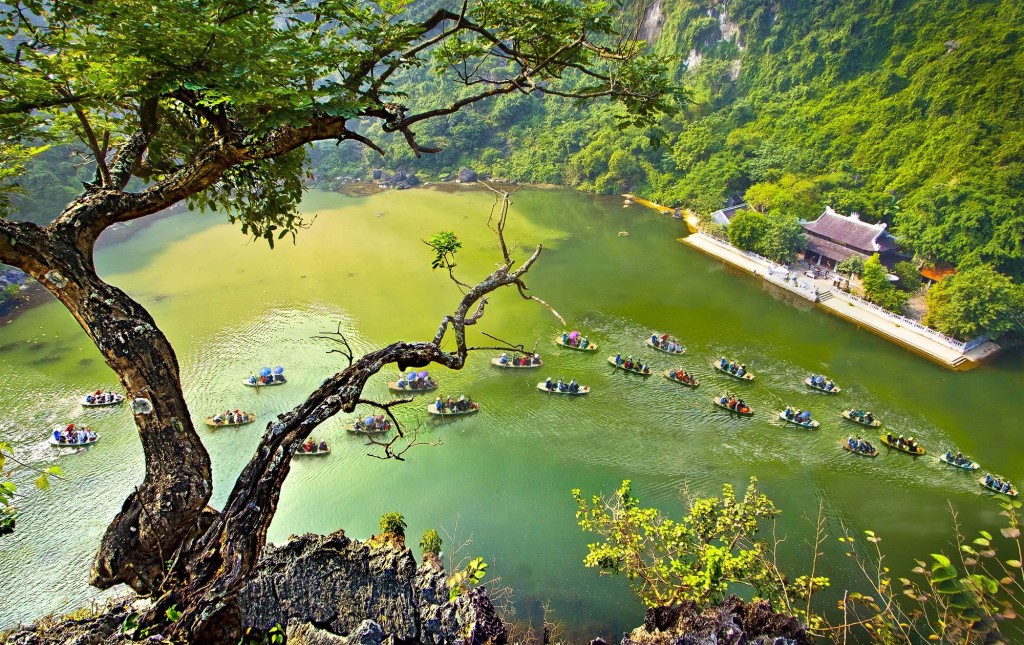 From April to May, it's one of two times of rice harvesting. If you come at this time, you will have a chance to witness the marvellous scene of water rice fields. Boating in between them would make you feel like entering paradise. Trang An complex is like a colossal nature system of rivers and limestone mountains with 12 caves and 3 temples. Tam Coc – Bich Dong is famous for three beautiful caves and one "green grotto" which was praised to be the most beautiful grotto in North Vietnam for a long time ago. Ninh Binh also has important architectural works which are Phat Diem Stone Church and Bai Dinh Pagoda. Cuc Phuong national park – the first and largest national park in Vietnam is also located in Ninh Binh.
Phong Nha – Ke Bang, Quang Binh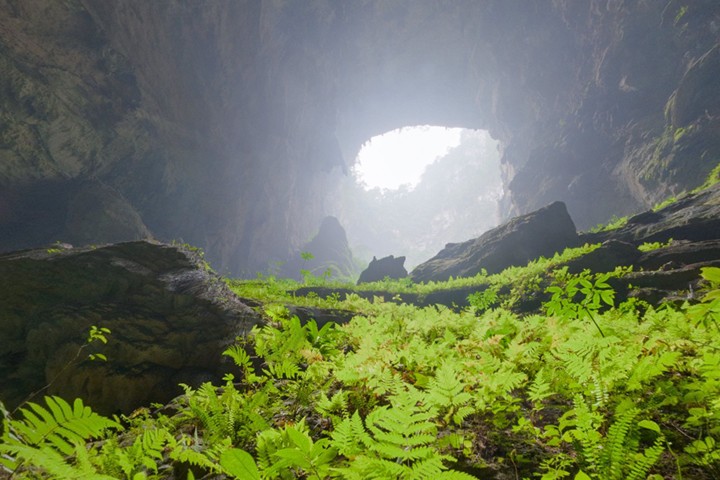 Quang Binh or "the cave world" is also a perfect place to visit in the summertime. April and May are also the best months to go swimming in Quang Binh. Phong Nha – Ke Bang national park has the most stunning and magnificent caves on earth with the top names are Paradise cave, Phong Nha cave and Son Doong cave. Visiting the first two caves is easy, however, Son Doong – the rising star in world tourism map – requires you so much more – USD$2000 tour's cost and weeks of physical training. Besides, Dong Hoi is a lovely small town with Nhat Le beach for a short stay.
Nha Trang Bay, Van Phong Bay and dozens of beautiful islands will make it a perfect trip for you in summer. The romantic Nha Trang will welcome you almost all year round. However, you should avoid October and November because of the rains. The autumn (August and September) is also a good time to visit the city when it's much cooler. Vinpearl offers the best entertainments while the new site – Diep Son island brings stunning landscape and rustic charms of the local life. Do not miss the collection of the best beaches of the most beautiful Van Phong Bay with good services and a clean environment.
You can visit Hue at any time except for August – October because of the rain. Hue is the country's capital under Nguyen dynasties. The royal citadel and the kings' tombs remain intact. The imperial citadel has long known as a must-see attraction for tourists to Vietnam. The historical complex is known not only for its rich architecture but also it's beautiful landscaping. Hue also has natural attractions like Thuan An beach, Vinh Thanh beach, Elephant Spring, Bach Ma mountain and Lap An lagoon…. Remember to have a taste of the real Bun Bo Hue!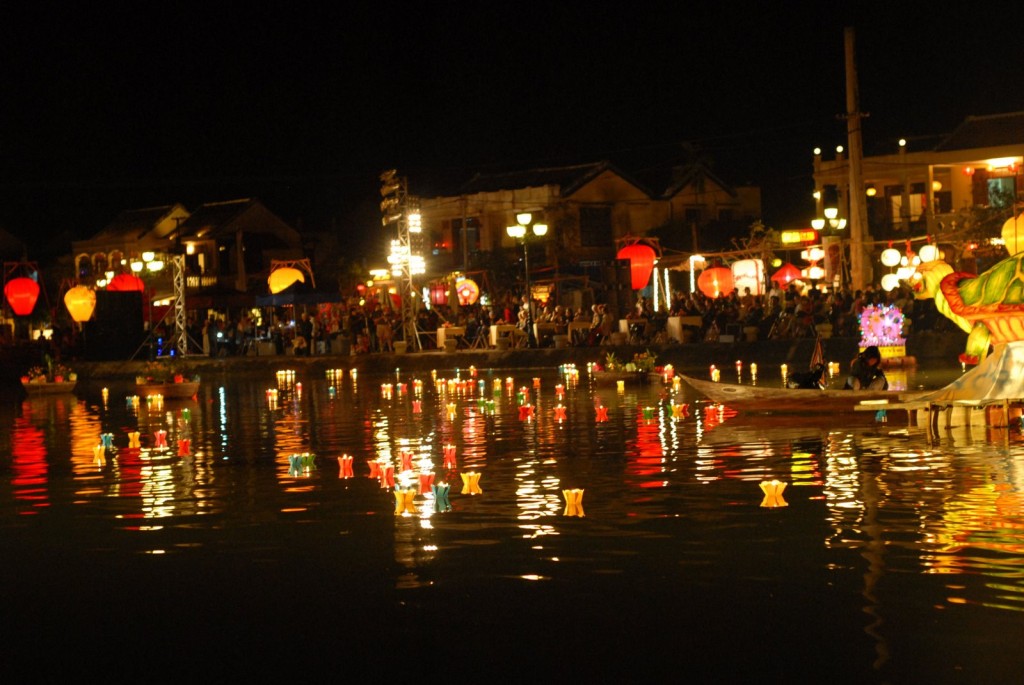 Was voted as one of the best city for nightlife, Hoi An always is the top destination of Vietnam. The ancient town is enriched with both natural and cultural attractions which will leave a deep impression to every traveller. From May/June to the end of August, the weather of the town is milder. In the other months, it's mixed with rainy and cold or slightly hot. If you want to visit Cua Dai beach or Cu Lao Cham island, grab your chance in the short time between May and August. Come to Hoi An, you can't miss the old houses, the assembly halls, the bridge pagoda, the river, the villages…. At night, Hoi An is sparkling with the light from the lanterns hanging along the streets and river banks. And remember to try Cao Lau, Mi Quang, Hoanh Thanh and much other good foods.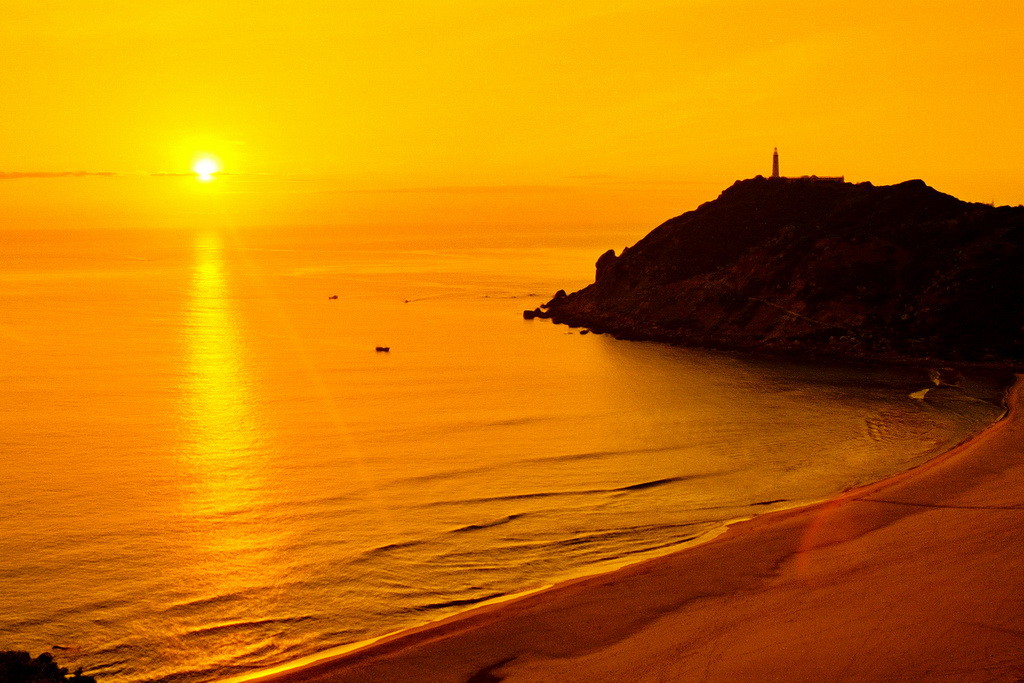 You can visit Phu Yen all year round so why not visit in summer for some really good pictures? Phu Yen has many beautiful beaches, lakes, lagoons and hot mineral springs beside valuable cultural relics. I can name some of them: Ghana2 Da Dia, MuiDien, O Loan Lagoon, and Vung Ro. Phu Yen has not only beautiful and stunning landscapes but also the friendliness of the people and fresh seafood.
Mui Ne, PhanThiet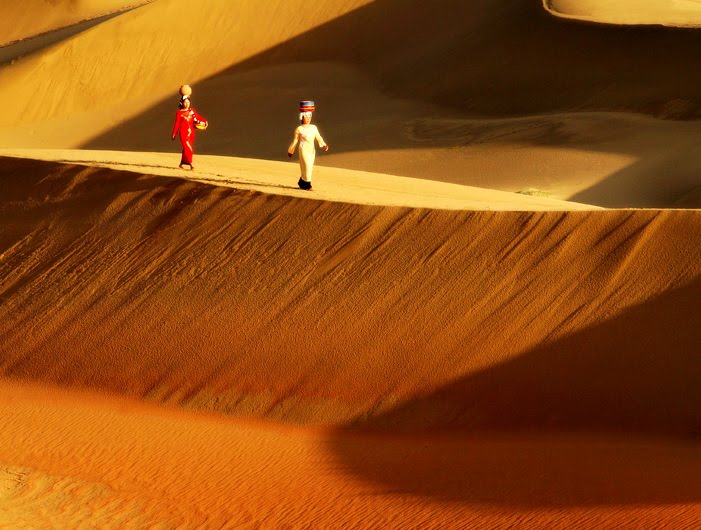 Mui Ne has become a familiar name to many foreign travellers. Best months to enjoy the fantastic beaches in PhanThiet should be June and July when the temperature is lower than in April and May. The sand dunes in Mui Ne would be a very different experience compared to other regions in Vietnam. Bai Rang anBauTrang are best places to relax and enjoy the beauties of nature. The Fairy Spring is an interesting site to explore along with a fishing village where you can enjoy the best seafood.
August, September, October, November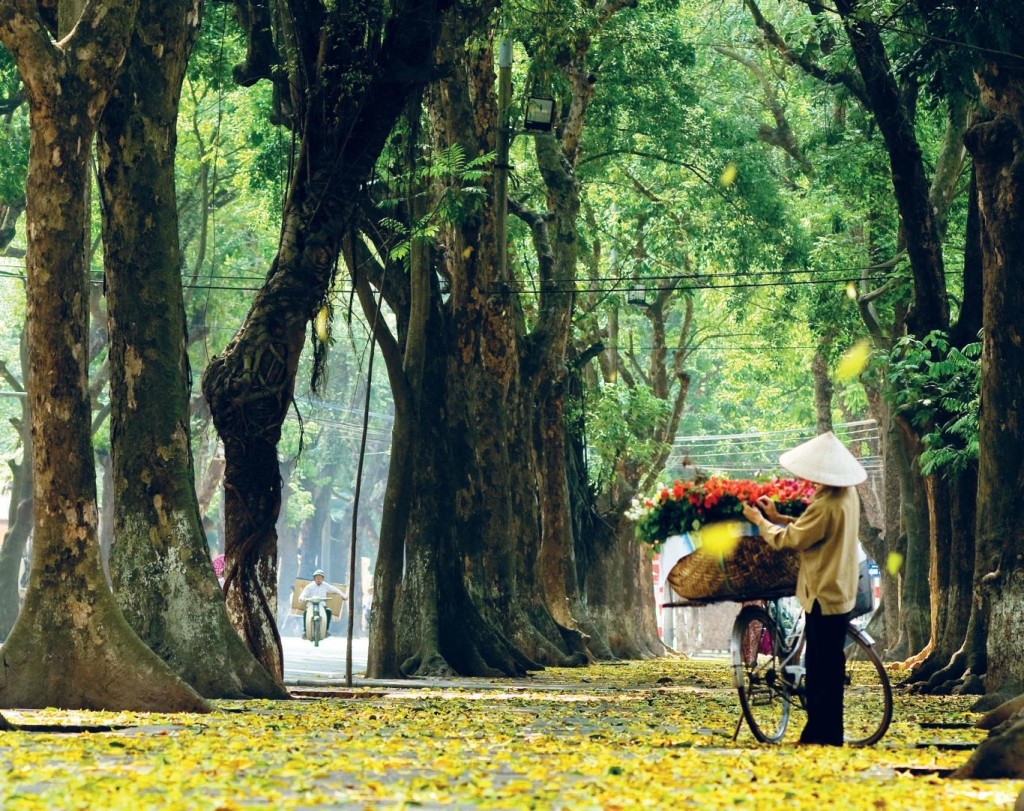 These four months are considered transitional autumn and early winter in north Vietnam, also the time that has the best weather to travel. In the north, it's cool, not too sunny and less rain than summer, the leaves turn to reddish colour; in highland, ethnic people start to harvest the rice, this is also the time school year starts, making a very peaceful yet exciting atmosphere. In the central and south, it is the wet season. Come to Hoi An to enjoy the sight of the old town in the rain. Or see Mekong Delta turns to life when the rain comes.
Hanoi is most beautiful in autumn; there is no doubt of it. In summer, the city is too hot and crowded to travel. However, from August to March, Hanoi is totally different. It's time when the tree leaves around Sword Lake change their colour and people change their clothes,signal that winter is not too far. Autumn is also the time of many traditional dishes and desserts like green rice, persimmon, cha ruoi and many other dishes. The famous flower of Hanoi, "milk flower" (Alstoniascholaris), blooms in autumn too and since a very long time ago, the flower has been considered as the symbol of Hanoi's autumn. The lyrics of song "Milk Flower" says:
"Old memories linger somewhere
The mutual friends
The little ways
The milk flower's sweetness fills the city every night
Maybe you've forgotten me
Maybe… you've forgotten me"
Mai Chau, Hoa Binh
This is the harvesting time of Thai people in Lac village, Mai Chau, HoaBinh. Weather in Mai Chau in this time is calm, sunny and cool. You will have a chance to enjoy the rustic beauty of the rice fields and daily life of Thai people in their trademark stilt houses. In Lac and PomCoong villages, there are nearly 10 teams practising their traditional Xoe dance and performing for tourists.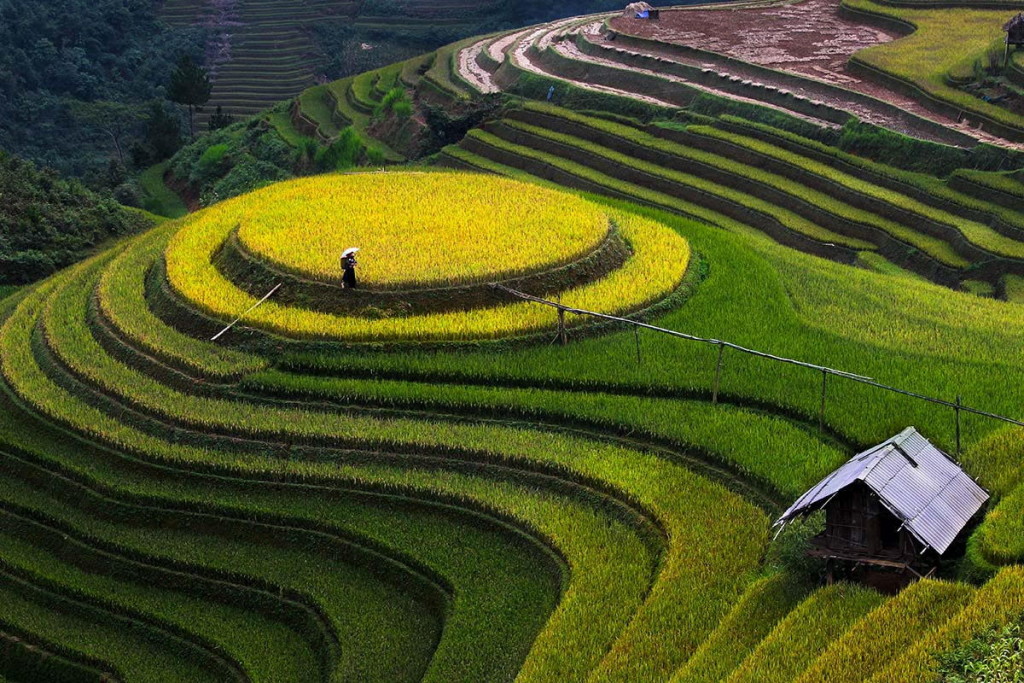 Mu Cang Chai is known as the best destination for autumn in Vietnam. There are 2 times of the year to visit Mu Cang Chai: from mid-September to October this is the grain season, and from May to July when Hmong people start sowing and pouring water on the fields. However, we recommend you to visit at a later time of year and beware that around this time the highland is very crowded and there might have some traffic issues. La Pan Tan Commune has the most beautiful terraced rice fields in Vietnam, but I preferred the terraces in Che Cu Nha which is not far away from the town of Mu Cang Chai. Mu Cang Chai is absolutely the perfect destination for photographers. Do not miss the fragrant sticky rice of Tu Le.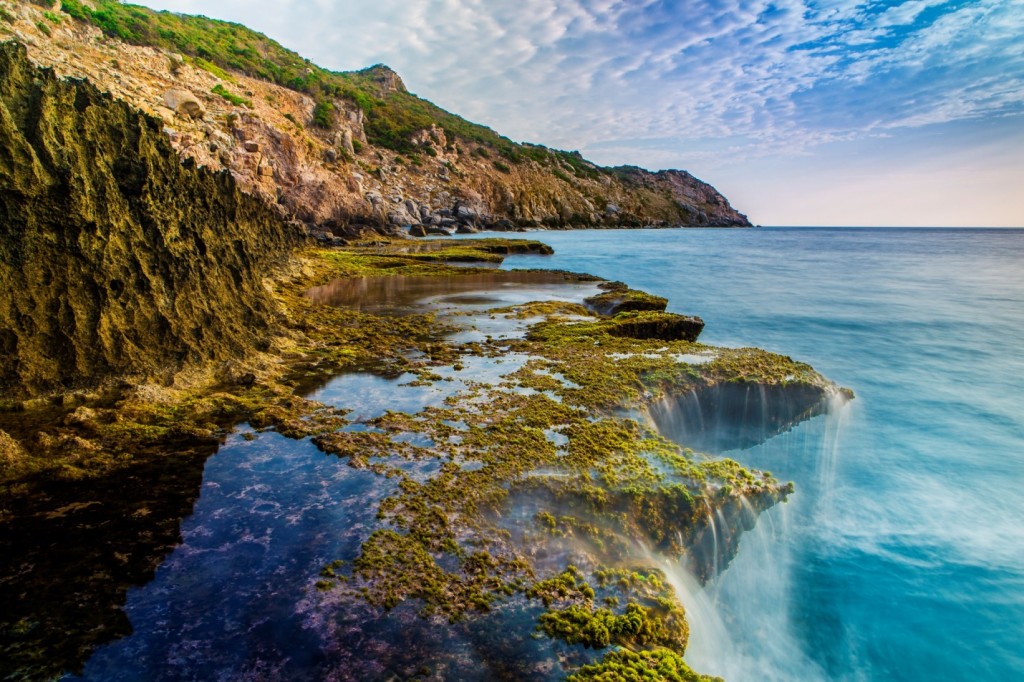 Ninh Thuan has the best seaside landscaping in the southern Central. Most of the year, Ninh Thuan is full of sunlight and sea winds with less rain than other regions. You can visit Ninh Thuan almost all year round. From April to June is time to enjoy your summer escape with glorious beaches in the east. From August to October is the time for grape harvest and festivals of local Cham people. Vinh Hy Bay is given the name "Ha Long Bay of Central Vietnam", surrounded by limestone mountains hand hills, the sea in the bay is calmer so the watercolour is always emerald blue. Ninh Chu beach and Binh Tien are those of most beautiful beaches of Vietnam. Nam Cuong Sand's hills and Rai cave are must-visit places for photographers with spectacular scenery. Chua Mount National Park is a worthy challenge for adventures and the grape garden of father Moi would be a lovely stop in your trip.
An Giang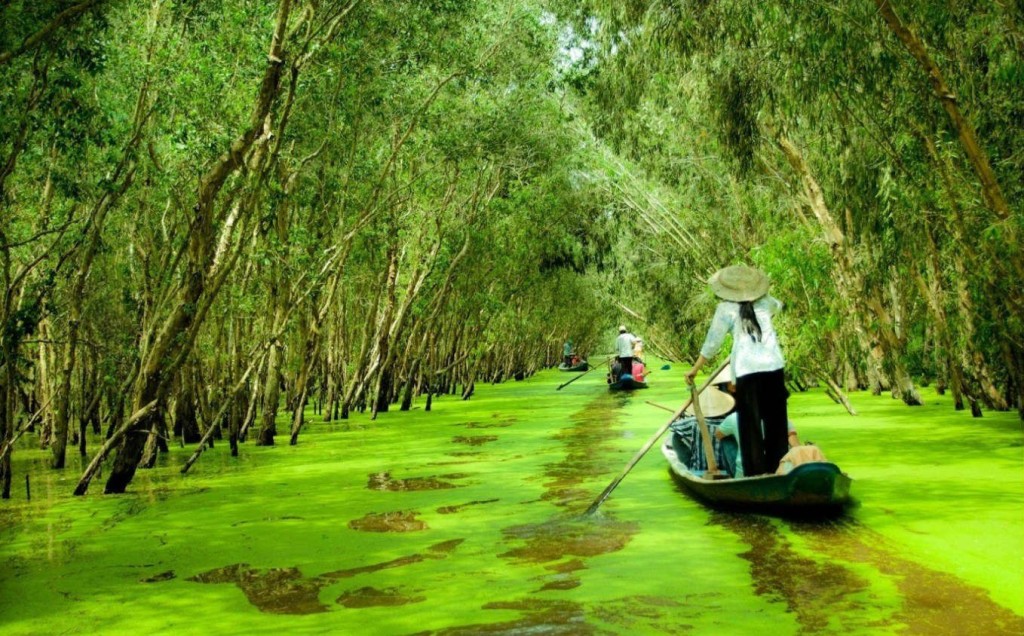 The wet season is the right season to visit Mekong Delta region, despite of the rain. The rainy season lasts from May through October. The rain, however, never last too long while the sun is not too hot. It's just the right time to take a boat journey to visit around the stunning Tra Su Bird Sanctuary. In the 8th month of Lunar Calendar, there is a major and unique local festival that is Cow Racing Festival (from the 29th day of the 8thmonth to the 2nd day of the 9th month in lunar calendar). An Giang has another name "The land of Seven Mountains". These mountains are considered holy by locals and most of them are places of temples and pagodas. The most famous mountain must be Sam mount where the temple of Xu Lady of Sam Mountain is located.
Can Tho

Can Tho is a fertile agricultural land that has many interesting sites such as Ninh Kieu Quay, Cai Rang floating market, many orchards,…with many traditional festivals. Can Tho is also the second most developed city in Mekong delta only behind Ho Chi Minh city but with very different charms. Life in Can Tho seems to be much slower than in HCMC, much fewer motorbikes and people and the prices are much cheaper.